Back in 1997, Richard Noble and driver Andy Green successfully set the land speed record with the Thrust SSC car at 763mph. This was the first time any land vehicle had ever gone faster than the speed of sound; however the two of them are once again planning to smash their own record with the Bloodhound SSC.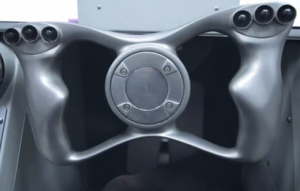 The Bloodhound's driver will once again be Andy Green and Richard Noble's engineering team have had to pull out all stops to reach the elusive 1,000mph speed mark. Bloodhound's design is a combination of aspects from the motorsport industry and aircraft technology. It is about 14m in length and weighs just over 7.5 tonnes. Noble expects the car to accelerate from 0 to 1,000mph in 55 seconds, and go from 500 to 1,000mph in under 17 seconds.
Andy Green invited media to come and inspect his finished "office" – the cockpit of his car – over the weekend. The cockpit's focal piece is the 3D printed titanium steering when that has been developed to conform to Andy's hands. 3D printing enabled the team at Noble to completely customize the wheel and build in all relevant controls, such as the parachutes, rocket motor and airbrakes. In the video below Andy explains some of the features and components in the cockpit.
Runway testing up to 200mph will take place in late 2015, early 2016. The Bloodhound will then be tested on the Hakskeen Pan in the Mier area of the Northern Cape, South Africa where a track 12 miles long, 2 miles wide has been cleared.
Source: Bloodhoundssc.com