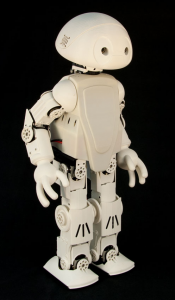 3D printing is completely changing the way we build and design robots. Projects like Inmoov, the open source 3D printed humanoid robot have shown how a community of people can develop something very special. Now, Trossen Robotics and Olin College have announced the availability of Jimmy, a humanoid 3D printed robot that is intended for research purposes.
At $16,000, Jimmy is no a toy; however the team behind the robot believe that future iterations could cost as little as $1,500 and they eventually want to get it down to $500. Due to the open source nature of the project, Jimmy will be continually upgraded and enhanced with new functions and advanced capabilities. Jimmy currently stands 65cm tall, weighs 6.5kg and can walk at an impressive foot per second.
Buyers of the initial iteration of Jimmy will receive a basic kit and all of the parts that make up Jimmy will be available as 3D models. Even the custom aluminium frame and brackets that make up the internal structure of Jimmy can be replaced, and the external shell has been 3D printed in nylon.
Just like anything, the initial price of Jimmy is pretty steep but he's certainly pretty impressive and he reminds us of a smaller version of Honda's Asimo robot.
http://www.youtube.com/watch?v=wRZn7_lpD2U