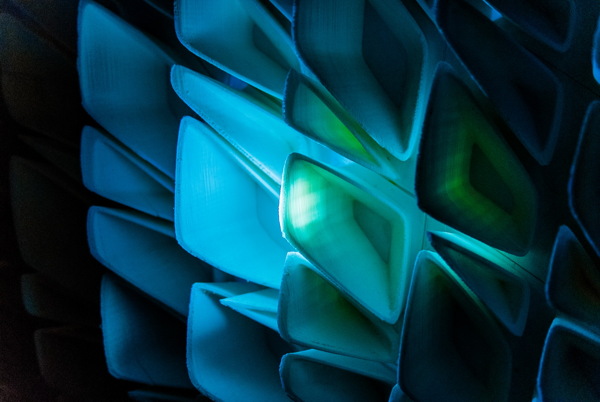 BIOSTAGOG is a 3D printed interactive sculpture by Polish design company's Bridge and Platige Image. The 3D printed sculpture brings together 3D printing, algorithmic design, video mapping and interaction with the Kinect motion control sensor.
Creative director at Bridge, Michał Piasecki said "We decided to use 3D printing to build the installation because it provides high precision. Direct correspondence between physical realization and digital model was crucial for interactive mapping to work on such complex structure."
According to Bridge it took five machines running 24 hours, 7 days a week for 3 months to print the piece. The five RepRap based ZMorph 3D printers had to print over 3000 different cells divided into more than 800 panels, to allow them to fit onto the 3D printers print bed.
Mikołaj Molenda, another creative director at Bridge said that "Our task was to create a statement piece for Platige Image lobby space. Specificity of what Platige does served as a starting point for the project. The primary goal was to create a spatial canvas so that each artist working at Platige could add their creative content to it and the visitors could become engaged as well." The original concept for the interactive sculpture came from Platige Image, whilst both company's worked together to bring the sculpture to life.
Piasecki went on to say that they used Rhino Grasshoper to develop the complex algorithm for the interactive sculpture. "We have also developed a custom algorithm with Rhino Grasshopper which allowed us to design complex geometry fulfilling multiple criteria at once. The criteria range from aesthetics through video mapping and 3D printing requirements," said Piasecki.
Apparently the video mapping allows the sculpture to interact with its surroundings. The reaction is generated in real time with a custom algorithm feed from a Kinect motion sensor and geometry data.
"The installation begins to exhibit multiple behaviors when people are present in the lobby. They become an attractor for the projection which mirrors their silhouettes when they remain in front of it for a while. It warms up with light and color when someone puts their hands really close or changes the pace of visuals being displayed depending on how fast people move. It adds a very human touch to the workplace" Said Platige Image, R&D head, Adam Wierzchowski
Platige Image is a company dedicated to creative endeavours with over 15 years of experience in creating stunning visuals and carrying out technologically advanced projects.
Bridge is an interdisciplinary studio working in the fields of augmented reality and co-design. Bridge brings together specialists in diverse creative fields: product design, graphic and interface design, web and app development, parametric design, digital fabrication and video mapping.
http://vimeo.com/bridgetechnologies/biostagog