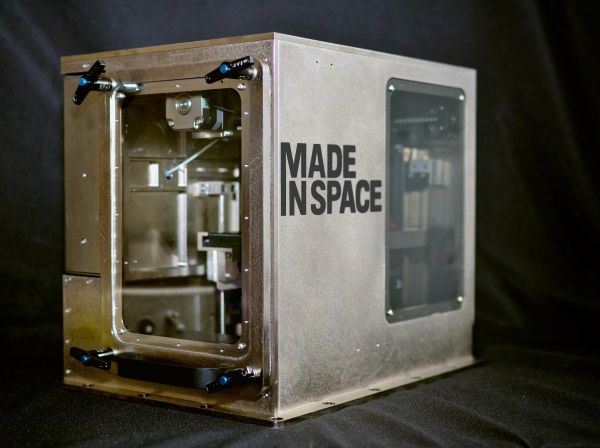 Made In Space's 3D printer has passed the final set of stringent NASA checks, which means it is set to launch to the International Space Station in August of this year. The printer has been specially designed to function in a zero-g environment.
The printer will make its way to the Space Station aboard a SpaceX Falcon 9 rocket, which is scheduled to launch in August. Originally, the printer was slated to launch on SpaceX's CRS-5 mission, but because it meet all the deadlines it was moved up to CRS-4.
NASA's 3D Print project manager, Niki Werkheiser said, "NASA was able to provide key guidance on how to best comply with strenuous space certification, safety and operational requirements, and Made In Space excelled at incorporating that insight into the design."
"As a result, the hardware passed testing with flying colors," Werkheiser added. "Made In Space now has first-hand experience of the full 'A-to-Z' process for designing, building and testing hardware for spaceflight."
NASA's latest round of tests looked at various factors surrounding the printer's reliability, ruggedness and compatibility with the Space Station's interfaces. A series of test prints were printed on earth and the same items will be printed on the station. Once the machine has been installed on the Space Station it will print 21 test objects that will be returned to earth for analysis.
3D printing could make space travel less expensive and more efficient. Michael Snyder, lead engineer and director of R&D for Made In Space stated "Years of research and development have taught us that there were many problems to solve to make Additive Manufacturing work reliably in microgravity. Now, having found viable solutions, we can welcome a great change — the ability to manufacture on-demand in space is going to be a paradigm shift for the way development, research, and exploration happen in space."
Eventually, the printer will be available to use by researchers, businesses and individuals on earth. "Passing the final tests and shipping the hardware are significant milestones, but they ultimately lead to an even more meaningful one — the capability for anyone on Earth to have the option of printing objects on the ISS," said Made In Space CEO Aaron Kemmer.
Source: Made In Space