In latest headlines, analysts at Canalys predicted that the 3d printing industry isn't just here to stay. The market's size is expected to see a sixfold increase compared to the breakthrough year 2013.
2013: 3d printing market reaches $2.5b
Last year was the year that 3d printing went from not to hot. From printing plastics to what-not, it has gained intrest in industrial sectors as well as the general public. The market's size, including 3D printer sales, materials and associated services, reached US$2.5 billion globally in 2013. This year that number will grow to $3.8 billion, the following years showing an even bigger expected increase. By 2018, Canalys estimates the global market value to reach $16.2 billion.
" Now that the main barriers are being addressed, the market has a huge growth potential"
According to Senior Analyst Tim Shepherd 3d printing is becoming an increasingly feasible option for entrepeneurs and consumers. We've already seen crucial price-drops and better hardware, boasting a wide array of materials, colors and flexibility. Applications range from automotive to healthcare and even (space-)engineering. Objects with a high level of customization, like prostethic limbs, will see the largest relative price-drop.
Short-term prognoses
Research Analyst Joe Kempton expects the print-to-order services to become the driving factor that'll help the 3d printing industry grow in the next coming years. The demand for customized products will increase, as convenience and manufactering effiencies will drive costs down further. Instead of having to send your design  abroad to be made, things can be made locally, saving time and shipping costs. Add to that the facts that 3d printing produces less waste material and often consumes less energy than traditional manufactering methods, and you see why this market has huge growth potential.
Long-term vision
The 3d printing industry is at a turning point. It has moved from a doubtful hype with not much to show for, to a technology that produces innovative and robust solutions. However, this market is still in its infancy. When market leaders like HP enter the business, it is expected to make a big impact, increasing progress even faster. In five years' time, the 3d printing industry will look a lot different.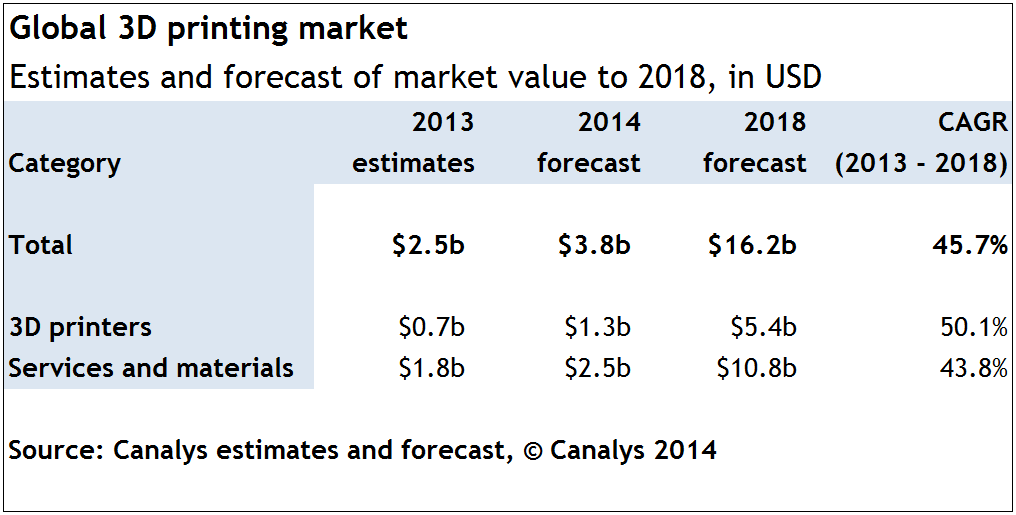 Read the full article here: http://www.canalys.com/newsroom/3d-printing-market-grow-us162-billion-2018