11 Best Hoverboards of 2018
For Every Budget – Cheap & Expensive Hoverboards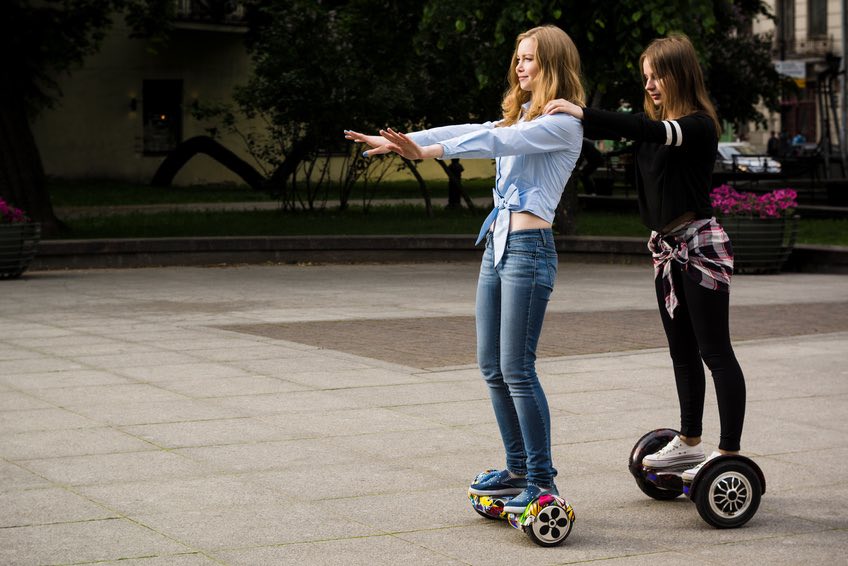 It was only a generation ago when everyone whizzed around on low-tech skateboards and roller blades. These fun contraptions and alternative modes of transport are still popular. The difference today is that they have some serious competition. I'm talking about the new hoverboards of course, though not in the science fiction sense. That would be great, but we do have the next best thing.
| Name | | Range | Max Load | Rating | Price |
| --- | --- | --- | --- | --- | --- |
| | Halo Rover Hoverboard | 10 miles (16 km) | 220 lbs | | |
| | TOMOLOO Hoverboard | 12 miles (19 km) | 264 lbs | | |
| | GOTRAX Hoverboard | 12 miles (19 km) | 220 lbs | | |
About this Hoverboard Guide
This review guide looks at ten of the best hoverboards around right now. There's a lot of competition out there but it's not all equal. It's why I've sifted through all the popular brands and models to come up with this shortlist of best options. These are the top choices in terms of value for money, features, ease of use, reliability, safety, and so on.
As I compiled this list I also took the opinions of industry experts and real user feedback into account. Before we get into the reviews I want to share a few things with the uninitiated. It's important to know the basics of hoverboard technology, uses, rules, regulations, and terminology.
Feel free to jump straight to the reviews if you understand all there is to know about hoverboards.
What is a Hoverboard—Exactly?
Exploding, Smoking, Sparking Hoverboards
Why Hoverboard?
Before You Buy Your Hoverboard
Before you buy your hoverboard know what you want from it and be specific. I know it sounds logical but it's easy for a beautiful design and a few impressive features to tempt new buyers at a glance. The point is this, not all hoverboard feel or function the same way.
Here are a few things to think about as you consider your needs and expectations:
Some hoverboards are great off-road, others are not
Not all hoverboards can carry the same payload (bodyweight)
Some are faster than others
Know your budget and thus narrow down your search
What's your age range: some boards are better suited for kids
Do you want a hoverboard only for commuting or other purposes?
Note down anything else you can think of
The table below shows my top ten hoverboard choices in the order they appear in this guide. The first three are in order of top pick, best value, and best budget. I've arranged the seven below those into two price categories, under $300 and over $300.
I hope you enjoy these reviews and find what you're looking for.
You will find a quick glance table at the end of each no-nonsense hoverboard review. These tables highlight a few of the more important tech specs at a glance along with any pros and cons
Top 3 Hoverboard Picks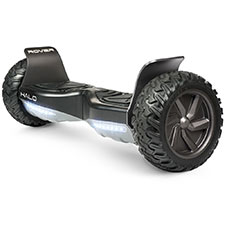 The Pros
US designed and based
Heavy-duty design
+8 more
Off-road capable
Halo technology sensors
FREE mobile app
Inbuilt Halo Bluetooth Speakers
FireSafe LG Battery
Dual 400W Motor
Free carry case
1-year warranty
The Cons
Heavy to lug around
Bluetooth issues with less popular/older smartphones
+1 more
Higher price tag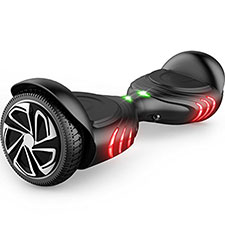 The Pros
Great for adults & kids 7+ years
Powerful motors
+6 more
Decent ground clearance
Well-made reinforced product with aluminum protection
Handle minor obstacles well
Safe & stable
Customizable LED lights
Reasonable price tag
The Cons
Few reports that hoverboard is prone to scratches
No RGB lights
+1 more
Smaller wheels (can also be a pro depending on rider)
Self-Balancing Scooters Under $300
There are four great quality hoverboards in the under $300 bucks category. Some lack features like app control and built in speaker systems but they still provide excellent value and a great experience.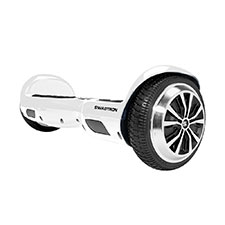 The Pros
Amazon Choices product 2017
SentryShield Battery Management
+9 more
Gear stabilization
Smooth performance
Beginner/learner mode
Easy to master
Silicon bumpers
LED headlights
Safe Stop Technology
Battery power indicators
Excellent value
The Cons
No app control
No Bluetooth inbuilt speakers
+1 more
Plastic is easy to chip/scratch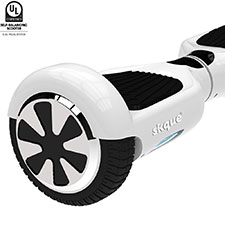 The Pros
Affordable hoverboard
Multiple colors to choose from
+6 more
Lightweight and portable
Good quality, reliable, no-thrills scooter
Durable chassis
Bluetooth option
LED lights
Short battery charging time
The Cons
No rear LED lights
Speaker system optional extra
+2 more
No app control
Needs a smooth surface for optimal performance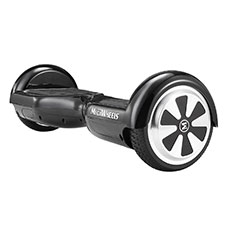 The Pros
Affordable hoverboard
Five colors available
+7 more
Excellent safety features
Extra nonslip pedals and tires
Easy to use, kid-friendly
LED lighting
Splash-resistant
Anti-impact case
suitable for different terrains
The Cons
Small wheels (can also be a positive for younger riders)
No app control or Bluetooth speakers system
+1 more
No learner mode
Self-Balancing Scooters Over $300
The picks in the over 300-bucks category are quite unique. The style, weight, size, and functionality all move up a level. You can expect bigger wheels, motors, and off-road, all-terrain capability.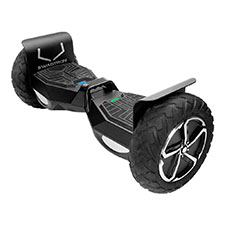 The Pros
Amazon's Choice product 2017
High payload limit
+6 more
Larger 10 inch wheels
Off-road capability (all-terrain)
Comfortable ride
Takes a higher payload
Fast for a board in its class
Long range
The Cons
Heavy to lug
Not as agile as a regular board
+1 more
Not fully waterproof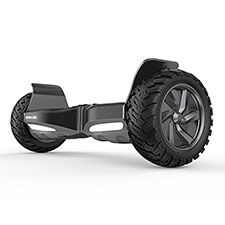 The Pros
Large size, fast, easy-to-use
Robust aluminum alloy frame, well-made overall
+6 more
Powerful 400W dual-motor
Off-road capability
Smooth riding experience
Fast top speed
White headlights, red backlights that indicate
Semi-submersible
The Cons
No low battery indicator
Heavy and bulky
+1 more
No mobile app control or Bluetooth speakers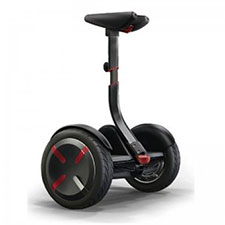 The Pros
Easy to ride at any level
Adapts well to obstacles
+6 more
Fast hoverboard
Light & luggable
Custom fit knee bar for maximum comfort and ultimate control
Anti-theft locking
Auto-headlights
Customized taillight (LED)
The Cons
Auto-slowdown annoying for the more experienced riders
Some reports of spotty Bluetooth/app connection
Summary
Reviewer
Review Date
Reviewed Item
Author Rating