China has shown that they are no slouch when it comes to 3D printing, with their developments in printing jet fighter parts and creating the largest 3D printers. Up until recently, bio-printing wasn't China's speciality but they have shown that they can do that as well. XU Ming-En and his team from the Hangzhou Dianzi University of Electronic Science and Technology have developed a 3D bio-printer for a first for the country.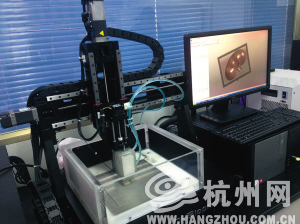 Rather than building up layers of plastic, the bio-printer known as "Regenovo" uses biological material in the same layering process to create living tissue. XU Ming-En said that a printed liver "takes around 40 mins to 1 hour" or a an ear the size of a thumb can be printed in 50 minutes, but needs more time to solidify.
He went on to say "Before printing you can preview the print path of each layer and determine suitable speed and temperature. But the system is not yet smart enough, sometimes you have to control it manually."
Apparently Regenovo's advantages are as follows:
high accuracy
it can print high viscosity materials
cell damage rate in the printing process is low
special designed double nozzles for low and high temperature
operating temperature range from -5 °C to 260 °C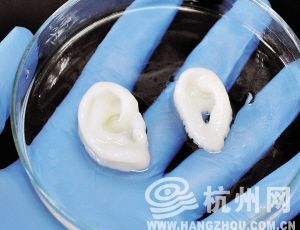 The whole process works by a sheet of hydrogel that is placed onto the print platform and then the bio-printer deposits cells into the hydrogel. A 3D biological structure is created after the process is repeated layer after layer.
They said artificial human body parts can be printed for transplant and their next goal is to print artificial livers and kidneys for transplant in about 10 to 20 years.
It goes to show that 3D printing biological material is fast becoming an important industry for countries. The ability to recreate muscles, tendons and organs could change the world significantly.