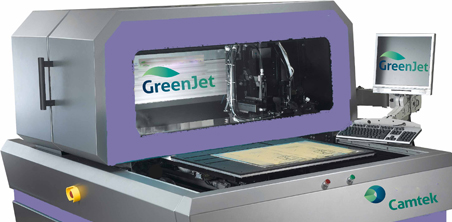 Israel-based company, Camtek manufacturers computerized systems that optically inspect electronic components for defects caused during manufacturing. Camtek now wants to enter the 3D printing industry with a potential game-changing, commercial grade 3D printer for electronic circuit boards.
During Camtek's third quarter 2013 results conference call, the company announced the worlds first commercial grade 3D printer that would manufacture PCB's (Printed Circuit Boards). The printer will be ready for a 2014 launch.
CEO Roy Porat said: "I will think it will have a big impact on the revenue line in the near future, no doubt in my mind again as I've said I think, the risk element big part of the risk element is behind us in terms of the technology, and we're few weeks from putting tooling to a customer. And I think the next milestone is really meeting this milestone which will be few weeks from now. So by next quarter call, I hope I'll have more interesting update.   And I think we'll take it once step at a time and I don't think I want to go into details right now of expected revenues in 2014, a little bit too early for us to estimate. And we have to remember, although 3D printing is it's a technology out there already, but 3D printing for our application, which is a functional 3D printing, has not been done yet in the world. So as far as I know we're the first one."
GreenJet is Camtek's digital inkjet solder mask deposition system that completely replaces conventional coating, drying, exposure and development processes currently used in PCB manufacturing. With just one push of a button, solder mask is being jetted with high registration accuracy, enabling zero clearance solder mask deposition, while providing shorter cycle time and reduced operation cost.
source: engineering.com