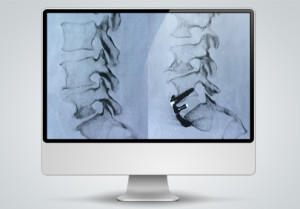 3D Printing has been used in the medical field for anything from hip joints to tiny, functioning organs; however a French surgeon has performed the world's first spinal fusion surgery procedure with custom 3D printed spinal cages.
Dr. Vincent FIERE performed the surgery at France's Jean Mermoz Hospital in Lyon. Jean Mermoz hospital specialises in the diagnosis and treatment of severe spinal deformities or injuries and is a world leader in its field.  The operation was performed using Medicrea's UNid ALIF intersomatic cage. Medicrea specialises in the design, development and manufacture of orthopaedic implants for spinal surgery.
"The intersomatic cage, specifically 'printed' for my patient, positioned itself automatically in the natural space between the vertebrae and molded ideally with the spine by joining intimately with the end plates, despite their relative asymmetry and irregularity," said Dr. Fiere.
The intersomatic cages mimicked the functions and structure of the patient's vertebral plates. To create the cages, Medicrea first used 3D scans and images to model the patient's spinal structure. Dr. Vincent then used Medricrea's Surgimap Spine software to aid him with the procedure.
"I could also very precisely perform the restoration of the disc height and simultaneously correct the degree of lumbar lordosis using plans I had made several days before the operation with the help of the Medicrea Surgimap software tool."
Denys Sournac, Medicrea's chairman believes their software will revolutionise spinal treatment. "Continuing our trajectory since the launch of our PASS LP UNiD rods which are made to measure for each patient, Medicrea confirms its position as the pioneer of intelligent spinal implants, perfectly adapted to the morphology of each patient's spinal column and developed in a rational and planned manner to restore the fundamental mechanical equilibrium of the human body."
3D printing is changing the way orthopaedic surgery is performed and one day custom implants may be common place.
Source: Medicrea