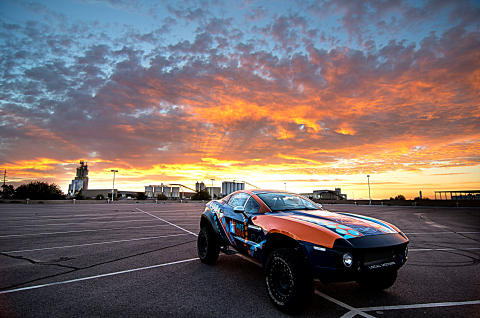 In January, Local Motors announced that they had signed a new partnership with Oak Ridge National Laboratory to develop the world's first production car. They also announced that MarkerBot's CEO, Bre Pettis would be joining their Board of Directors to help further develop the technologies and additive manufacturing techniques which could be used in the production of the vehicle.
Local Motors third announcement in less than a month is a big one. According to the company, they have signed a contact with The Association For Manufacturing Technology (AMT) to build a 3D printed electric vehicle by the end of the year. The car's first outing will be at IMTS – The International Manufacturing Technology Show 2014 in Chicago, Illinois, from 8-13 of September 2014. IMTS is the largest and longest running manufacturing technology trade show in the United States.
The 3D printed vehicle is designed by Local Motors global community and built using the material science and additive manufacturing techniques available at the Manufacturing Demonstration Facility (MDF) at Oak Ridge National Laboratory.
Local Motors said, "The finished vehicle will be used as an example of how sustainable green technologies can reduce life-cycle energy and greenhouse gas emissions, lower production cost, and create new products and opportunities for high paying jobs."
A unique open source approach to the design makes customizing the car more accessible. A community of designers, manufacturers, and enthusiasts participating in open competitions on the Local-Motors Web site contributes to the design of the car. Once designs are submitted to Local Motors, the community and potential customers are allowed to vote for their favourite idea.
The car will be more of a test to explore the feasibility of additive manufacturing in vehicle manufacturing. The team at Local Motors will be looking to create a more efficient, environmentally friendly car with a lower production cost and time. Additive manufacturing will also lower the number of parts needed and increase mechanical flexibility.
Now read – Student Designed Car Uses 3D Printing To Save Weight And Fuel