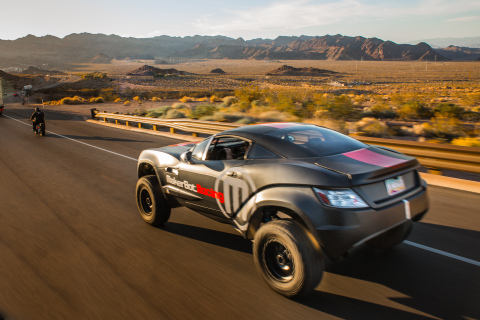 Local Motors and  Oak Ridge National Laboratory (ORNL) announced last month they would be investigating 3D printed production cars. Now, Local Motors has announced that MakerBot's CEO, Bre Pettis has joined its Board of Directors. Pettis has been the CEO of MakerBot since co-founding the 3D printing company back in 2009.
Just like what MakerBot did to 3D printing, Local Motors is hoping to start a revolution in the car industry by utilizing new manufacturing techniques to produce next generation vehicles. The American company already co-creates vehicles and components for a global community of engineers, designers and manufactures.
CEO of Local Motors, Jay Rogers, said "I have long admired Bre as a great American entrepreneur. He is, at his core, an independent maker and innovator who successfully pursued these passions to become a defining figure in the Maker Movement and Third Industrial Revolution. His thoughtful advice will be of immeasurable value as we continue our march to democratize production methods using advanced manufacturing techniques."
Pettis stated,  "I've watched with amazement as Local Motors has pioneered a co-creation and micro-manufacturing model that has democratized the development and production of complex machines, effectively transforming consumer choice from supply-driven to demand-driven. Not to mention I've wanted a Rally Fighter, their first community co-created product, from the moment I saw it. I'm a car guy at heart. That vehicle really speaks to the power of the crowd. I'm finally building my own in April."
Recently Pettis was honored by The Economist with a 2013 Innovation Award, and was also honored in 2012 with the Disruptive Innovation Award from the Tribeca Film Festival, for "creating an entire ecosystem for desktop 3D printing." The MakerBot CEO is a highly sought-after speaker and has graced numerous magazines and has been a guest on The Colbert Report and many similar shows.
The inclusion of Pettis into Local Motors board of directors brings the total number of board members to four. Other members include Jay Rogers, Thomas D. Lehrman and Mark Smith. Smith founded Factory Five Racing, a company that specializes in manufacturing and designing assembly kits for car replicas and sports cars. Lehrman co-founded and is a former CEO of the Gerson Lehrman Group, which is a knowledge brokerage and primary research firm that operates an expert network platform of more than 500,000 subject matters.