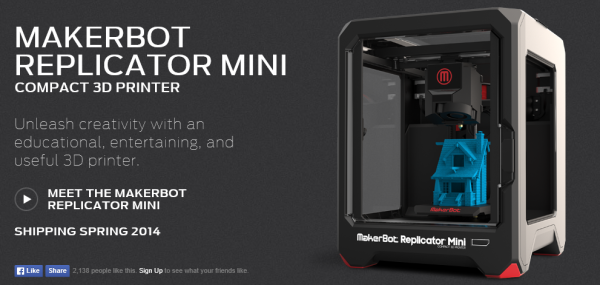 MakerBot announced three brand new 3D printers at CES 2014 and the smallest one is now ready to pre-order. The MakerBot Replicator Mini is essentially they company's entry level 3D printer, aimed at anybody looking to get into 3D printing or institutes such as schools.
Like MakerBot's other 3D printers, the Mini will be manufactured in Brooklyn, New York and will be equipped with many of the same features that it's big brothers have. It has a relatively small build volume of 3.9 x 3.9 x 4.9 inches and can print up to a resolution of 200 microns. The printer is almost completely plug and play and the print bed requires zero levelling.
MakerBot believes the MakerBot Replicator Mini Compact 3D Printer is sized to transform a small desk in an office, home or classroom, into an exciting creativity center. It was the winner of four awards at the 2014 Consumer Electronics Show (CES), impressing CES attendees, and also drawing the attention of media and CES award judges, winning the coveted CES 2014 Editors' Choice Award from Popular Mechanics, CES 2014 Best in Show from Digital Trends and ZDNet, and Best of CES 2014 Greatest Hits from PC Pro.
"Reflecting on the future of our products, I imagine a lot of them will look like the MakerBot Replicator Mini," said Bre Pettis, CEO of MakerBot. "We've been working hard for years to make 3D printing easy; now, with the MakerBot Replicator Mini, it is easy. We view the MakerBot Replicator Mini as a versatile and tidy 3D printer that can fit almost anywhere — up at the Space Station, at an elite institution, or in a preschool."
Potential customers can now pre-order the Replicator Mini and MakerBot believes that they will be ready for shipping by Spring of this year, although that is not confirmed at the present time and could be subject to change. The printer will be priced at $1,375, making it significantly cheaper than the Replicator.
Now read – Three New MakerBot Replicator 3D Printers