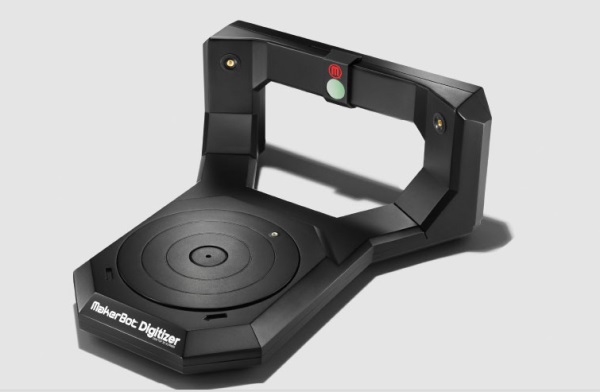 Makerbot has added another product to its line-up of excellent 3D printers. The MakerBot Digitizer Desktop 3D Scanner lets you scan real life objects via a camera and two lasers, turn them into 3D models and then print them. MakerBot has just announced the availability of the Digitizer on its website.
"Bringing the MakerBot Digitizer Desktop 3D Scanner into the world has been a big goal of ours this year." stated MakerBot CEO Bre Pettis.
Apparently the Digitizer 3D Scanner is optimized for MaberBot's Replicator Desktop 3D Printers and MakerBot's Thingiverse, but we can almost guarantee that the scanner will work perfectly fine with almost any desktop 3D printer. It is easy to use, just connect the MakerBot Digitizer to a laptop or computer and you are ready to go.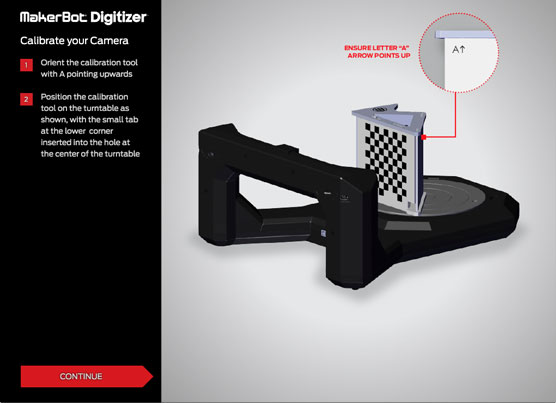 Features include:
Simple, yet sophisticated software to create clean, watertight 3D models with just two clicks
A 3D digital design file in just minutes
Outputs standard 3D design file formats that can be modified and improved in third-party 3D modeling programs, like Autodesk's free software MeshMixer
Easily upload scans directly to MakerBot's Thingiverse.com
Ability to digitize physical objects up to 8″ in diameter and 8″ tall and up to 3 kg (6.6 lbs.)
"We focused on making the MakerBot Digitizer super easy to use, intuitive and simple. The MakerBot Digitizer is powered by MakerBot MakerWare software, and we plan to offer in the future additional software updates that are expected to add even more features and capabilities." said Pettis.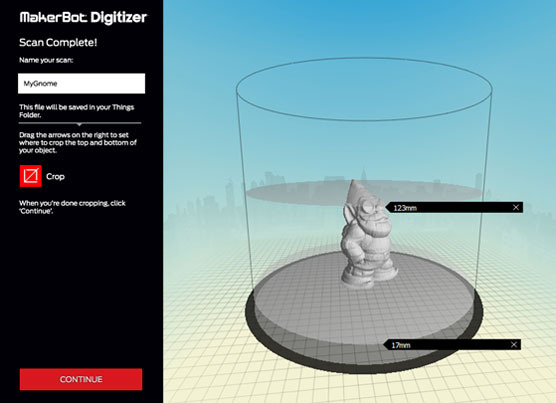 Performance:
Scan size: Up to 20.3 (diameter) x 20.3 cm (H) / [8 x 8 in.]
Dimensional accuracy: ± 2.0 mm [± 0.079 in]
Detail resolution: 0.5 mm [0.197 in]
Triangles per 3D model: Approx. 200K
Scan speed: Approx. 12 minutes
Steps per rotation: 800 per rotation
Optimal Light Conditions: Artificial indoor light
Maximum weight on turntable: 3 kg [6.6 lbs]
Dimensions:
Product Dimensions: 47.5 (L) x 20.3 (H) x 41.1 cm (W) / [18.7 x 8.0 x 16.2 in]
Shipping Dimensions: 52.1 (L) x 24.4 (H) x 47.0 (W) cm / [20.5 x 9.6 x 18.5 in]
Product Weight: 2.1 kg [4.7 lbs]
Shipping Weight: 5.0 kg [11.0 lbs]
Components:
Lasers: Two eye-safe Class 1 laser line generators
Camera: 1.3 megapixel CMOS image sensor
Enclosure Material: PC ABS
Connectivity: USB connection
Stepper Motor: 0.9° step angle with 1/16 micro-stepping
Software:
Included Software: MakerWare for Digitizer
Exported File Types: STL
Operating Systems: Windows (7+) / Mac OSX (10.7+) / Linux (Ubuntu 12.04+)
Pre-orders for the Digitizer are being taken now for a price of $1,400 plus an extra $150 for MakerBot's  Digitizer MakerCare. The scanner will ship sometime in October.