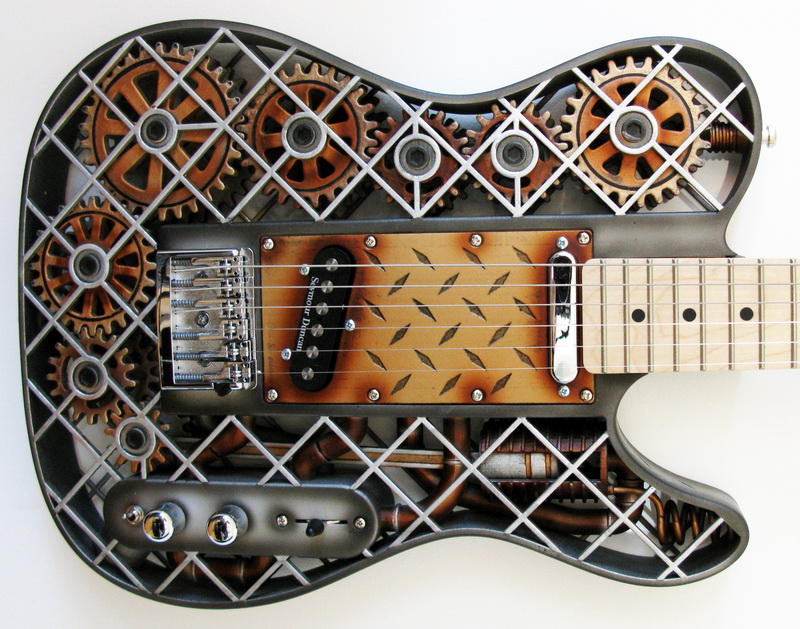 We often associate high end guitar building with more traditional manufacturing techniques, but New Zealander, Olaf Diegel has set out to change that perception with his 3D printed guitars. His latest creation is based on the farther of electric guitars, the Fender Telecaster.
Diegel created the the Steampunk 3D printed guitar as a tribute to the Telecaster. It features a 3D printed body with moving gears and piston. The entire body, including all its moving components is printed as a single component, with no further assembly required. The Steampunk paint job was done by New Zealand airbrush artist Ron van Dam.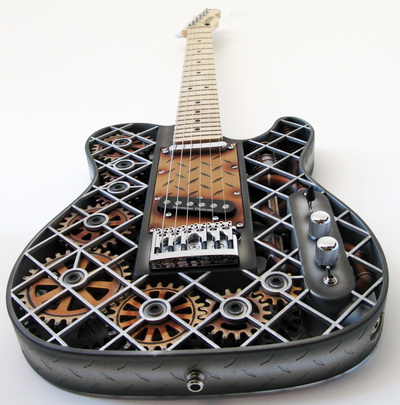 The body of the guitar was created from a selective laser sintering (SLS) 3D printer from 3D Systems at 0.1mm layer thickness. SLS involves the use of a high power laser to fuse small particles of plastic, metal, ceramic, or glass powders into an object that has a desired shape. The laser selectively fuses powdered material by scanning cross-sections generated from a CAD file of the part on the surface of a powder bed. After each cross-section is scanned, the powder bed is lowered by one layer thickness, a new layer of material is applied on top, and the process is repeated until the part is completed. Diegel used Duraform nylon material for the 3D printed parts.

Specifications include:
Neck – Warmoth Pro Telecaster maple neck with maple fret board, 22 frets, 25 1/2″ scale, 42.86mm (1 11/16″) width GraphTech White TUSQ, 6150 sized jumbo frets, 10-16″ compound radius fret board, black inlay dots
Body – 3D printed Duraform PA outer body, with maple inner core, airbrushed steampunk paint job, and sprayed with clear satin lacquer
Bridge – Schaller 475, 6 String Flat Mount Bridge, Chrome
Pickups – Seymour Duncan Quarter Pound Rhythm and Lead for Telecaster
Tuning heads – Gotoh Mini 510 Locking Tuners, Chrome
Controls – Pickup select switch, Volume knob, Tone knob, Gear motor on/off switch
Other – Schaller Strap Locks, D'Addario strings (usually EXL-110 unless other specified), low-cost hard case for safe shipping (we can, however, also offer you a high quality case as an optional extra)
Weight – 3.2Kg
Olaf Diegel is a design engineer with a assion for 3D printing and other advanced manufacturing technologies. As his real job, Olaf is professor of mechatronics and Massey University in Auckland, New Zealand.
Check out the video below and head over to odd.org.nz to see Diegel's Steampunk guitar and his other creations.