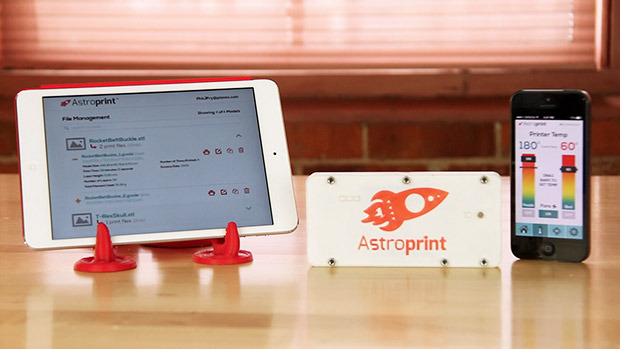 Here at 3D Printer Plans, we're always interested in new products that could make 3D printing easier and more user friendly. The team behind the 3D printing marketplace, 3DaGoGo, has launched a new product on Kickstarter called AstroPrint, which lets owners, run, control and monitor their 3D printers wirelessly and remotely and almost any device.
AstroPrint is comprised of two parts/products, the AstroBox, a WiFi-enabled module that connects to the 3D printer and AstroPrint.com, an online cloud service that lets users interact with the printer through the AstroBox. Through AstroPrint.com, users can slice, organize and store designs online, and can then remotely send instructions to the printer. If a camera is installed, users can also watch the printing process on any device.
"With AstroPrint, we mark a significant milestone in our mission to make 3D printing smarter, and more effortless," said Drew Taylor, CEO and Founder of AstroPrint. "We really focused on the simplicity of the user interface so that those starting out will feel at home, while making it sophisticated enough to allow power users to tweak and control every advanced setting on their 3D printer."
Drew continued: "In fact, we are already speaking to printer manufacturers about making AstroPrint the standard software that operates their 3D printers.  Our vision is for AstroPrint to become the software partner driving all desktop 3D printers, letting the hardware engineers focus on hardware, while we focus on software and the user experience."
AstroPrint is hoping to raise $10,000 in funding. The team behind AstroPrint decided to make the software open source and claim that the platform is compatible with nearly all desktop 3D printers.
Find out more on their website and check out the Kickstarter campaign.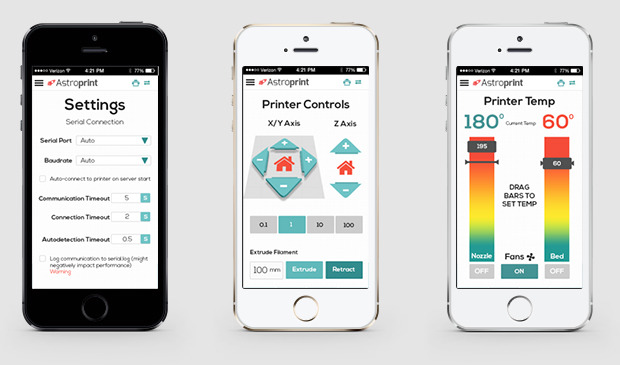 Source: AstroPrint