3D printing is finding its way into everything these days, but we'd never have thought it would be used to create stamps that attach to your bike wheel. Thingiverse user, Nalio has done exactly that with his 3D printed "Revolution" bicycle stamps.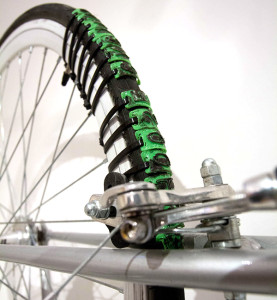 "Revolution turns your bike wheel into a rolling stamp. The stamps are 3D printed letters to clip on your wheel with a cable tie. Push the inking roll against the wheel to ink the letters and leave your message on the pavement. You can easily customize and 3D print all the parts you need." wrote Nalio.
The Revolution system uses 3D printed letters/stamps that can be customised and are fixed onto the wheel of the bike by cable ties. Ink is fed onto the stamps via a roller system that can be 3D printed. Almost all of the parts needed to make the stamps and the roller can be 3D printed in ABS, PLA or NinjaFlex filament.
Here's a full list of items and tools needed:
a 3D printer
some NinjaFlex for the stamps
some regular ABS or PLA for the inking system
2 long M5 bolts longer than 50mm and 2 nuts
1 regular inking pad
plenty of cable ties
a nice bike
a good message
While it's probably not a good idea to go around spreading your message on every street and road of your neighbourhood or town, we think this is a great idea and could even be implemented in some sort of school learning environment. Head over to Thingiverse to find out more and check out the wiki for instructions. It's just a shame that we can't implement the same technology on our Assault Air Bike! Now that would be cool.
Source: Thingiverse