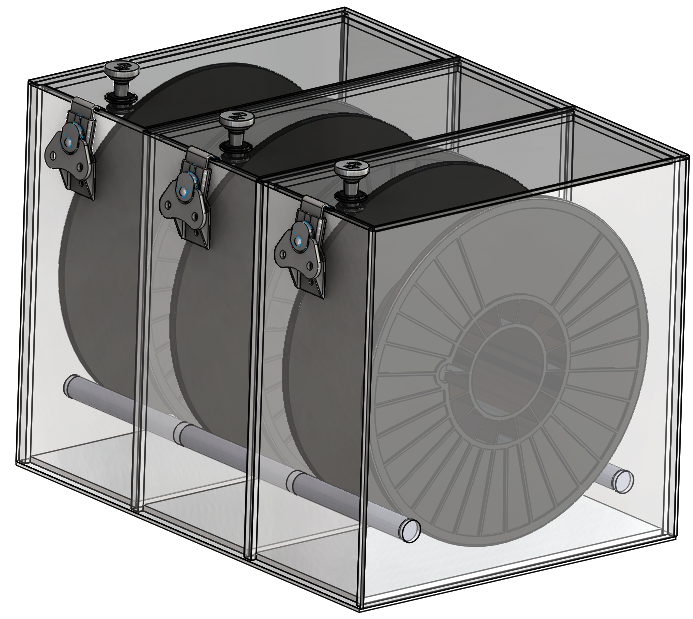 ABS and PLA filament used for 3D printing absorbs water from the atmosphere, which can reduce the quality of your prints. Perception Engineering based in Grand Rapids, MI has developed a solution, The Filament Safe.
The Filament Safe is built with high quality materials that are both functional in this application and also eye appealing. The clear Acrylic case helps you determine what color and how much material you have remaining without opening the safe. Perception Engineering's Filament Safe is an airtight container that not only ensures that excessive moisture does not enter your material between prints but can also shorten the material change over time required.
Moisture absorption can cause inconsistent extrusion widths reducing the finish quality of your prints. Many have tried different techniques such as putting their filament in the oven or using a clothes dryer to remove excess water, but this can take hours.
Perception Engineering are offering a single stall Filament Safe, a double and a triple. These will set you back $50, $80 and $125. Take a look at their Kickstarter page here.
About Perception Engineering:
Perception Engineering, LLC works to provide customers with start to finish design assistance. Whether your project is still just an idea in your head or you are ready for a prototype we can help you with the next step.
Our engineers are experienced in product design and specialize in sheet metal and plastics. They can create 3-D solidmodels, detailed prints or assemblies depending on your needs. We are also capable of quick turn prototyping with our 3-D printer which is capable of printing with ABS or PLA.