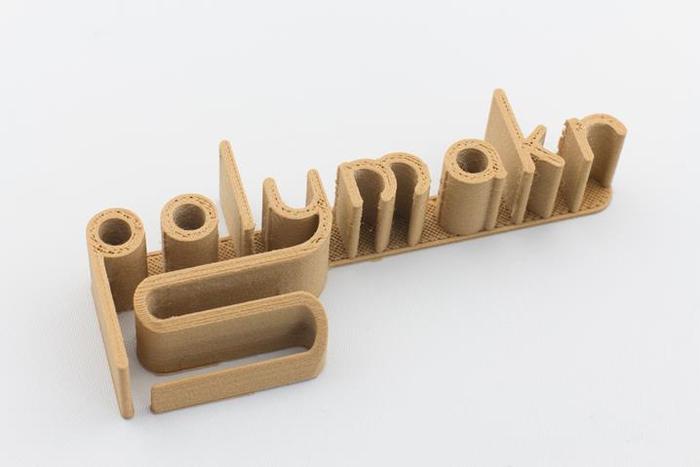 Polymakr has launched three entirely new materials on the crowdfunding site, Kickstarter. The Chinese filament fabricator says "While the machines and software keep getting better, the materials available for printing have remained more or less unchanged." Material engineers and designers at Polymakr claim that new, improved materials are the next step for 3D printing.
PolyMax PLA
The first new material from Polymakr is PolyMax PLA, a completely re-engineered PLA filament that improves upon PLA's poor mechanical properties and reduces its brittleness. According to the company, PolyMax PLA exhibits over eight times better impact strength and toughness than standard PLA. Amazingly, the new PolyMax PLA also outperforms ABS plastic in almost all mechanical property tests, yet doesn't release a toxic smell.
PolyMax PLA will be compatible with almost all FDM-style desktop 3D printers, including many "ABS-only" machines. It prints under almost identical conditions as regular PLA, meaning those without a heated printbed should be fine.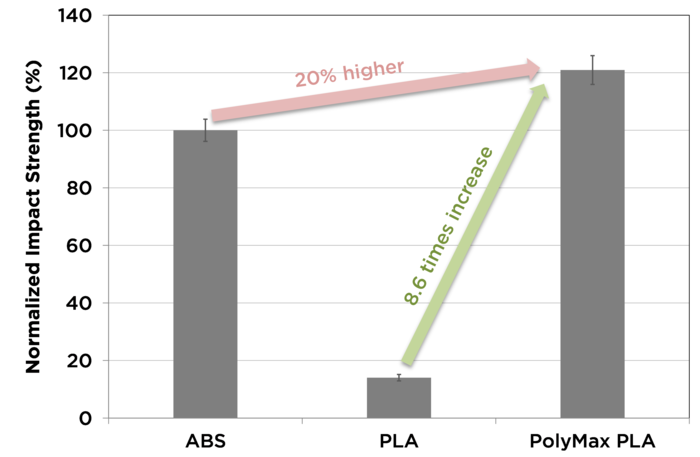 PolyFlex
Those with the need to print flexible components will be happy to hear that PolyMakr's second new material can be twisted and bended all day long. Unlike many other flexible filaments, the new PolyFlex material can be used on most desktop 3D printers available on the market without the need to change extruders or nozzles. It will come in both 1.75mm and 3mm variants.
A common problem with many flexible filaments is speed. This is because they are too soft, which often causes problems with filament feeding. PolyMakr has found a way to increase speed and they believe PloyFlex can be printed at up to 90mm/min. The new flexible filament requires no heated bed and has very little tendency to warp.

PolyWood 
The last new material is PolyWood, a wood-mimic printing material that contains no actual wood. To give a wood like appearance, PolyWood features a porous microstructure, similar to natural wood. Interestingly, PolyMakr says that PolyWood is effectively a foam, making it the first or one of the first 3D printable foams available for desktop 3D printers.
The company said "We used a unique foaming technology that stabilizes the air bubbles inside the material (imagine tiny micro-balloons) – so you can maintain the porous structure during and after the printing."
PolyMakr suggest a slightly higher print temperature is used when using PolyWood and a lower print speed. A heated print bed is not required but is recommended if you have one.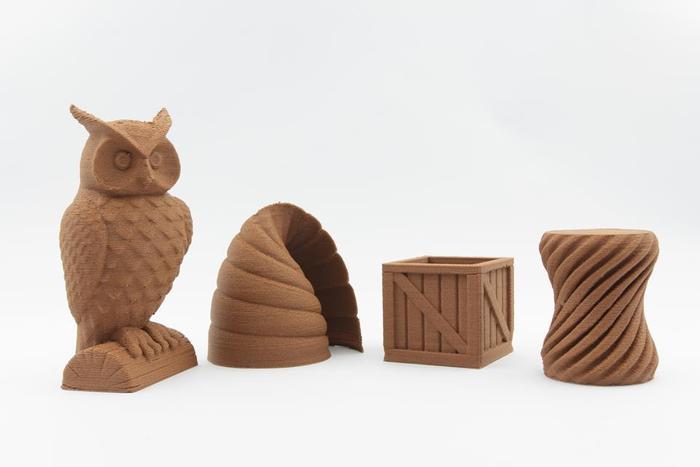 All filaments are spooled and vacuum sealed in reusable plastic bags. One pound of PolyMax PLA spooled and a pound of PolyFlex or PolyWood costs $24 and $30 respectively. Find out more on PolyMakr's Kickstarter page or on their website.