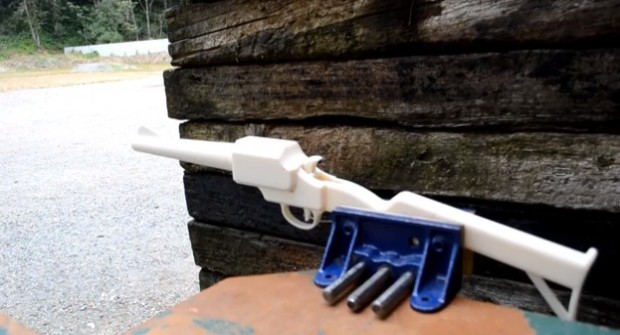 On December the 9th, the US Senate renewed the Undetectable Firearms Act that was to expire. The law was established in the 1980's as a means of preventing and banning hidden weapons that could pass through metal detectors or other security equipment. With recent developments in 3D printing weapons like Defense Distributed's Liberator pistol, lawmakers and gun control advocates have been pushing for further restrictions on the technology.
Many expected the renewal of the Undetectable Firearms Act would bring about an increased crackdown on plastic firearms produced by 3D printing, but it appears that is not the case. While Congress voted to renew the ban, it didn't add any new restrictions to plastic guns. Plastic guns will still require metal to be inside of them, but that is about the extent of the bill.
Senator Chuck Schumer told the Associated Press "Who in God's name wants to let plastic guns pass through metal detectors at airports or stadiums?" Schumer has been at the forefront of a modified undetectable gun control bill, but was shot down by Senator Charles Grassley of Iowa, who believed "the real objectives were things other than just getting an extension."
It was interesting to see that gun advocates such as the National Rifle Association and the National Shooting Sports Foundation didn't oppose the renewal of the ban, but they did oppose any possible new restrictions.
3D Printed guns have been in the limelight lately and it started with the Liberator back in May. The Liberator can be downloaded from a number of different file sharing websites on the internet. Since then we've seen the "Grizzly" 3D printed rifle and even a metal 3D printed gun from Solid Concepts.
So far all the 3D printed guns above have been created on expensive, professional series 3D printers. It would take a brave man to hold and fire a gun created on a MakerBot or any other consumer level 3D printer and it would probably be easier to make one with a number of different manufacturing techniques that have been used over the years. Right now I don't believe that 3D printed guns are a threat to homeland security, but who knows what might happen in the future.