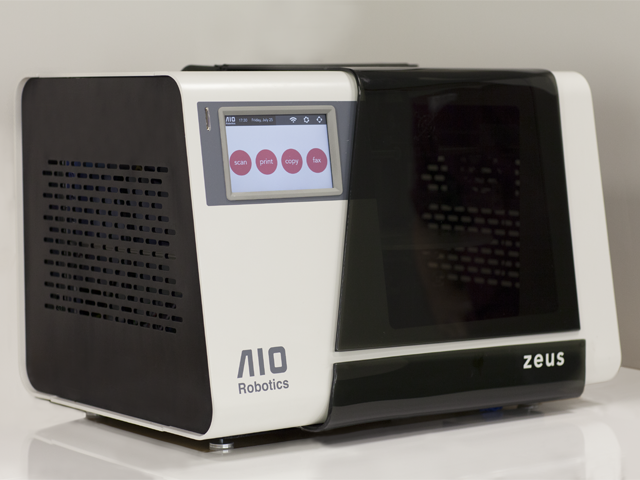 AIO Robotics has launched its all-in-one 3D copy machine "ZEUS" on Kickstarter. ZEUS functions as a scanner, printer, copier and faxing machine.  AIO's all-in-one device has been the product of five years of hard work from the team.
The ZEUS frame is made from an aluminium structure, powder-coated in a moonstone white, with black anodized side panels and a 7-inch touch-screen gives the machine a welcoming "consumer ready" look.
3D Printing
AIO have included a piece of software that detects uneven surfaces and then auto-levels and compensates for the uneven surface, giving users the best printing surface.
Layer Resolution: 100 microns
Build/Scan Volume: 26cm x 18cm x 15cm
Material compatibility: PLA (1.75mm)
3D Scanning
The ZEUS is equipped with an HD camera and a swiping laser that transforms physical, real world objects into printable 3D models. AIO chose a swiping laser system because it allows the scanner to capture intricate details of an object. The swiping laser combined with the 360 degree turntable is able to produce 800+ scans per side and the HD camera is able to get 1000 points per scan line.
AIO's automatic repair mesh software automatically fills in missing points and repairs broken mesh that would have a negative effect on the quality of a print. It also eliminates the complicated process of manually repairing broken files.
ZEUS's onboard computer uses a 1.7Ghz quad-core ARM based processor to quickly process all the 3D scanning/printing data. This is supplemented by an optional cloud service that gives the onboard computer a speed boost when processing complicated 3D data.
3D Copying & Faxing
While ZEUS's copying feature is pretty self explanatory, the faxing part is a little more interesting. If you happen to know somebody with another ZEUS or you've got two just in case, you are able to literally send physical objects through an online secure connection from one ZEUS 3D printer to another.
AIO also hopes to create a stronger community by providing developers with an open API. They will also be making the sensors and motors accessible to experiment with the ZEUS.
ZEUS is currently available on Kickstarter for $1,999, making you one of the 50 "Lucky Makers". This means you get the full AIO package including the ZEUS printer, one roll of filament and an estimated delivery date of around February 2014.
About AIO Robotics:
AIO Robotics, Inc. is a high-tech startup that targets the 3D printer market with innovative All-In-One 3D copy machines. By automating the process of 3D scanning and 3D printing, our machines will enable everyone to access 3D printing. A single press of a button allows users to scan, print, copy, and fax 3D objects.