1080p and 4K Camcorder Black Friday 2019 Deals from Panasonic, Sony, and Canon
3D Insider is ad supported and earns money from clicks, commissions from sales, and other ways.
There might not be many new camcorder models on the market, but that doesn't mean that getting one for black Friday isn't worth it! Camcorders have better video quality than smartphones, can zoom out without reducing quality, and have built-in image stabilization that ensures smooth & steady footage. Their microphones are excellent, too, so you don't even need to get an external one if audio is necessary for the shot. Here are the camcorder models you should keep an eye on come Friday.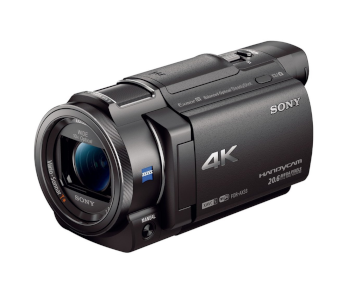 Sony FDRAX33
Original Price: $848
Black Friday Price: $698
Videomakers looking to futureproof their work need a 4K camcorder. Sony's FDRAX33 is the one to get this Black Friday due to a significant price cut. It's small and lightweight, allowing you to shoot all day long without tiring or needing to mount it on your shoulder. The camcorder has a responsive touchscreen as well as a hi-rez viewfinder that helps with framing a shot.
Other impressive specs include Sony's Bionz X processor, a backlit sensor, and advanced image stabilization. Combined, they help produce videos of exceptional quality that are freeform camera shake and need minimal post-processing. You can bring subjects closer thanks to 10x optical zoom or switch to 20x digital if that's not enough. The FDRAX33 has a capable microphone that easily outperforms those on smartphones and even most DSLRs in the same price range.
This is a camcorder you won't need to replace for a long time as it shoots in 4K at 30 or 24fps. Videos are saved in the XAVC S format to take up less space, while previews containing their highlights can also be saved as MP4. These are easy to upload and share from your smartphone.
The FDRAX33 is an excellent choice as the center of a multi-camera setup. You can connect five cameras to it and monitor each from the LCD. Multicam footage can then easily be spliced together using Sony's free PlayMemories Home software.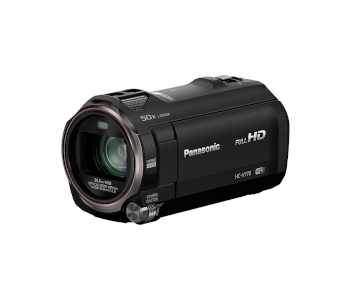 Panasonic HC-V770
Original Price: $599.99
Black Friday Price: $397.99
Are you used to making movies with your phone but are ready to move to something better? In that case, pick up Panasonic's HC-V770 as it's the perfect transition camera thanks to a versatile app and secure handling.
The camcorder is comfortable to hold in hand and designed so that recording, zooming, or snapping pictures can be done without extending the LCD. It has a 20x optical zoom, letting you record far-away subjects without quality loss. Footage is shot in 1080p at 60fps and made better by high dynamic range- HDR eliminates washed-out parts and color blotches by reducing contrast and increasing detail.
A back-illuminated sensor is at the HC-V770's heart. It demonstrates one of the most significant advantages camcorders still have over smartphones – superior low-light performance. You can record indoors or in dim conditions without having to ramp up the ISO. Even if higher values are required, there's little noise to take care of in post-production.
Wireless remote control is another great convenience. Download the Panasonic Image App, and transform your smartphone into the camcorder's other viewfinder. The app lets you take pictures, start or stop recording, and zoom in without touching the HC-V770 and potentially ruining the shot.
The multi-array microphone is another feature you'll love. It records audio in 5.1 surround sound and successfully mitigates mild wind. If the audio quality isn't good enough, you can always hook up an external microphone through the dedicated jack.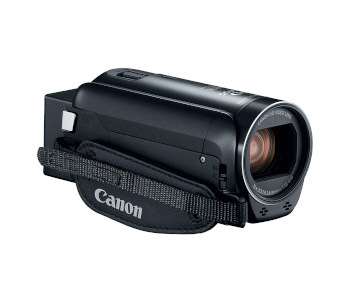 Canon VIXIA HF R800
Original Price: $249.99
Black Friday Price: $199.99
You wouldn't think that a budget-friendly camcorder would be high on anyone's recommendation list. However, Canon's Vixia HFR800 has enough features to get our blessing. It boasts a powerful optical zoom, in-camera editing options, and accessibility for pros and newbies alike.
The HF R800 shoots FullHD videos at 60fps. It can also shoot 0.5x slow-motion videos at 30 fps along with time-lapses. Using it is straightforward, and there's an in-depth manual if you get stuck. There's a zoom slider on top that goes up to 32x and can be quickly readjusted if you're repositioning a zoomed-in shot.
There are few other physical controls on the camera as its touchscreen takes care of most operations. The screen responds quickly, but isn't bright enough to handle direct sunlight. However, the screen rotates a full 180 degrees, letting you use it as a reference when vlogging.
Onboard editing is a feature canon camcorders implement well. It allows you to trim clips and apply various effects before transferring anything. Speaking of which, the HF R800 takes SD cards you can transfer files to directly from inside it or take out and connect to a computer.
Other notable camcorder deals