6 Best 360 Action Cameras of 2019
3D Insider is ad supported and earns money from clicks, commissions from sales, and other ways.
The world is a 3-dimensional place, so why limit yourself to rectangles that present only part of the picture?
360-degree cameras capture everything around you. They use wide-angle lenses as well as an array of sensors to produce pics and videos you can rotate and pan without limitation. Using one is as simple as recording with a regular action camera, and making your clips presentable requires minimal effort. Some people may still be skeptical about this type of camera, but the technology has matured to a point where 360-degree action cameras have become serious contenders in the creative space.
Today, we take an in-depth look at the six best 360 action cameras on the market. Some are brimming with the newest features, while others offer a mix of performance and price too good to pass up. Check out what we have to say about each, choose a favorite, and start expressing yourself like never before.
Budget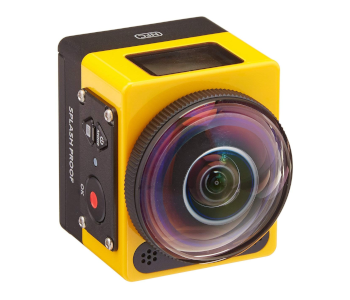 Kodak PIXPRO SP360
3.9/5.0
Weight: 3.7 oz.
Battery life: 160 minutes
Comes with a huge variety of accessories.
Check Amazon
Best Value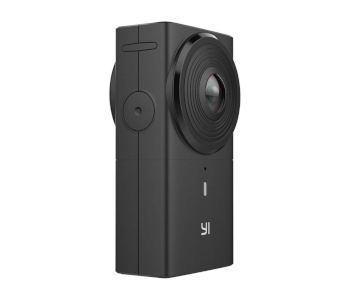 YI 360 VR Camera
4.5/5.0
Weight: 5.9 oz.
Battery life: 45 minutes
This has time-lapse and burst modes.
Check Amazon
Top Pick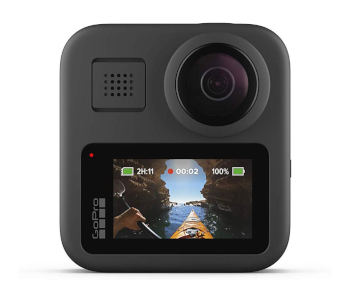 GoPro MAX
4.8/5.0
Weight: 4.4 oz.
Battery life: 110 minutes
Has an improved onboard software and app.
Check Amazon
360 Action Cameras Comparison Table
1. Best Overall – GoPro MAX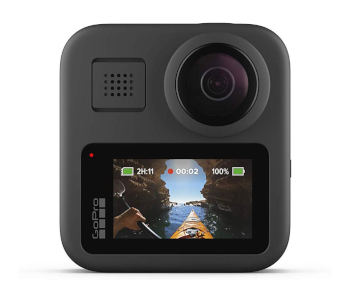 View on Amazon
Editor's Rating: 4.8/5
GoPro launched the Fusion 360-degree camera a few years ago to a mostly warm response. While it delivered great 360 footage, the Fusion felt like it was two generations behind the then-current GoPro HERO in every other respect. Max lacks only a few features of the HERO 8 while having none of the older model's drawbacks like two SD card slots or a lackluster battery. You can use it as an ordinary GoPro with excellent results, create incredible 360° footage, and quickly reframe shots in 1080p.
Overview of Features
Max has a different design than its predecessor. Gone is the front info screen, but now you have a responsive touchscreen to play with like on regular GoPros. The interface is remarkably intuitive, allowing you to switch between recording in 360 and regular modes with a single tap. The camera comes bundled with two lens caps, two lens protectors, a carrying case, and a single strap.
Shooting videos with Max is a breeze. You can capture them either with both wide-angle cameras or switch from one to the other. The camera acts like a regular GoPro in the latter case, albeit with an optional Super-wide view that's 27 degrees wider than on a HERO. 360-degree videos are shot in 5.6K at either 24 or 30fps and stitched together on the camera. You can overlay ordinary videos with GPS data or stream them too.
Photo mode lets you take 16MP 360-degree pictures as well as 5MP stills with either camera. There's also a new feature called PowerPano, which takes a 270-degree pic. It's useful for panoramic action shots as no stitching is required. That way, your subjects will be captured in full without errors brought on by editing.
You can look forward to most GoPro HERO features while using Max. These include silky-smooth time-lapses, excellent image stabilization, and horizon leveling. The latter is particularly useful since it lets you hold the camera at any angle and still get a leveled shot. Some features are missing, however. No Night mode, lack of support for RAW images, and no more Burst mode are the most notable ones.
The onboard software, as well as the GoPro app, have undergone welcome improvements. You can use various aspects of Protune like White Balance, ISO levels, or EV Comp to tweak the way your footage looks without needing to open an editing program. Meanwhile, the app now has keyframing, which allows for more creativity when planning your shots.
What We Didn't Like
Max isn't nearly as versatile as a HERO when not recording in 360° mode. Its highest resolution is 1440p at 60 fps. There's a Linear mode you may use to shoot videos that don't have the characteristic fish-eye look you'd associate with action cameras. However, videos made in Linear mode are of lower quality and grainy.
Tech Specs
Dimensions: 2.5 x 2.7 x 1 in.
Weight: 4.4 oz.
Photo resolution: 16.6MP in 360 mode, 5.1MP in Hero mode
Video Resolution: 5.6K 30fps in 360 mode, 1440p 60fps in Hero mode
Battery life: 110 minutes
The Pros
Great-quality, stable 360-degree videos with almost imperceptible stitching
Easy handling and access to features
Improved onboard software and app
Useful panoramic photo mode
The Cons
Grainy Linear mode footage
Fewer video resolutions and framerates than the HERO series
2. Best Value – YI 360 VR Camera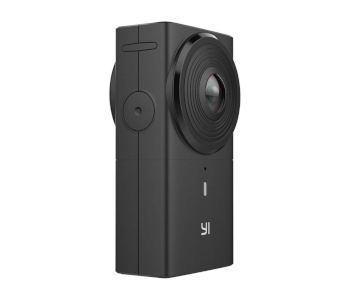 View on Amazon
Editor's Rating: 4.5/5
Yi is an action cam manufacturer known for creating inexpensive products that still give competitors a run for their money. The same is true for the Yi 360 VR camera. It might lack Max's excellent image stabilization, but image quality and video options are on par with our overall winner. It's a great choice if you care more about ease of use and sharp footage than additional bells & whistles.
Overview of Features
Yi's camera is the heaviest on review at close to 6 ounces. That's not a bad thing since you can place it on a table and not worry about knocking it over by accident. You can screw the YI 360 VR onto a standard tripod thanks to a socket located on its bottom panel. The camera's overall appearance is sparse as it only sports two 220-degree lenses, the tripod socket, and a couple of buttons.
The simple design of Yi's camera conceals a few secrets. For example, there's a flap that hides a USB-C charging port and a slot for its MicroSD card. You'd think that this would make the camera waterproof, but sadly it doesn't. The last thing Yi's camera hides is a monochrome display that lights up when you activate it. The display shows how much memory and juice are left. It also gives you access to basic control options accessible by pressing the two buttons next to the monitor.
Videos shot with the Yi 360 VR Camera look great! Their max resolution is 5.7K at 30fps. You can't decrease the framerate to 24fps for a cinematic feel, but you can downgrade the resolution and get up to 120fps if you switch to 2K. Using max resolution produces sharp, detailed videos in which you can clearly make out foreground characters. Far-away objects and backgrounds appear somewhat pixelated, but that's a tradeoff you'll get with any 360 camera.
360-degree photos have a resolution of 16.6MP. You get to choose between two profiles for both photos and videos. The default one produces punchy colors and good contrast with little detail loss. You may also switch to a flat profile if you're planning on color grading in post.
Lastly, there's Yi's intuitive 360 app. It connects to the camera through Wi-Fi and Bluetooth and gives you more shooting options like time-lapse videos and bursts of photos. You can use the app to copy files to a computer, perform in-app stitching, and adjust basic settings like exposure and white balance.
What's Bad About It?
The battery in Yi's camera is mediocre. Expect it to last for 45 minutes or less if shooting in 5.7K. It also gets hot, so you'll need to shoot shorter videos and let the battery cool down in between them. YI 360 VR supports in-camera stitching up to 4K. You'll have the transfer 5.7K videos onto a computer and process them there.
Tech Specs
Dimensions: 4 x 2.1 x 1.2 in.
Weight: 5.9 oz.
Photo resolution: 16.6MP
Video Resolution: 5.7K 30fps
Battery life: 45 minutes
The Pros
Excellent value for the money
Great video and photo quality
Intuitive companion app
Has time-lapse and burst modes
The Cons
Battery runs hot and doesn't last long
5.7K videos can't be stitched together in the camera
3. Garmin VIRB 360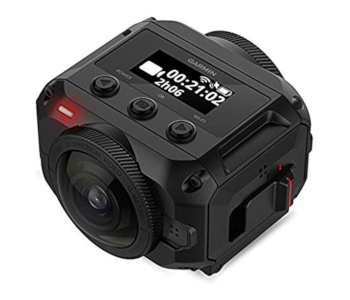 View on Amazon
Editor's Rating: 4.6/5
When it first came out back in 2017, Garmin's VIRB 360 was a promising camera held back by unoptimized firmware and a horrible app. Garmin has put a lot of effort into ironing out the kinks since then, and we're better off for it as the VIRB 360 is now an outstanding action camera for video enthusiasts. It's built like a tank, effortlessly easy to use, and has a few unique features you'll love if you're into video editing.
Overview of Features
We were particularly impressed with the VIRB's build quality. It's made from thick, high-quality plastic and built to last. The camera is shockproof and waterproof. It's versatile since it can stand on its own and comes with a tripod. You also get an accessory that makes it compatible with standard tripods along with one that lets you attach GoPro accessories.
Recording with the VIRB is as easy as turning it on and hitting a button marked with a red line. There's no color touchscreen like with GoPro's Max, but you do get a tiny LED display that indicates battery and connection status. The camera is packed with sensors like an accelerometer, altimeter, and gyroscope. You can overlay their readings onto footage to get cool-looking data on your location, speed, or elevation.
The VIRB produces stunning videos in 5.7K. There are many other resolutions and modes to choose from, like 4K that takes up less storage space or a 5K time-lapse mode where pictures are captured in intervals from 2 to 60 seconds. Whichever resolution and framerate combo you choose, the colors are spot-on, and everything looks lifelike. The VIRB performed well in low light when it was released, but subsequent firmware updates have made it even better.
Early adopters were frustrated with the app's constant crashes and error messages. These have since been fixed, and using the app for remote control or on-the-fly- editing is a positive experience now. There's also VIRB Edit, a free editing program packed with features. Instant stitching is the best thing about it – you connect the VIRB to your computer, and VIRB Edit will automatically stitch together 5.7K video without hassle!
Software stabilization and Hyperframe deserve a special mention. VIRB Edit gives you access to four image stabilization modes, each suited for a different situation. There's vibration reduction & horizon leveling, the ability to lock the camera to a single direction, or optimize it for filming from vehicles. Hyperframe is an editing mode that lets you smoothly pan the camera and draw the viewer's attention to the things you want them to see.
Are There Drawbacks?
Garmin's 360 camera is the most expensive one on review. While it does have some unique features, these do not justify the steep price compared to our winner. Photos shot with this camera don't look as good as they could. Their resolution is limited to 15MP, and the overall quality is in line with that of a high-end smartphone.
Tech Specs
Dimensions: 1.5 x 2.8 x 2.3 in.
Weight: 5.6 oz.
Photo resolution: 15MP
Video Resolution: 5.7K 30fps
Battery life: 60 minutes
The Pros
Fantastic video quality
Comes with loads of useful accessories
Great app and editing software
Rugged build
The Cons
Expensive
Mediocre photo quality
4. Insta360 ONE X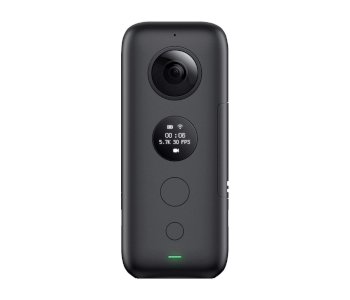 View on Amazon
Editor's Rating: 4.4/5
Are you an editing wiz who lies to dazzle her audience with dynamic transitions and immersive effects? The ONE X from Insta360 is the action camera for you as it boasts excellent video quality along with comprehensive editing options available through its versatile app. The camera is fun & easy to use, has loads of accessories, and gives you a lot of creative freedom in putting together unforgettable videos.
Overview of Features
The ONE X doesn't look like a traditional action camera, adopting a minimalistic and remote-like appearance instead. There are only two buttons on the device that turn it on and manage recording. There's a small round screen above them that shows the Wi-Fi signal strength, current recording mode, and approximate battery life. Speaking of which, using the ONE X on max settings will drain the battery in an hour, while almost two are required to recharge it.
You don't get many accessories with the ONE X, but Insta360 sells a plethora of them separately. Some of the more interesting ones include an underwater case since the camera isn't waterproof, a helmet mount, a bullet-time mount, and a dart. The last two are unusual. Getting the bullet time accessory lets you make Matrix-style shots. On the other hand, the dart is a housing for the ONE X you can throw around without damaging the camera and use to get some truly unique shots.
You'll spend most of your time with the ONE X in its app, as it's the only way of checking a live feed. The app has a plethora of editing options, most notably a cropping tool called FreeCapture. You may choose between multiple modes like 16:9, 4:3, or 1:1, while the rest of the camera's radius will be cropped out.
You aren't limited to using one mode per clip either, meaning you can swiftly toggle from a screen-friendly mode to a full-blown 360-degree experience. You'll need to do that in real-time, though, which may affect the results.
Time-lapse and slow-motion are other ways in which you can edit a clip. Both work on entire videos as well as on segments, so you can prolong one interesting moment and speed up a dull stretch with ease. A video's slowest speed is 0.25x, while the fastest is 64x.
Video quality is among the best in the ONE X's class. The maximum resolution is 5.7K at 30fps, so restrictions we've already talked about do apply. However, the ONE X has a leg up on the competition due to Log gamma and HDR. Log gamma is an enhanced color profile similar to GoPro's Flat. It looks dull in the app but allows for much better color grading in post. Alternately, you can use HDR and get a punchy output with great contrast, vivid colors, and no overexposure.
What We Didn't Like
Recording in 360 leads to noticeable stitches. Color and lighting look different on each camera, and the transition from one to the other is clear. While rich in features, the app tends to crash when you're working on longer videos.
Tech Specs
Dimensions: 4.5 x 1.8 x 1.21.5 x 2.8 x 2.3 in.
Weight: 3.2 oz.
Photo resolution: 18MP
Video Resolution: 5.7K 30fps
Battery life: 60 minutes
The Pros
Records great-looking 360° footage with decent contrast and lifelike colors
App offers in-depth editing options
Multiple effects can be applied to parts of single video
Supports lots of fun and original accessories
The Cons
Noticeable stitching
App prone to crashes when working with large files
5. Ricoh Theta SC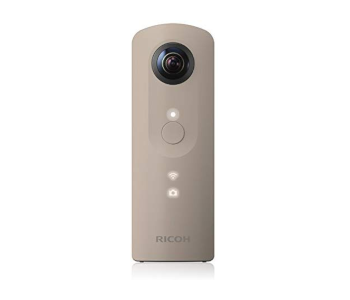 View on Amazon
Editor's Rating: 4.1/5
Want an inexpensive 360-degree camera that takes solid photos, is easy to use, and has a video mode? That's the Ricoh Theta SC in a nutshell. The camera's specs aren't impressive and what you can do with it is limited, but there's no better choice when it comes to ease of use. It's a fine gift for someone who's never dabbled in action cameras before, and the perfect introduction to the 360-degree world.
Overview of Features
We love the SC's simplistic yet well-thought-out design. It looks like a stick and is comfortable to hold even if you're planning on filming for a while. There's a hole on its top that doubles as the microphone and a speaker. The front houses the shutter button as well as two indicator lights for power status and Wi-Fi connection, respectively. The bottom has a tripod mount and a USB port for charging.
You control the SC either with three buttons located on one side or through its companion app. All three buttons have multiple functions. One turns the camera on and off, one does the same with Wi-Fi and doubles as a timer when held, and the last one switches between video and photo modes. Using the Theta S app is more fun since it enables remote control, so you don't need to be in the camera's view.
Footage created with the Theta SC is serviceable, especially if you're primarily using it to take stills. There's enough dynamic range to capture contrasting scenes, albeit with some purple tinting in areas of high contrast like dark wireframes against a bright background. The Theta SC produces softer images, but its dual 14.4MP cameras capture detailed panoramic shots.
Strangely, Ricoh requires you to install three apps to make the most out of the SC. The Theta S app handles remote control and basic photo editing. You'll also need to get the Theta+ and Theta Video+ apps to further customize and share your creations. All three apps are easy to use and perform well, but we hope that Ricoh will come up with a single solution in the future.
What's Bad About It?
The Theta SC doesn't perform well as a 360° video camera. Its max resolution is 1,920×960 at 30 frames per second. Considering that even 4K videos stretched out to 360 degrees isn't sharp, it's no surprise that the SC's videos are muddy. The camera comes with a fixed 8GB of storage. While that's enough if you mostly take pictures, it will quickly fill up as you record videos.
Tech Specs
Dimensions: 0.7 x 7.8 x 5.1 in.
Weight: 3.5 oz.
Photo resolution: 14.4MP
Video Resolution: 1,920×6960 30fps
Battery life: 70 minutes
The Pros
Ergonomic and easy to use
Can be placed on a tripod or stand on any flat surface
Good image quality
Well-made, if fragmented, companion apps
The Cons
Poor video quality
Fixed storage space
6. Best Budget Option – Kodak PIXPRO SP360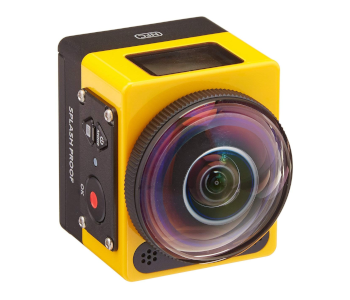 View on Amazon
Editor's Rating: 3.9/5
Our least expensive 360 action camera is also the oldest. Kodak's PIXPRO SP360 is starting to show its age, but the camera has a few tricks up its sleeve that make it worth buying. Not sure if you want to be making 360-degree content but want to check it out anyway? In that case, Kodak's camera is the ideal choice.
Overview of Features
The SP360 looks nothing like other cameras on review. It is bright yellow and has a boxy look dominated by a large hemisphere on its top that houses the 360-degree lens. The bottom opens up to reveal a compartment for the battery as well as Micro HDMI, USB, and SD card inputs. There's an old-fashioned LCD screen on one side and an array of physical controls on the other.
The camera comes in three versions based on the accessories you get. Extreme Explorer is the most exhaustive pack since it contains an array of mounts, straps, adhesive tapes, and other accessories that fasten the SP360 to all manner of flat or uneven surfaces. This pack is also the most expensive as you can cut down the cost by going for parts of the accessories focused either on aquatic or land exploration. The packs don't affect the SP360's overall durability much as the camera is proved against water, shock, and dust on its own.
We like how you're able to use the SP360 in different ways. Standard use implies the lens is facing upward or downward and will produce a 360-degree video. However, turn the camera on its side, and you'll get 1080p clips that look like they were shot with a regular action cam. There's a photo mode that produces stills either one by one or in bursts of ten. You can even use the SP360 as a dash or surveillance camera since it can shoot continuously in increments of five or ten minutes. It will continue to do so until the battery dies and will override old footage once it reaches the SD card's capacity.
The SP360 is more than five years old now, and it shows in its video quality. The max resolution for 360-degree clips is 1,440×1,440 at 30 fps. The colors are balanced and everything looks well under normal light, but the small resolution means that subjects are blurry and soft. The camera has microphones, but these aren't suitable for windy conditions.
You'll have to frame shots through your smartphone since the SP360 doesn't have a viewfinder. It connects the two through Wi-Fi and NFC in seconds. There's also a desktop editing app that unwraps the footage in various ways. You may choose between little planet, panorama, super-wide angle, and action cam. Kodak's software takes care of unwrapping while you decide how much to crop and what you want to be displayed at a given time. However, you have to capture these edits in real-time with a built-in screen recording tool.
Are There Drawbacks?
Recorded videos retain their original quality only while viewed in the app or the desktop editing software. Unwrapping and exporting it reduces the resolution, making the already lackluster quality worse. Since a single camera captures footage in a dome, the resulting photos and videos have a large black blind spot on the bottom. While this isn't a big deal, it breaks the immersion.
Tech Specs
Dimensions: 1.6 x 2 x 1.5 in.
Weight: 3.7 oz.
Photo resolution: 16MP
Video Resolution: 1,440×1,440 30fps in 360 mode, 180p 30fps in normal mode
Battery life: 160 minutes
The Pros
Versatile 360° camera for a fantastic price
Comes with a huge variety of accessories
Can shoot in burst mode or make continuous videos
Excellent battery life
The Cons
Videos lose quality when unwrapped
Lens produces large blind spot