6 Best 360 Cameras for Real Estate
3D Insider is ad supported and earns money from clicks, commissions from sales, and other ways.
The vote is still out on whether or not 360 video will change the way we consume media. On the other hand, it's become clear that virtual tours and 360 photos of real estate have become indispensable. There's no better way of judging whether a far-away destination or a new house is worth it than seeing for yourself from the comfort of your sofa. Photographers and realtors alike are branching into this new exciting field. If you're not among them yet – you're missing out.
Luckily, a camera is all you need to start. 360-degree cameras use multiple lenses to stitch together spherical footage. This gives an illusion of depth and is especially effective when paired with virtual headsets. A client viewing 360 photos can more easily see herself relaxing in the living room or tucking the kids into bed and will be more likely to say yes to a new home.
We've assembled the six best 360 cameras for real estate for your consideration. Some are intended for professional photographers, while others help amateurs bring out the best in a property with a single click. Check out the reviews, settle on a budget, and let your customers experience house hunting like never before.
Budget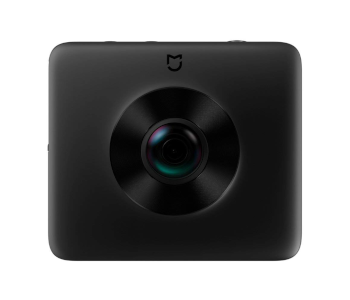 Xiaomi Mijia Mi Sphere
4.4/5.0
Photo resolution: 23.9 MP
Video Resolution: 3.5k, 30fps
This has lots of image enhancement options.
Check Amazon
Best Value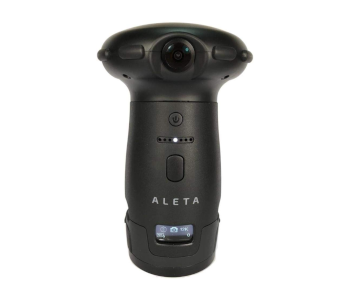 Aleta S2C
4.6/5.0
Photo resolution: 11,520 x 5,760 (66 MP)
Video Resolution: 8k, 30fps
Continuously improved through firmware updates.
Check Amazon
Top Pick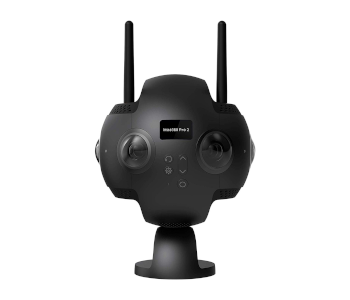 Insta360 PRO 2
5.0/5.0
Photo resolution: 12,000×12,000 (144 MP)
Video Resolution: 8k, 60fps
Comes with excellent app and desktop software.
Check Amazon
360 Cameras for Real Estate Comparison Table
1. Best Overall – Insta360 PRO 2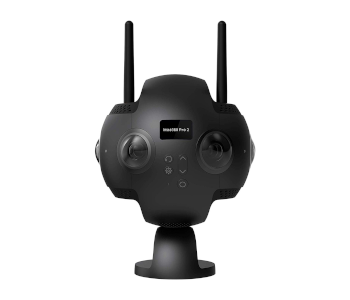 View on Amazon
Editor's Rating: 5/5
Insta360 went from a no-name company to one of the leading players in the 360 camera market by releasing excellent products like the PRO. Its second version does away with the original's quirks while bringing improvements like remote control, seamless 8K video, and individually configurable lenses to the table. It will cost you an arm and a leg, and you might need to throw a kidney in for good measure. Even so, the effect its footage has on soon-to-be homeowners makes the investment worth every penny.
Overview of Features
The PRO 2 is a professional-grade 360 camera shaped like a melon. It has six lenses equally spaced to deliver the best-quality 360 footage available today. It can shoot in 2D or 3D, so viewing a property through a VR headset immerses one entirely in the experience. The camera has a clever travel case with room for extra batteries lens covers, and even a tablet.
The camera's maximum video resolution is 8K at 30fps in stereoscopic mode and 60fps in 2D mode. The picture quality is superb, and you can increase it even farther by adjusting the ISO, white balance, or exposure settings of each lens separately. You can also turn HDR on to bring more detail out when shooting in large rooms with a lot of contrast. The PRO 2 also has four microphones that record 3D sound. These can record passing cars or chirping birds and give potential homeowners an even better idea of what it will be like to live in the house they're touring.
The PRO 2 also comes with the FarSight system. FarSight consists of a transmitter you hook up to the camera and a receiver that attaches to your smartphone, which becomes the PRO 2's viewfinder. You may then start and stop recording or take 12K snaps from anywhere within a 300-foot radius without showing up in the footage.
The PRO 2 is supported by a versatile companion app and powerful desktop video editing software. The app is where you'll tinker with lens and other settings. The camera can't stitch together the 12K photos internally, which is why you'll need Insta360 Stitcher. The program is also able to output detailed footage you can view on monitors or headsets that don't support 8K.
What We Didn't Like
The PRO 2 is much more expensive than any other camera in the guide. While it produces the best results, you might not think that the difference in quality justifies the cost. Each lens uses a separate SD card. They are hard to get to and require you to purchase a separate adapter to feed all the data to a computer simultaneously.
Tech Specs
Dimensions: 17 x 14 x 12 in.
Weight: 19.2 lb.
Photo resolution: 12,000×12,000 (144 MP)
Video Resolution: 8k, 60fps
The Pros
Exceptional video and photo quality
Records 3D audio
Comes with excellent app and desktop software
FarSight so a fantastic remote control solutions
The Cons
Prohibitively expensive
SD card slots are hard to get to
2. Best Value – Aleta S2C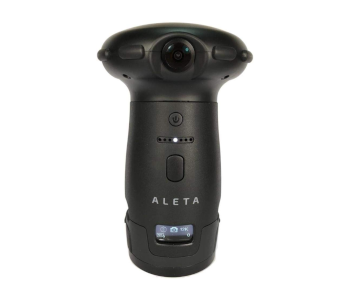 View on Amazon
Editor's Rating: 4.6/5
You don't need 8K 360 video to create breathtaking virtual tours. However, you do need excellent-quality photos, which is something the Aleta S2C can provide at a fraction of the Insta360 PRO 2's cost. This photo-centric camera delivers shots that are rich in detail. It has numerous options to help you tweak image output and does the stitching in-camera for the fastest results.
Overview of Features
Unlike the PRO 2, the S2C is ergonomic. It has a beefy handle that's easy to hold. On it is a shutter button, and above that are four equidistant lenses along with one that points to the zenith. Together, they produce 66-megapixel photos and 4K video. Thankfully, there's only one SD card. You can have the camera stitch footage together or save it as five separate files for editing on a computer later.
Extensive photo adjustment options are the best thing about this 360 camera. HDR is of particular note as it drastically improves picture quality. There are several levels of HDR, each upping the number of pictures that are taken and combined for the best results. Using HDR lets you preserve remarkable details and makes images shot either in glaring sunlight or during the night vibrant and inviting.
Videos aren't the S2C's strong suit. They're shot in 4K, which isn't much for a 360 camera and leads to soft footage. Still, the videos look decent, especially if you switch from regular 30fps to the time-lapse mode. Doing so will up the resolution to 7,680×3,840.
Aleta is continuously updating the S2C's firmware and improving its performance. Now you can take advantage of automatic HDR to take the guesswork out of how many pictures need to be taken and on which settings. The camera also eliminates hot or dead pixels and can erase unwanted people from photos, eliminating the need for a remote viewfinder.
What's Bad About It?
The S2C gets hot if used for a long time. It has cooling fans that make a lot of noise. You power the camera either through a 12 V adapter or with two Li-ion rechargeable batteries. The second option is great for taking photos of a backyard, but you shouldn't rely on it as the batteries only last for an hour.
Tech Specs
Dimensions: 11.8 x 11.8 x 9.8 in.
Weight: 15.2 oz.
Photo resolution: 11,520 x 5,760 (66 MP)
Video Resolution: 8k, 30fps
The Pros
Excellent photo quality
Has a host of photo enhancement and configuration features
Footage is stitched in the camera
Continuously improved through firmware updates
The Cons
Short battery life
Noisy cooling fans
3. Insta360 ONE X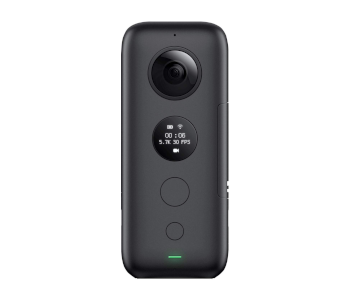 View on Amazon
Editor's Rating: 4.5/5
The second 360 camera from Insta360 on review is much more budge-friendly than the PRO 2. Still, it has a few of the pricier model's features like excellent image stabilization. The ONE X also brings exciting additions of its own like bullet time mode. It's meant more for videos than photos and lets you combine creativity with quality for the ultimate sales pitch.
Overview of Features
We love how easy the ONE X is to use. There are only two buttons, the on/off toggle, and the shutter. Each also has secondary functions like changing the video mode or navigating the camera's menu system. There's a handy OLED display in front that shows the mode, signal strength, and battery life. Recording videos will drain the battery in sixty minutes.
The ONE X has a resolution of 5.7K at 30fps. Its videos look excellent; they're vibrant, detailed, and don't look blurry. The camera has six-axis image stabilization that keeps videos smooth even if you're walking downstairs. Low light results are favorable, too, as details are preserved at a slight cost to stabilization performance.
Bullet time mode is the camera's standout video feature. You'll need an additional attachment for the selfie stick to make it work. However, the videos shot in this mode have a framerate of 100 and rotate around the stitch in slow-motion. Using bullet time is a novel and appealing way of showcasing large rooms like a reception hall and helps buyers get a better sense of their new neighborhood.
The ONE X is no slouch when it comes to photography, either. It captures 18MP images with no noticeable stitching or chromatic aberration. You can use the app to add HDR to images to increase their fidelity or add filters for a more artistic effect.
Are There Drawbacks?
Unlike photos, videos shot with the ONE X have noticeable stitching. You can wirelessly transfer images and videos to a phone, but the process takes a while.
Tech Specs
Dimensions: 4.5 x 1.8 x 1.2 in.
Weight: 3.2 oz.
Photo resolution: 18MP
Video Resolution: 5.7K, 30fps
The Pros
Excellent video quality given the price
Bullet time mode
Good low-light performance
Intuitive app
The Cons
Noticeable stitching
Long file transfers
4. GoPro Max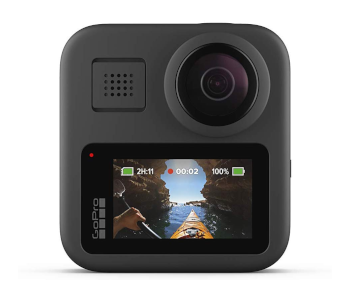 View on Amazon
Editor's Rating: 4.3/5
Max is GoPro's second attempt at a 360 camera. It's come a long way since the Fusion and offers improved performance while retaining signature GoPro elements like superb image stabilization. While it's tailored more towards adrenaline junkies and vloggers, Max can still be used to create detailed and effective virtual tours. It's one of the most versatile models on review and worth picking up if you're a realtor during work hours and an adventure seeker once you clock out.
Overview of Features
GoPro didn't go with the traditional 360 camera look for the Max, choosing to make it similar to a HERO instead. The most significant novelty in its appearance is a touchscreen LCD you can use for previews and settings adjustments. There's a GoPro mount on the bottom that allows you to pair the Max with all sorts of selfie sticks, harnesses, and mounts. This is the only 360 camera on review that's waterproof, so don't be afraid to use it to showcase a home's pool.
Max uses two cameras to create a 16.6-megapixel 360 image. It can also record footage with a single lens at a reduced resolution. You might want to use its pano mode to create 270-degree photos that are rich in detail while lacking any stitch marks. Video resolution has been increased to 5.6K, and clips benefit from GoPro's trademark image stabilization.
Whichever image or video type you're going for, Max's software gives you a great deal of control over the results. Protune is supported, meaning you get to change ISO and EV comp values or play around with the white balance.
Editing videos is best done on the desktop. GoPro's software is easy to use and lets you make 360 or regular 16:9 videos with a couple of clicks. It now uses keyframing for editing the 360 videos into enjoyable clips you can view on a monitor or tablet. There are different transitions to choose from when switching from one keyframe to another that give the video a more natural and professional look. Familiarize yourself with the process, and you can start to create impressive home presentations buyers can view anywhere.
What We Didn't Like
This is another 360 camera you shouldn't use in dim light. Darkness takes a toll on the image stabilization and results in videos that look like they're vibrating. Max does a good job stitching photos together, but the same isn't true for videos. The problem is that results vary, so you might create a seamless clip in one environment and have ugly-looking stitches in another.
Tech Specs
Dimensions: 2.5 x 2.7 x 1 in.
Weight: 4.4 oz.
Photo resolution: 16.6MP
Video Resolution: 5.6K, 30fps
The Pros
360 images are sharp and stitched together well
Excellent onboard configuration software
Effective image stabilization
Useful panoramic photo mode
The Cons
Low light negatively affects image stabilization
Videos have noticeable stitching
5. Ricoh Theta V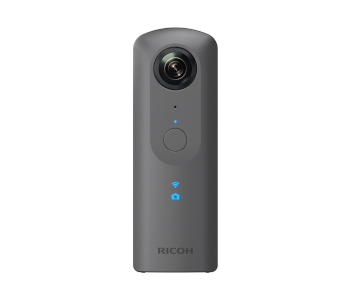 View on Amazon
Editor's Rating: 4.2/5
Ricoh was one of the first companies to release a stick-shaped 360 camera, a design that's since become widespread in the action cam part of the niche. The V is an upgraded version of that original Theta, sporting intuitive controls, better video resolution, and more in-camera editing options for the pictures you take. You'll need to make sure you're shooting in good light to get the best out of this camera. Avoid high contrast situations, and the Theta V will serve you well.
Overview of Features
Ricoh's pioneering design philosophy has reached its culmination in the Theta v's build. The camera is comfortable to hold in hand and very lightweight. You can easily transport it in your pants pocket and keep repositioning it to get the perfect shot of a room numerous times without tiring. There are buttons for the shutter, Wi-Fi, power, and switching between photo & video modes. The camera will also inform you whether it's shooting and what its battery status is via LEDs.
The Theta V snaps photos in the JPEG format at14.4MP. They're bright and colorful provided there's enough light, and the stitching is imperceptible. There's some barrel distortion on the sides, but the central part of the image is always in focus. Unlike most other 360 cameras, this one has 19GB of internal storage. That's enough for thousands of photos or forty minutes of video.
Even though they're only in 4K, the Theta V's videos look good. Some softness is to be expected, but the camera manages to deliver ample details nevertheless. You can shoot videos in 4K, 30fps, or switch to time-lapse mode and create videos from images captured every four seconds. Like the Insta360 PRO 2, it has four microphones for realistic audio. There's also a mic jack if you want to up the audio quality even more.
Ricoh's app support for the Theta V is peculiar. There are three separate apps to install. The basic Theta app handles remote control from your phone and lets you edit photos. There are two more apps for enhanced photo and video editing, as well as sharing on social media.
What's Bad About It?
The Theta V struggles with low light and high contrast. It has a maximum ISO of 6,400, but footage shot with it is grainy and useless. There's noticeable chromatic aberration that gives a purple tint to dark objects set against a light backdrop. You'll want to take care when shooting a property in autumn as this can make trees look weird.
Tech Specs
Dimensions: 11.8 x 11.8 x 9.8 in.
Weight: 15.2 oz.
Photo resolution: 14.4 MP
Video Resolution: 4k, 30fps
The Pros
Portable design and intuitive physical controls
Seamless in-camera stitching
Good video quality considering the resolution
Shoots decent photos under favorable light
The Cons
Poor low-light performance
Prone to chromatic aberration in high-contrast situations
6. Best Budget Option – Xiaomi Mijia Mi Sphere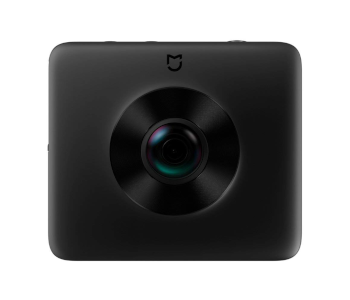 View on Amazon
Editor's Rating: 4.4/5
The Mi Sphere is not only our budget pick but the most surprising model in the guide. Why? Because it makes images whose quality is on par with 360 cameras that cost twice as much. It retails for $200 but can often be found at a sizeable discount. That makes the Mi Sphere the best purchase if you're strapped for cash but want to impress clients with high-resolution images of properties you offer.
Overview of Features
This camera has a unique, square-shaped design. On the one hand, its shape and lightness make the Mi Sphere easy to transport. On the other, its small thickness means that the lenses are close to each other and eliminates problems with stitching. There's a series of buttons that control various options on top and a standard tripod thread on the bottom. One side is home to the SD card slot and a MicroUSB port for charging.
The Mi Sphere shoots 23.9-megapixel photos of superior quality. You don't need to fiddle with color or white balance settings as the camera adapts to different circumstances intelligently and delivers natural-looking results most of the time. If it doesn't, you can always switch to full manual control and fine-tune shutter and ISO priority. The camera can shoot in the RAW format and produce images you can bring out the best in using editing software.
Many features come together in the Mi Sphere to further improve image quality. There's six-axis stabilization, bracketing, integrated GPS, and an intervalometer useful for creating full-quality time-lapse videos. You can even use bullet time like with the ONE X. The resolution takes a hit, but the resulting video is shot at 120fps and then slowed down for a fun effect.
The Mi Sphere can't stitch footage on its own. You'll need to use either a smartphone or a computer to do it instead. There were stitching-related problems upon the camera's release, but these have been fixed with firmware updates since then. Numerous improvements for the camera continue to arrive. It started with fixes for compatibility issues with specific phones. Stabilization and video got a boost next, and now Xiaomi's own stitching software is available for Mac and PC.
Are There Drawbacks?
The Mi Sphere doesn't have a removable battery. While its runtime is a respectable ninety minutes, you'll have to buy a new camera if there's a battery-related problem. The camera is prone to overheating, so you'll want to avoid making long videos and give it time to cool off between takes.
Tech Specs
Dimensions: 3 x 0.5 x 2.7 in.
Weight: 6.7 oz.
Photo resolution: 23.9 MP
Video Resolution: 3.5k, 30fps
The Pros
Exceptional image quality at a bargain price
Lots of image enhancement options
Slim build ensures portability and stitch-free footage
Competent image stabilization
The Cons
Overheats with prolonged use
Battery isn't removable