5 Best 3D Pen Refills
3D Insider is ad supported and earns money from clicks, commissions from sales, and other ways.
The only worse thing than watching your 3D Pen run out of filaments in the middle of an artwork is looking at the refill package and finding it empty. It's like your creativity has just been sucked out of you – never to return again. Do not let this happen. Stock up on high quality 3D pen filament before you begin important projects.
Note: If you have a 3Doodler pen it is better to use filament that is made by the company, since the pen rotates the filament and expects a straight strand. People have managed to use 3rd party filaments with their 3Doodler's before but you must make sure you get 2.85mm. You can find filament for the 3Doodler Start here and the 3Doodler Create here.
Here are some of the best 3D Pen refills in the market today:
1. 7TECH 3D Pen Filament Refills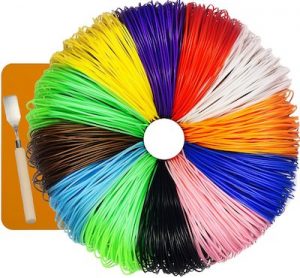 The 7Tech 3D Pen filament refill pack comes with a lot of bonuses. It is widely compatible with most 3D pens and produces fine and durable drawings. Both hard core and hobbyist 3D artists can benefit from the high precision drawings that this high quality filament pack allows them to create. The pack comes with freebies for an even more exciting doodling experience: 2 aluminum spatula for protecting your fingers from heat, a silicon mat, and a small pouch to store your filament refills.
The 7Tech 3D pen refill comes with 12 colors, one of which is glow in the dark. At over 480 linear feet of material, you can print for a long time before you ever run out. 7Tech also throws in a 100 stencil ebook that you can use to create jaw-dropping designs.


Features:
High precision filaments
Suited for most 1.75mm 3D pens
Quick drying
50 feet length
Made from non-toxic ABS materials
Free aluminum spatula
2. Hatchbox 1.75mm 3D Pen refill 12 Color Pack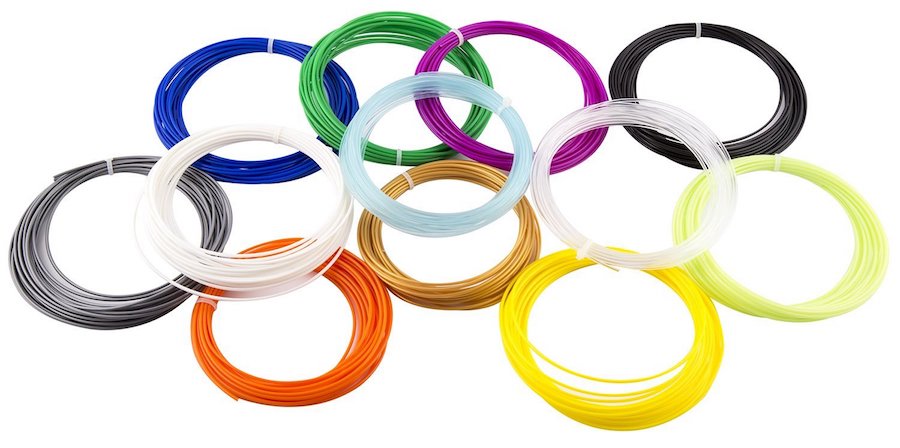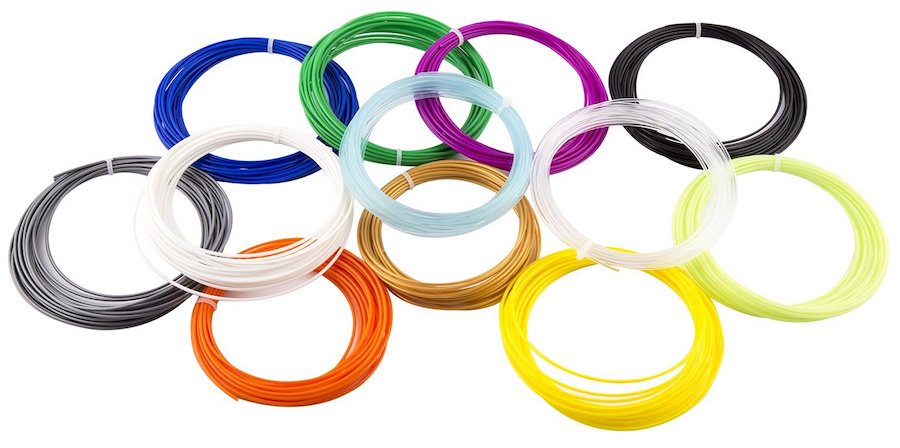 Another great choice for 3D pen artists is the Hatchback 1.75mm 3D pen refill. It comes in packs of 12 colors, giving you more choices for your artwork. In addition to the usual solid colors, the pack also includes some transparent shades that you can use to more life to your 3D drawings. Each color measures 20 feet each which is great news for hard core 3D artists who do a lot of works.


Features:
For use with 1.75mm 3D pens
12 color pack
20 feet length
Made from non-toxic ABS material
3. 3D Artist Supply Pen Filament Refills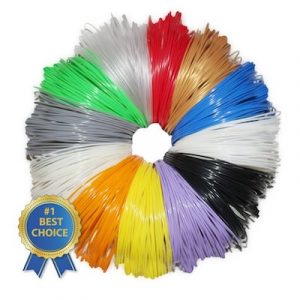 3D doodlers who want to add a unique touch to their works will surely love the glow in the dark filaments included in this 3D Artist Supply 3D Pen refill pack. But aside from this exciting feature, this refill pack is an attractive option for 3D pen owners because of other reasons. The most important feature among them is the high quality ABS material used to manufacture the filaments. It solidifies quickly, allowing you to add minute details to your creation easily. The manufacturer is so sure about the quality of the product that it offers lifetime money back guarantee that makes it easy for any customer not satisfied with this refill pack to return it at no cost.


Features:
Glow in the dark colors
Suited for 1.75mm 3D pens
Quick drying
20 feet length
4. Sunwin ABS 1.75mm 3D Filament Sample Pack Fun Pack 3D Pen Filament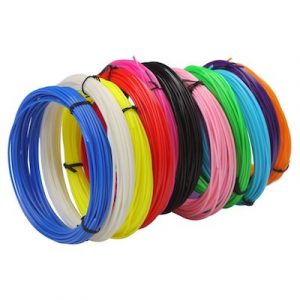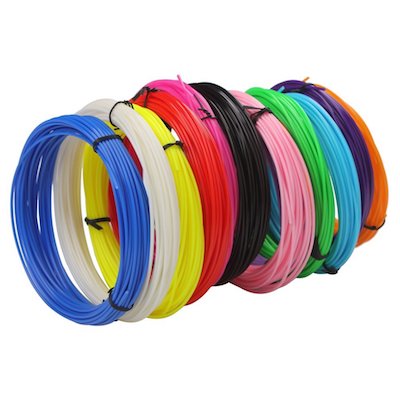 With 32 feet of filament per color, the Sunwin ABS 1.75mm Filament refill pack is the best choice for 3D artists who churn out tons of work. Beginners also love this pack as they can practice a lot with the long filaments. It consists of six colors and works perfectly at between 230 and 260 degree Celsius.


Features:
Six color pack – red, blue, black, purple, white, yellow
Suited for 1.75mm 3D pens
32 feet long for each color
Works at temperature range from 230 to 260 degree Celsius
5. Samto 20 Colors 3D Pen ABS 1.75mm Filament Fun Sampler Pack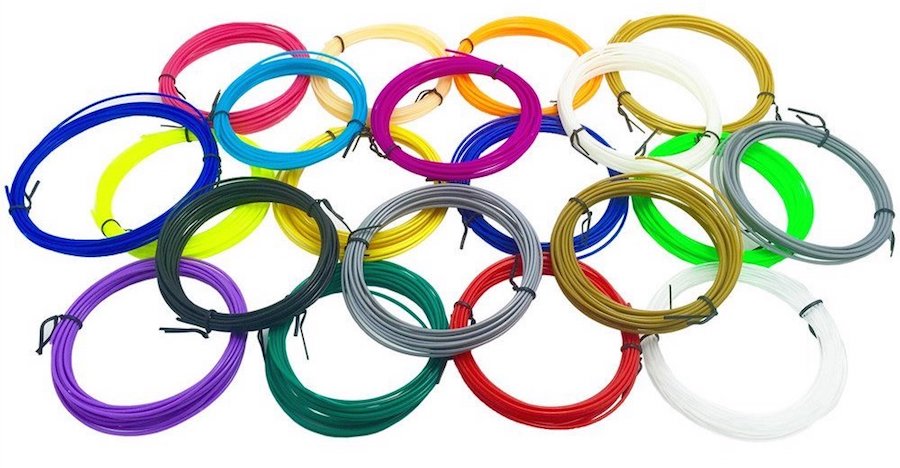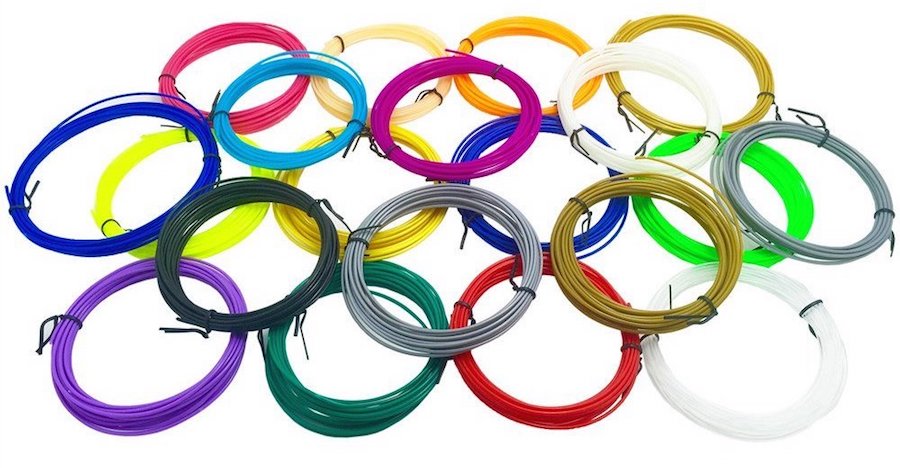 The Samto refill pack is one of the most popular 3D Pen filaments in the market today. It comes in 20 color package of vibrant colored ABS (Acrylonitrile Butadiene Styrene) filaments. Each individual filament measures 20 meters, longer than most refills that we commonly find in art supplies store, which is great news for hard core 3D doodlers. With filaments this long, you don't have to worry about running empty in the middle of your artwork.


Features:
Hardens easily
260 Degree Celsius maximum temperature
Uniform thickness
Made from non-toxic Acrylonitrile Butadiene Styrene (ABS)
Easy to use
Suited for use with 1.75mm 3D pens
Picking the right filament for your 3D pens helps make your 3D doodling experience more exciting. The products listed above are some of the most preferred filament refills by 3D artists. Check them out before you run out of filament. Their quality and durability will surely give the most value for your money.
Why Quality 3D Pen Filaments Matter
It's important not to skimp out on 3D pen filaments. A poor quality filament will cause painful jams that will require you to let your pen cool before cleaning it out with special tools. Bad filaments can also come out unevenly, which can make it impossible to make complex objects.
Feel free to buy a cheap filament to use to learn or for when you are prototyping. But when you decide to make a cool object, choose high-quality ABS or PLA filaments to avoid headaches. The good news is that using our reviews above you don't have to sacrifice quality for price. The 3D pen filaments that we chose are affordable and good quality.
Warning; 3D printers should never be left unattended. They can pose a firesafety hazard.