Top 10 Best 3D Printed Projects for Arts and Crafts
3D Insider is ad supported and earns money from clicks, commissions from sales, and other ways.
3D printing is not just a tool for making prototypes or cheap replacement parts for stuff that gets broken around the house. In the right hands, 3D printing can also be used as a tool for creative expression. However, what if you are already into some sort of art or craft, such as painting or knitting?
The good news is that there are so many projects that you can make with a 3D printer that can be helpful for your other hobbies. Check out this list of amazing 3D-printed projects that may perfectly complement your other artistic hobbies.
One of the simplest art tools you can make with your 3D printer is your very own stamp kit. Stamps are nice for all sorts of paper and fabric crafts. This free model has every piece you will need to create customized stamps. It is also designed for you to make your own stamp design using Sugru, a type of moldable putty that is quite easy to find.
There are also alternative stamps that can emboss a design on paper instead of using ink. This dry stamp is really nice and is even easier to customize.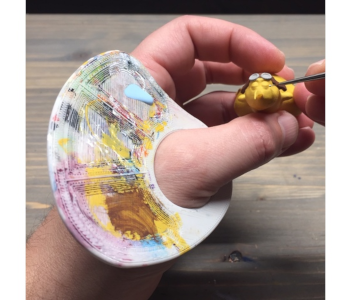 This small paint palette is one of the most useful and ingenious tools you can get if you're into painting. It is particularly suited for painting models or miniatures. The palette slides right into your thumb, making the distance shorter between the palette and a held item. With this tool, you can save so much time in your painting jobs.
Take note that the petite paint palette is designed by default for right-handed users. It can be easily flipped for intuitive left-handed use.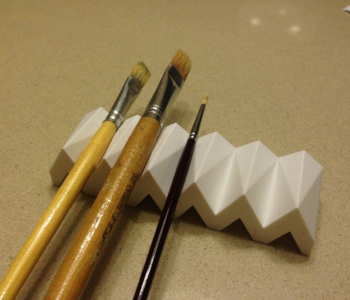 This is another simple yet very useful 3D printed tool for artists – a basic holder for different types of paintbrushes. Painters will absolutely love this tool. The model can be scaled depending on the types of brushes that you typically use. It can also be extended to accommodate a higher number of brushes.
As a testament to the customizability of this model, it has been remixed more than a hundred times. If you don't think that the standard model works for you, there is probably already a remixed version that suits you better.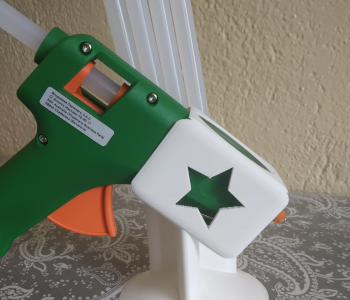 The glue gun is one of the best friends of people who are into DIY crafts or fashion. It is a simple and versatile tool, but handling it can be a bit of a bother. This simple glue gun stand provides an easy solution for temporary storage that keeps the hot end off your working surface. It also has a small compartment to hold your spare glue sticks.
Keep in mind that glue guns can go as high as 200 ⁰C. The outer covering does not get this hot, but it may be a good idea to use a heat-resistant filament to print this stand, like ABS or PETG.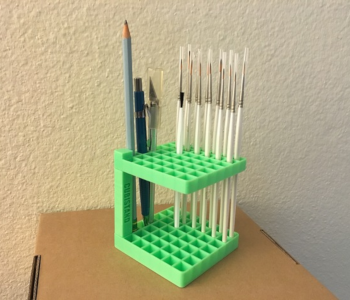 Switching between different paintbrushes, pens, and pencils while doing some art is inconvenient but inevitable. Sometimes, all it takes is a holder or container that can accommodate all these different tools. This is exactly what this cube-like stand can do.
The grid pattern is quite complicated to print, so 3D printing this project might take several hours. This also prints in separate pieces that can be assembled with or without glue. Additional rods can be printed to make the stand more stable, although just a single one will also work.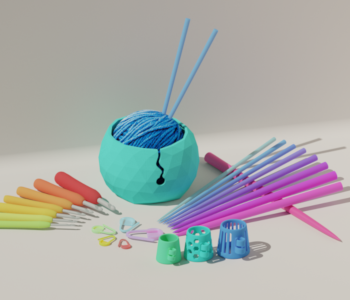 There is a wide assortment of 3D-printed knitting tools out there, from simple needle gauges to fully assembled sock knitting machines. For this entry, we will highlight a 3D printing project that is simple yet essential – a complete set of basic tools for knitting and crocheting.
This set contains knitting needles, crochet hooks, yarn rings, and a yarn bowl. Some scaling will be needed to make sure that the yarn rings fit your fingers perfectly. Some sanding is recommended for the 3D-printed parts to make sure that they do not catch on the yarn.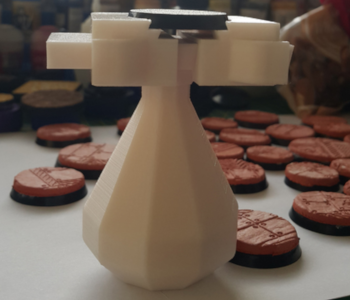 Painting miniatures is delicate and meditative work. This is a huge reason why it's also so enjoyable. If you want even better control when handling miniatures during painting, then this painting handle is an incredibly useful tool.
The handle works by clamping on the base of the miniature. The large rounded handle provides excellent grip and versatile positioning for the piece being painted. It also makes it possible to paint a miniature without having to touch it, making smudges less likely to happen. The curved handle has a flat bottom, so it can be set down on your work surface during breaks or for drying.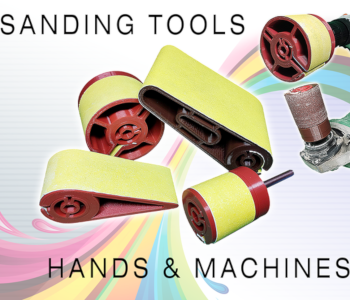 Sanding is a common part of many DIY crafts whether you're working with wood, glass, or plastic. These ingenious sanding tools can help with this process, whether you're sanding by hand or by machine. Each of the sanding tools has a rotating inner wheel designed to help keep the sandpaper taut.
The set comes with two hand sanding tools. A narrow-ended one is provided for sanding in hard-to-reach places. There are also two machine sanding tools – one that fits a drill and one that fits an angle grinder. This set is quite comprehensive and you likely will not need any other sanding tool.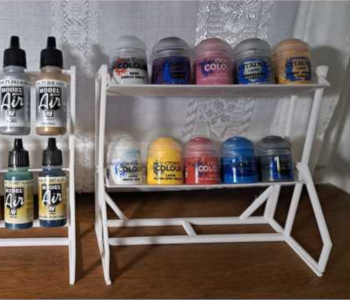 Once you get into painting miniatures and figures, you end up having a vast collection of hobby paints. Although these are typically small bottles, they can become cluttered if you do not find a practical storage solution. This set of customizable is perfect for a growing collection, as several of the stands can be stacked depending on how much storage space you need.
Take note that this stand has been specifically designed for Vallejo and Citadel hobby paints. There are other paint stands out there if you use other brands of hobby paints.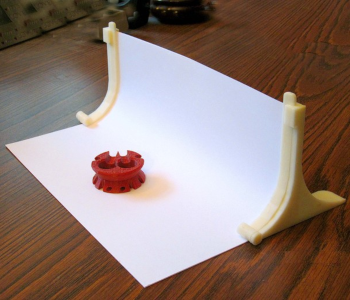 Once you're done painting your miniatures or making your small crafts, what do you do with them? Take photos of them of course? If you want your photos to look as good as possible, this photography sweep stand will certainly come in handy.
With this stand a piece of paper, you can make a seamless background for your photos. Seamless backgrounds are really amazing for highlighting the products of your arts and crafts. The great thing about this stand is you can make backgrounds of any color or pattern. It's incredibly versatile and simply an elegant idea.
Final thoughts
Dabbling in arts and crafts is a very fulfilling creative pursuit. Learning 3D printing on top of that perfectly complements whatever artistic work you do. This is a testament to the versatility and utility of 3D printing. If you already have a creative mind, then there is so much that you can do with a 3D printer.
There are hundreds of several tools out that you can 3D print and can be useful for creating other types of art. You can also make art directly via 3D printing. Think of it as a different type of canvas or an object to be sculpted – it's basically a blank slate for your creative ideas.
Warning; 3D printers should never be left unattended. They can pose a firesafety hazard.