3D Printed Car Parts – Benefits and Actual Use Case Examples
3D Insider is ad supported and earns money from clicks, commissions from sales, and other ways.
For years, the automotive industry has primarily used additive manufacturing to create prototypes to check their form and fit before releasing them to the market. Back in the day, these 3D printed objects were non-functioning and mainly created as demonstrative pieces.
But how are they using it today? In recent years, the automotive industry has dramatically upped the use of additive manufacturing in their field. Companies are using them not just for prototyping but for the fabrication of car parts as well. Aside from the cost and time reduction, 3D technology also ensures minimal failed or defective parts.
In an interview with Ford's Harold Sears, he stated that additive manufacturing has evolved from producing tangible concept models to becoming an essential tool in assisting production applications and supporting mainstream production. 3D printing has become a key component in product engineering, the development cycle of automotive products, and support in prototyping car parts.
Benefits of 3D Printing Car Parts
Weight Reduction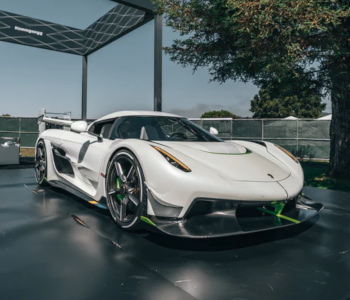 The production of lightweight vehicles is a practical solution of the automotive industry to address the need to reduce fuel costs and carbon dioxide emissions. Fuel consumption may be reduced to about 6 to 8% when vehicle weight is decreased by 10%. In addition, lightweight cars equate to higher performance and better safety, which is why manufacturers have taken light-weighting efforts to a different level.
Over the past years, the approach of carmakers in reducing car weights is to downsize them. But how does additive manufacturing reduce car weights? Thanks to 3D printing's capacity to create complex designs plus advanced design software, engineers can optimize the geometry and temporal distribution of a car part and explore endless options to make the said car part as lightweight as possible without compromising its efficiency.
An example of this innovation is Volkswagen's success in redesigning a reinforced A-pillar window support which weighs less than 74% of the original part. Likewise, Porsche was also able to effectively produce pistons that are not only 10% lighter but also have better thermal resistance than the original.
The Divo Supercar by French automotive manufacturer, Bugatti, was designed to be lightweight and aerodynamic. To make this possible, they included several 3D printed parts, such as its fin rear lights, to reduce the car's total weight and improve its performance.
Light Cocoon is a 3D-printed car by German engineering design studio EDAG, made from a very lightweight stretchy fabric that weighs only 19 grams per meter. This 3D-printed car was fabricated using the SLM technology and unveiled at the Geneva Motor Show in 2015. Although EDAG plans to release the model in 2025, this innovation is something car lovers would look forward to seeing.
Save Material
In metalworking, traditional subtractive manufacturing begins with a large sheet or block of metal. It uses different types of machinery to cut away the material to create the finished product. According to one study, this manufacturing practice produces material waste as high as 95%.
Metal 3D printing, as mentioned earlier, is a form of additive manufacturing, wherein raw materials are only sintered where necessary. In some instances, unsintered metal powders maybe even reused, therefore maximizing the use of raw materials.
Customized Car Parts
A regular car has over 30,000 different parts and components. These are made up of different shapes and materials and conventionally produced with varying methods of manufacturing.
A typical car layout comprises a unibody, body panels, a hood, and an interior. Car enthusiasts usually customize these parts to give their vehicles a unique look. In the past years, having these commissioned would require special orders and can be costly for car owners and manufacturers; but thanks to 3D printing, custom-made car parts are no longer a big deal.
BMW has a MINI Yours Customized service, an online shop wherein BMW MINI users can indicate the customized changes they like and have those 3D printed. Likewise, Company Daimler Buses, responsible for replacing parts for buses and coaches of the Mercedes-Benz and Setra brands, has been applying 3D printing to meet customers' requests flexibly and time-minimizing manner.
Furthermore, Rolls-Royce is stepping up its customizing game for luxury cars of the future, wherein customers can personalize their vehicles fully. Using 3D printing allows Rolls-Royce to handle both the complexity of personalization demands and the production process without negatively affecting production time and cost.
Spare Parts for Replacement
Maintaining an inventory of spare parts is one of the highest costs for car manufacturers. For consumers, finding a replacement for your busted car parts can be quite a challenge back in the day. You would have to buy the entire set to avail of that single spare you are looking for in some instances.
With 3D printing, the auto industry does not have to worry about stocking up its warehouse. All they need is a database of 3D model parts that can be easily printed and supplied in a short time, saving both company and customer costs and time.
Parts Produced with 3D Printing
Before 2020 ended, General Motors (GM) announced the opening of a new ground-up15,000 square foot facility called the Additive Industrialization Center, dedicated to additive manufacturing. This facility houses 24 3D printers for printing parts using different manufacturing techniques to produce car parts in polymer and metal components.
The annual volumes of car parts produced by the automotive industry are very high. Since the conventional process of fabricating these parts is not that simple, 3D printing technology has become very handy with its speed and precision. Aside from the usual spares, additive metal manufacturing has allowed the automotive sector to customize auto parts.
Some examples of 3D printed car parts include:
Porsche's Custom Seats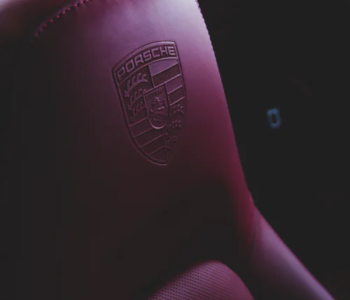 According to Michael Steiner, the executive board of research and development of Porsche, car seats are the interface between the human and vehicle, so personalized seat shells have been a standard for race cars for quite some time already. Porsche has recently introduced a new concept influenced by 3D printing and lattice design for sports car seating.
The "3D printed body form full bucket seat" features a polyurethane backrest which can be custom-made according to three levels of firmness. It has base support, made from expanded polypropylene (EPP), and features a specific perforation for climate control.
Last year, the car seat was made available to limited customers in Europe who are 911 and 718 owners.
Ford's High-Performance Parts for Mustang
As stated, Ford Motor Company is one of the first automotive companies who have adapted additive manufacturing in their production process. They are now mass producing some of their car parts through 3D printing metal.
The 2020 Shelby GT500 is reported to be the most aerodynamically advance Mustang to date. Various cooling and aerodynamic 3D designs were analyzed to enable the R&D team to develop the most promising design. During its prototyping stage, the aid of 3D technology helped the team manufacture a rear spoiler design that works to deliver 379 pounds of rear downforce at 180 mph; thus, making it robust, balanced, and consistent.
The latest Shelby GT500 also features two structural 3D printed brake components.
3D Printing for Motorsports
3D printing does not only benefit prototyping; it also plays a significantly different role in this automotive sport. When it comes to sports cars, speed, light, and safety are top priorities.
In the dynamic world of motorsports, the difference between win or loss depends on the type of car you have, which is why racecar engineers are in a constant challenge of designing a better car.
So how does 3D printing fit in here? Here are five reasons why motorsports giants, such as Formula 1, invest in additive manufacturing.
Prototyping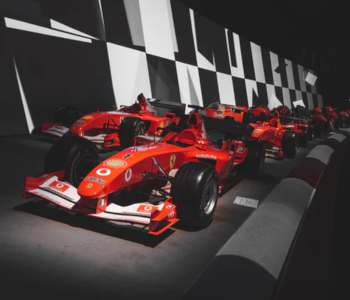 The governing body of motorsports has set regulations and technical specifications for automobiles allowed to race. With the guidelines constantly changing, prototyping to production of vehicles should be as quick as possible. 3D printing eliminates the time-consuming steps traditional prototyping brings, thus giving them more time to tweak their work to improve the product further.
Lightweight Parts
Weight is a crucial factor to motorsports vehicles since it affects the speed of the car. Lighter cars would require less force to accelerate more; thus, it is imperative to use materials with the lightest weight possible without compromising the car's overall safety and performance.
Design Flexibility
In motorsports, car designs play a huge part. They need to be sleek while able to perform exceptional aerodynamics to complete the race. 3D technology gives race car engineers a wide range of new design solutions. With 3D software, designers can make rapid changes to their designs and develop the best fitting configurations quickly and cost-effectively.
Wind Tunnel Testing
Testing cars in real life is a rare occasion in motorsports, so that most teams would perform wind tunnel testing. This test involves placing a prototype on a treadmill to mimic the same conditions that the car will reach during the race. 3D printing offers a cheaper and more efficient way to produce these models. If a change in design is necessary, modifications can repeat tests much faster.
Customized Tool Production
Most engineering solutions in motorsports are personalized and would frequently need a custom-made tool to assemble them. These parts and devices may be easily customized using 3D technology. Several motorsports teams already use 3D printing on the track to produce tools for last-minute tweaking during the tournament.
Hard-to-Find Parts for Classic Cars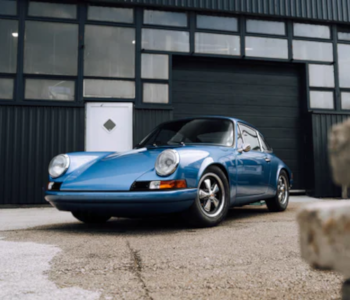 Despite the many modern cars available in the market, we can still see a couple of rare and classics cruising along the streets. If a particular part gets damaged, looking for a replacement is difficult since they are not always being produced or found anymore.
Today, traditional car manufacturers are embracing additive manufacturing in their car care services. For example, Jaguar, which is well known for its luxurious old vehicles, uses 3D technology to re-create the classic XKSS model from 1957. The team of BMW Group Classic was also able to restore Elvis's BMV 507 by using 3D printing to re-create some of the old components of the car.
Furthermore, Porsche's Classic division uses 3D printing to produce spare parts for their rare and classic vehicles. The division can create a replica of the original ones with the same fit and accurate working components through this technology.
Final Thoughts
3D Printing turns out to be a game-changer in the automotive industry. It has become a technology that is well on the way to being industrialized, so many motor companies are hoping to realize its full potential.
Although additive manufacturing is reshaping the auto industry, the technology is still in the early stage, wherein producing an entire automobile using 3D printers is still relatively expensive. However, we can't deny how much the major automotive brands have benefited from it. With more companies increasingly adapting to additive manufacturing, it will not be a surprise to see more of the technology's innovative applications come to life.
Warning; 3D printers should never be left unattended. They can pose a firesafety hazard.