10 3D Printed Tools to Enhance Productivity When Working From Home
3D Insider is ad supported and earns money from clicks, commissions from sales, and other ways.
During this past year, many people have shifted to working from home because of the pandemic. Most of these people have also discovered that working from home is not as easy as they had imagined. Although you have the luxury of time, not many of us have setups at home that are conducive for an entire day of work.
If you have a 3D printer, then you can put it to work to come up with productivity-enhancing tools. We have listed here some of our favorite free-to-download models.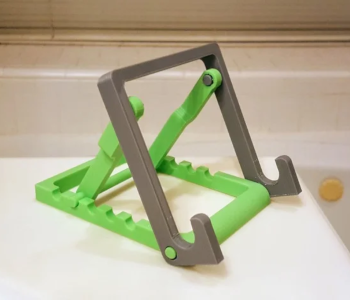 Looking at a mobile device while working generally isn't encouraged, but there are times when it's unavoidable. With this adjustable stand, you can position your phone or tablet to be facing your direction all the time so you don't have to fidget with it repeatedly. The cradle should be large enough to accommodate most mobile devices and can be adjusted across five different viewing angles.
This stand is also great for watching videos whenever you just need to take a break from working for a few minutes (a great advantage of having no bosses around). It also makes a handy stand for when you need to attend a virtual meeting.
Having a snack or drink on your desk is just part and parcel of working from home. However, having to clean up the mess on your desk can be quite bothersome. This cup holder will help avoid some of that mess, particularly when you're having a cold drink.
The cup holder acts as a cradle for a cup, mug, glass, or can. It elevates the drink from the table while providing a basin to catch any condensation. The result is that none of the condensation ends up on your desk.
It also comes with a mug handle, so you don't need to get your hands wet while enjoying your cold drink. The few seconds that this saves each day can be a significant boost to your WFH productivity.
A high-quality headphone has become an essential tool for working at home. Whether it's for attending virtual meetings, answering customer queries, or listening to music, your headphones are peripherals that you will want to stay in good condition for as long as possible.
This simple 3D printer clip can be mounted on your monitor and provide easy-to-access storage for your headphones. Suspending the headphones by the headband is the best way to store them to avoid damage to the cups and earmuffs. This is an incredibly basic 3D printing project that you can finish in less than an hour.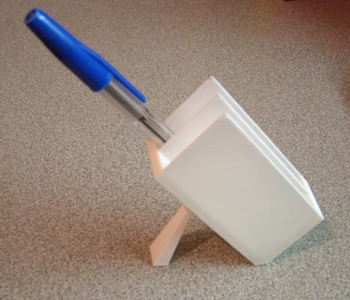 Whether you're working at an office or at home, a pen is still a classic productivity tool. To keep your pen handy and organized, we recommend this classy and minimalist pen holder. This holder does not have a fancy design but should look good in just about any WFH setup.
Despite the simplicity, you can easily fit around four standard-sized pens in this pen holder. With simplicity as its core design focus, the pen holder can be printed with minimal time and filament usage. There are dozens of fancier options out there but we appreciate how unexceptional and low-profile this design is.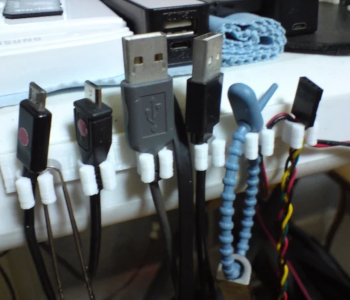 You don't even need to be actually working from home to benefit from good cable management. The problem does become more serious if you're using lots of accessories. To avoid the stress of unruly cables, we recommend 3D printing this simple cable management clip.
This cable clip can be mounted to the surface of your desk with some standard double-sided tape. Each copy of the clip accommodates six cables – you can just print more if needed. This also works great for the storage of charger cables for your phone and earbuds.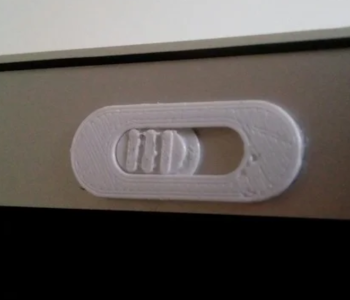 If you're working from home, you probably have enough things in your mind to worry about your privacy. This is not easy when you have a webcam constantly trained at you.
This 3D printable webcam cover can be placed on top of a standard laptop webcam. It features a cover that can be slid on and off when needed. This is great for ensuring that nobody is spying on you on the other end.
We particularly like using this cover when attending virtual meetings. Just slide off the cover when you want to show up in the camera and slide it on again. This ensures that you're not unintentionally displayed for everyone to see – a common and very embarrassing mistake that people are prone to make nowadays.
Good lighting is one of the essential components of productivity. This can be challenging to have when you're working at a home office where you might not have enough windows. This mini desk lamp can be just what you're looking for.
The great thing about this model is that its parts simply snap or screw together to form a fully functioning articulated desk lamp. 3D printing this model is a lot cheaper than buying a desk lamp that has been prefabricated. This is also great for injecting some of your personality into your workspace.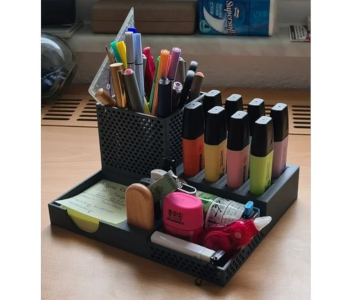 Through months of working from home, we won't judge if you have managed to build up some clutter in your workspace. It's fairly easy to find yourself with too many pens, paperclips, SD cards, and thumb drives, much like an actual office space.
This simple desk organizer isn't anything exceptional. It's just like any other desk organizer that you can buy from an office supplies store. With modular construction, you can choose to take apart the organizer and use only the components that you need. The advantage, of course, is that you can 3D print it at home. We can imagine how nice this would be when printed with some wood filament.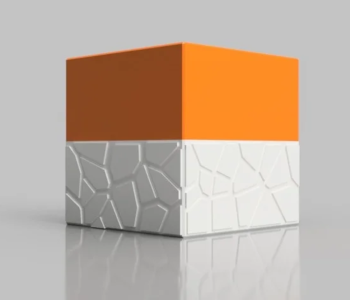 Those working at home have probably experienced wanting to spruce up their work area with some plants. The problem with plants is that they come with the responsibility of having to take care of them. This self-watering planter should help you keep a small plant alive with minimal effort.
The concept behind this planter is actually quite simple. A chamber separates the plant from a water reservoir. The water then climbs up a set of strings towards the plant, ensuring a gradual but constant water supply. With this design, you will only need to refill the water reservoir once or twice a week.
Likely the biggest challenge of this project is printing the water reservoir to be watertight. This may require printing the component with more filament than usual because of thicker shells.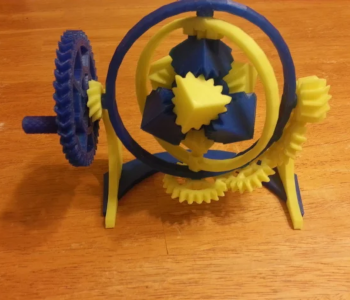 Not everything on your work desk needs to keep you productive. Every now and then, you need to take a break from your work and let your mind wander off to somewhere else. This impressive set of gyroscopic gears will keep your hands busy while your brain relaxes.
Just a word of warning – this project is a lot more complex compared to the other models in this list. You will need very tight tolerances to assemble these interlocking gears together. It is well worth the effort, though. Think of it as a more advanced version of the usual fidget spinners.
Final thoughts
For many of us, having to adjust to a work-from-home setup has been one of many challenges brought about by the pandemic. This seems like a never-ending struggle but one that might become a permanent fixture in our lives.
With this in mind, there are dozens of ways for you to improve the WFH situation if you have a 3D printer. These models will allow you to enhance productivity while giving your workspace some much-needed personality.
Warning; 3D printers should never be left unattended. They can pose a firesafety hazard.