Top 10 Best 3D Printed Accessories for PlayStation 5
3D Insider is ad supported and earns money from clicks, commissions from sales, and other ways.
The PlayStation 5 is the hottest gaming console today. With its lightning-fast SSD, a redesigned controller, and an impressive lineup of games, the demand for the PS5 remains very high almost two years after its launch.
Every gamer knows that the cost of gaming does not stop at the console and the games. It's great to spruce up your gaming setup with accessories. This is a rabbit hole that can get expensive very quickly. If you have a 3D printer, then you can try your hand at printing bespoke accessories for your PS5. Here are some of our favorites:
1. Controller stand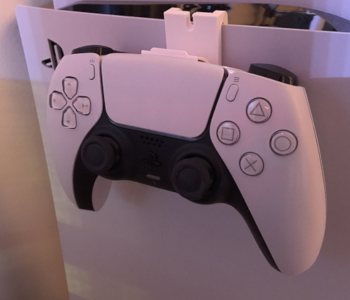 This is likely the most common PS5 accessory that you will see on 3D printing sites. Stands or mounts for the DualSense controller can range from basic stands with no visual embellishments to zombie hands and Dobby the House-Elf. There are also options for mounting your DualSense controller to the wall, under the table, or on the body of the PS5.
With so many controller stand options, it would actually be tough to come up with an original idea in this department. If you are envisioning a specific controller stand, there's a good chance that there is already a model of it out there.
2. Game case holder
The plastic case of physical PS5 games is actually the same as that of the PS4 and even older DVDs, so you might not need to get a new case holder. However, you can print one that has a nice PS5 caption. There are also options for wall mounting of your games.
The best thing about 3D printing your own game case holder is that you can just make more when you buy new games. It would also be easy enough to design a bracket that will allow multiple case holders to be stacked on top of each other.
3. Thumbstick caps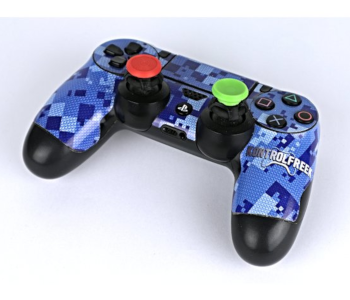 The thumb sticks of the DualSense controller seem to have good quality, but this does not mean that they will not wear down eventually. This set of thumb stick caps provides some protection to your controller's thumb sticks, hopefully extending their useful life.
Thumbstick caps aren't just for protection, though. For extremely competitive games, having the right thumb stick cap can have benefits in performance. It can improve your aim, make the sticks more responsive, or make it easier to hold the thumbstick in a single direction for a long time. The best thing about thumb stick caps is that they are so small that you can print multiple caps in just a single run.
4. Headphone mount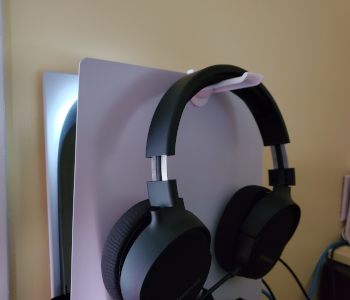 Just as with controller stands, there is seemingly an endless well of models for headphone mounts. You can get standalone wall mounts, mounts that clip to the side of the PS5, or integrated wall mounts for both headphones and controllers.
You can also get this fancy headphone mount with the PS5 branding and the classic PlayStation icons. Controller stands are so easy and fun to design that it's no surprise that the community has come up with so many choices. This is another case where you can likely find an existing model for every design idea you might have.
5. PlayStation trophy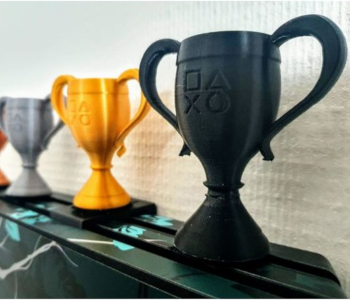 Are you a PlayStation trophy collector? Normally, this only refers to digital trophies as rewards for doing in-game achievements. How about turning those digital trophies into actual ones? With this model, you can just 3D print a trophy collection to show off.
While you probably should not 3D print the actual number of in-game trophies you have earned, these make really good additions to your gaming setup. These are best printed with shiny PLA, sanded, and polished. Achievements are always something you can be proud of, even if they are in video games.
6. PS4 camera wall mount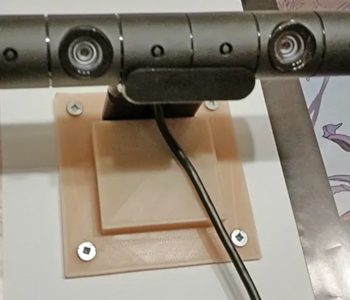 The camera of the PlayStation 4 is still compatible with the PlayStation 5 and is still a requirement if you play VR games. To use the camera optimally, it should be able to see the sensors in the PSVR headset. The best way to do this is to wall mount the camera.
This simple wall mount places the camera in the best position for VR gaming while also decluttering your gaming setup. This is a very simple design with a small cavity where the PS4 camera stand slips right in.
7. PS5 stealth mount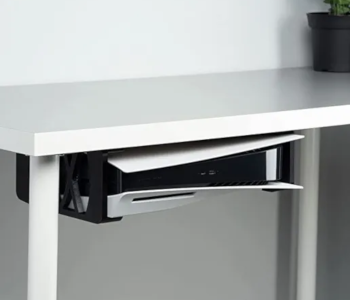 The PS5 is a huge piece of hardware. It is so big that finding a position for it in a cluttered home entertainment setup can be difficult. This stealth mount attempts to solve this problem by placing the PS5 on the underside of a desk.
Some people may feel that this mount does not show off the PS5 in all its glory. This isn't true at all. The PS5 is still visible, due in part to its size. The stealth mount is actually a very elegant solution to the problem of lack of space. It also perfectly positions the PS5 in a manner that still allows for optimal cooling.
8. DIY controller charging dock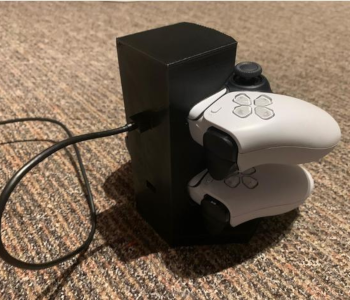 A charging dock for controllers is considered a must-have accessory if you own multiple controllers and cycle through them regularly. There are dozens of third-party controller charging docks out there, but where's the fun in just getting those when you can 3D print your own?
This custom controller stand has space for two controllers and holes for two USB-C cables. It's stable and functional, but not necessarily visually appealing. You can, of course, print it with fancy colors to match the bright colors of the newer DualSense controllers.
9. Mini wheel controller mod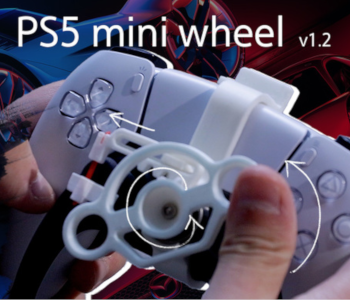 This is probably one of the most complex accessories you can 3D print for your gaming gear. This mini-wheel clips onto a DualSense controller, making it a more intuitive controller for racing and driving games. The design considerations that went into this model are quite impressive, making this an extremely fun project.
Take note that the plastic brackets that clip onto the controller may leave scratches on the controller's surface. You can remedy this by coating the inside surface of the plastic clamps with some soft cloth.
10. Flight stick controller mod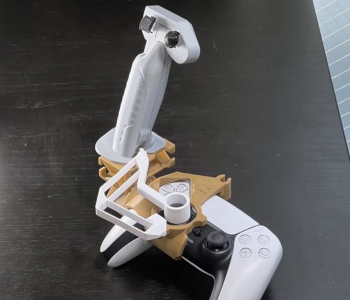 We're not quite done with the controller mods yet. This time, we're turning the DualSense controller into a flight stick. Flight sims are not as popular as they used to be, but there is still a healthy library of flight sim games for the PS5. This flight stick accessory will make playing flight sims a lot more fun.
Take note that the free version of the model only modifies the left side of the controller to allow for stick motion. There is a paid version of this model that modifies both sides of the controller for both motion and camera control. It also has working triggers and rocker switches. This is easily the most impressive DualSense controller mod of this bunch.
Final thoughts
If you own both a PlayStation 5 and a 3D printer, it's safe to say that you like keeping up with the latest technologies. It would also be a waste not to use your 3D printer to make a couple of fun and unique accessories for your shiny new gaming console. Sprucing up your gaming setup is almost as entertaining as playing the actual video games, but 3D printing these accessories rather than buying them gives you a lot more options.
Warning; 3D printers should never be left unattended. They can pose a firesafety hazard.