3D Printed Teeth: Revolutionizing Dentistry
3D Insider is ad supported and earns money from clicks, commissions from sales, and other ways.
Do you remember watching a sci-fi movie wherein they can heal wounds by creating new tissues using laser-like machines? 3D Printing has brought this amazing feat a lot closer to reality. The applications of three-dimensional printing are endless and mainly used in the medical field. But did you know that 3D technology can also help us have brighter smiles?
Albeit a relatively new technology in the dental field, 3D printing shows a lot of promise. Over the last few years, there's a rapid increase in the application of three-dimensional technology in dentistry.
Often, we associate dental appointments with bright white lights, noisy drills, and strawberry-scented toothpaste. However, more and more dental clinics are now shifting to 3D dentistry, wherein CBCT machines and 3D printers are replacing the usual things associated with our oral healthcare providers.
How is 3D Printing Changing Dentistry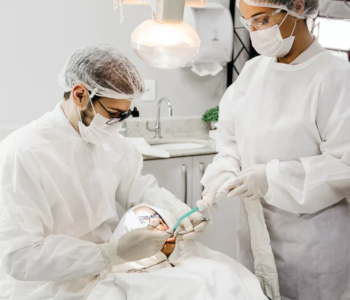 Prosthodontics is a field of dentistry that pertains to the diagnosis, treatment, and maintenance of overall oral health. A damaged tooth cannot self-generate, which is why having healthy gums and teeth is important to preserve oral health.
Artificial dentures or implants replace damaged teeth to prevent further harm in the oral cavity. However, making a synthetic prosthesis is not as easy as it looks. Aside from its efficiency to restore oral health functions, patient comfort and longevity are important factors to consider when making dental prostheses. With these things in mind, the conventional ways of making oral dentures and implants would take some time to ensure an effective and quality-wise prosthesis.
Three-dimensional technology has gained momentum in the dental industry since it made the works faster and easier. Many oral health care professionals now use 3D dental imaging and printing to improve the efficiency of dental treatment and fabrication of prostheses since it is more accurate and more in-depth than conventional practices.
Growth of 3D Printing in Dentistry
The demand for 3D printed objects in oral health care and dental cosmetics has undeniably increased in the past years. The growth in the market was mainly stimulated by the increasing elderly population, who need 3D printed dentures mostly to improve their oral functions.
The rising cases of patients with oral conditions due to lifestyle also contribute to the demand for 3D printed prostheses. The R&D sector is also a large contributing sector in the utilization of 3D technology due to the studies conducted for oral health conditions and cures.
Likewise, there is also a growing demand for dental prostheses for aesthetic purposes. For these reasons, prosthodontics and orthodontics hold the highest market share in the market of the 3D market in the dental field.
In 2020, the market size of 3D printing in Dentistry was valued at USD 1.8 billion and projected to reach USD 6.5 billion by 2025.
Types of 3D Printed Dental Technology
As stated, to maintain good oral hygiene, it is important to keep our teeth and gums clean and healthy. Often, damaged teeth may still be recoverable if detected earlier. However, there are cases when the best treatment to restore oral health is to pull out the decaying teeth and replace them with dental prostheses.
For a long time, dentists are using digital tools in their practice. However, 3D technology has greatly improved the quality outcome of dental procedures and overall patient care.
3D scanning and printing create digital models of our teeth, which allow professionals to determine what's wrong with our dentures and what the best treatment course is for them. As a result, orthodontic procedures are now faster, predictable, and less invasive.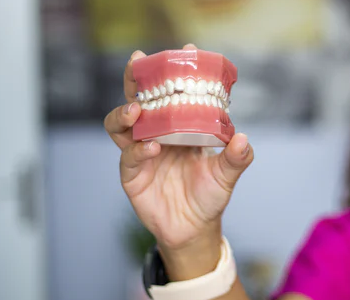 3D Teeth. Our teeth are unique, just like our dentures. With 3D printers, dentists can make customized teeth in just a single appointment.
The 3D printed tooth is relatively common nowadays. However, researchers from the University of Groningen are working on a 3D-printed tooth that can kill bacteria causing tooth decay. Though the study still has a long way before making its way to the market, the thought of a bacteria-fighting plastic as tooth replacement is promising for those who love getting an extra helping of desserts.
3D Dentures. There is no such thing as one-size-fits-all dentures. Dentists customize everything they install in a patient's mouth to ensure proficiency.
Getting fitted for dentures the traditional way would involve a mouthful of plaster cast and nasty-tasting gunk. It's uncomfortable and would often take you several visits before they can successfully make a "perfect" mold of your dental plates. Dentists today are moving forward with 3D technology to ease up the process with less invasive fitting sessions and a brand-new, ready-to-wear set of dentures in a matter of days.
3D Implants. A dental implants is the best way to replace missing teeth. It has a special attachment that keeps it firmly in place, thus providing better stability than removable dentures. But since dental procedures are patient-specific, dentists need to have a personalized surgical guide for every patient.
Dentists collect their patients' data through Cone-Beam CT scans to locate the dental implant based on their bone quality and structures within the jaw. Today's technology allows you to transfer gathered data to 3D software to create an accurate guide for the procedure.
By applying 3D technology, oral health care providers have better control of the procedure from beginning to end, leaving very little room for human error. The improved compatibility between the custom-made implant and the surrounding bone and gum tissues greatly decreases the chances of bruising and swelling; therefore, reducing postoperative complications.
3D Aligners. If you're an adult who experienced getting braces as a kid, you would remember the discomfort of getting those wires on your teeth. Today, people can achieve a straighter set of pearly whites with the help of clear aligners.
Compared to wire braces, aligners are virtually invisible and easy to remove. However, clear aligners need changing every two weeks to adjust the pressure level until you achieve the desired result.
Traditionally, the production of clear aligners involves thermoforming different thermoplastic materials, which could alter the material's properties as well as affect the overall performance of the aligner. 3D printing uses a broader range of raw materials, enabling orthodontists to produce molds for aligners made from biomaterials that are heat resistant. As a result, the overall quality and performance of the finished product are definite.
Capabilities of 3D Printing
Three-dimensional printing, or additive manufacturing, has made product development a lot easier because of its unique capabilities.
Flexibility in Design and Customization.
3D printing has opened the doors to endless possible creation. It allows designers and manufacturers to be bolder and more creative with their works. With the traditional process, dentists must have access to tools and be precise about draft angles and undercuts. But, these are no longer issues when it comes to 3D designing objects.
Finally, 3D technology allows complete customization of designs, which is particularly advantageous in the dental industry to manufacture dental aids and implants.
Speed.
One of the main capabilities of 3D printing is its ability to design, test, and produce products in as little time as possible. Traditional methods would require several processes before getting the final product, which could take several weeks.
3D technology allows single-step manufacture since the machines can complete a build by simply printing the finalized design uploaded to it. By doing so, designers have more control over the finished product.
Low-Cost Mass Customization.
The traditional ways of fabricating highly customized dentures eat up a lot of time. The quality of the finished product depends on technicians' skills and the tools they use.
3D scanners and printers simplify the workflow of a dental technician. Errors are least likely to occur due to the mechanization of the process, which results in time and cost savings.
Benefits of 3D Printing in Dentistry
Safer and Faster Procedures.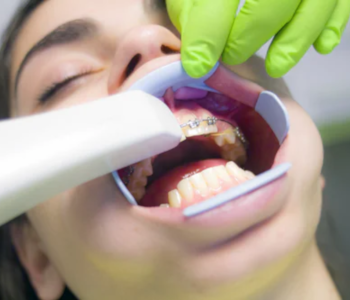 Most dental procedures are now automated, thanks to digital dentistry and 3D printing.
In the past, dental patients need several trips to the clinic, painful injections, and several days to recover. Those who need special procedures even need to endure temporary fixes while waiting for their lab-fabricated dental restorations.
The latest advancement of 3D technology has made same-day dental procedures safe and effective. 3D CBCT scanners can take images of your oral cavity from all angles in less than a minute. Not only does it cut downtime spent, but it also reduces potential image defects brought about by the movement of the patient.
The collected images are used to pattern a three-dimensional model of teeth and skull for making prostheses and surgical guides. In addition, these images can capture problems that may go unnoticed by ordinary scanners, giving dental practitioners a better view of the oral cavity for a more accurate diagnosis and best treatment planning.
Accurate and Precise Prosthesis.
The accuracy and precision of dental prostheses had dramatically improved with the introduction of 3D technology in dentistry.
As stated, 3D printers work together with 3D scanners to create an accurate impression of your teeth and gums. The scanners capture your oral cavity's precise shapes and curves to make sure your dentist makes your prostheses precisely according to the desired measurement.
Durability.
3D printed prosthesis is not only more accurate than the ones made from plaster casts. It also has fewer structural defects, making it more resilient to damages caused by natural human movement.
Superior Aesthetics.
Aesthetics is frequently confused with cosmetics, especially in the field of dentistry. While both aim to give patients better-looking teeth, aesthetic dentistry addresses dental problems while still making you look and feel your best.
3D printing does not only make accurate and precise prostheses, but it can fabricate ones that possess the same color and shades as your teeth. Hence the final prosthesis will look like your own natural teeth.
Convenience.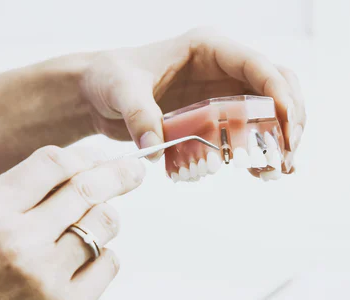 The conventional way of making dentures often involves your dentist using plaster casts to mold your teeth and gums before sending them to a dental laboratory for fabrication. Once done, it is returned to the clinic, wherein your dentist checks to see how it fits your mouth. If there are any adjustments, the prosthesis will be returned for alteration.
While waiting for the adjustments, you will need to wear temps until the permanent one is remade. Not only is this time-consuming, but it can also be frustrating on your part.
3D technology makes a three-dimensional model of your teeth without those icky gunk in your mouth in a short time frame. The dentist just needs to take images of your oral cavity using a 3D scanner, then fabricate your prosthesis using a 3D printer. The process is patient-friendly and fast. You can get your prosthesis in one day.
In addition, your information and scanned images can be digitally stored on the computer, making it easier to retrieve your data in case you need it for future procedures.
Saves Cost.
Pre 3D technology, many dentists would outsource the skills for the production of dental implants. The price may vary depending on the volume and complexity of work.
Today, 3D scanners and printers are now accessible in the market. Hence, more dentists are investing in 3D scanners and printers for the in-house production of dentures and implants.
Final Thoughts
Three-dimensional technology has made a lot of improvement in the healthcare system, particularly in dentistry. Dental procedures are specific for every patient, and the conventional methods of performing them are time-consuming and even risky at times.
3D printed teeth are engineered specific to the needs of each patient, making the preparation and demonstration of orthodontic procedures faster and easier.
With 3D scanners and printers, dentists can now provide same-day services to their patients. Procedure guides generated from three-dimensional scans and prints are now carefully calculated and more precise, making procedures that were once considered high risk relatively safe.
Dental procedures these days are safer and less antagonizing, thanks to 3D technology. It gives patients a more comfortable experience, reducing the trauma brought about by conventional dental practices.
3D dentistry is not here to replace evidence-based practices since it is just a relatively new way of doing dental procedures. However, the rapid acceleration of digital technology in the medical field allows for more innovative solutions and dental treatments.
Warning; 3D printers should never be left unattended. They can pose a firesafety hazard.