3D Printer Plans News Round Up For Friday 28/03/2014
3D Insider is ad supported and earns money from clicks and other ways.
Foodini Hits Kickstarter, Starts At $1,000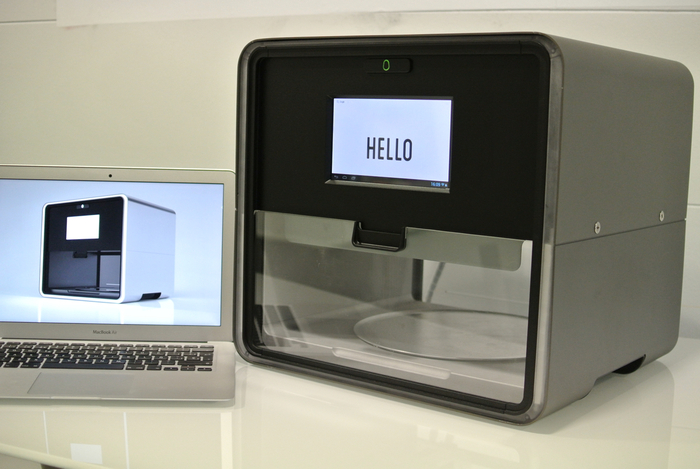 Foodini is set to be the first, widely available desktop 3D printer for food creation. Now, Natural Machines, the company behind Foodini, has launched the printers first Kickstarter campaign and backers are already going crazy. The Foodini will make its way into kitchens all over the world by January 2015.
While you're probably not going to be printing five star Michelin restaurant quality food, the Foodini will be perfectly capable of printing savory or sweet cuisine. For example it will be able to print perfectly-round pizza dough's, and even put sauce on top. It will also be able to print a wide range of different nutritious foods including, burgers, pastas (ravioli, gnocchi, spaghetti), chicken nuggets, pizza, brownies, chocolate and a whole host of other meals.
Instead of limiting the Foodini to proprietary food cartridges, the team at Natural Machines decided it would be better to let users fill up empty capsules from the comfort of their own home. All you need to do is load the required ingredients into Foodini's food capsules, select the recipe you want from the printers touch panel, and then watch as your meal is created layer-by-layer.
Early bird's will be able to get a Foodini for a reduced price of $999, which will be delivered in January 2015. The retail version will be priced at $1,300 and will be available after Kickstarter orders.
3D Printed Skull Replacement Successfully Implanted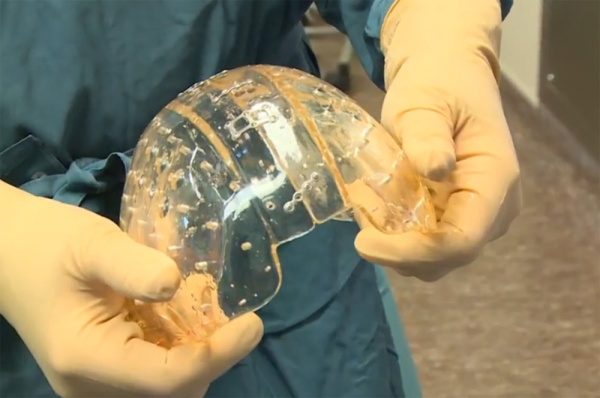 Surgeons and researchers at the University Medical Center in Utrecht have successfully implanted a 3D printed replacement skull into a 22-year-old Dutch woman who suffered from a rare bone disease. Dr.Bon Verweij, lead surgeon on the case, said "With 3D printing we can customize implants to their exact size. It has great cosmetic and medicinal benefits. Patients' brain function often recovers better than the traditional methods."
The patients disorder had caused overgrowth of her old skull from a normal thickness of 1.5 centimeters to an incredible 5cm (2 inches). While details of the operation are scarce, the transparent implant appears to be a permanent fixture within the patients head. The two halves of the of implant are attached with standard titanium clasps and surgeons can select the right titanium pieces to fit with the skull. An Australian firm made the skull implant.
3D printing is changing the way operations are done. Surgeons can now fully customize an implant to the contours of a patients bone structure and shape.
HSS 3D Printer Could Replace Injection Moulding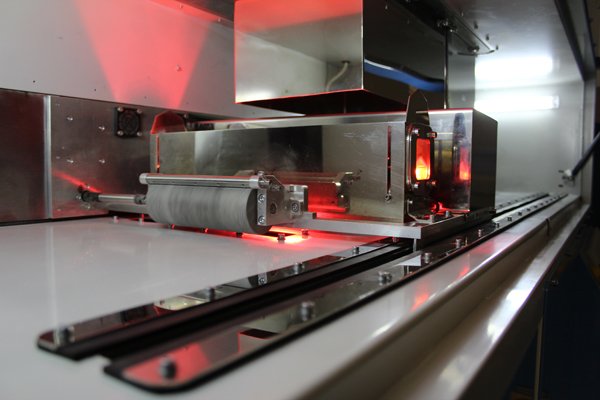 Additive manufacturing has one major limiting factor, its speed, but that could all change with the introduction of FACTUM, a 3D printer based on high-speed sintering or HSS. FACTUM has just been awarded  £1.5 million in funding from the Technology Strategy Board (TSB) and industry partners such as BAE. Loughborough University invented HSS some time ago and has since been studying the rapid printing process. Professor Neil Hopkinson, a former member of Loughborough's team now leads the team at Sheffield's Department of Mechanical Engineering working on FACTUM.
HSS and FACTUM could completely revolutionize manufacturing.  Hopkinson told the TCT magazine, " we're beginning to find some geometries where we expect it to be cheaper to use HSS than to injection mould for any production volume. To date, it's been the case that it's only cheaper to additive manufacture a product up to a certain production volume, thereafter it's cheaper to injection mould. But we've found for some geometries this is no longer the case. With HSS, we predict for a substantial range of products it will always be cheaper than injection moulding, which won't be able to compete on cost in these cases. We think this is a very profound first for additive manufacturing."
Compared to selective laser sintering (SLS), HSS appears to be able to print in a wider range of materials. Apparently, the process is already capable of  producing finger sized parts at less than one second per part. Hopkinson said "The paradox – Hopkinson says – is that the heat is applied more gently and for a longer time than the laser, which translates into minimal particle damage and improved sintering quality."
This technology could completely make us rethink how objects are created and designed. It could lead to mass produced custom parts, a true 3D printers dream.
source: TCT
Warning; 3D printers should never be left unattended. They can pose a firesafety hazard.