3D Printer Price: How Much Does 3D Printing Cost in 2022
3D Insider is ad supported and earns money from clicks, commissions from sales, and other ways.
3D printers have been an integral part of many industries for the past decade. They are simple, reliable, and precise, making them the most commonly used tool for component manufacture. Through 3D printing, users can demonstrate new products physically, reducing the risk of misinterpretation and lost communication. In addition to their advantages, 3D printers are cheaper than most manufacturing methods because they allow for rapid prototyping and to avoid large amounts of waste.
The Cost of a 3D Printer
3D printer price may vary depending on your specific needs. There is a wide variety available in the market. You can choose based on size, features, quality, performance, and even place of manufacture. On average, a 3D printer costs $400. Entry-level and hobbyist devices range between $200 and $500, but some can be more expensive.
High-end 3D printers, on the other hand, can cost anywhere between $1500 and $6000, depending on their capability. Finally, industrial 3D printers are the most expensive to own and operate. They can range from $20,000 to $100,000.
FDM Printing
Fused Deposition Modeling (FDM) printers use a thermoplastic polymer in filament to create three-dimensional objects. People often use them during early concept development and prototyping of medical device design. They work both horizontally and vertically, where the extrusion nozzle moves over a build platform. Thus, they have an advantage when it comes to producing usable, durable, and long-lasting parts.
FDM printing is also crucial in producing end-use parts, such as small, detailed parts and specialized tools. Some thermoplastics are ideal for food and drug packaging, making FDM printers popular in the medical industry.
Advanced Digital Printing
Advanced Digital Printing allows you to print on various substrates – from textured papers to plastics. With a resolution equivalent to 200 LPI, it matches most traditional offset presses. You can barely tell the difference between digital prints and offset prints. More impressively, the innovative technology provides you with a brilliant and vibrant visual experience.
Types of 3D Printers You Can Get
Several types of 3D printers are available on the market, but these three are the most established types: stereolithography (SLA), selective laser sintering (SLS), and fused deposition modeling (FDM).
Stereolithography (SLA)
As the world's first 3D printing technology, SLA 3D printers use a laser to cure liquid resin into hardened plastic through photopolymerization. They have become prevalent for their ability to produce high accuracy, isotropic, and watertight prototypes and parts. They also offer various optical, mechanical, and thermal properties to match thermoplastics.
SLA 3D printers are ideal for:
Short-run production
Rapid prototyping
Concept modeling
Dental applications
Functional prototyping
Jewelry prototyping and casting
Selective Laser Sintering (SLS)
SLS 3D printers are ideal for complex geometrics as they use a high-powered laser to sinter polymer powders into solid structures. The parts they produce have excellent mechanical characteristics due to the material used: Nylon. They are also famous for their low cost per part, high productivity, and established materials, making them an excellent alternative to injecting molding.
SLS 3D printers are ideal for:
End-use parts
Custom manufacturing
Functional prototyping
Fused Deposition Modeling (FDM)
FDM 3D printers are ideal for basic proof-of-concept models and low-cost prototyping of simple parts. Most widely used at the consumer level, they have the lowest resolution and accuracy. Compared to the above 3D printer types, FDM printers are not ideal for parts with intricate features and other complex designs.
FDM 3D printers are ideal for:
Simple prototyping
Basic proof-of-concept models
Entry-Level 3D Printers
MONOPRICE SELECT MINI 3D PRINTER V2
Price: $220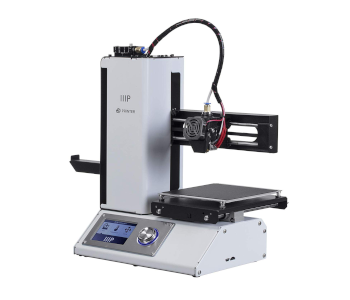 The MP Select Mini 3D Printer v2 is a low-cost device that is easy to assemble and operate. It comes entirely made and calibrated at the factory. All you need to do is perform a quick check to confirm a leveled print bed. As with most mechanical objects, you should also conduct periodic maintenance to keep it operating at peak performance.
Features
The Monoprice Mini v2 comes with a complete kit with sample PLA filament, bed scraper, and microSD™ card with preloaded model files in the box. It also has a heated aluminum build-plate nozzle cooling fan for printing all filament types. Plus, it supports microSD and micro USB connectivity. You can use it with your PC and Mac®, as well as software like Cura and Repetier.
Why Choose MP Select Mini 3D Printer v2?
Aside from affordable printing, there are many reasons why you should get the Monoprice Mini 3D Printer v2. First, it supports all filament types, thanks to its heated build plate and wide range of extruder temperatures. Second, it has a compact desktop design that allows you to place it on any flat surface. Lastly, unlike other low-cost 3D printers, it ships fully assembled and already calibrated. You can start printing out of the box!
QIDI TECHNOLOGY X-ONE2 3D PRINTER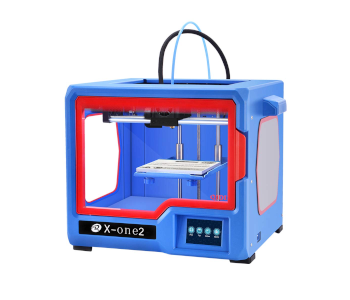 Price: $249
The X-One2 is an affordable desktop 3D Printer and a second version of the budget bestseller X-One of QIDI Technology. It comes pre-assembled, so you may start using it within an hour of unboxing it. Like its predecessor, the X-One2 has a comprehensive 3D printing ecosystem, making it easy to operate. Unfortunately, it does not support auto bed leveling, so you have to level the bed manually.
Features
The QIDI Technology X-One2 features a 3.5-inch touchscreen with recognizable icons. The interface shows the print progress and the print bed temperature. It is very responsive and easy to operate, too. The 3D printer also comes with an SD card and an enclosed build chamber to ensure constant temperature for ABS. Furthermore, it has an aluminum heated print bed with PEI covered surface to print temperature-sensitive materials.
Why Choose X-One2?
Plug and play, the X-One 2 is an excellent 3D printer for beginners. Detailed step-by-step instruction is shipped with the device. Plus, it has a very responsive and easy-to-operate interface. It also comes with the proprietary slicer software QIDI Print, which supports powerful functions. More impressively, the X-One2 features an open material system that allows you to experiment with different brands and materials.
MP Select Mini v2
X-One2
Extruder Type
Single Extruder
Single Extruder
Supported Filament Types
ABS, PLA, Wood Fill,
Copper Fill, Steel Fill,
Bronze Fill
PLA, ABS, TPU, PETG,
Nylon, PC, Carbon fiber
Connectivity
Micro USB, MicroSD™ card
SD Card
Nozzle Size
0.4mm
0.4mm
Weight
4.5 kg
19 kg
Dimensions
343 x 287 x 190 mm
380 × 320 × 360 mm
Supported OS
Windows® 7 and later,
macOS®, Linux®
Windows, Mac OSX,
Hobbyist 3D Printers
DREMEL DIGILAB3D20 IDEA BUILDER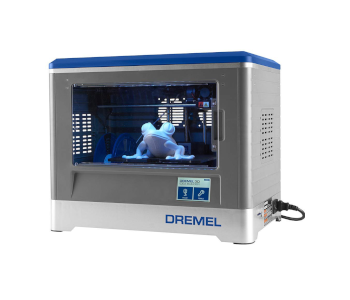 Price: $679
The 3D20 Idea Builder is the hardest working entry-level extruder. It comes completely pre-assembled and has a simple design, making it ideal for hobbyists, tinkerers, and those new to 3D printing. You can begin printing with high-quality models preloaded on the printer, as well. The printer uses PLA filament to print onto a non-heated plate and includes an easy-to-follow guide and detailed instructions to help you start printing out of the box.
Features
The best thing about the Digilab3D20 Idea Builder is the built-in cooling fan that ensures the PLA filament is evenly layered and misprints are minimized. It also comes with an enclosed build chamber to keep out dust and prying fingers. Furthermore, the 3D printer has a stylish drop-top build that allows you to access its internal parts.
Why Choose the Dremel Digilab3D20 Idea Builder?
Getting started with a 3D printer has never been easier with the Dremel 3D20. It has an open-plug-print feature that makes it perfect for new users and students. It is also so quiet; you barely realize it's running. More impressively, the Idea Builder is tested to the max. It has been through hours of testing to ensure reliability and accuracy and has superior safety compared to the competition.
FLASHFORGE CREATOR PRO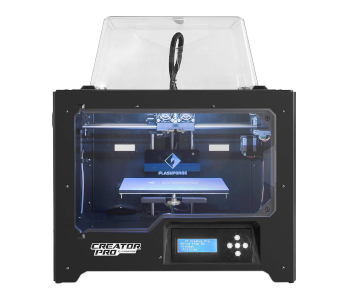 Price: $699
The Creator Pro is one of the better 3D printers on the market. A successor to the beloved Flashforge Creator, it is an improvement with a 6.3mm aluminum build plate, two extruders, and a universal power supply. The metal frame is substantially more stable than its predecessor, too. Additionally, the printer comes fully assembled and entirely made of heat-resistant metal. As a bonus, it opens to almost 180 degrees for you to remove all the larger prints.
Features
Although it lacks the raw building volume of open models, the Creator Pro can maintain a consistent temperature at all times. It comes with two extruders, allowing you to print supporting structures or different colored materials at once. The printer also supports PVA filaments, so you don't need snap-off supports. Furthermore, Flashforge offers a 30-day moneyback guarantee and a guaranteed response to customer support issues within 8 hours.
Why Choose Flashforge Creator Pro?
The Creator Pro is an excellent hobbyist 3D printer. It is reasonably priced, capable of handling standard filaments, and features several customizations. Although it comes pre-assembled, you can still remove and swap vital parts if you like. You can also set the layer resolution between 100 and 500 microns, making it perfect for creating medium to large items.
3D20 Idea Builder
Flashforge Creator Pro
Extruder Type
Single Extruder
Double Extruders
Supported Filament Types
PLA
PVA, PLA, ABS, PETG,
TPE, TPU, PPP
Connectivity
SD Card
USB, SD Card, Power Cable
Nozzle Size
0.4 mm
0.4 mm
Weight
7kg
1kg
Dimensions
470 x 340 x 350 mm
226 X 147 X 150 mm
Supported OS
Windows, Mac OSX
Windows, Mac OSX and
Linux
Enthusiast 3D Printers
LULZBOT MINI 2
Price: $1850
The Lulzbot Mini 2 is a portable, high-performance desktop 3D printer that features numerous upgrades over the original. Engineered to deliver premium results, it is a perfect addition to classrooms, workshops, and offices. The printer is also easy to use and works with various filament types. It maintains similar compactness and stability, but the new features and improvements push it above its predecessor.
Features
The Lulzbolt Mini version 2 uses genuine E3D Titan Aero Extruder and Hot End Reversible PEI to give you high-quality prints and fast cycle times. It also features a GLCD Controller for tetherless 3D printing. Furthermore, the 3D printer is beloved for its whisper-quiet operation, proven self-cleaning, and self-leveling technology.
Why Choose the Lulzbot Mini 2 Desktop 3D Printer?
There are numerous things to love about the Lulzbot Mini 2. It is easy to set up and use, supports various filament types, and boasts a quiet operation. It also features a self-leveling print bed. More impressively, the 3D printer features an innovative belt-driven Z-axis that produces outstanding print quality.
DREMEL 3D45 3D PRINTER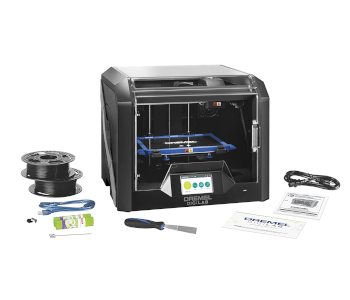 Price: $1,899
The 3D45 is the perfect 3D printer for design creations and prototyping. It supports various filament types and Wi-Fi connectivity and has a built-in HD camera. Because it has a closed build area, the optimized cooling and filtration system keep dust out and help avoid fumes. The combination of improved attributes, such as the innovative extruder and filtration system, provides you with higher-quality 3D printing results.
Features
The Dremel 3D45 boasts unsurpassed features and endless possibilities. It uses an All-Metal Hot-End Direct Drive Extruder, making it ideal for flexible and exotic materials. It also has a 50-Micron Resolution for better print quality. Plus, the fully-inclosed build chamber and active carbon fiber filter protect you from harmful VOCs.
Why Choose the Dremel 3D45 3D Printer?
The 3D45 3D printer is suitable for creative and experimental 3D printing. It is Wi-Fi enabled, has a resolution of 50 microns, and features a built-in RFID to detect the filament type. The touchscreen shows you how to level the plate in real-time with a turn of a knob. The integrated camera lets you monitor your printing project. More impressively, the LAN connection lets you start your prints remotely.
Lulzbot Mini 2
Dremel 3D45
Extruder Type
Single Extruder
Double Extruders
Supported Filament Types
TPU, Exotic PLA, ABS
Nylon, PETG, Eco-ABS, &
PLA
Connectivity
USB, micro SD Card
USB, WiFi, Ethernet
Nozzle Size
0.35 mm
0.4 mm
Weight
9kg
21.5kg
Dimensions
580 x 460 x 530 mm
254 x 152 x 170 mm
Supported OS
GNU, Mac OSX, Linux,
Windows
Mac OS X, Windows
Professional-Grade 3D Printers
MAKERBOT REPLICATOR+
The Makerbot Replicator Plus is a reliable, fast 3D printer that suits professionals and educators. It prints high-quality models easier and with more significant build volumes. The device also features a sturdier construction, better print adhesion, and more to ensure improved performance. Furthermore, the powerful workflow tools make it perfect for engineers and designers.
Features
The Replicator Plus allows you to print and monitor your project from your browser, thanks to the integrated Makerbot Cloud. It also features a suite of intelligent technology that gives you time to focus on design. More impressively, the 3D printer and materials have been tested by the National Institute for Occupational Safety and Health for environment safety. You can relax better in your office or classroom.
Why Choose the Makerbot Replicator Plus?
The Replicator Plus is the most popular Makerbot 3D printer for professionals, educators, and hobbyists. It is fast, reliable, and has enhanced 3D printing features to provide you with an excellent experience.
The Replicator Plus is also Cloud-enabled, allowing you to control it remotely. Moreover, you can remove the prints easily with the new bendable Flex Build Plate, which is factory-leveled, so your Replicator Plus is ready to produce right out of the box.
Makerbot Replicator Plus
Extruder Type
Smart Extruder+, Tough PLA Extruder
Supported Filament Types
MakerBot PLA Filament, MakerBot Tough
PLA Filament
Connectivity
Wi-Fi, Ethernet, USB-Stick, USB-Cable
Nozzle Size
0.4mm
Weight
18.2kg
Dimensions
528 x 410 x 440 mm
Supported OS
WINDOWS (7 and 10, 64-bit only) and MAC
OS (10.12 to 10.14)
Industrial 3D Printers
Industrial 3D printers are ideal for businesses. They have various applications, from printing prototypes to production parts. Different types of industrial 3D printers include fused deposition modeling (FDM), stereolithography (SLA), selective laser sintering (SLS), material jetting, and metal 3D printing.
Material Jetting
Material Jetting has a print head similar to traditional inkjet printers. They can create parts from multiple materials, resulting in precise and smoothly finished products. The overall accuracy and multi-material and full-color printing make it ideal for anatomic models and realistic prototypes.
Material Jetting is ideal for:
Anatomic Models
Full-color prototypes
Metal 3D Printing
Multiple 3D processes are available for metal 3D Printing, including Direct Metal Laser Sintering (DMLS) or Selective Laser Melting (SLM) and Metal FDM. Metal FDM works like FDM printers but uses metal rods. On the other hand, SLM and DMLS work like SLS printers but use metal powder particles to create sturdy, accurate, and complex metal products.
Metal 3D Printing is ideal for:
Aerospace
Medical applications
Automotive
Comparison of Industrial 3D Printing Processes
FDM
SLA
SLS
MATERIAL
JETTING
METAL 3D
PRINTING
Build
volume
300 x 300 x
600 mm
300 x 335 x
200 mm
165 x 165 x
300 mm
300 x 200 x
150 mm
300 x 200 x
200mm in
metal FDM /
400 x 400 x
400 mm in
DMLS/SLM
Price Range
Starts from
$2,500
Starts from
$3,500
Starts from
$16,500
Starts from
$20,000
(Multi-
material
starts from
$100,000)
Starts from
$100,000
Materials
ABS, PLA
ABS, PP,
Silicone,
Flexible,
Heat-
Resistant,
Rigid
Nylon and its
composites
Varieties of
Resin
Stainless
steel, tool
steel,
titanium,
cobalt
chrome, and
aluminum
Ideal
applications
Basic proof-
of-concept
models, low-
cost
prototyping
of simple
parts
Highly
detailed
prototypes,
molds,
tooling,
patterns,
medical
models, and
functional
parts
Complex
geometries,
functional
prototypes,
short-run or
bridge
manufacturing
Highly
detailed
prototypes
Aerospace,
automotive,
and medical
applications
Factors That Affect the Price of 3D Printing
Since the recent popularity of 3D printers, their production has increased by many folds. They may be an expensive investment, but they pay for themselves with reduced production costs. For personal use, you can purchase starting from $200. For commercial purposes, the cost can range high depending on your needs and the size of the machine.
Technology
One of the vital factors that determine the price of 3D printing is the technology used. Generally, there are three types: FDM, SLA, and SLS. The FDM 3D printer is the cheapest, whereas SLS is the most expensive out of the three. The time required for printing also determines the overall cost of 3D printing.
More extensive projects usually take a long time to complete, increasing electricity costs. Additionally, the thickness of the layer used for printing increases time consumption, swelling the electric bills.
Materials
The types of filament used by 3D printers can also affect the overall cost. Different varieties come at different prices. Cheaper filaments, for instance, can cost approximately $10 TO $15, while expensive high-quality filament can cost you anywhere from $40 to $50. ABS is the most affordable, but if you are looking for a sturdy, refined print, you may want to invest more in the plastic's quality.
The cost of infill can also affect pricing. Low infill quality often translates to low 3D printing price. Similarly, when you use robust infill quality, the price increases significantly. If you wish to save money, you may want to reduce the infill considerably.
Labor
Labor costs depend on the materials, parts requirements, and the 3D printing process. Metal parts built with DMLS need to be on a platform, demanding more hands to work on them. If the features require smooth surfaces or coatings, the price will likely be higher than basic proof-of-concept models.
Lead Time
Lead time plays a huge part in the cost of a 3D piece. If you need to finish a part right away, you have to make space for it on the machine. For a longer lead time, the printer can fit the build-in whenever there is open space, giving you time to distribute parts more efficiently and lowering the 3D printing cost.
3D Printing Service: An Option to Consider
3D printers can be expensive. If you are using one for only a single project, you may want to consider hiring a 3D printing service. 3D printing companies may charge a certain amount per hour the device is operational. Each business sets its hourly rate.
For instance, a company may charge around $1 per hour if the 3D printer costs $2,000 with a life span of 2,000 print hours. You can create plastic functional parts, metal 3D printed industrial parts and visual prototypes with resin materials without buying a 3D printer.
Final Thoughts
3D printing, also known as the process of producing three-dimensional objects, has come a long way. It allows hobbyists, professionals, and businesses to design, manufacture, and customize parts in as little time as possible in the most cost-effective manner.
3D printers can also create almost anything that fits into your build volume. Overall, technology has allowed people to improve and enhance products and deliver them in a shorter amount of time.
3D printers, whether personal or industrial, are an excellent investment. Entry-level printers are a great way to learn about 3D printing, while Hobbyist 3D printers can print slightly larger than the former. On the other hand, high-performance printers can print parts quickly while maintaining superior print resolution.
Enthusiast 3D printers are suitable for grade schools and infrequent use in high schools, while Professional 3D printers can print a wide range of materials.
The prices of different types of 3D printers vary, depending on your specific needs. You also need to factor in size, quality, features, durability, and place of manufacture.
Warning; 3D printers should never be left unattended. They can pose a firesafety hazard.