The Top 5 Best 3D Printers for Beginners
3D Insider is ad supported and earns money from clicks, commissions from sales, and other ways.
3D printers have surged in popularity in the last couple of years, thanks to several high-profile applications and mainstream media coverage. Coupled with brands that offer inexpensive 3D printers, this hobby and industry has attracted a higher number of beginners than ever.
If you can relate to this situation, then you probably understand how big of a hurdle it is to buy your very first 3D printer. We understand how daunting it could be to tread in the unfamiliar water of 3D printing. Worry not, as we'll cover all the bases of choosing the best 3D printers for beginners.
What to look for in a beginner-friendly 3D printer
Where to start? This is likely the question in the mind of someone who has never owned a 3D printer before but wants to buy one. This is perfectly understandable. A 3D printer is a huge investment. It's not just expensive but will take a lot of effort to learn and quite a bit of space in your house.
To make sure that you don't get in over your head, here are some factors to consider when buying your first 3D printer:
Assembly
Not all printers are ready to use out of the box. This is especially true for budget models that require frame assembly. If you're not up to this task, then you might be better off buying a pre-assembled 3D printer.
This does not mean that 3D printers that require assembly are automatically poor options. These are often significantly cheaper but nevertheless come with all the tools and instructions that you will need to put them together. However, there is certainly room for error during the assembly process. One misaligned frame and you can end up printing poor-quality projects.
Size
If you haven't started 3D printing yet, then you probably have limited space in your house or flat for a 3D printer. Take note of this when buying your first 3D printer. You would not want to buy one that's too wide or too tall for your intended space.
Keep in mind that you will also be needing extra space for all the tools, accessories, and supplies that you will need for 3D printing. This is something you need to plan for when setting aside room for your new 3D printer.
Enclosure and filter
When used without the proper measures, a 3D printer can be dangerous. There are several components that can be risky – rapidly spinning motors, very hot components, and fumes released during printing. If these are concerning to you, then you may want to consider getting a 3D printer that has features that minimize these hazards.
The safest 3D printer is one that comes with a full enclosure and a dedicated exhaust vent with a built-in filter. This restricts access to moving or hot parts during operation and reduces the emission of microplastics and chemical fumes.
Print quality
All those ease-of-use and safety features would be useless if your prints come out terribly every single time. Unfortunately, this isn't just a single "feature" that you can look up online. Your best bet would be to get a 3D printer from a reputable brand or one that has been in the market for a couple of years.
Price
The best thing about this boom in the popularity of 3D printers is that they have become a lot more affordable. Nowadays, you can get a good desktop 3D printer for less than $300. If you have a higher budget, then there are still several beginner-friendly 3D printers in the $600 to $1000 range.
The 5 best 3D printers for beginners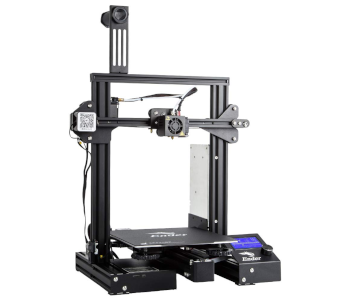 The basic 3D printer from Creality is one of the most well-recommended for beginners. Costing only a little more than $200, the Ender 3 Pro is a basic FDM printer with a 12 x 12 inch footprint, a heated print bed, and a removable build plate.
The Ender 3 Pro was designed specifically as a learning tool for 3D printing, so beginners should feel right at home. It comes with the Cura slicer software. The printer itself is completely open-source, so you can customize its performance as you see fit.
The downside of the Ender 3 Pro is that it requires quite a bit of assembly. Still, the construction of the printer is simple enough that anyone should be able to handle it. As it's an inexpensive model, the Ender 3 Pro also does not come with an enclosure. This could make printing with high-temperature filaments, such as ABS or Nylon, quite challenging.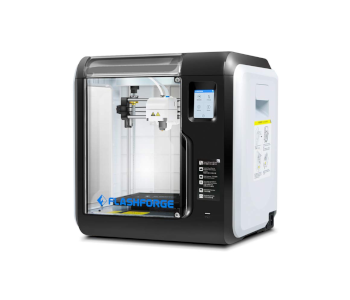 The Adventurer 3 Lite from FlashForge is one of the cheapest 3D printers that come fully assembled and enclosed. This gives it a more "premium" feel and makes it almost ready to run out of the box.
This is another FDM-based 3D printer with a heated bed, touchscreen interface, removable build plate, and detachable nozzle. The enclosure will massively help in containing any unpleasant fumes and maintaining an elevated temperature in the print chamber. This makes the Adventurer 3 Lite a lot more versatile in handling high-temperature 3D printing.
The downside of going with a fully enclosed 3D printer is that it has a smaller maximum build size relative to its footprint. Being a budget option, the Adventurer 3 Lite also does not come with premium features such as HEPA filter-aided exhaust.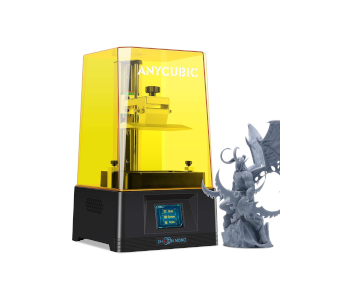 A departure from the previous two entries, the Anycubic Photo Mono is a resin-based 3D printer. Still appropriately desktop-scale, the Photo Mono is one of only a handful of resin-based 3D printers that are affordable and beginner-friendly.
The Photo Mono is ready to run out of the box and comes with a full enclosure. It has a very small build platform that is most suitable for printing miniatures and small figurines. In any case, this is the best use case of a resin 3D printer. Compared to an FDM printer, the Photon Mono creates much more detailed 3D prints.
We recommend the Photon Mono only if you're up to the challenge of learning how to 3D print with resin. Compared to FDM machines, a resin 3D printer certainly has a much steeper learning curve. Its superiority in terms of print quality, however, is unquestionable.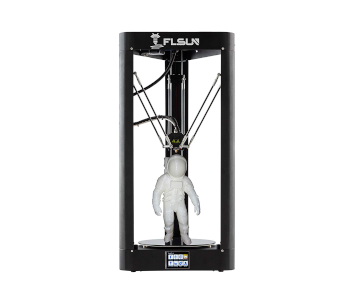 The QQ-S printer from FLSUN is also based on FDM technology but has a "Delta" structure. This means that its print head is mounted on three movable arms that also determine its position. This helps reduce the footprint of the QQ-S while speeding up the printing process.
Since the QQ-S is so small, it comes fully assembled and ready to use. It comes with a heated bed, a built-in glass build platform, and a very strong all-metal fuselage. In terms of sheer mechanical quality, the QQ-S is one of the best in this price range.
The only issue with going for a Delta 3D printer is that they are far less common than those that use the XYZ Cartesian coordinates. This means that learning about 3D printing on a Delta 3D Printer is quite limiting. Still, the QQ-S is an excellent starter 3D printer with exceptional reliability.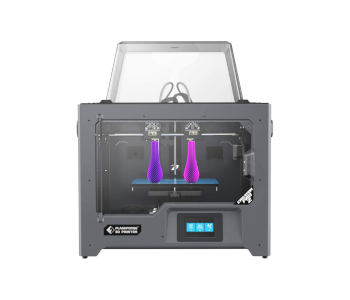 The FlashForge Creator Pro 2 is the most expensive of this bunch. At close to $800, this 3D printer may already be outside the price range of most people who are looking to get into 3D printing. However, spending this much on the Creator Pro 2 is something we consider a wise investment.
Fully assembled and with a built-in enclosure, the Creator Pro 2 has a fairly large footprint reflective of its premium design. What makes it unique from other products in this list is that it comes with two extruders that can work in "Mirror" mode. This means that the same model can be replicated by each extruder, effectively doubling throughput.
The Creator Pro 2 may be larger and more expensive than many other beginner-level 3D printers. It makes up for it in terms of appeal – this is a 3D printer that will remain relevant even when you start working on more complex projects.
Other 3D printing supplies you should get
Just so you know how much you'll need to spend for 3D printing, we've also come up with a list of the essential supplies and accessories. Aside from including these in your budget, you will want to make sure that you have room to store all these essentials.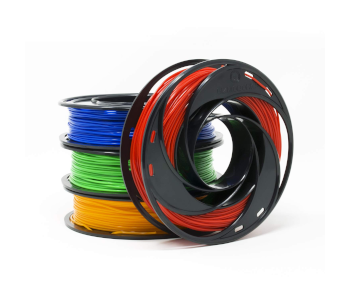 If you're getting an FDM 3D printer, then you might as well grab this four-color pack of PLA filaments. PLA is highly recommended for beginners as it is the easiest filament to work with. This inexpensive bundle should have enough filament for your to experiment and play around with.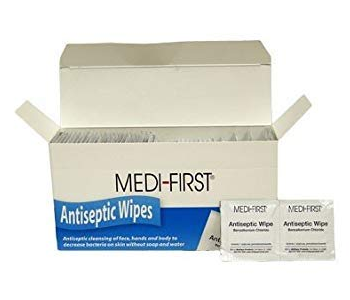 These alcohol wipes will be your all-around cleaning tool during 3D printing. Use it to wipe off any residual oil, dirt, dust, or adhesives from the build platform and your tools before use. This is a habit you will want to develop as dirt and dust buildup can create serious problems such as poor bed adhesion or clogging of nozzles.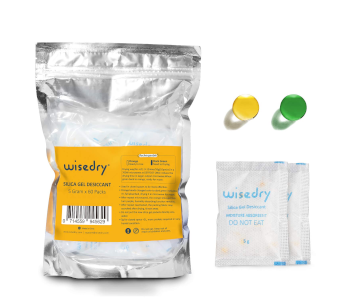 These are supplies you will want to keep handy when printing with filaments. An important thing you need to know about 3D printing filament is that they readily absorb moisture from the air. This has serious consequences on the integrity of the filament and its 3D printing performance. The standard practice is to store each filament inside an airtight container or bag with a few packets of desiccant.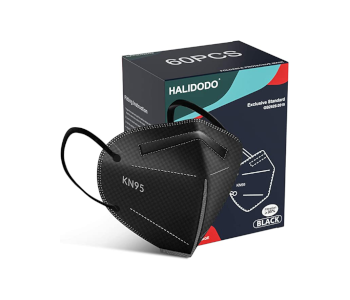 Whenever you need to stay in the same room as your 3D printer while it's running, we advise wearing a dust mask. This is because the 3D printing process naturally releases microplastic particles in the air as the filament is extruded. Even if your 3D printer has an enclosure, it would not hurt to wear a mask for the sake of your lungs.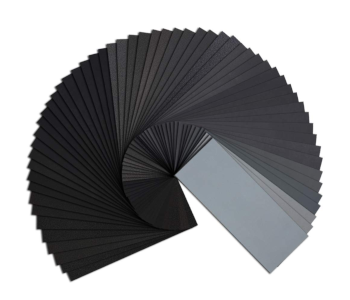 Once you've gotten a handle on 3D printing, you may want to explore post-processing of your finished prints. This elevates 3D prints from stuff that's nice to keep around the house to items that you might be able to sell. Fortunately, something as simple as sandpaper can be a huge help in making your 3D prints pop.
Final thoughts
If you're on the fence about getting your first 3D printer, then we hope that this article has convinced you to finally get one. 3D printing doesn't have to be very expensive, especially if it's something you just want to do for fun.
Even if you're planning on earning from 3D printing eventually, there is still value in getting a beginner-friendly model for now. These are inherently better learning tools and are still perfectly capable of professional work.
Warning; 3D printers should never be left unattended. They can pose a firesafety hazard.