3D Printers for Sale
Welcome to our extensive guide on the top 3D printers for sale in 2019. Here you'll find information on the best machines around. We've ranked them for their outstanding features within their price range.
How We Rank These 3D Printers
We base our top 3D printer picks on the following conditions:
Consumer reviews
Expert opinions
Personal reviews of certain products
3D printers and printing technology is forever evolving. Because of this, we'll update our guide on occasion to reflect any changes.
Defining FDM 3D Printers
The printers in this guide are all FDM printers. The vast majority of hobbyists use FDM printers. FDM stands for Fused Deposition Modeling. The technology is filament-based and relies on temperature-controlled heads to print. The 3D printer heads extrude thermoplastic materials straight onto the print bed, one layer at a time. Some 3D parts need water-soluble support materials during the printing process. These materials are easy to remove after the build.
Learn More: List of 3D Printer Types
The great thing about FDM is that it's able to build 3D parts in just about any geometry. This is why a lot of private users and wide-ranging industries use the technology. You can find FDM prototypes and parts in aerospace companies, automotive industries, and many others. In short, FDM printers produce highly accurate, functional, and durable parts.
Don't Miss: Best SLA/DLP Printers
OK, let's begin to look at the best 3D printers of 2019. We'll start with budget machines first, and then work our way up to the crème de la crème in high-end printers.
3D Printers for Sale: The Price Range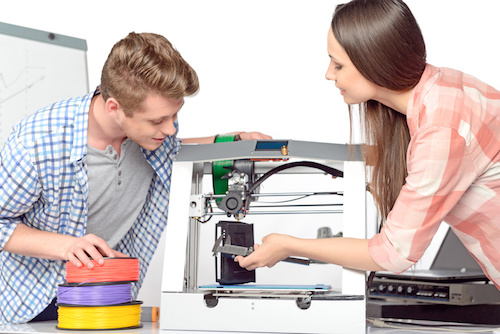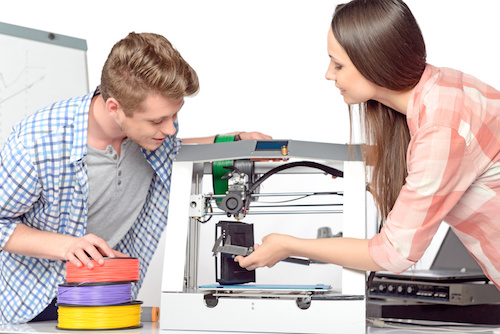 3D printers are no different to any other technology in that you get what you pay for. Not everyone who wants to 3d print needs all the bells and whistles of costlier machines. As a result, we have categorized printers by their price range to make it easier to pick one and compare features.
Items by price:
Below is a comparison table of all of the 3D printers we have reviewed. They are roughly sorted from most expensive to cheapest. The lower you go down, the cheaper the 3D printer.
3D Printer Comparison Table
Best 3D Printers for Under $400
Working on a tight budget doesn't have to mean settling for sub-standard 3D printers. There are a few great budget models that are more than satisfactory for under $400. It's always a good idea to start with an entry level printer even if money is not an issue. Here's why:
You can invest in a kit and build your own 3D printer
These machines can be stubborn to work with (that's an advantage by the way)
Now you may be wondering why the two points above are advantages? The answer is simple.
There's no better way to learn about the technology than to build your own 3D printer from the ground up. The second point also means you have to sharpen your game in order to create impressive 3D parts. In other words, training on an entry-level machine is the perfect way to build knowledge and develop skills. Seriously, you will become a better 3D manufacturer as a result of the learning curve.
Our 3D printers in this section are great value-for-money machines. Each of our picks here will provide you with a fun and invaluable experience. Get your feet wet and grab a more expensive machine after you learn the basics.
Best 3D Printers from $400 – $700
If you've read out top picks for the under $400 machines you will have noticed some impressive features. Those entry level machines offer a lot of bang for your buck. We've seen good build volume, dual extruders, specialty filaments, and heated beds.
Many printers in the price range of $400-$700 don't bring much more to the table than those under $400. To see notable improvements we have to look at the $700 to $1000 3D machines. The reason for this section is because there is one exception. We've decided that the FlashForge Finder is one product that's well worth a look for the reasons outlined below.
Best 3D Printers from $700 – $1000
Most people who are not interested in budget 3D printers will probably want to skip $400 – $700 machines. There's a lot more value once you move up to printers in the $750 – $1000 price range.
The costs of 3D printing continue to come down. Falling prices is great news for serious hobbyists, small businesses, and schools, etc. You can view the 3D printers we look at in this section as the lower end of high-end machines. It's an area in 3D printing that takes you to a whole new level without breaking the bank in the process.
There are plenty of great printers in this price range. Which model suits you will depend on personal preferences and frequency of use. This review section lists the top six in this category.
Best 3D Printers from $1000 – $2000
It wasn't so long ago that high-end 3D printers cost as much as a small family car. Things have changed in recent years and prices have collapsed. Most of you reading here are not expecting to invest in an industry-capable machine where you need to mass produce huge, complex parts.
For superior 3D printing, there's no need to spend more than $2000 to own a top machine. It's not possible to list all of the excellent devices in this price range as there are quite a few. We'll highlight the five best 3d printers from $1000 – $2000.
Best 3D Printers Over $2000
Although this section reviews 3D printers over the $2,000 price range, we won't look at anything over $5,500. 3D printers that cost as much as a small house are typically reserved for big industry. What we list here are a few of the top consumer-grade models. Some of these machines will find their way into professional applications. Printers in this price range are perfect for ambitious enthusiasts and small businesses. You'll also find these high-end models in high schools, universities, libraries, and various other organizations.
OK, let's take a look at our top five 3D printers over $2K.