The Best 3D Printing Filaments of 2019
3D Insider is ad supported and earns money from clicks, commissions from sales, and other ways.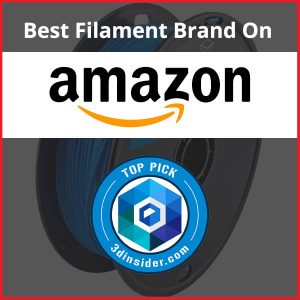 One of the main problems with any technology is the overwhelming choices available to the end user. 3D printers and 3D printing materials, or filaments, are no exception. And 3D materials—like the machines—are not all equal. You need to think about things like your budget, the kind of parts you print, your expectations, and personal experience when choosing a filament. As new types of materials enter the marketplace it becomes even harder to make well-informed decisions. There's also a steady stream of new companies jumping onto the 3D filament bandwagon.
All these things combined can make shopping for 3D printing materials a complicated gamble. It's the purpose of this review page to cut to the chase and present you with the best 3D printing materials of 2019. Our reviews are helpful for anyone who's trying to keep up with all the changes. They're especially useful for those of you who are new to the world of 3D printing.
The Importance of Choosing the Right 3D Filaments
One of the biggest frustrations with 3D printing is getting the quality right. Low-quality parts are sometimes the result of a poorly configured machine or a sub-standard 3D printer. But a lot of the time, mediocre 3D parts are the result of low-grade filament or the wrong type of filament used for the job. There is nothing to stop a manufacturer from selling low-grade filament and advertising it as something quite special. This is why a guide like ours is so essential.
Knowing what type of filament to use, and choosing one that has a good user rating, will take a lot of the frustration out of 3D printing. Bargain filaments will often result in low-quality parts and prove to be a false economy, so please take heed and don't let price alone tempt you.
Types of 3D Printing Filaments
Many modern 3D printers allow you to use a range of different materials. The most popular 3D filaments right now are thermoplastics, which are heat-sensitive polymers. The types of 3D filaments you're likely to come across include those listed in our table below:
| | | | | | | |
| --- | --- | --- | --- | --- | --- | --- |
| Filament | Properties | Usage | Print Temp | Bed Temp | Available | Price Check |
| PLA | Biodegradable, easy to print | Consumer products | 190°C – 230°C | 60°C – 80°C | 1.75mm/3mm | |
| ABS | Impact resistant, durable | Functional parts | 210°C – 250°C | 80°C – 110°C | 1.75mm/3mm | |
| FLX PLA | Versatile, all-natural filament | Functional parts | 240°C – 250°C | Around 75°C | 1.75mm/3mm | |
| Nylon | Strong, durable, flexible | Good all-rounder | 210°C – 250°C | 60 °C – 80°C | 1.75mm/3mm | |
| HIPS | Biodegradable, dissolvable | Prototypes models, support structures, | 220°C – 230°C | 50°C – 60 °C | 1.75mm/3mm | |
| PETT | Transparent, strong, flexible | Functional parts | 210°C – 230°C | Around 45°C | 1.75mm/3mm | |
| TPE | Very flexible, rubbery | Elastic parts like wearables | 210°C – 225°C | 20°C – 55°C | 1.75mm/3mm | |
The table above is a quick overview of popular printing materials. For more detailed information on all the different types of 3D filaments, please read our full guide: Types of 3D Printing Filaments
Get to Know Your 3D Printing Materials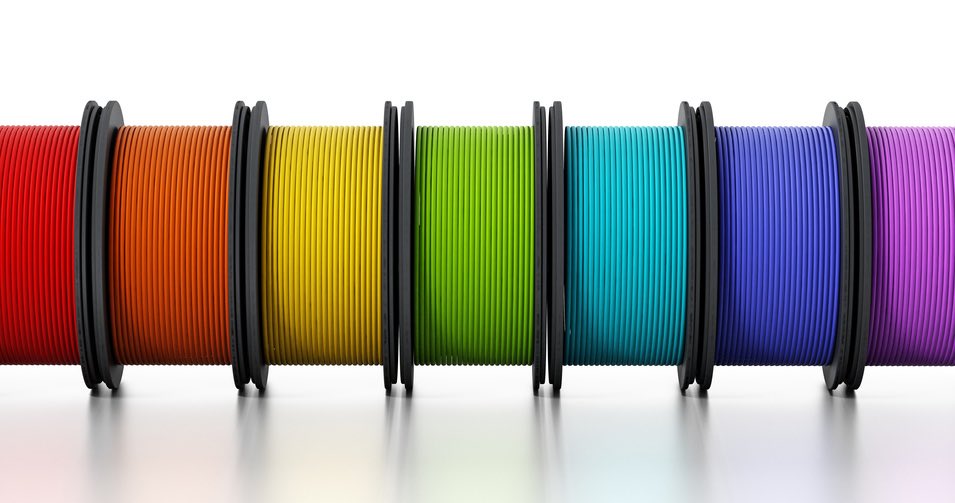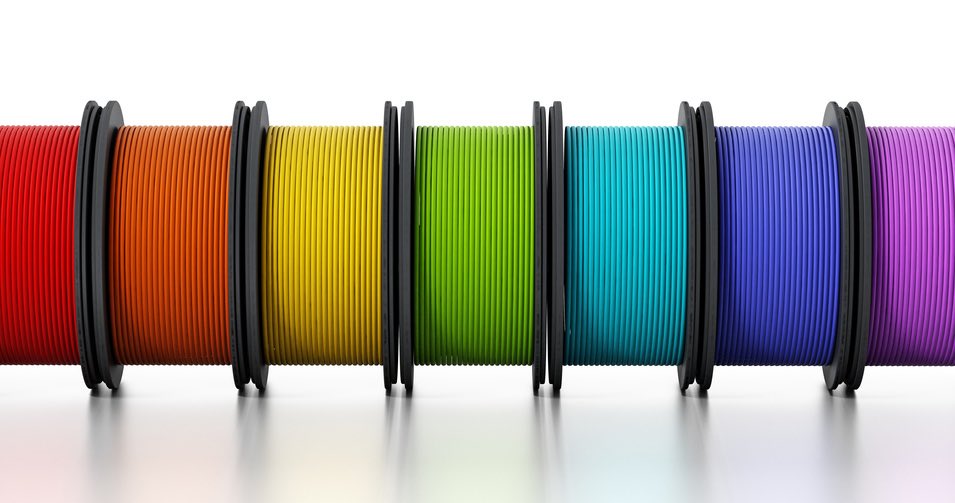 The best 3D printing thermoplastics are strong and versatile. The most commonly used of these are the first two on our list: PLA and ABS. However, more people are starting to experiment with other types today as the prices continue to fall and 3D printing skills improve. Filament size is also important, and it's something you must know before you even start shopping for new stock. The two sizes are 1.75mm and 3mm. Some 3D printers can accept both sizes, but many don't.
There are plenty of specialty filaments too. They are becoming more commonplace as 3D printing enthusiasts get more creative. A lot of these composite filaments are a careful mixture of common plastics such as ABS and PLA and various additives. It's this combination that gives the material interesting new properties. We won't be looking at the full range of specialty filaments in this review.
Five Best Filament Brands of 2019
Below are our top five filament brand picks of 2019 taken from each of the main categories. We've kept the review format simple, yet detailed. We introduce each of the materials in the following order:
Filament brand/type
User rating (average out of 5 stars)
Filament description
Key features of the material
Price check
When users rate a brand filament they take into consideration a number of essential factors. Some of these will include ease-of-use, reliability, bonding between layers, the overall print quality, available colors, and after-sales support, etc.
1) Hatchbox Filaments | PLA, ABS, HIPS
| | |
| --- | --- |
| AVERAGE USER'S RATING ACROSS THE RANGE: |  4.5/5.0 |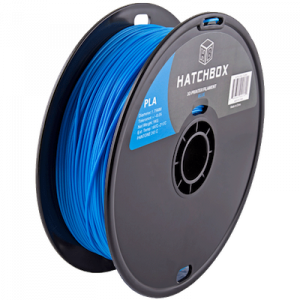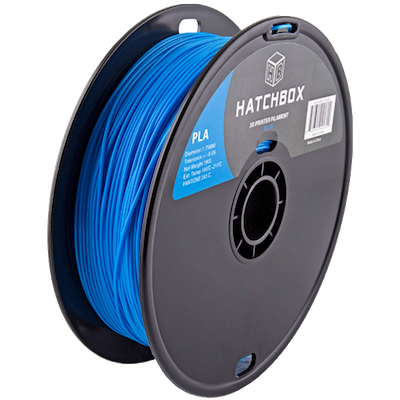 It takes a while to build brand recognition and a good reputation with any type of product or service. Hatchbox has our top slot for quality, budget-friendly 3D filaments for good reason. It prints well and has plenty of glowing reviews. Hatchbox comes in ABS, PLA, and HIPS. The product arrives in a well-sealed vacuum pack. There are no excessive strings during printing and the colors stay true to form. Note that you will only find Hatchbox in 1.75mm filaments.
The company certainly offers an extensive range of great quality filaments. They have something for everyone, from the home users to businesses. There's even an active Hatchbox 3D printing community. This is where likeminded people get to share their visions and ideas, seek help, and offer answers to problems.


Hatchbox filament range: key features include:
Materials: PLA, ABS, HIPS
Easy to work with
Perfect tolerances
Mild odor
No tangles
Value for money: excellent
2) 3rDment Filaments | ABS, PLA, PVA
| | |
| --- | --- |
| AVERAGE USER'S RATING ACROSS THE RANGE: |  4.0/5.0 |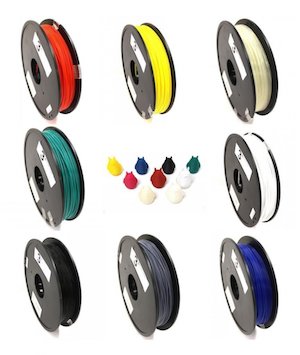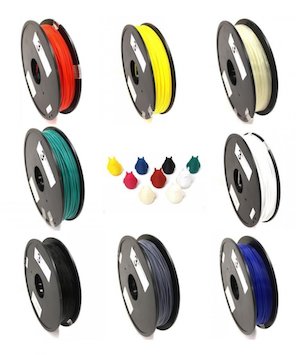 Next up on our top 3D printer filaments is the 3rDment brand. Although it costs slightly more than Hatchbox, it does offer a bit extra. Shopping for 3rDment ABS, PLA, and PVA filaments is easy. 3D printing professionals tend to like 3rDment filaments because they provide a solid, consistent finish, and good layer-adhesion. This is a decent quality filament at a reasonable price.


3rDment filament range: key features include:
Materials: ABS, PLA, PVA
Strong and flexible
Ensures quality 3D printing
Nice finish
Excellent layer-adhesion
Amazon best seller
Value for money: excellent
3) Taulman Filaments | PET, PETT, Nylon
| | |
| --- | --- |
| AVERAGE USER'S RATING ACROSS THE RANGE: |  4.7/5.0 |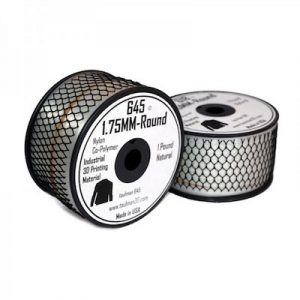 Right now Taulman is the top supplier of PETT and nylon type 3D printing filaments. These are incredibly strong materials and come in a good range of colors. They offer filament in both 1.75mm and 3mm sizes. Note that there are a few different kinds of materials made from the same plastics. Their special BRIDGE filament is a blend of nylon whereas their T-Glass material is a translucent PET type of 3D printing filament.
The Taulman 3D 618 option is a natural, strong, nylon that can be color dyed. Another point worth noting about this material is that it's odorless and doesn't produce any unpleasant fumes. These things help to create a more comfortable working environment. This is something that's really important if a room lacks good ventilation.


Taulman filament range, key features include:
Materials: Nylon, PET, PETT
Strong and transparent
Color dyeing
Fumeless and odorless
Amazon best seller
Value for money: excellent
4) NinjaFlex Filaments | TPE
| | |
| --- | --- |
| AVERAGE USER'S RATING ACROSS THE RANGE: |  4.7/5.0 |
NinjaFlex TPE Filament, as the name suggests, is the brand that supplies more flexible materials. You can buy them in either 1.75mm or 3mm sizes, and in several colors. As a specialty type of filament, it's the most expensive of our top picks here. There are restrictions in the range of colors available as well, due to the nature of the plastic used in the material. But if it's flexible filament you want, then look no further than the tried-and-tested range of materials from NinjaFlex.
TPE helps to print 3D parts that are fine and flawless, making it an ideal material for creating accurate prototypes. You will get very neat edges and an end piece with clear-cut shapes. This is the filament for you if you need to use your 3D printed models as real working parts. Whatever printing surface you use, you can relax knowing that NinjaFlex filament will not get stuck.


NinjaFlex filament range: key features include:
Material: TPE
Truly flexible
Chemical resistant
Adheres to all the standard build platforms (no need for tapes and glues)
Many colors to choose from
Amazon best seller
Value for money: excellent
5) MakerBot Filament, PLA, ABS, FLX, DSLV
| | |
| --- | --- |
| AVERAGE USER'S RATING ACROSS THE RANGE: | 4.1/5.0 |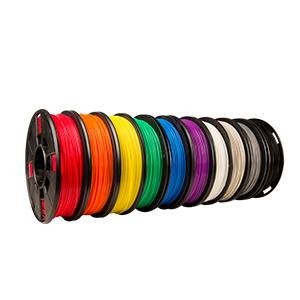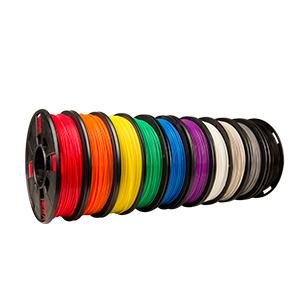 MakerBot PLA filament is optimized for use with MakerBot Replicator printers, but it also works well with all FDM machines. They're also made in the USA and tested in-house. This means MakerBot have total control over the end product. It's the reason why their filaments produce guaranteed high-quality prints every time. Not only are these PLA filaments strong and flexible, but they come in a wide range of colors too. Their PLA filament is a bioplastic that is produced from corn. There are even options for glowing tinges, translucent, and neon finishes. The other quality filaments from MakerBot include ABS, flexible PLA (FLX), and dissolvable (DSLV).
These are great 3D filaments for anyone of any age and level. They're particularly suited for beginners to 3D printing as they're so easy to use and produce pleasing results.


MakerBot filament range: key features include:
Best in its class for print performance
Easy to use
Consistent
Trusted by world leading companies
Lots of colors and effects, including translucent, glow-in-the-dark, and neon
Non-toxic resin (made from plant sugars such as corn)
No heavy metals, phthalates, contaminants, or BPA
Closing Thoughts
Always know the complexity of what you're printing, have reasonable expectations, and make sure you use the right filament for the job. Remember, some materials are equal in name only. Good brand recognition—rather than price—will help you to make the right choice. For most users, and especially newbies, it's best to stick with a quality PLA filament. Both PLA and ABS are the most economical materials and the easiest to use. They also work well for most types of 3D printing projects.
Warning; 3D printers should never be left unattended. They can pose a firesafety hazard.