3D Printing Ideas for the Summer of 2022
3D Insider is ad supported and earns money from clicks, commissions from sales, and other ways.
The summer of 2022 is upon us, and it is once again the perfect time to go outdoors, do some sports, or hang out in parks. This might also be a great time to take up gardening, or grow flowers or produce that otherwise would not grow in other seasons.
This is also a good time to give your 3D printer an exercise. Whether you come up with projects that are functional or just for fun, there is a lot you can do with 3D printing that might just make this summer the most unforgettable. Check out some of these ideas: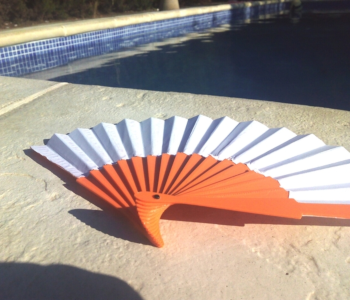 First things first – when it gets hot outside, you need to come up with a way to cool down. This is exactly what this compact foldable fan is designed to do. It's small enough to fit in a purse and produces a cool breeze with just a little bit of your elbow grease.
This is a fairly simple 3D printing project which you should be able to finish in an hour or two. You can use a piece of firm paper or some fabric for the fan. The fun part of this project is coming up with different color and pattern combinations to make the fan truly your very own. On a hot day, you will surely be the point of envy of the people around you when you bring out this fan.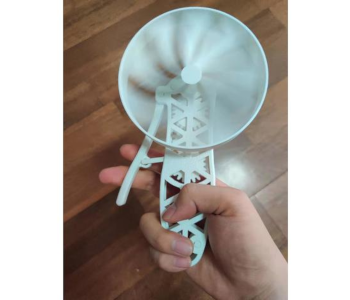 Okay, so not everyone wants to do the hard work of physically fanning themselves when it gets hot. If you're willing to take on a slightly more complex 3D printing project, then this squeeze fan is perfect for you. This is a "ruggedized" version of the super-popular squeeze fan model with improved tolerances so that the fan stays intact even when spinning at high speeds.
As you can tell just from a single look at the model, this squeeze fan has lots of moving parts. These parts go through a fairly high amount of mechanical stress, so it's best to print this with strong filament like ABS, Nylon, or PETG. You can also glue together some of the non-moving parts.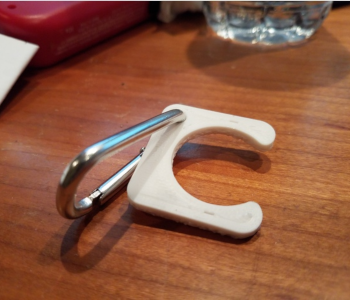 Even more important than keeping cool during summer is keeping yourself hydrated. This is especially crucial if you're doing outdoor activities like biking, running, or hiking. This small water clip is a great way to make sure that your water bottle is always within reach.
The original model has a quarter-inch hole that is designed for a carabiner clip to go through. You may need to manipulate the model to fit the clip or type of water bottle that you own. This is fairly simple to do, although you may need a basic 3D modeling app. Again, this is a model that benefits from extra strength, so it's best to print this with either ABS, Nylon, or PETG.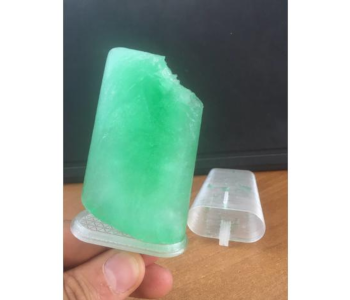 Since we're on the topic of keeping yourself cool, how about making your own popsicles? These are great fun for a day out on the beach, or just an afternoon in the neighborhood.
This popsicle mold model is made of three separate pieces – the stick, cap, and the mold. Multiple molds can also be clipped together so you can keep them neat and organized in your freezer. Make sure to use food-safe PLA when printing these popsicle molds. It also won't hurt to sand the inner surface of the mold. Wash all pieces of the mold with soap and water before using them.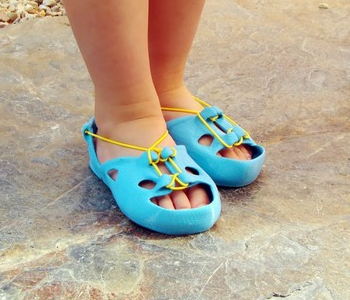 A day out on the beach is usually fun for your kids, but rocks and pieces of seashell can be punishing for their feet. If you'd rather not buy beach sandals for them every year, why not 3D print your own? These beach sandals come with a lace-up design and can be adjusted to fit the feet of a child of any age. They are also undeniably adorable.
As with any type of 3D printed footwear, it's best to use flexible filament such as TPU for this project. You can use standard shoelaces to make the sandals snug or use a fancy ribbon or string. Again, being able to combine different colors and materials is part of the fun of making these 3D-printed beach sandals.
Are you planning to take up gardening for this year's summer? With plenty of hours of sunshine, it's the perfect time to start growing plants as a hobby. If you're a beginner, this self-watering planter might just be your secret weapon. Just fill the reservoir up with water, and your potter plant or herbs are good to go for a couple of days.
The biggest challenge of this project is making sure that the water reservoir is completely watertight. This is possible but may take a few tries. If you don't want to scrap a slightly imperfect print, you can try sealing any imperfections with some non-toxic wood glue. To avoid toxic components from getting to your plant, it is recommended to print this pot with food-safe PLA.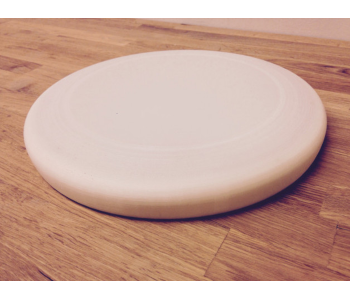 What other beach-appropriate toy could be easier to 3D print than a frisbee? There are a lot of 3D printable models for frisbees out there, but we're keeping it simple with this classical design. This specific model was designed to be as close as possible in terms of shape, size, and weight to the regulation discs used in Ultimate Frisbee. If you take throwing discs around seriously, then this should be the model that you print with.
A frisbee is unparalleled in terms of its fun-to-effort ratio. This is very easy to print and should be perfect with just some sanding and polishing. We recommend printing this with strong but fairly flexible material like Nylon or PETG.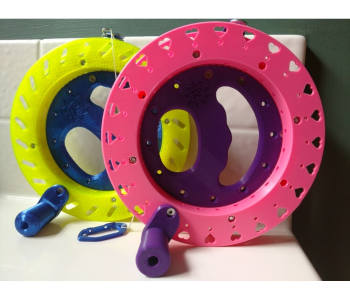 Flying a kite is also one of the best things you can do on the beach, even though it's a bit of a forgotten art nowadays. There is an element of meditative peace that comes with letting the sea breeze carry a kite while you slowly but naturally let go of its string.
This 3D-printed kite reel makes it easier to feed kite string. You will need a couple of airsoft pellets to build the reel completely. The beauty of this design is that it's completely waterproof and is not as affected by the outdoor elements. This is particularly useful for long days on the beach. Again, this is a project that will benefit from strong, outdoor-appropriate filament like Nylon or ABS.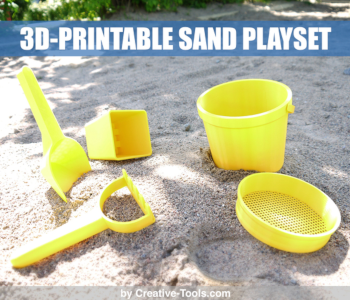 A day at the beach is not complete without playing around with sand. If you have kids, then they would absolutely fall in love with this basic sand play set. There's nothing special about the set – it's just the usual buckets and shovels that we all used to play around with as kids. Now that you can 3D print them, you can make them in any assortment of colors you want.
While we would normally recommend a tough material like ABS for outdoor use, it would be a better idea to use non-toxic PLA for this project since it will mainly be used by kids.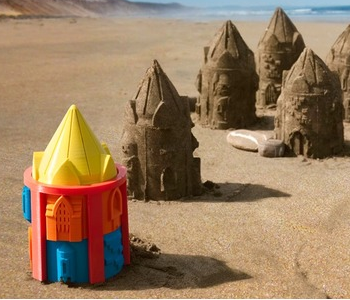 Sandcastles made with buckets are perfectly fine, but why stop at that when you can make something a lot more complex? This customizable sand castle mold is absolutely one of the best things you can bring along on a trip to the beach. Your sand castles will undoubtedly be turning a few heads with this nifty project on hand.
The sand castle mold is made of several removable panels that can be put together and combined in many different ways. The removable panels are designed to slip into a thin, rigid frame. If you're skilled in 3D modeling, you can even come up with your own removable panels. Between making different designs and virtually endless possibilities, this sand castle mold could keep you occupied for hours while on the beach.
Final thoughts
Summer is always a great time to try something new or to break out from our usual routines. If you have a 3D printer, you can always make a 3D printed project to help you out with a new hobby. Whether that's gardening, playing ultimate frisbee, or hiking, there is always a 3D printed object that can make it more fun or keep you safer.
Warning; 3D printers should never be left unattended. They can pose a firesafety hazard.