Best Handheld and Desktop 3D Scanners of 2019
3D Insider is ad supported and earns money from clicks, commissions from sales, and other ways.
Turn real-world physical objects into digital 3D representations.
You're in the market for—or want to know more about—the handheld 3D scanner. This page covers both bases. It actually looks at a few portable and lightweight desktop 3D scanners too. Jump straight to the reviews if you have a good idea of what you want and would like to check out the latest options.
Budget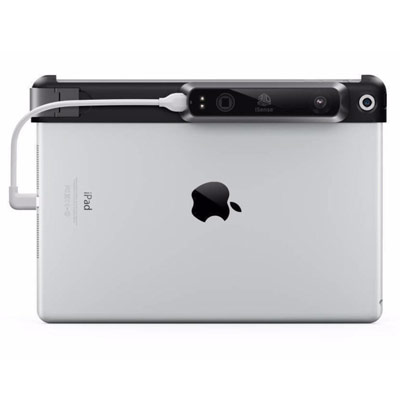 iSense for iPad Air
4.0/5.0
Portable
Object Recognition technology
Check Amazon
Best Value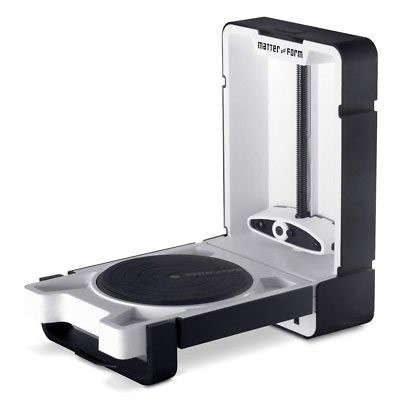 Matter and Form 3D Scanner
4.0/5.0
Works with Mac and PC
Adaptive Scanning technology
Check Amazon
Top Pick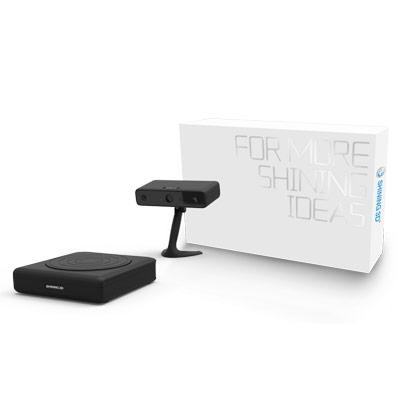 EINSCAN-S 3D SCANNER
4.4/5.0
Desktop/Portable
Dual Scan small-to-large
Check Amazon
Keep reading this short upfront intro if you're uncertain of your choices or what to look for.
3D Scanners for Personal Use
How Portable 3D Scanners Work
Not a Passing Fad
The Cost of a Portable Scanner
Sales & User Feedback
About My Reviews
The table here shows my choices in the order they appear in this mobile 3D scanner guide. I've arranged them in order of price with the least expensive at the top. You will also notice an editor's star rating above each review. I base these on my own thoughts so take them as you will.
7 Best Handheld 3D Scanners Comparison Table
1. iSense for iPad Air 2 by 3D Systems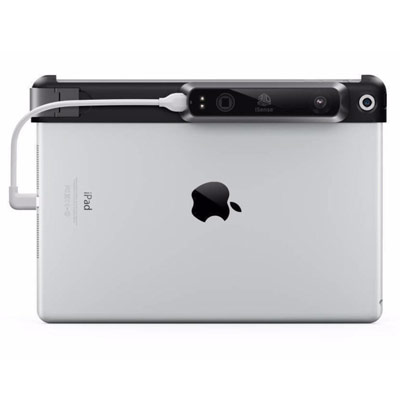 View on Amazon
Editor's Rating: 4.0/5
The iSense for iPad Air 2 is a Snap-On 3D scanner sold by 3D Systems. It's the least expensive in this guide and one of the most ingenious considering its flexibility.
Best feature 1: Unique compact Snap-On design
Best feature 2: iPad Air compatible
Plus points: Transforms iPhone Air to a 3D scanner, object recognition, easy to use, price
Minus points: Needs practice, only iPad Air compatible
The first thing to point out is how portable this thing is. If you venture out with your iPad Air then you also have a 3D scanner. All you do is snap it on to your device and you're good to go. Whether you're off to scan something specific or an opportunity suddenly presents itself—it's yours for scanning. It's this freedom that makes the iSense™ 3D scanner so special.
iSense Scanning Potential
To transform your iPad Air into a physical 3D scanner you simply snap the device into place. You're then ready to capture your physical world in any way you like. You can scan people, everyday objects, events, and whatever adventure you happen to be on.
The smart object recognition lets you zoom in on what matters most and discards the rest. Even busy backgrounds shouldn't pose a problem. Being able to extract precise objects from the surrounding noise and clutter is one of the key highlights. The other is its affordable price tag for a scanner in its class.
The Not So Good
The iSense 3D scanner is easy to use but it does take a little practice at first. It's no different from any other electronic device that we operate in that sense. The market for clip-on 3D scanners like this is still quite small so user-feedback and ratings are in short supply.
Note that this product is only compatible with iPad Air devices. Broader compatibility might happen at a future date but for now, it's restricted.


Tech Specs
Type: Portable
Supported operating systems: iOS 7, iOS 8, and iOS 9
Package Dimensions: 11.7 x 6.6 x 2.2″
Item Weight: 99.2g (3.4 oz.)
Batteries: Non-standard rechargeable batteries (included)
Battery Life: 3-4 hours scanning
The Pros
Value for money
Snap-on design
User-friendly, easy to use
Instantly transforms iPad Air into a 3D scanner
Object Recognition technology
The Cons
Minimal user feedback
Only compatible with Apple iPad Air tablets
Takes a little practice to perfect
2. Ciclop 3D Scanner By BQ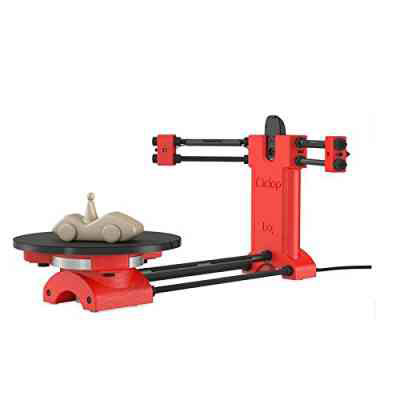 View on Amazon
Editor's Rating: 3.8/5
WARNING! Ciclop is a Horus open source project and that means it's for advanced users only. Skip this review if you don't want to experiment with electronics, mechanical designs, and software, etc.
Best feature 1: Open Source Project
Best feature 2: Wizard to simplify calibration
Plus points: Quick setup, developer-friendly, anti-slip surface, 250mm scanning area, price
Minus points: Open source, not beginner-friendly
Ciclop and Horus are 100% open source. The community has total access to the following:
Mechanical design
Electronics
Software
Algorithms
Mathematics and experiments
Freedom to Innovate
Developers are free to study all aspects and functions of the Ciclop 3D Scanner by BQ. They can make modifications, improvements, and even develop new versions if they wish. Out of the box, though, the initial kit is developer-friendly. Most advanced users should be able to set it up in one hour or less. There's even a step-by-step- Wizard to simplify calibration for those who need it.
The 250mm diameter scanning area has an anti-slip platform. It's capable of scanning objects almost as large as a professional volleyball. That's around 8.15 to 8.39″ for the uninitiated. And being an Open Source Kit project helps to keep the price low; around 250 bucks at the time of writing.
The Not So Good
This is a developer-friendly kit and NOT a beginner-friendly 3D scanner. It's FOR ADVANCED USERS ONLY. I emphasize that point after reading some of the user feedback. Most who complain about how complicated the Ciclop 3D Scanner is are not your typical advanced-level users. Open source scanners are never a good introduction to 3D scanning unless you have prior experience in similar projects.


Tech Specs
Type: Desktop
Product Dimensions: Not Specified
Item Weight: Not Specified
Scanning volume: Diameter: 250 mm Height: 205 mm
Batteries: N/A
Special Notes: Connect via Micro-USB cable (included) 12V 1.5A power supply
The Pros
Affordable 3D scanner kit
Open Source
Fast one-hour setup (experienced users only)
Developer-friendly
Large scanning area
The Cons
Open source
Not suitable for beginner level
3. Occipital Structure Sensor w/ Bracket for iPad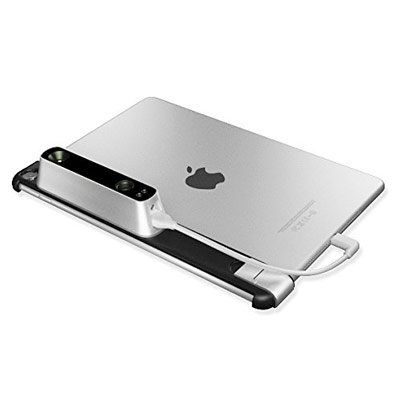 View on Amazon
Editor's Rating: 4.1/5
Next up is another ingenious 3D scanning device this time for Apple iPad and iPhone devices. It may work with other platforms (not provided) though it is hackable—apparently.
Best feature 1: Indoor mapping
Best feature 2: Software Development Kit (SDK) for iOS
Plus points: Compatible for iPad/iPhone, simple clip-on, Skanect Pro
Minus points: Only iOS compatible
Indoor Mapping is a nice feature. It lets you capture all the measurements of a space with the simple press of a button. It wasn't so long ago when something like this would have needed lasers, beacons, emitters, and a great deal of money. Oh, the wonders of modern technology.
The Structure SDK for iOS is another impressive extra tool. It's an advanced feature that lets developers work or hack platforms different from iOS among other things.
The Structure Sensor is a simple yet sophisticated clip-on tool that's perfect for regular use. It works beautifully with iPads and iPhones. And being fully 'software controlled'means there are no unnecessary or complicated buttons on the physical device.
Skanect Pro3D Scanning Software
Skanect Pro is, without doubt, one of the more popular 3D scanning software programs around. The Occipital team designed it to work smoothly in real-time with the Structure Sensor. It captures high-quality 3D models of a person, space, or object in full color.
You can get Skanect Pro as part of a bundle or buy it separately.
The Not So Good
The main gripe at the moment is with the iOS-only compatibility out of the box. It can work with other platforms but that's an advanced option for developers. There are a few gripes that the quality is average but I say compared to what—a $15,000 3D scanner? Because for the money I doubt you'd find a better all-around tool than what the Structure Sensor offers.


Tech Specs
Type: Portable
Product Dimensions: 11.9 x 2.8 x 2.9″
Item Weight: 95g (3.36 oz.)
Batteries: Nonstandard built-in rechargeable required. (included)
The Pros
US product
Affordable 3D scanner
Simple clip-on device
Software Development Kit
Indoor mapping
The Cons
Doesn't work with non-Apple platforms without hacks.
4. MFS1V1 3D Scanner by Matter and Form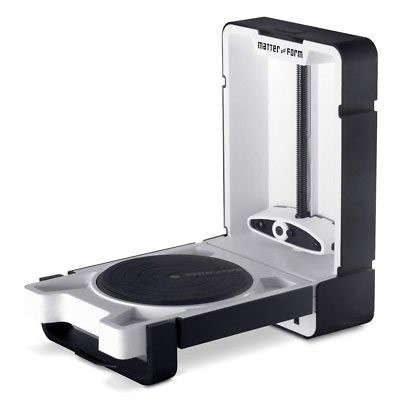 View on Amazon
Editor's Rating: 4.0/5
Matter & Form present us with a quality yet affordable 3D desktop scanner. It's an ideal choice for anyone who wants a compact device that's easy to lug around. It's not without a few faults though.
Best feature 1: Mac or PC compatible
Best feature 2: Adaptive Scanning technology
Plus points: Lightweight, compact, portable, foldable, free software, easy to use
Minus points: No built-in lighting, quite slow, noisy
This is a neat looking machine. It's a portable desktop 3D scanner that's compatible with both Mac and PC. It comes with a free and easy-to-use software tool that the company regularly updates. Matter & Form also boasts their scanner produces quality only usually seen with machines at five times the price. Before we see if real users agree let's look at some of the features.
Adaptive Scanning Technology
The Adaptive Scanning technology makes light work of transforming real-world objects into digital files. Any object that fits onto the scanner bed should result in a detailed full-color scan. It's one of the most beginner-friendly machines around. All you do is place the object, wait for it to scan, save and print.
Truly Portable
This isn't a portable 3D scanner in the handheld sense but it's certainly easy to carry around. It weighs just 6.7 lbs. and folds down into its own neat case making it easy to store and travel with. There's a lot to appreciate with the 3D Scanner by Matter & Form and the compact design and ease of use add to its overall appeal. It's not all plain sailing, however.
The Not So Good
One of the major drawbacks is the slow speed of scanning complex objects. I'd sooner have slow and accurate than fast and sloppy. Even so, the slowness does get a lot of thumbs down from users. It's also quite noisy which only adds to the annoyance. Everything works as it should do it's just that the mechanics bother some users. There's no inbuilt lighting either which would have been a nice touch.


Tech Specs
Type: Desktop
Product Dimensions: 21 x 11.8 x 4.5″
Item Weight: 6.7 lbs. (3039g)
Batteries: N/A
The Pros
Works with Mac and PC
Adaptive Scanning technology
Foldable lightweight design
User-friendly 3D scanner
The Cons
Slow to scan
Noisy
No inbuilt lighting
5. Sense™ 3D Scanner By 3D Systems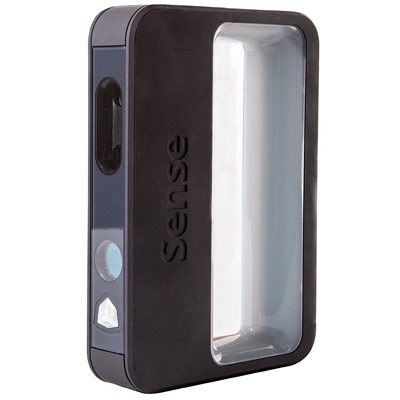 View on Amazon
Editor's Rating: 3.9/5
The design of the Sense™ 3D Scanner looks more like an industrial staple gun but we won't let that put us off. This is the first truly handheld scanner so far so let's see why it's made this guide.
Best feature 1: Generous scan range
Best feature 2: Unprecedented color resolution
Plus points: Free software, save data in 4 formats, good price, easy to use
Minus points: Poor ergonomic design, basic software
The Sense 3D scanner gives us a scan range of between 7-72-inches. This is quite generous and lets the user scan fairly quickly over a broad range of physical objects. The color resolution is another impressive feature at 1920 x 1080px. This is particularly useful for full-color texture mapping.
User-Friendly & Flexible
The Sense™ is an easy to use tool that comes with its own software. Both these points have their downsides, though, and I'll get to those shortly.
You can save the data files in the following four popular industry standard formats:
OBJ, text-based
WRL, 3D interactive vector graphics
STL, rapid prototyping, 3D printing, computer-aided manufacturing
PLY, stores3D data from 3D scanners
The Not So Good
This handheld 3D scanner is easy to use but awkward to hold. It just doesn't feel all that comfortable to grip for long periods. It falls short in the ergonomic department when compared to some other handheld products. Don't be too put off by this as it's more of an opinion than a major product flaw. You might even like the way it sits in your hand.
The other drawback is with the free software. Ok, it serves a purpose but to be honest it's little more than a trim tool with a few mediocre cosmetic features. There are probably more user gripes with the software than anything else.


Tech Specs
Type: Portable/handheld
Product Dimensions: 5.1 x 1.3 x 7″
Item Weight: 1 lb. (454g)
Batteries: N/A
Special note: Connects via USB port. Includes 6ft. cord.
The Pros
Well-priced product
User-friendly handheld 3D scanner
Lightweight
Good scan range
Unprecedented color resolution
Save to four file formats
The Cons
Awkward design
Software needs an upgrade
6. Handheld 3D Scanner 1.0 Pro By XYZprinting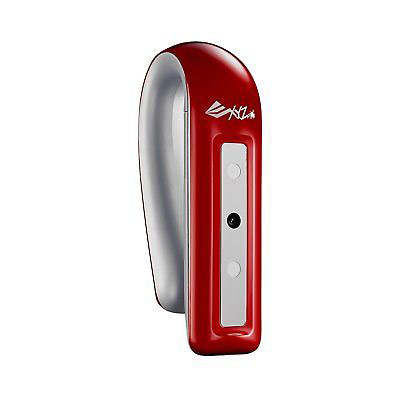 View on Amazon
Editor's Rating: 3.8/5
The Handheld 3D Scanner 1.0 Pro has a unique design that is quite different to others. It's smaller, lighter, and more comfortable than the Sense™ 3D Scanner above.
Best feature 1: Advanced Intel RealSense scanning technology
Best feature 2: Three scan modes
Plus points: Clip design, lightweight, portable, easy-to-use, affordable
Minus points: Intel limitation, average quality
Advanced Intel® RealSense™ Scanning Technology
Advantages are also shortcomings with some 3D scanning products. It is the Advanced Intel® RealSense™ scanning technology in this case. The technology is great though there's a BUT.
To get this scanner to work at its best you need 4th Gen Intel i5/i7. At least this is the case at the time of writing. The Pro has a fast scanning ability and processing speed with the proper setup.
The XYZscan comes with three scan modes:
Head Mode
Object Mode
Full Body Mode
Having three simple modes like this makes it easy to scan objects and portraits. The scanning distance is wide as well as accurate and reliable. To be honest the quality of this scanner won't blow you away. It's still a perfect tool for learning the art of 3D scanning and lots of fun to boot. I wouldn't suggest it for serious beginners or advanced users though.
Consider this product if the Hold/Scan/Save/Print simplicity appeals to you.
Portability & Price Factors
Another appeal of the XYZscan is its portability. This thing is tiny, light, and has a handy clip on the back to attach it to portable devices. That could be a tablet, notebook, netbook or whatever else.
It's certainly affordable fora 3D handheld scanner. You can expect to buy a new one somewhere in the neighborhood of $250 at the time of writing. That makes it one of the cheapest on the market. You won't get extraordinary quality at this price but you will get perfectly acceptable results.
The Not So Good
The average quality is a disappointment for a lot of reviewers. I say the quality is more than acceptable for an entry-level product at an entry-level price. The only way to get higher-quality results would be to spend lots of money on a more superior product.
The final gripe is the Intel limitation. The bottom line is that you have to have a device with an Intel processor to operate this handheld 3D scanner. You may need a 3.0 USB port too. Because the technology is forever evolving check the latest product updates and spec sheet prior to purchase.


Tech Specs
Type: Handheld
Product Dimensions: 8.5 x 4.5 x 3.8″
Item Weight: 11.2 oz. (318g)
Connection type: USB cable
The Pros
Easy to Use, scan &print
Portable and lightweight
Advanced Intel® RealSense™ scanning technology
Handy clip design that attaches scanner to mobile device
Affordable price
The Cons
Average quality 3D scans
Intel limitation
7. 3D SCANNER ByEINSCAN-S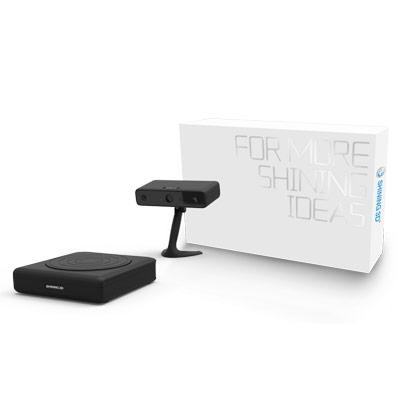 View on Amazon
Editor's Rating: 4.4/5
The EinScan-S is a capable desktop 3D scanner and the most expensive of my top seven picks. It's a good looking machine and one of the most popular in its class.
Best feature 1: Dual Scan, small-to-large
Best feature 2: Eye safety lighting
Plus points: Fast, accurate, Color Texture Scan, portable, affordable
Minus points: Poor software documentation, no power On/Off switch
The Dual Scan has two scan options that provide free-scan and auto modes. This machine is capable of producing scans of small and large objects. However, free-scanning of larger objects will result in some reduction in overall quality.
White Light Scanning Technology
The 3Dwhite light scanning technology is an interesting feature touted as Eye Safety Lighting. It's not dissimilar to the type of simple white light used in overhead projectors. It's certainly safer than scanning by laser. The EinScan-S' light comes from the included tripod-mounted projector.
Speed is another advertised feature of the EinScan-S Desktop 3D Scanner. It would be too. One of the main gripes of all scanning technologies is the length of time everything takes. The scanner here uses a rotational turntable scan which boasts a three minute completion time. That's anywhere between two to four times faster than rival 3D scanners in this class.
Other Benefits of the EinScan-S
The EinScan-S captures geometric shapes with detailed texture and full-color data. The color/texture scans are useful for prototyping, game development, computer graphics, and animation, etc.
There's a lot to like with this new version EinScan-S. There's no need for a VGA either as this puppy functions perfectly well using a simple USB cable. And although it falls into the "desktop" category it's still a nice portable design weighing just 7.72 lbs. or 3.5 kg.
The price is attractive too. It sells for just over 900 bucks at the time of putting this guide together.
The Not So Good
The EinScan-S is not without its critiques but to be fair no 3D scanner is. Novice users still need to know how to operate the thing despite its simplicity. One of the common gripes I came across is how poor the official documentation is. This would have been a bigger issue if it wasn't for the plethora of great YouTube tutorials available online.
The other gripe is the absence of an on/off power switch. It's more of a design flaw than a major setback though. I think users would sooner not have to plug and unplug the two AC adapters before and after every use that's all. You can leave it on between jobs but the fan is rather noisy.


Tech Specs
Type: Desktop/Portable
Product Dimensions: 9.7 x 8.5 x 2.4″
Item Weight: 7.72 lbs. (3.5kg)
Connection type: USB cable
The Pros
Dual Scan small-to-large
Eye safety white lighting
Fast &accurate
Color texture scan
Portable lightweight desktop 3D scanner
Affordable feature-packed product
The Cons
Poor instructions
No power on/off button
Camera stand not very sturdy
Warning; 3D printers should never be left unattended. They can pose a firesafety hazard.