3D Systems Shows Of Colour & Multi-Materials 3D Printer's Ahead Of Euromold
3D Insider is ad supported and earns money from clicks and other ways.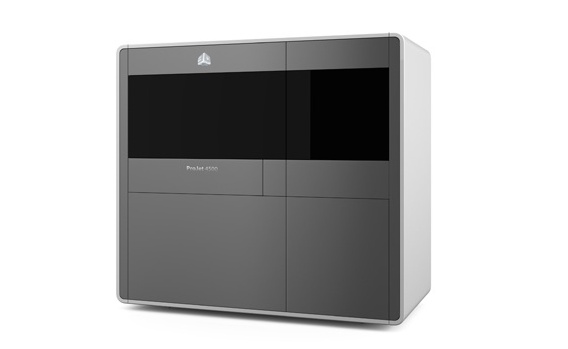 Euromold is fast approaching and you can bet that 3D Systems will be attending. Ahead of the fair, 3D Systems has announced two new 3D printers, the ProJet 4500 colour 3D printer and the Projet 5500X multi-material printer.
According to 3D Systems the Projet 4500 is the first and only continuous-tone, full-colour plastic 3D printer available on the market, a "category-defining 3D printer [that] delivers ready-to-use vibrant, full-colour durable plastic parts straight out of the printer for a wide range of modelling, functional prototyping and real-use products." The ProJet 4500 is built on 3D Systems' p ColorJet Printing (CJP) technology platform.
The ProJet 4500 also builds "strong semi-rigid parts, pixel-by-pixel, straight out of the printer, in high-resolution, pantone-like colour with a superior surface finish. Safe for office, easy-to-use, sustainable to operate and fast to print on, the ProJet 4500 is economical and comes with fully integrated material recycling for greater yield and better total material usage."
http://www.youtube.com/watch?v=MFcQ15rSI4Y&feature=c4-overview-vl&list=PLBSxiwWoesrj_0kiHzkEYGll1fafd_bEA
Specs and Features of the ProJet 4500:
Resolution: 600 x 600 DPI
Color: Continuous CMY
Minimum Feature Size: 0.004 in (0.1 mm)
Layer Thickness: 0.004 in (0.1 mm)
Vertical Build Speed: 0.3 in/hour (8 mm/hour)
Prototypes per Build: 18 models, 75 mm in diameter
Net Build Volume: (xyz) 8 x 10 x 8 in (203 x 254 x 203 mm) 640 in3 (10,487 cm3)
Build Material: VisiJet C4 Spectrum
Automated Setup and Self Monitoring
Core Recycling
Integrated Part Cleaning
Integrated Materials
Intuitive Control Panel
E-mail Notice Capacity
Tablet/Smartphone Connectivity
Print3D App: Remote monitoring and control from tablet, computers and smartphones
Input Data File Formats Supported: STL, VRML, PLY, ZPR
Client Operating System: Windows® 7 and Windows® Vista
Operating Temperature Range: 55-75 °F (13 – 24 °C)
Dimensions (WxDxH): 75 x 48 x 68 in (190 x 122 x 172 cm)
Weight: 750 lbs (340 kg) – Crated; 600 lbs (272 kg) – Uncrated
Certification CE, CSA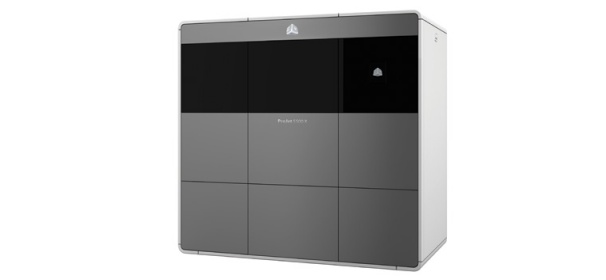 3D Systems' second new 3D printer is the ProJet 5500X and is claimed as "a ground-breaking engineered composite materials 3D printer that delivers the highest quality, most accurate and toughest multi-material composites based on its latest MultiJet Printing (MJP) technology." The ProJet 5500X is designed to go head-to-head with Stratasys' Objet Connex printers. 3D Systems said  "The ProJet 5500X simultaneously prints and fuses together flexible and rigid material composites, layer-by-layer at the pixel level, in a variety of colours and shades including opaque, clear, black or white and numerous shades of gray."
The ProJet 5500X can apparently print at up to two times faster than any other printer in its class, thanks to its industrial-grade print head. It can also create objects with a 60% larger volume than competitors.
3D Systems will be introducing many more new products at Euromold.
Warning; 3D printers should never be left unattended. They can pose a firesafety hazard.