The Only 3Doodler Review You'll Need
3D Insider is ad supported and earns money from clicks, commissions from sales, and other ways.
If you thought 3D printing technology had finished impressing the world, think on. It's time to introduce you to the 3Doodler. For the curious, uninitiated reader, we'd better start by explaining what a 3Doodler is and why you might want one. In a nutshell, this is the world's first and best ever 3D printing pen. Although it's considered a toy, that doesn't mean adults can't play too. We're serious. There are many creative applications for the range of 3Doodlers as you're about to discover.
In these reviews we take a look at the three current models and the kind of things people use them for. We'll also answer two of the most commonly asked questions: who is this 3D printer pen for, and what are the negative points for each of these products?
The 3Doodler pens available in 2017 include:
#1 – 3Doodler START Pens (Perfect for Kids)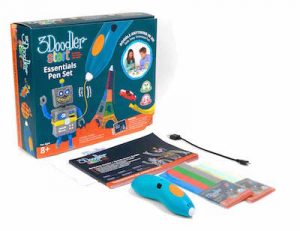 This is the pen that draws in the air — if you want it to. Wherever you take it, the material will follow. The 3Doodler START Pen is the perfect gift for kids, as you will see by its key features.
The main features of the 3Doodler START pen include:
Safe and clean
Super easy to use
Wireless
Comes with an easy-to-follow starter project booklet
Offers unlimited fun for the user
Inspires creativity and three-dimensional (spatial) understanding


Who is the 3Doodler START Pen for?
The creators of this product designed the 3Doodler START pen specifically with young creators in mind. Despite this, it's the perfect tool for anyone (at any age) who wants to get into 3D doodling. It is worth noting that this is the only child-safe 3D pen available at the time of writing. This is because there are no heated parts to worry about. It's clean too. It uses a special type of bioplastic (eco-plastic) that doesn't contain any messy glues or resins. Using this 3D printing pen is as easy as turning it on, inserting a strand of material, and doodling away. Although becoming good at 3D doodling takes practice, that's half the fun. That's pretty much all there is too it.
This is a rechargeable pen allowing users to doodle wherever they want. The handy booklet that comes with the product has some great stencils to get newbies doodling. This tiny tool offers unlimited fun and helps to develop creative instincts in all who use it.
What are the negative points to the 3Doodler START Pen?
Overall, the user ratings for the 3Doolder START pen are high. Some people report that it's a bit cheap looking, but don't let that deter you. Cheap-looking doesn't have any effect on its actual functionality or longevity. One of the more serious gripes is that there's no option to use third-party filaments with the product. This makes using the pen a little on the pricey side for heavy users. However, there's a good reason why you can't use other materials. It's because there are no filaments available yet — that will melt at such low, child-safe temperatures.
#2 – 3Doodler CREATE Pens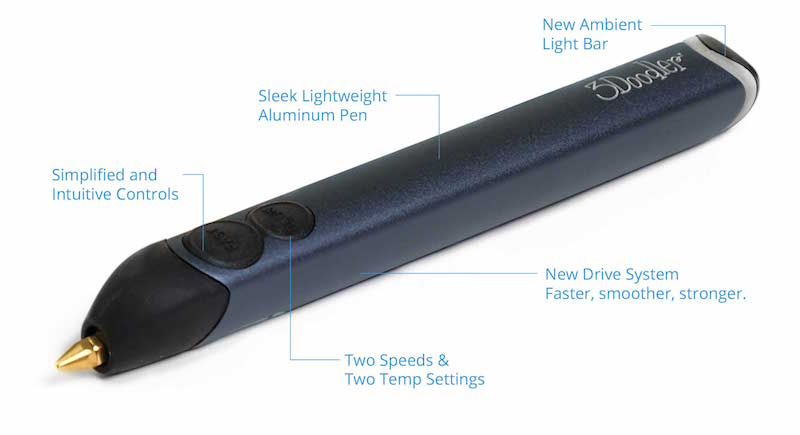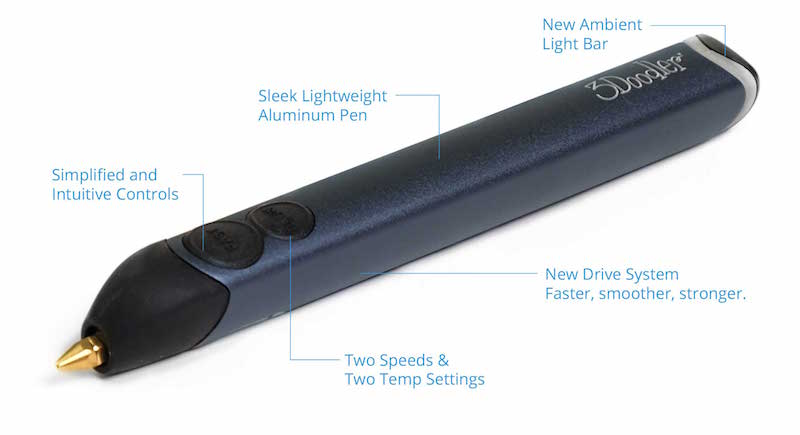 The 3Doodler CREATE replaces the older 3Doodler 2.0. It's now the most popular 3D printing pen in the world. The company claims it's faster, smoother, and more reliable than ever, so are they right? Let's look at the key features and take it from there.
The main features of the 3Doodler Create pen include:
More intuitive and simplified controls at the front end
A new sleek and lighter weight design
New ambient light bar across the top end
An improved drive system, making it stronger, smoother and faster to use
2 temperature control settings
2 speed control settings
Exchangeable nozzles
Uses a range of plastics in over 65 colors
The list above are just a few of the many refinements made in this upgrade.


Initial Thoughts
There's no doubt the 3Doodler CREATE looks great and feels nice to the touch. The new controls are welcome and rest nicely with the improved ergonomic design. Being able to choose from a variety of colors is a nice feature.
Who is the 3Doodler CREATE Pen for?
The 3Doodler CREATE is a versatile 3D printing pen for serious doodlers, and anyone else over the age of 14 who wants to get started. The thermoplastic materials need more heat than the 3Doodler START, so it's not ideal for unsupervised children. All kinds of people love this pen, from hobbyist to true professionals. With practice and control, it's quite possible to create impressive art, decorative items, practical parts, DIY projects, and scale models. How does the idea of designing and creating a pair of unique frames for your eye glasses sound? The possibilities really are boundless.


Another cool feature is the amazing range of options in materials. At the time of writing there are 65 colors that come in various finishes. You can choose from glossy, matt, glow-in-the-dark, clear, sparkly, and flexy. And let's not forget the interchangeable nozzles either. Different nozzles give you extra choices for doodling, providing you with more options for creative shapes and larger sizes.
If you like to get involved with groups of like-minded people, be sure to check out the vibrant 3Doodler online community. You'll also find 100s of FREE downloadable projects to use at your leisure.
What are the negative points to the 3Doodler CREATE Pen?
The customer reviews for the 3Doodler CREATE are mostly favorable, although there are a few gripes. One common complaint is the learning curve, but there's no way around that. Some people will pick it up quicker than others, but everyone will be able to doodle in 3D with patience and persistence. Just think of it as you would any other skill in that it needs practice to perfect.
Clogging and jamming is another criticism that some users complain about.
WARNING: NEVER TRY TO PUT EXTRUDED MATERIAL BACK IN YOUR 3DOODLER. THERE'S A POTENTIAL FOR IT TO CLOG YOUR PEN AND RENDER IT UNUSABLE.
It's not possible to know why some people have problems with clogging and jamming without seeing their 3Doodlers. There are some common issues that are often the cause of these problems. Using third-party materials is one. Inserting partially used strands without snipping the ends can also cause clogging issues. Feed problems are also likely if the pen is set at the wrong temperature for the plastic in use. Section 3 of the User Manual is on 'Troubleshooting,' and covers all the common problems that users may encounter. There's also a small toolkit that comes with the 3Doolder CREATE Pen, and the manual explains what they are and how to use them. User error causes most of the common issues, so always make sure you follow the instructions specifically for the 3Doodler CREATE.
#3 – 3Doodler PRO Pen


As the name suggests the 3Doodler PRO Pen is for professionals. It's the world's very first pro-grade printing pen. It not only looks good, it feels great in the hands too. This is thanks to its sleek carbon fiber body and silicone comfort-grip with well-designed buttons. There's also a larger drive system which means the PRO can keep going for longer. This professional 3D printing pen certainly has a lot going on, but nothing is in the way, thanks to the smart design.
Here's what the 3Doodler PRO Pen's body contains:
The ON/OFF switch on one side
Fan speed switch and Control Port on the opposite side
Power Port at the back of the pen
Three variable controls include temperature settings, extrusion speed, and fan speed
LCD screen shows you exactly what settings are selected
It might sound crowded with so much packed into the pen's body, but don't let that put you off. Users soon learn where everything is. Before long you intuitively ignore what you don't need and reach for what you do at the appropriate time. The 3Doodler PRO Pen is a big upgrade from both the 3Doodler START and CREATE. It can use a vast range of materials, including polycarbonate, nylon, metal, and wood. There's also plenty included in the starter pack. You have various nozzles, an unblocking tool, and five packs of special 3Doodler plastics with 25 strands in each. These include ABS (black), nylon (white), PC (clear), wood (wood), and flexy (black).
Who is the 3Doodler PRO Pen for?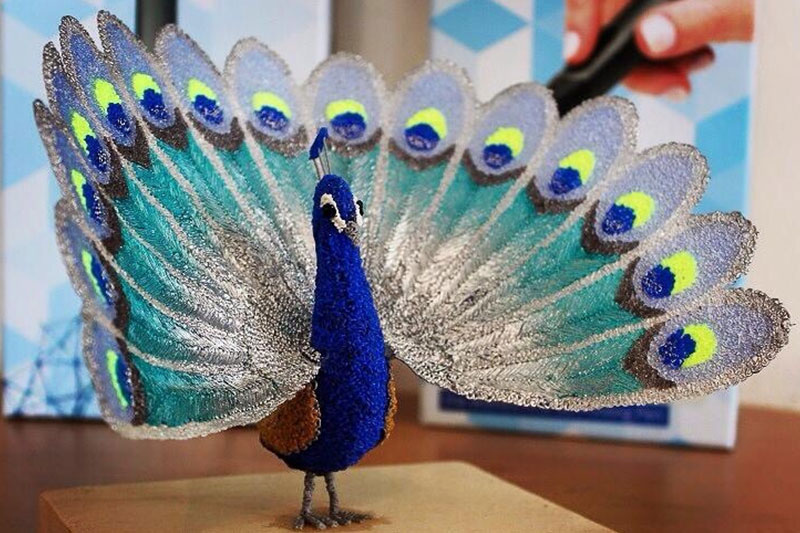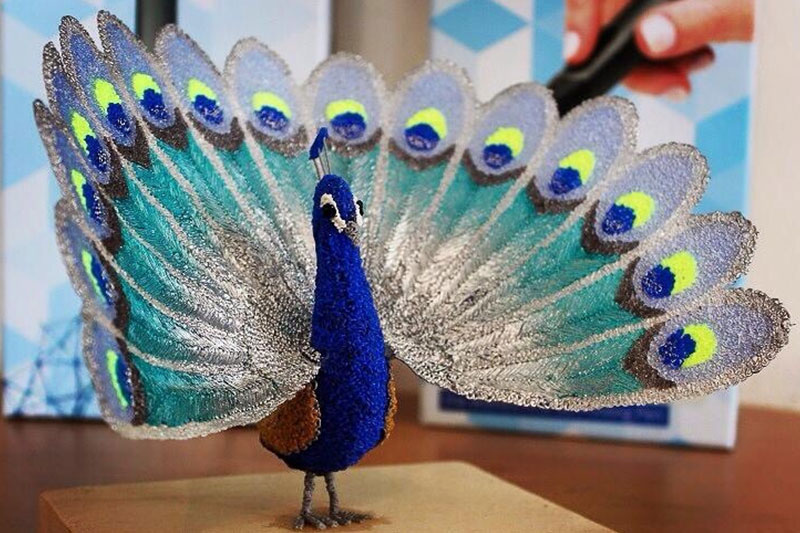 This tool is for serious people who want to take their creative designs up to the next level. Anyone who wants to bring an idea to life will love the 3Doodler PRO Pen. If you're ready to move your imagination away from a flat page, now you can. Like all 3Doodler pens, there is a learning curve to the PRO. As long as you learn from your mistakes and don't look at them as frustrations or setbacks, you WILL become an expert pro-3Doodler, sooner rather than later.
What are the negative points to the 3Doodler PRO Pen?
This is still a new product, and as such has very little user feedback at the time of writing this review. There's a lot of buzz around the enhancements and usability, but there will inevitably be a few negative points raised by some users. There's no such thing as a perfect product that pleases all, and the PRO Pen will be no different. As soon as user reviews start to come in, we'll look through them and update this guide with any common issues.
Where Did the 3Doodler Come From?
3Doodlers exist thanks to three entrepreneurs who had a vision and ran with their ideas. We have Maxwell Bogue, Peter Dilworth, and Daniel Cowen to thank for the range of 3D printing pens available today. Their creation began life in a Boston-based toy company called WobbleWorks. The first 3Doodler raised more than $2 million on Kickstarter. Kickstarter is currently the world's largest funding platform for innovative projects. Back in the day, the guys were only aiming for $30,000 and ended up with a cool $2M. The rest, as they say, is history – or at least history in the making, as this is not the end of 3D printing pens.
How a 3Doodler Works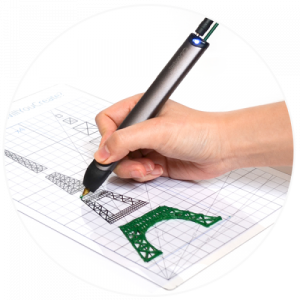 The technology behind these amazing 3D printing pens is pretty straightforward. An everyday pen uses writing ink which is a simple carbon black pigment. The 3Doodler doesn't use traditional ink to draw—it extrudes plastic filament (typically 3mm ABS or PLA). This material quickly cools down on a surface and hardens into a strong and stable structure. Something else that's unique to the 3Doodler is that you can—with practice—draw in the air, as well as on surfaces. To create 3D models, it's a simple case of connecting the pieces together. The 3Doodler START pen is a little different in the material it uses, and we'll get to that shortly.
For the less artistic there's a lot of inventive objects you can trace on paper. Tracing is a great way to get comfortable and become familiar with using these pens. After you feel comfortable you can then get into creating more complex objects. This could be toys, impressive designs, models, decorations, and everyday useful objects. You can look at 3D doodling as a way to bring flat 2D drawings to life.
3D Pen Vs 3D Printer
OK, the first thing to point out is that a 3D pen is not a 3D printer and vice versa. Unlike with a 3D printer, it's the person and their pen which determines the printed part, not the machine. So the question is this: why would you bother?
Well, to begin with it's a lot of fun. It can be addictive too, but in a good way. There are no complex 3D designs to worry about or programming of any kind. The only thing that limits what people can doodle in 3D is their imagination. You will need a steady hand, a keen eye, and a focused brain, but that's about it. For kids, 3doodlers are great for simple designs, whereas teens and adults can focus on more complex creations.
Warning; 3D printers should never be left unattended. They can pose a firesafety hazard.