Best 4K Camcorders in 2019
3D Insider is ad supported and earns money from clicks, commissions from sales, and other ways.
Today there are many ways for the average consumer to record video. Everyone's got a smartphone, mirrorless & DSLR cameras have impressive video capabilities of their own, and action cameras are top dog when you need to record personal adventures in a dramatic way. Where does all of this leave the good old camcorder though?
We take a look at the benefits of a camcorder and show you the best 4K camcorders you can buy in 2019 below.
Budget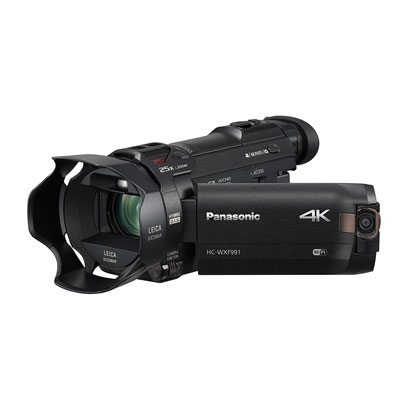 PANASONIC HC-WXF991K
4.4/5.0
14.2 oz.
18.9 Megapixels
Powerful optical zoom. Good wind noise reduction.
Check Amazon
Best Value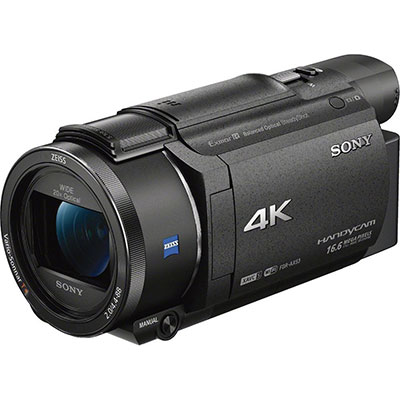 Sony FDRAX53/B
4.6/5.0
20.6 oz.
8.3 Megapixels
Great image stabilization. Good low-light performance.
Check Amazon
Top Pick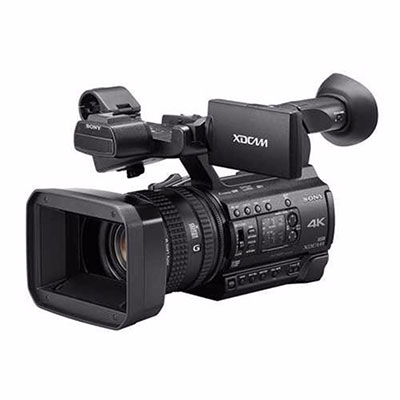 Sony PXW-Z150 4K XDCAM
4.7/5.0
66.8 oz.
12 Megapixels
Great low-light performance. Excellent digital zoom.
Check Amazon
Ten years ago you had to buy a camcorder for home video use as nothing else could compare. While the competition is certainly steep nowadays and camcorders aren't as plentiful as they used to be, there's still a lot of sense in picking one up if you're focused on creating videos.
For one thing, the quality of the footage shot with a camcorder is still better overall than what you can get with a camera, and there's no contest where onboard audio quality is concerned. Many still camera zoom function doesn't work while in video mode, while you can enjoy powerful, noise-free optical magnification with any camcorder.
The world's best manufacturers have been keeping up with the times and are offering capable camcorders with 4K as a matter of course. We've picked the best ones and compiled a list of 5 of our top camcorder recommendations as well as a guide on choosing the best one according to your needs. Below is a table with some basic info on all of them.
Best 4K Camcorders Comparison Table
1. Sony PXW-Z150 4K XDCAM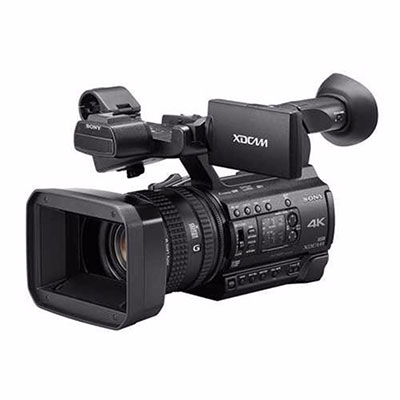 View on AmazonEditor's Rating: 4.7/5
While they've dominated the high-end camcorder market with the likes of the fantastic FS5, Sony was missing a model that would bridge the gap between their prohibitively expensive professional lineup and more affordable camera aimed at hobbyists. With the release of the Z150, prosumers can finally rejoice at a camera that won't cost them an arm and a leg while offering outstanding performance.
Run & Gun or Cinematic? Why Not both?!
While carrying the Z150 around can be classified as a workout, you'll be glad that the camcorder is so sturdily built. The electronic viewfinder and LCD screen are bright and responsive, with the former shutting off when you're not close to prevent degradation. Media is stored onto 2 SD cards and can also be streamed via Wi-Fi. The camcorder's excellent battery will let you record up to 400 minutes of video.
The biggest selling point of the Z150 is its huge 1-inch EXMOR RS sensor. As it is both backlit and stacked, you can set the camera up in all but the dimmest light and record clear, contrasted footage without additional light sources as the action unfolds. Its lens also allows for a very shallow depth of field for when you don't want the background to distract from your subject.
Video footage shot with the Z150 is superb! On one hand, you've got the 1-inch sensor that gives the camera 12 dynamic range stops and great color clarity. On the other, a 12x optical zoom is augmented by Sony's proprietary Clear Image Zoom to 24x. We aren't really sure how they do it, but it's by far the best and most noiseless digital zoom we've ever seen.
You can expect vivid 4K at 30 fps without moiré and next to no aliasing. Tuning the resolution down allows for smooth slow-motion at 120fps with no noticeable quality loss over the default 60fps in FullHD.
What We Didn't Like
You'll want to be using an external audio input for best performance. While the Z150 does have a shotgun mic clamp, it is too loose to use on its own. We found the LCD screen's mobility lacking. You can articulate it a little bit, but a wider range of movement would have made the camcorder better suited for cramped quarters and recording from trickier vantage points.


Tech Specs
Dimensions: 6.7 x 14.6 x 7.4 in.
Weight: 66.8 oz.
Video modes: 4k / 30fps
1080p / 60fps
Sensor: 1.0-type EXMOR RS CMOS
Lens: 29 – 348mm equivalent
Megapixels: 12 MP
Zoom: 12x optical, 24x digital
The Pros
Excellent video quality in both 4K and FullHD
Great low-light performance
Long-lasting battery
Excellent digital zoom
Wi-Fi streaming
The Cons
Shotgun mic clamp is too loose
LCD screen has limited movement
2. Sony FDRAX53/B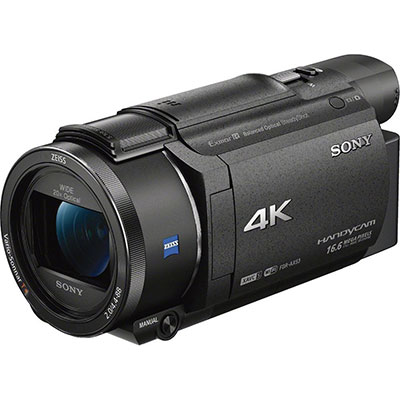 View on AmazonEditor's Rating: 4.6/5
The 3rd entry in Sony's 4K camcorder lineup, the FDRAX53/B is both a massive improvement over its predecessors and a camcorder that offers much to the average consumer. While a bit too simple for cinema-grade videography, its acceptable price, slew of features, and steady, well-balanced video are compelling arguments.
A Fine Degree of Control
Sony has truly packed a lot of versatility into the FDRAX53/B's light frame. You get to intuitively control most major aspects of shooting like shutter speeds, exposure or focus through its lens ring. The current option changes with a button press, and you get an instant preview of each turn of the ring on the camcorder's viewfinder. You can access these options and more via the LCD screen too, or hook the FDRAX53/B up to your smartphone and control things remotely.
UHD 4K footage looks clean and is recorded at 30fps. The camcorder also uses supersampling to put out HD in 60fps at a greater quality than most devices. Two welcome additions – time-lapse videos in 4K and 120fps slow-motion capture in FullHD – improve the camcorder's versatility even more.
The EXMOR R sensor has larger pixels than the previous models and its low-light performance is better. A new Zeiss lens enables up to 20x optical zoom which can be further boosted by Clear Image Zoom to 30x in 4K and 40x in FullHD. 5-axis image stabilization helps counteract shaking but is sadly only available in 1080p.
What Should Be Improved?
Apart from adding image stabilization to 4K mode, the FDRAX53/B could benefit from a brighter LCD screen and viewfinder as making out anything on either in direct sunlight is very hard. The camcorder takes long to focus sometimes too.


Tech Specs
Dimensions: 2.9 x 3.2 x 6.3 in.
Weight: 20.6 oz.
Video modes: 4k / 30fps
1080p / 60fps
Sensor: 1/2.5" Exmor R CMOS
Lens: 26.8 – 536.0 mm equivalent
Megapixels: 8.3 MP
Zoom: 20x optical, 30x and 40x digital
The Pros
Great image stabilization
Time-lapse & slow motion video capability
Versatile lens ring
Good low-light performance
Good balance of price and quality
The Cons
4K video can't be stabilized
LCD & viewfinder almost unusable in bright light
Slow autofocus
3. Panasonic AG-DVX200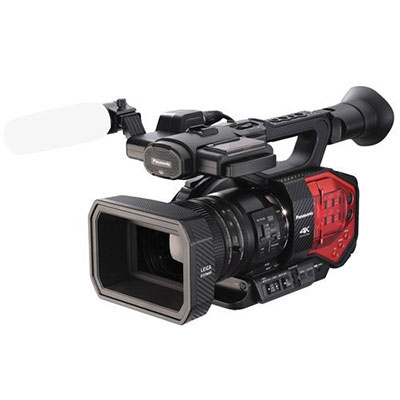 View on AmazonEditor's Rating: 4.6/5
One of the most affordable yet-feature-packed professional camcorders out there, Panasonic's AG-DVX200 is the model of choice for serious documentary makers and other professionals who need to set their camera up in a hurry and still get the best results no matter the environment they're shooting in. It may not be the absolute best camcorder for capturing a whimsical cinematic feel, but it definitely is a breadwinner.
Tough on the Outside, Versatile Within
The AG-DVX200 is even heavier than Sony's s Z150, yet it has a kind of confidence-inspiring weight that speaks of quality construction. You won't want to drop it, but we're certain it would survive unscathed even if you do. To make sure that its various ports and controls are protected from impact and the elements, the camera is equipped with a bright red side panel. In the same vein, you can store its flip-out LCD screen when not in use, and the EVF deactivates itself just like that of the Z150
Panasonic decided to grace the AG-DVX200 with a large 4/3 MOS sensor. When combined with its lens's 13x optical zoom, you're able to seamlessly transition from a close-up that utilizes a shallow DOF to an interview sequence where both the subject and background are in perfect focus. Although experienced videographers will want to adjust aperture sizes, shutter speeds etc. manually, there's a full-auto button that takes care of these for you if you need to make a quick take with the first press and brings you back to manual mode when you press again.
In UHD 4K, the AG-DVX200 reaches an impressive 60 frames per second! The sensor size helps when working in dim environments, and 12 dynamic range steps ensure minimal color fidelity loss. Shooting with the VLog –L preset gives the best and most lifelike results, and if you want to tinker with color profiles to subdue or enhance your footage it offers the most color grading options in post.
What are Its Shortcomings?
At 5 pounds, this camcorder is bound to tire anyone out sooner or later, doubly so since it is usually only one piece in your kit. When the viewfinder is on, the LCD turns itself off and vice versa. While you can disable this feature in the options menu, making it the default wasn't the best idea.


Tech Specs
Dimensions: 7.1 x 8.5 x 14.7 in.
Weight: 95.2 oz.
Video modes: 4k / 60fps
1080p / 60fps
Sensor: 4/3 MOS
Lens: 26.8 – 536.0 mm equivalent
Megapixels: 15.5 MP
Zoom: 13x
The Pros
Pro-level camcorder at a reasonable price
Rugged build
Excellent sensor
Can quickly adjust depth of field
Can shoot 4K at 60fps
The Cons
Very heavy and bulky
LCD and EVF don't work in tandem by default
4. Canon XC15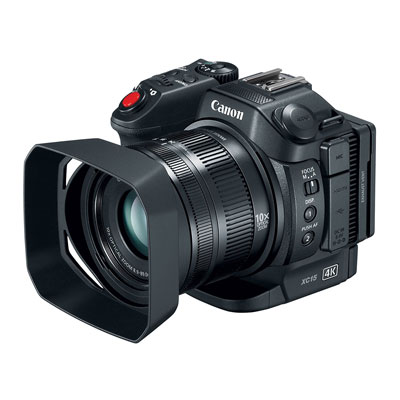 View on AmazonEditor's Rating: 4.5/5
Having a camcorder to film your next vacation with might be sweet, but that's definitely not the limit of their capabilities! Case in point – the XC15 from Canon. Geared towards news professionals and anyone who needs quality sound along with excellent video, this compact camera blends ease of use with a comprehensive audio-video experience.
Perfect for Getting the Latest Scoop
The XC15 differs in design from most camcorders. Its blocky shape, as well as its grip and button setup, remind one of a DSLR camera. It has a similar tiltable LCD screen to one as well, and thanks to its 1-inch CMOS sensor, the XC15 can even shoot respectable stills at 12MP, allowing you to augment a video segment with photos in a pinch.
The most important improvement over the previous model in the XC series is the addition of XLR support in form of a MA400 mic adapter. This lets you blend professional-grade audio with the camera's quality video output, making it an inexpensive yet effective purchase for reporters, serious vloggers, or documentary filmmakers.
FullHD at 60fps and 4K at 30fps are stored to separate SD card slots so they don't get mixed up. To get a better-looking shot, you can use the camcorder's zoom and focus rings on the fly, and a new waveform monitor provides live information on the video signal, allowing for precise picture calibration that is in tune with television standards.
Are There Drawbacks?
There's no noticeable image stabilization, so you'll either have to bring a tripod or make do with shaky footage. The amount of menu options and settings will probably be overwhelming to a beginner. Luckily Canon has kept this in mind and added a lockout function that prevents inexperienced users from fiddling with your setup.


Tech Specs
Dimensions: 5 x 4.8 x 4.2 in.
Weight: 33.7 oz.
Video modes: 4k / 30fps
1080p / 60fps
Sensor: 1" CMOS
Lens: 27.3 – 273mm equivalent
Megapixels: 12 MP
Zoom: 10x
The Pros
Compact build
Comfortable to hold
Superb audio quality with XLR support
Decent stills quality
Waveform monitor
The Cons
No image stabilization
Confusing controls
5. PANASONIC HC-WXF991K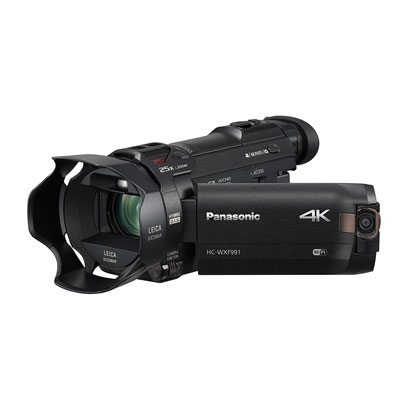 View on AmazonEditor's Rating: 4.4/5
Did you ever wish that you could capture your own reaction alongside something you were filming? Thanks to a 2nd lens conveniently located on the HC-WXF991K's flip out LCD touchscreen, you get to see yourself crying at your daughter's graduation, or crying from laughter when pranking a roommate. This neat gimmick aside though, does Panasonic's 4K camcorder offer anything of value?
Great for Content Creators & Proud Parents
At just under a pound, this camcorder is light yet reasonably sturdy. Controlling it is a simple affair, so even first-timers or children will pick the basics up quickly. Video manipulation in-camera is one of the features you'll be using a lot – it allows you to review shot 4K footage and then zoom, pan, or stabilize it without the need of editing software or a PC.
The HC-WXF991K shoots UHD footage up to 30 frames per second. 1080p can handle 60fps, and supports a slow-motion mode where a video shot at 60fps is slowed down to 24. If you opt to use the second camera while filming, its output will be superimposed onto the main video. The LCD's mobility allows you to position the extra camera not just towards the shooter, but to the side and front as well, making for some interesting combinations.
The camera has both optical and digital image stabilization as well as a powerful optical 20x zoom. Since there's no loss of quality when using optical zooms, you can record far away objects without the fear of pixelation. The built-in mic is of a decent quality too. Especially useful is its wind reduction feature that noticeably lessens the dreadful sound of roaring wind and helps salvage what would have been unusable footage without it.
What's Bad About It?
We were disappointed by the HC-WXF991K's poor dynamic range. You'll beOK while filming in daylight, but dimmer conditions often lead to loss of contrast and color fidelity, especially with purples. The moiré effect can also be very noticeable if you're filming striped patterns, so much so that it distracts the viewer from the rest of the scene.


Tech Specs
Dimensions: 2.7 x 3 x 6.4 in.
Weight: 14.2 oz.
Video modes: 4k / 30fps
1080p / 60fps
Sensor: 1/2.3″MOST
Lens: 9.3 – 111.6mmequivalent
Megapixels: 18.9 MP
Zoom: 20x
The Pros
Powerful optical zoom
Good image stabilization
Easy to operate
Lightweight
Good wind noise reduction
The Cons
Second camera's usefulness is questionable
Poor low-light performance
Pronounced moré effect
What to Look for in a 4K Camcorder?
Purpose
Sensor Size
Optical & Digital Zoom
Image Stabilization
LCDs & Viewfinders