6 Best 60% Small Mechanical Keyboards of 2020
3D Insider is ad supported and earns money from clicks and other ways.
Keyboards are getting progressively more feature-rich, and that entails upping the key count. Multimedia controls, dedicated macro keys, and brand-specific controls clutter up our keyboards and leave little room on the desk for the mouse. Luckily, an opposing trend has been taking gamers, typists, and programmers by storm as well – the 60% keyboard.
The percentage in the name of this relatively new class refers to their size, so they're sixty percent or three fifths the size of standard models. Rather than shrinking everything, 60% keyboards are made by axing the F row and anything right of the Enter key. While this cuts the number of available keys almost by half, the inclusion of a Function key means you're getting double the usage out of each one, or more. It's easy to take a 60% keyboard along with you as they're small and often wireless.
Here are the six best 60% mechanical keyboards currently on the market. The models differ by the used materials, mechanical switch availability, and lighting options, but all of them will transform the way you approach typing forever. Get one now and give your mouse some breathing room.
Budget
Royal Kludge RK61
4.1/5.0
Weight: 1.9 lbs.
Wireless: Yes
Connects to three devices wirelessly.
Check Amazon
Best Value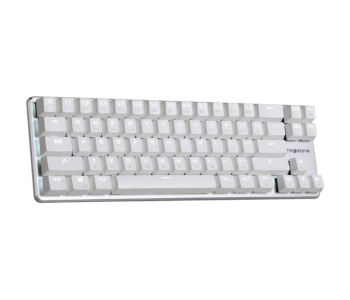 Qisan Magicforce 68
4.4/5.0
Weight: 1.2 lbs.
Wireless: No
Pleasant backlight and efficient cable routing.
Check Amazon
Top Pick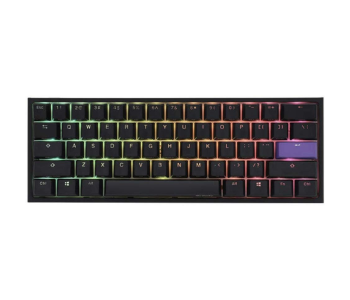 Akko X Ducky One 2
4.7/5.0
Weight: 1.8 lbs.
Wireless: No
This has genuine Cherry MX switches.
Check Amazon
60% Mechanical Keyboards Comparison Table
1. Best Overall – Akko X Ducky One 2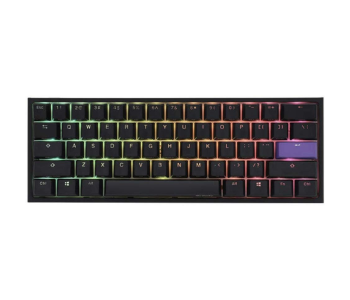 View on Amazon
Editor's Rating: 4.7/5
Are you a gamer who wants the best keyboard around but struggles to find the desk space for a standard-sized model? In that case, look no further than the Ducky One 2. It's a compact keyboard with a premium build, a host of onboard configuration options, and a unique tactile feel that accompanies typing regardless of the switch you prefer. It costs more than some premium full-sized models, but it's definitely worth getting.
Overview of Features
The first thing you'll notice about the Ducky One 2 is the superb craftsmanship that went into making it. The keyboard is slightly thicker on top, which gives it a slight slant that makes typing more natural even if you don't use its feet. Speaking of which, the feet have three height elevations and keep the Ducky One 2 firmly in place. Its baseboard is white while all the keys except Enter are black.
Typing on the Ducky One 2 is a sublime experience. The double-shot keycaps are made from PBT plastic and will neither lose their lettering nor bend out of shape with heavy use. Pressing a key all the way down produces a clicking sound on top of what you hear from the switches, adding to the keyboard's mechanical feel. You also get a set of colorful replacement keycaps to customize the Ducky One 2 further.
You may choose between three original Cherry MX switch variants. Blue is the most audible and offers the most resistance. Red is perfect for gamers since they're silent and smooth, while Brown has the feel of Blue but is as quiet as Red.
The RGB is subtle and implemented well. It shines through the keycaps and surrounds them, producing an outline that's impressive to look at while being easy on the eyes. The best thing about the Ducky One 2's RGB is that you can configure it either via PC software or directly from the keyboard. Pressing the Fn key with others will toggle through effects, adjust their speed, and cycle between colors.
You can also program macros without accessing the software. The first row is reserved for default key functions, but there are five more you can cycle between and record any kind of key combination onto for speedy access. Don't like where the Fn key is? Use the three DIP switches on the Keyboard's bottom to shift its position left or right of the Spacebar.
What We Didn't Like
There's little to complain about with the Ducky One 2. It's expensive, sure, but we feel that the price is justified given the quality. A USB-C cable is used to connect the keyboard to your PC. Rails guide it to either side to avoid tangling. While it's a good idea on paper, the cable bends too sharply close to the connector, so using the rails could damage it.
Tech Specs
Dimensions: 12.9 x 4.3 x 1.6 in.
Weight: 1.8 lbs.
Switch choices: Cherry MX Red, Blue, and Brown
Color choices: Black
RGB: Yes
Wireless: No
The Pros
Premium quality build
Genuine Cherry MX switches
Numerous configuration options accessible from the keyboard itself
Multiple function rows and Fn key positioning option
The Cons
Expensive
Routing the cable could cause it to bend too much
2. Best Value – Qisan Magicforce 68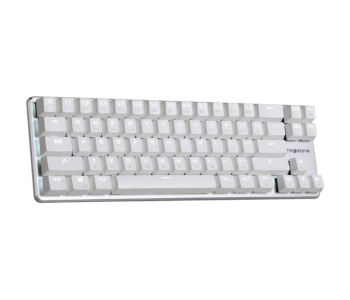 View on Amazon
Editor's Rating: 4.4/5
Qisan's Magicforce 68 is an excellent choice for night owls. It has no RGB and relies on cool white lighting to help you complete assignments and reports without having to waste electricity. Better yet, the keyboard comes with Cherry MX switches, combining silent typing with the comfort of tactile key presses. Still too expensive? There's a more basic version of the model that's $30 cheaper but has no backlighting or original Cherry switches.
Overview of Features
The Magicforce 68 is technically a 65% keyboard since it retains the arrows and four of the six keys above them. Still, its small form factor and clever design make the keyboard a space saver. The Fn key is its greatest asset for footprint reduction as pressing it along with most other keys makes the ones the Magicforce 68 has lost seem superfluous. For example, you access the F row by pressing the number keys while the second row from the bottom handles multimedia controls.
While not as robust as a few other reviewed models, the Magicforce 68 is not poorly made. Its top plate is aluminum, while the base is plastic. Cheaper ABS plastic was used for the keycaps, but they're double-shot and unlikely to wear out with use. There are four rubber pads for flat positioning along with two adjustable rubberized feet if you need a height boost. The keyboard has a cable routing system. It has only one exit point but goes easier on the cable's bending angle than the Ducky One 2.
While the font Qisan chose for the Magicforce 68 is of questionable beauty, the LEDs do a splendid job of lighting everything up. The aluminum partly reflects their light upward, creating a soft glow around the keycaps. The letters and symbols are bold, so you won't have trouble hitting the right ones during the night. Effects are limited to brightness adjustment and a wave, but that's not too bad considering the lighting is monochrome.
The Magicforce 68 is a great all-around keyboard thanks to a variety of MX switch choices. On the one hand, it has a deep enough actuation point and good spacing to satisfy people who type a lot. On the other, the keys react instantly and aren't distracting while gaming. The Windows key is another possible distraction, and you can turn it off by flipping one of three DIP switches. The other two are used to switch Caps Lock with the left Ctrl or reposition the Fn key.
What's Bad About It?
The Magicforce 68 uses stabilizers for longer keys like the Spacebar to keep them balanced. Such keys have a mushy feel and aren't as responsive as smaller ones. Qisan has lousy quality control. You might get a great-working unit or one whose keys stop responding after a while. The warranty covers such incidents, but waiting for a replacement is tedious.
Tech Specs
Dimensions: 13.4 x 4.1 x 1.6 in.
Weight: 1.2 lbs.
Switch choices: Cherry MX Red, Brown, Blue
Color choices: White
RGB: No, white backlight
Wireless: No
The Pros
Excellent build quality for a reasonable price
Pleasant backlight
Efficient cable routing
Retains F row and multimedia key functions
The Cons
Stabilized keys are less responsive than standard ones
Inconsistent quality control
3. Cooler Master Sk621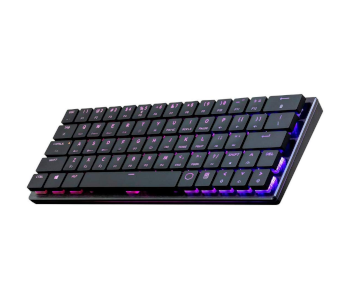 View on Amazon
Editor's Rating: 4.6/5
Not all 60% keyboards are made the same, and some users might even find a few of them bulky. If you're a true minimalist, you should definitely check out Cooler Master's Sk621. It's one of the smallest and lowest keyboards on review and also comes with a new kind of Cherry MX switch explicitly designed for low travel times. Add sophisticated customization options and wireless connectivity on top of that, and you've got a keyboard you can take anywhere and barely notice it's there.
Overview of Features
We were impressed with the SK261's build quality. Its top plate is made out of brushed aluminum and wonderfully reflects the lighting. It is bordered by a thin bezel made from reflective brass that makes the keyboard look even more stylish. The Sk261 measures just 1.1 inches at its highest point and is 11.5 inches wide, so finding space on your desk or lap for it is easy.
Cooler master outfitted the Sk261 with new Cherry MX Red Low Profile switches. They retain the silent feel of ordinary Reds but have an actuation point that's 0.8mm lower. That means travel times are reduced, and you get feedback almost as soon as you press the key. Gamers who enjoy twitch shooters or RTS titles with high APM requirements will love this.
The keycaps have a laptop-style chicklet design. They're much thinner than regular keys and have small indentations in the middle for accurate finger placement. You might need a few weeks to get used to them if you're transitioning from a traditional keyboard, but your typing speed and accuracy will return if not improve eventually.
The Sk261's wireless mode works similarly to that seen on the RK61. It connects to three devices in Bluetooth range and lasts for fifteen hours per charge, four months if you turn the lighting off. You wouldn't want to do that, though, as the Sk261 has individually lit keys and an additional set of lights surrounding the bezel you can adjust separately.
Like any good RGB keyboard, this one lets you access lighting options with a series of key combinations. There are eight styles to choose from that vary in obtrusiveness and complexity. You can also select between nine red, blue, and green levels to come up with a unique color.
Using Cooler Master's Portal software takes tinkering with the Sk261 to the next step. The software allows you to record macros and assign them to any key, rearrange key functions for all 61 keys, or delve deeper into color customization. You can paint every key a different color or assign specific colors to groups.
Are There Drawbacks?
The keys are spaced tightly together and register the slightest touch. That's not a problem per see but might cause some users to make more mistakes even after weeks of adjusting. The cable has a USB 2.0 connection on one end and a proprietary USB-C on the other. That means cables from other keyboards aren't compatible, and you'll need to contact Cooler Master for a replacement.
Tech Specs
Dimensions: 11.5 x 4 x 1.1 in.
Weight: 1.8 lbs.
Switch choices: Cherry MX Red Low Profile
Color choices: Black, white
RGB: Yes
Wireless: Yes
The Pros
Minimalistic design
Superb battery life
Versatile computer software
Quiet and responsive switches
The Cons
Close layout might increase your typo rate
Proprietary cable
4. Obinslab Anne 2 Pro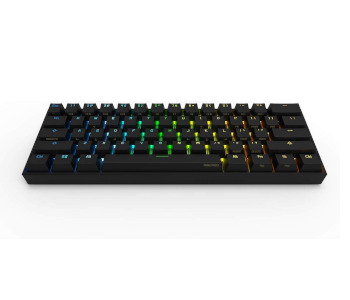 View on Amazon
Editor's Rating: 4.4/5
Cherry is the world's most recognizable mechanical keyboard switch manufacturer that's been facing stiff competition now that its crucial patents have expired. Ordinarily, you'd have to assemble a keyboard yourself to experience most of the alternatives, but with the Anne 2 Pro it's only a matter of choice. This is the smallest keyboard on review, yet its feature set is among the best.
Overview of Features
The Anne 2 Pro is a portable yet robust keyboard. Its baseplate is made from a sheet of steel, while the cover is one solid piece of plastic. Couple that with PBT keycaps, and you've got a robust keyboard that can take years of heavy typing and still work correctly. You can't adjust its height, but the Anne 2 Pro does have stable rubber feet and is slightly angled downward for more comfortable typing.
This is another model that can be used wirelessly through Bluetooth. Unlike the RK61, it doesn't have input lag and communicates reliably with both computers and mobile devices. You can pair and toggle between four of them, making it easier for multiple people to use the same keyboard. Switching between profiles and accessing the F row is done through the first Fn key while the second is in charge of RGB.
The Anne Pro 2 is great for any kind of user since it comes in nine switch variants – three from Cherry MX, Gateron, and Kailh, respectively. All three brands make quality switches and follow a similar color scheme, but there are subtle differences to consider. Kailh switches are less prone to wear and more tactile than their Cherry MX counterparts, while Gaterons have a smoother feel.
RGB lovers will find little fault with the Anne 2 Pro. There's no color bleed between keys, the brightness is excellent, and cycling between presets is a breeze. Obinslab Starter is there as well if you need more advanced settings like grouping, macro recording, and nuanced color selection.
What We Didn't Like
Using the software effectively takes some getting used to since the interface is unintuitive, and the help documentation is sparse. The keyboard might sometimes lose its connection, forcing you to plug it in and try again.
Tech Specs
Dimensions: 11.2 x 3.8 x 0.8 in.
Weight: 1.4 lbs.
Switch choices: Cherry MX Red, Brown, and Blue, Gateron Blue, Brown, and red, Kailh Box Brown, Red, and White
Color choices: Black, white
RGB: Yes
Wireless: Yes
The Pros
Large selection of switches
Tasteful RGB lighting connects to four devices wirelessly
Great build quality
In-depth customization through desktop software
The Cons
Suffers from occasional connection issues
Obinslab Starter isn't intuitive
5. iKBC New Poker II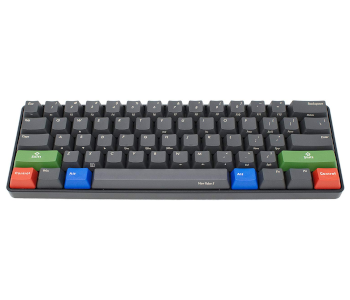 View on Amazon
Editor's Rating: 4.1/5
The keyboards we've reviewed up to this point all had backlighting. You'll find none of that on the New Poker II and can confidently use it in your office without getting sideways looks. The keyboard is compact, built well, and can be configured without additional software. Since everything is stored on the Poker II, it's an excellent choice for people who frequently switch between multiple devices and never have to adjust to a new keyboard.
Overview of Features
The New Poker II is refreshingly austere when compared to other entries on the list. There's no lighting whatsoever, only double-shot PBT keycaps with clear lettering. The keys are either uniformly black or white, but iKBC gives you three additional sets of differently-colored system keys to spruce things up. Removing a key is easy and safe since you get a unique removal tool as well.
Every square inch of space is utilized to the fullest, and the New Poker II has a thin bezel. Its keys have a semi-floating look, meaning that the Cherry MX switches are somewhat exposed while the keycaps are protected from impact. You may choose between different switch types, including Clear, a tactile yet quiet alternative to standard choices.
Flipping the New Poker II over reveals pads that hold it in place along with a cable routing system. Unlike Ducky's, the cable doesn't get strained and can be placed in three positions to suit your setup. There's also a set of six DIP switches used to toggle between typing layouts, activate the arrows, and to rearrange the Fn and Pn keys.
What's Bad About It?
The New Poker II supports macro creation without additional software. However, getting to the macros is tedious since they have to be assigned to a key on the second or third layers. You need to cycle between layers to reach the right key, which can become tedious. IKBC packages the keyboard well, but the same can't be said about the accessories. Don't be surprised if some of the colored keycaps arrive damaged. You'll get a replacement, but waiting for it is a hassle.
Tech Specs
Dimensions: 11.5 x 4.7 x 1.1 in.
Weight: 2 lbs.
Switch choices: Cherry MX Blue, Brown, Clear
Color choices: Black, white
RGB: No
Wireless: No
The Pros
Straightforward design perfect for distraction-free work
Solid build quality and switch selection
Diverse layout and key configuration options
Effective cable routing
The Cons
Getting to created macros isn't intuitive
Accessories are poorly packaged.
6. Best Budget Option – Royal Kludge RK61
View on Amazon
Editor's Rating: 4.1/5
Convenience is one of the main selling points for 60% keyboards, and what could be more convenient than taking yours along wherever you go? The RK61 from Royal Kludge is a keyboard you can use either plugged in or connect to three different devices over Bluetooth. It's the perfect choice if you're on a budget and need a keyboard that will easily connect to computers, tablets, or smartphones whenever and wherever you need it.
Overview of Features
The RK61 comes in either black or white with RGB lighting. Even cheaper models are available if you're not into multi-colored lighting. There's the black version with amber or red lights, and the white variant with baby blue illumination. Whichever model you go for, the build quality is the same and decent given the price. The keycaps don't wobble, the RK61 doesn't bend under pressure, and there are four rubber pads underneath to keep it from slipping.
Royal Kludge doesn't advertise the brand of the RK61's switches, listing them as just Red, Brown, and Blue instead. While a gap in quality between these and the likes of Cherry MX or Kailh is noticeable, typing on the KR61 feels smooth and doesn't feel second-rate.
Wireless connectivity is this keyboard's main draw. You can pair it with three devices simultaneously and switch between them using the FN key along with Q through E. Using the RK61 in Bluetooth mode consumes the battery, which will work for ten hours before needing a refill. The keyboard can idle for fifteen days on a full charge. You top it off through the supplied MicroUSB cable that you can also use to keep the RK61 plugged in to avoid input lag.
This is the second version of the RK61. Its predecessor lacked arrow keys that have since been added. You can easily switch between typing and arrow mode by pressing Shift and the Fn key. RGB is another new feature also accessible through various functions. There are seventeen effect presets to choose from, all with adjustable speeds and brightness levels.
Are There Drawbacks?
The RK61 suffers from noticeable input lag when in Bluetooth mode. It's okay for typing documents or messages on a smartphone, but serious gamers may find its response times lacking. The keyboard is very particular about which keys you should press to activate certain functions. For example, pressing the right Shift in a combination isn't the same as pressing the left one.
Tech Specs
Dimensions: 12.9 x 3.9 x 1.7 in.
Weight: 1.9 lbs.
Switch choices: Red, Blue, and Brown
Color choices: Black, white
RGB: Yes
Wireless: Yes
The Pros
Great value for the money
Connects to three devices wirelessly
Non-RGB versions are even less expensive
Vibrant backlighting
The Cons
Has input lag while connected through Bluetooth
Lots of particular key combination you need to learn to get the most out of it