20 Best Accessories for Action Cameras
3D Insider is ad supported and earns money from clicks, commissions from sales, and other ways.
If you don't have a photo or video of your adventure, then did it ever really happen? This must be the line that goes through the head of adventure junkies when they decide to get an action camera. Whether you have a GoPro , Sony, Olympus, or Drift action camera, you can spruce it up with a few accessories to really maximize its abilities.
Action camera accessories are not just selfie sticks and helmet mounts – they are much more versatile, and it is in this versatility that the possibilities of action cameras really start to open up. Whether you are a video pro or a weekend warrior, getting any one of the accessories we are recommending below will help you get even better shots out of your action camera.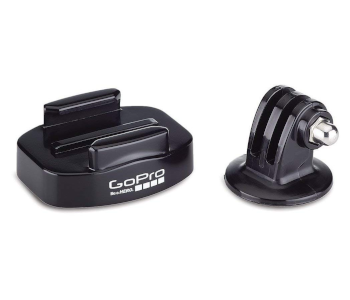 One of the first things you will notice with GoPro cameras is that their waterproof housing does not use the standard 1/4" 20 UNC connections compatible with standard tripods. They use a more specialized quick release clip mechanism. This quick release clip is actually quite nice – it' s secure, adjustable, and can be quickly connected and removed. However, it also renders the GoPro cameras incompatible to non-GoPro tripods and mounts. For cases such as these, you will need the GoPro Tripod Mount. This adaptor includes a GoPro Tripod Mount and a GoPro Quick Release Mount, both of which are connected to a female 1/4" connector, allowing you GoPro toe be used for standard tripods and accessories. If your arsenal contains a mish-mash of GoPro and other brands of cameras and accessories, then this adaptor is an absolute necessity.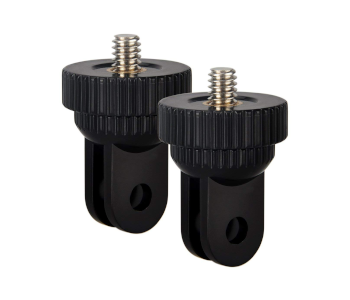 On the other side of the pond, you may want to connect an action camera with a standard 1/4" female connector to a GoPro-style mount. The fact that the market is dominated by GoPro products means that most of the best camera action accessories were designed for GoPro cameras. With this adaptor, you can get in on the fun of using GoPro accessories even if you are using a Sony or Olympus camera. This adaptor combines a simple 1/4" male connector to a standard GoPro mount connector. It's a very small item that you can get a lot of utility out of, especially is you would like to stick to using a non-GoPro action camera.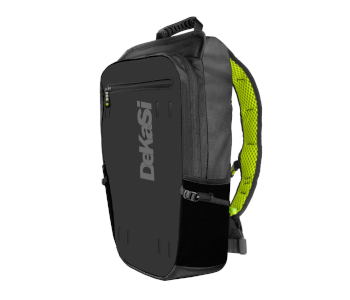 Your action cameras are built for adventure but carrying them around with its array of accessories can get overwhelming without a reliable carrying case which also provides a semblance of organization. The 16L DeKaSi backpack is made to withstand all the rugged conditions that you and your action camera could get into. It is made of a weather-resistant material and has enough space for several action cameras and all of your accessories. This backpack was thoughtfully designed for the adventure seeker: it comes with an integrated chest mount and an extended 3-way where you can attach your action camera. It even has a dedicated compartment for a hydration bladder. If you have been looking for a spacious action backpack for all your weekend adventures, then the DeKaSi backpack will exceed all your expectations.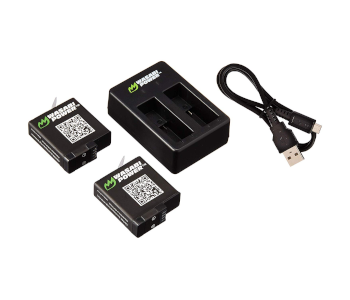 Action cameras are deliberately designed to be compact and lightweight for maximum portability. To achieve this form factor, compromises on battery capacity were made. Most action cameras have batteries that will only last for 2 or 3 hours of continuous video capture, so it is always a good idea to have 1 or 2 spare batteries on hand. Charging several batteries using a standard charger can be a pain, so we suggest saving yourself the frustration and getting one of these dual battery chargers. This particular charger is compatible with GoPro batteries, and you may have to look for another model for other action camera brands. In most cases, these dual battery chargers come bundled with 2 spare batteries, which makes them a really good deal.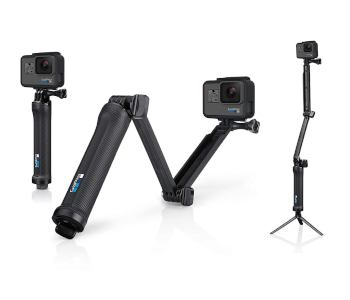 The market for action cameras is replete of grips, tripods, and selfie sticks of various brands and designs, but we have always been partial to the 3-Way Grip from GoPro. The basic form of this stick is a standard Hand Grip with a rubber non-slip coating. A telescoping pole can be extended and tightened in place to form an extended monopod with two articulating points, allowing for a variety of orientations. Finally, the main grip can be opened to reveal a tripod stand that can be connected to the main body. With a waterproof design and the capability to stand up on any kind of terrain, this 3-way grip can be used virtually anywhere.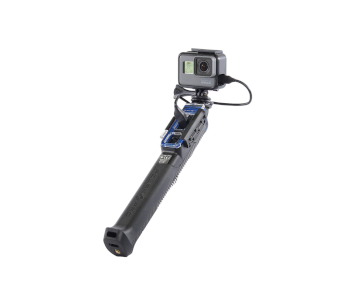 With the aforementioned abundance of selfie sticks in the market, a monopod has to have a unique capability for it to stand out. The PowerGrip, the upgraded version of the PowerPole, satisfies this qualification. It has an integrated 6700 mAh battery inside its aluminum body that can charge an action camera via the two USB ports located near its tip. This monopod charges your camera as you use it, extending the battery life by at least 12 hours which means you might not need to change the camera's batteries within a single day. Aside from the tripod mount, the PowerGrip also comes with a cellphone mount for when you want to take photos using your smartphone. The pole has a telescoping feature that can extend up to 33 inches. Although the PowerGrip is waterproof up to 99 feet, it cannot provide live charging functions in wet conditions.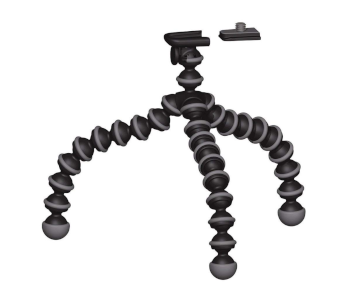 The GorillaPod is probably one of the most distinct accessories for action cameras. There are a lot of GorillaPod variants available, but we are partial to the original JOBY brand. The JOBY GorillaPod is one of the most versatile accessories that you can get. You can use it as a hand grip or a mini-tripod, but its best function is for grabbing on things using its segmented leg design. With the GorillaPod, everything can be a tripod: a random tree branch, a hand rail, or any handle bar. This particular model comes with a standard 1/4" connector, but variants with GoPro mounts and ball connectors are also available.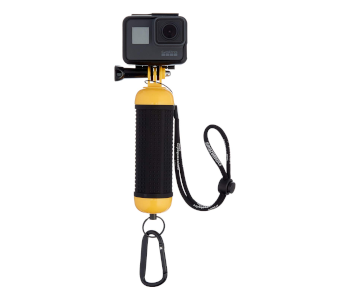 The action camera you're using may be waterproof but losing it while in water can still be a problem. To make sure that your camera does not end up on the ocean floor even when you lose grip, we recommend getting this Floating Hand Grip from AmazonBasics. This hand grip is 100% waterproof and buoyant. It also has a bright yellow color which should make it easy to spot if you lose it in open water. Despite being designed to be easily retrieved when lost, it's actually pretty hard to lose it with its rubber grip and provisions for both a wrist-strap and carabiner attachments. If you plant to go kayaking or white-water rafting with your action camera, then this is an essential accessory that what is worth way more than what it costs.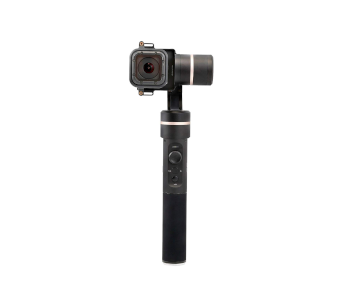 Professional photographers probably know this, but if you have ever wondered how action videos can remain stable despite the rugged motions of activities such as biking and skydiving, then it is probably done using gimbal technology. Using an inertial measuring unit (IMU), a gimbal keeps the camera stable along all three axes while the camera is moving. This handheld gimbal from FEIYUTECH has a 4-way joystick for easy control of its movements, while separate function and self-timer buttons make camera functions easy to access. It has a splash-proof design and durable build that can keep up with your rugged action cameras. The G6 has a mount that is compatible with several action camera models, including GoPro and Sony brands.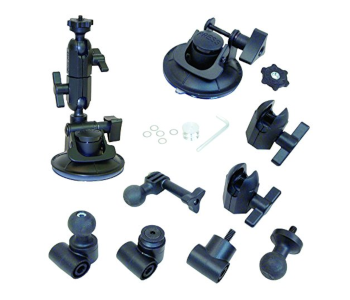 Suction cup mounts are quite common for action cameras for mounting on smooth surfaces such as car exteriors and boat hulls. We particularly like this one from Panavise for the different connectors that comes with it. Aside from the utility of having an industrial-grade suction mount that stays securely attached in hot or cold conditions, this Panavise mount comes with enough accessories to use it as a standard short mount, a single knuckle ball mount, or a double knuckle ball mount. With these many options, you can position your action camera at practically any angle. The connector of this suction mount is a standard male 1.4" connection.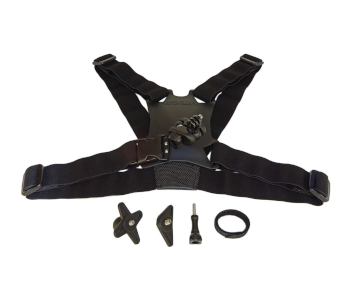 The best action videos are those shot from the middle of where the action is, and it does not get any closer than strapping the action camera to your chest. This chest harness as soft double-strength elastic bands which should fit most body sizes, and a large chest plate which is cushioned with a soft polyurethane elastomer for maximum comfort and safety. The mount itself has a ball joint that allows you to set any angle for the action camera. With a 1/4" connector, it is compatible with most brands of action cameras and can even accommodate other mounts or gimbals. All connectors and fasteners are made of corrosion resistant stainless steel, so using it underwater should not be an issue.
A suction cup mount is great for smooth surfaces, but for all other surfaces, an adhesive-based mount presents a versatile and convenient mounting solution. This package comes with industrial-strength water-resistant adhesives that can maintain a secure hold in any kind of environment or weather conditions. Whether you intend to mount your action camera on a car dashboard, a surfboard, or on the hood of an ATV, then this adhesive mount is an all-around solution. The large surface area of this adhesive gives it an even stronger hold. It also comes with both a J-hook mount and a standard 1/4" mount, so practically any brand of action camera should be compatible with this mount bundle.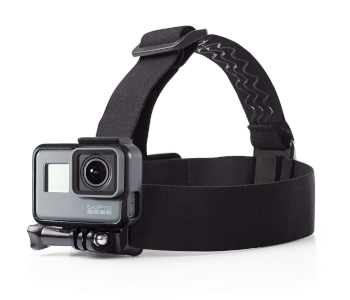 Videos shot from helmet mounts are among the most common videos taken using action cameras. After all, it's a great vantage point that practically simulates the perspective of the person in the middle of the adventure. However, not all activities dictate the use of a helmet, so having a headstrap mount is a more versatile solution. This headstrap mount from AmazonBasics is made of adjustable nylon strap which are washable and should fit any head size. The polycarbonate buckles are lightweight and durable. This particular headstrap comes with a J-hook especially made for GoPro cameras, but similar and equally good headstraps are available for other action camera brands.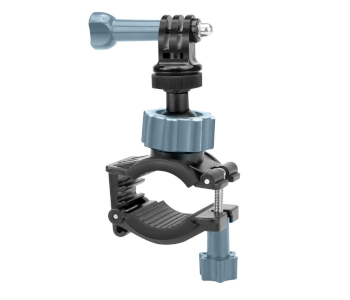 Bike handlebars are probably some of the best places to mount your action camera. Whether you are on a bicycle, ATV, motorbike, or a jet ski, a video shot from the handlebars puts the viewer almost at the driver's seat. The clamp is adjustable to fit bars up to 1.5 inches in diameter, and installation is a cinch. All joint head allows for adjustment of the action camera to get the perfect shot angle. The base connector of this mount is a 1/4" male connector, but it also comes with a J-hook adaptor for GoPro cameras. The mount is rated to hold a weight of up to 3.36 ounces, more than enough capacity for action cameras and other point and shoot cameras.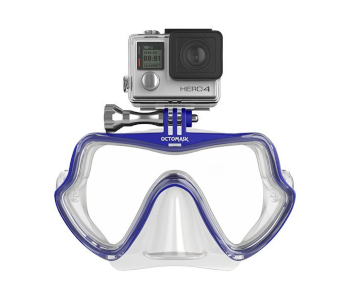 The Octomask Mount is such a useful and innovative action camera mount that we wonder how there aren't more mounts like it. It is a dive mask, similar to the standard ones used for snorkeling and scuba diving, that comes with a J-hook connector for mounting of a GoPro camera. The mask itself is made of soft silicone with a quality that rivals many specialty diving masks and should fit most sizes. The glass eyepiece tends to fog, so you might have to apply an anti-fogging coating on it. The aluminum screw keeps the GoPro camera securely in position so there should not be any surprises when you get around to watching the underwater video you shot. The mask also comes with a carrying bag, which is a nice addition for you to store and bring around the dive mask without issues.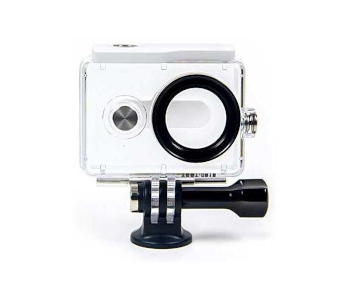 Not all action cameras come with pre-included waterproof housings, but it is one of the most highly recommended accessories. Despite some degree of water and shock resistance, action cameras are not invincible, and any degree of additional protection helps. A waterproof housing gives you a chance to use your action camera underwater, in heavy rain, or while doing various water sports. With the need for a tight fit, there is no one-size-fit-all waterproof housing solution – you will have to get one specifically designed for your brand of action camera. This particular model is made for a YI action camera and is rated for water resistance up to 131 feet below the surface. On top of being water resistant, it is also shock-proof, dust-proof, corrosion-resistant, and has a double coating of anti-fog protection.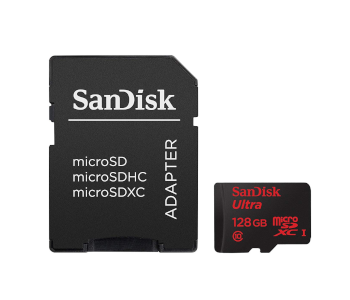 The high frames per second (fps) of the high-resolution videos recorded by action cameras will be all for naught if you are using a microSD card with low write speed. For intense action videos, we recommend the Sandisk Extreme Pro line With a UHS-1 Speed Class 3 which corresponds to a minimum write speed of 30 MBps, even 4K videos at 60 fps or 1080p videos at 120fps can be recorded and stored accurately. GoPro cameras are especially finicky – they require memory cards with at least a Speed Class 10. There are also a lot of available options in terms of capacity, but we generally recommend at least 64 GB, which is enough space for about 80 minutes of 1080p video. Going all the way to 128GB is even better, which allows you to record up to 160 minutes of 1080p video or 16,000 12MP still photos.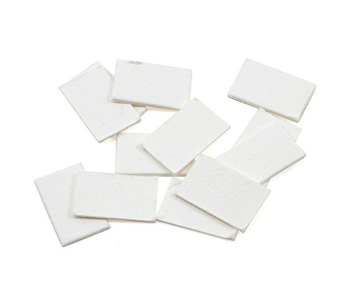 Anti-fog inserts are very useful but very cheap accessories that you should be getting for your action camera. Although most waterproof housings and lens are treated with an anti-fogging coating, the effect of this coating does not last forever and will noticeable degrade over time. These anti-fog inserts are made of absorbent silica paper and are simply inserted into the waterproof housing to prevent any fogging. You will have to activate the silica material by baking them in an oven for a few minutes, but you can do this in a big batch for convenience. Anti-fog inserts are an essential accessory to make sure that your videos are not ruined especially when shooting in cold and humid weather, or when shooting underwater videos.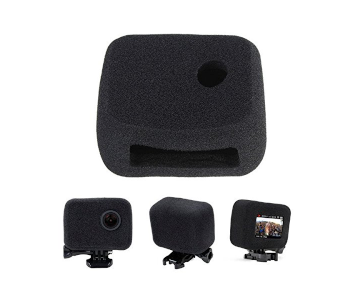 So far, the accessories we have recommended have focused on getting the best video quality in your action videos, but let's not forget that audio plays an important part in the immersive action video experience. Without a wind noise muffler, you may find your action videos with inaudible or unbearable audio due to wind noise, especially when you are moving at high speeds. This wind noise muffler is simply a sponge foam that covers the action camera, serving to remove wind noise completely and leaving only crisp and sharp audio. This wind noise muffler contains no special connector or attachment, so it should be compatible with other similarly-sized action cameras.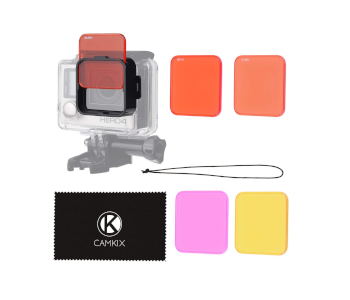 Whether you are using a DSLR camera, an action camera, or a drone camera, professional photographers often have to work in unideal conditions which require the use of various filters to get high quality shots. The selection of filter is highly dependent on the specific application – this particular set is made specifically for underwater shots. With the right colored filter, underwater shots can come out with more vibrant colors. Color selection is based on the dominant hue of the marine environment. This may be hard to determine initially, so it's a good thing that these CamKix Filters can be slid into the waterproof housing even while underwater.
There are also other specialty filters, such as these neutral density filters that limit the amount of light entering your camera's lenses. These are used to avoid overexposed photos when shooting under harsh lighting conditions, such as when taking pictures of the sky. The filtering effect of these ND filters allow you to use low shutter speeds even in very bright conditions, giving you better control of shot composition and image quality.
Magnification filters are another common filter type, such as this model designed specially for the Hero 4 Session camera. This filter allows adjustable magnification up to a maximum 10x. It is a single, adjustable piece, making it easy to carry and install.
A complication of using filters is that they are often custom-made to snugly fit the lens of a specific action camera model. This means that you will probably need a different set of camera filters for different action cameras.
Final thoughts
Action cameras are a great companion for adventure junkies of all kinds who would want to keep video souvenirs of all their exploits. Whether in land, air, or sea, the ruggedness and durability of action cameras allow them to keep up to the demands of these thrill-seeking individuals. The camera specs of action cameras aren't really anything special – at best, they are at par with the camera specs of many high-end smartphones. However, their real advantage lies in the versatility of their applications.
The right set of accessories maximize the potential of action cameras. With the appropriate mounting methods, action cameras can capture videos from the handlebar of your motorbike, the hood of your car, or the from your snorkel mask. Some accessories can improve the quality of your action videos, making them more stable, applying color correction, and keeping them from getting overexposed. Accessories expand the capabilities of action cameras, vastly increasing their utility. They also allow you to get really cool and unique shots – and who doesn't want to be the cool kid?