7 Best Electric Scooters for Adults of 2019
3D Insider is ad supported and earns money from clicks, commissions from sales, and other ways.
Electric scooters are clearly an excellent way to get around. They're light, nimble, and they don't need a lot of practice to learn how to ride safely. One great thing about these machines is that you don't need a license to operate one of them. You also don't have to worry about gas or insurance if you own one.
When electric scooters first came out, they were considered toys. However, those times have changed. The worsening condition of traffic has catapulted electric transportation alternatives to the mainstream, and they are now regarded as legitimate commuting options.
Not only are they practical transport devices, but they're also fun and eco-friendly. They are definitely an excellent alternative to cars and motorcycles since they are cost-effective and convenient. Using an electric scooter also does not limit you to riding it on roads and streets, you can easily use them on sidewalks, park pathways, and small side streets thereby giving you a lot of route options.
It is not surprising that their popularity has risen over the years. You see more and more scooter users and enthusiasts zipping through pedestrians on the sidewalk or swerving through cars stuck in endless traffic jams. They can definitely help you get to where you want to go fast and easy, while others are stuck in traffic or busy hailing a cab.
What are Electric Scooters for Adults
Electric scooters are two, sometimes three-wheeled vehicles powered by an electric motor. They usually come with a rechargeable battery and have a handlebar for steering and control. These scooters come with a range of styles, from simple old-school kick scooters to those with extended seat options that considerably improve comfort.
As technology evolves, electric scooters are becoming faster, more efficient, and that allows them to increase in popularity among enthusiasts and the general public.
Buying Electric Scooters for Adults
Electric scooters tend to be a significant purchase with prices ranging from less than $300 to more than $1,500. Getting one can feel like purchasing a car or other substantial acquisitions. It can be intimidating, however, if you have done your research, you'll know what to get.
It is vital that you get an electric scooter that will cater to your transport needs. Apart from price, we're also going to provide you with technical specifications like top speed, range, weight, power, brakes, and others that can influence your buying decision.
We have compiled a list of the best electric scooters for adults that you can buy depending on your budget.
Budget Electric Scooters
Electric scooters under this category are built more for recreational use rather than using them as your go-to means of transportation. They're meant for light and minimal use like weekends at the park or a quick ride to grab something from the nearest store.
Most scooters at this price point are underpowered with weak battery capacity and lower build quality. However, if you weed out the lower quality scooters, there are some outstanding and very functional choices that you can buy and get your money's worth. These are ones that are worthy of your attention.
Here are some of the best electric scooters in this category that we have found in our research.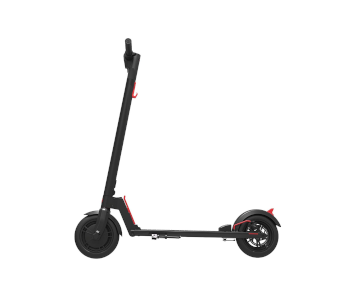 Retail Price: $299
The Gotrax GXL electric scooter is one that falls in the budget category but can provide you with a reliable transport option. It is built with the commuter in mind since it's foldable so you can take it with you on the bus and other public transport or store it under your desk at work. It's lightweight, compact, and convenient, so you can carry it wherever you travel.
It has a stylish look, which you wouldn't normally expect from a budget option. One of the more striking features of the Gotrax GXL is its handlebar. It comes with a built-in display that shows you the overall status of your scooter's battery levels, headlights, and speed.
As a transport device, it is essential that the Gotrax GXL can carry as many types of people as possible. Its reinforced frame allows it to support riders up to 220 pounds, which means anyone from kids to adults can ride it with ease.
When it comes to budget scooters, it's the performance that takes a back seat most of the time. However, with the Gotrax GXL, they made sure that it's still decent enough that you can use it as an everyday commuter scooter.
The scooter is powered by a 250W electric motor that can reach top speeds of up to 15 miles per hour. It comes with a decent battery pack that can push you up to 12 miles on a single charge. That should be enough to take you to school or the office and back home.
Comfort and safety have been at the forefront of designing this scooter as it comes equipped with two 8.5-inch air-filled tires that absorb the bumps on the road for a more relaxed commute. The e-scooter also comes with LED headlights, so you're not limited to day time travel. It is also designed for everyday riding no matter what the condition as it is IP54 water resistant so you can use it in the rain and not be afraid to ride over puddles on the road.
The Gotrax GXL is an electric scooter that does not sacrifice comfort, safety, and rideability at this price point. The manufacturers made sure to put all the needs of the user at the top, and Gotrax has provided a quality product for its price.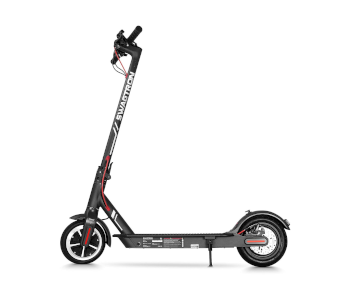 Retail Price: $299
The Swagtron Swagger 5 is a portable and foldable electric scooter that you can stow in the trunk of your car, closet, or under your desk at work. It folds in three quick steps and is very easy to carry around, especially when you're on the bus or the train. This e-scooter is made with an aluminum frame, so it's compact and light.
The Swagger 5 is equipped with a 250W motor that provides power up to 18 miles per hour and allows you to climb steep inclines up to 20 degrees. It also comes with a 36V lithium-ion battery pack that lets you cover up to 11 miles on a single charge. It comes with three-speed modes so you can extend your battery life and cruise control so you can let go of the throttle.
Electric scooters like the Swagger 5 have large capacity batteries. They can take you far, but one of the downsides is that charging it can take a while. In the case of this scooter, it takes 3.5 hours to charge the batteries up to full power. It is still at a comparably decent rate since you can plug in your device at work or overnight at home, and ensure that you have the juice to travel to your next destination.
Swagtron has developed a dedicated Swagger 5 app for this e-scooter and is available on both iOS and Android devices. The app allows you to unlock more features of the scooter so now you can enable cruise control, track your location with GPS, measure your speed, check your battery levels, and switch your headlights on or off. The scooter comes with a phone mount where you can place your phone on the handlebars and use it as an advanced heads-up display.
The Swagtron Swagger 5 is a great budget electric scooter that is built to the highest of standards and provides you with enough performance to get you from point A to B.
Commuter Electric Scooters for Adults
The commuter electric scooter falls mid-range when it comes to pricing levels. The difference between these and budget options is that they are likely to be more reliable and have better maximum speeds and mileage.
Scooters in this category also have better build quality and some even sporting suspension systems, bigger batteries, better brakes, and even larger motors for more power. They can get heavy and sometimes bulky, but that's just the trade-off when you have significantly sturdier frames and larger electric motors for better performance.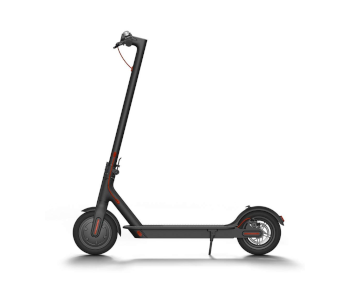 Retail Price: $399
The Xiaomi Mi is a lightweight, portable electric scooter with a folding design that weighs just 26.9 pounds. The body is made with aerospace-grade aluminum, a material similar to what they use on aircraft, making the scooter sturdy, durable, and light. Couple this with its foldable design and you have a transporter that you can bring with you almost anywhere and store under your bed, table, or seats on the bus or train.
The Mi electric scooter is powered by a 250W motor that is capable of pushing the vehicle to a maximum speed of up to 15.5 miles per hour. The Mi also boasts a high capacity battery that has a range of up to 18.6 miles. The extended battery life is mainly due to the better technology it comes with but also the fact of how light it plays a large part.
Another one of the primary reasons for the Mi's extended battery life is its capability to recover and regenerate energy. It comes with regenerative braking, so whenever you slow down, it converts the kinetic energy to electrical power that charges the batteries up.
The Mi e-scooter is equipped with 8.5-inch tires for both the front and rear, which have exceptional shock absorption features and high-grip treads for consistent comfort and safety. An additional safety feature of the scooter is that it comes with rear taillights that indicate braking and up front, bright headlights so you can ride the Mi at night.
The Mi also comes with a smartphone app so you can turn it into your own scooter dashboard. Pair it with your phone via Bluetooth, and you can view your speed, remaining battery power, and other riding stats in real time.
The Xiaomi Mi electric scooter is an outstanding vehicle for your daily commute. It's intuitive and easy to learn that anyone can use it. It has been made with safety in mind so you can be sure that when you mount the Mi, you're in good hands.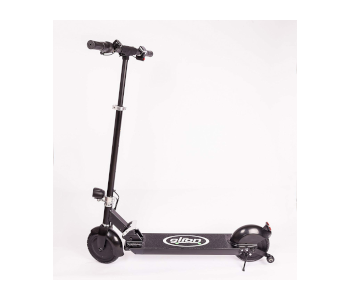 Retail Price: $499
The Glion Dolly is a compact electric scooter that can take your commute to the next level. It is a reliable, portable, and energy efficient form of urban transport. Since it's a stand-up e-scooter, it reduces your footprint and considerably increases your mobility. This scooter allows you to zip through crowds on the sidewalk and squeeze through narrow streets to avoid traffic jams that may ruin your daily commute.
The Glion Dolly features a healthy amount of power as it comes with a 250W motor that propels the scooter to a maximum speed of 15 miles per hour. It also provides a peak performance of up to 600W to help you go up gentle slopes.
Batteries are also a factor when it comes to electric scooters, and the Glion Dolly comes with a 36V LG lithium-ion pack that gives it a range of up to 15 miles on a single charge. Charging up the batteries takes about 3.5 hours, which is quick and allows you to charge on the go while you're at work.
Although designed as a commuter scooter, the Glion Dolly is also a fun and practical transporter that you can use to run errands, explore new places, or simply just get around the neighborhood. Simply put, this electric scooter gets you to where you need to go.
One of the essential features of the Glion Dolly is its portability, and this is evident with its design. It is foldable, allowing you to save space during storage. It is also designed in a way that can be stored upright, so you can store it behind the door or in the closet. You can also roll it behind you like a carry-on suitcase so you can bring it whenever you travel.
The Glion Dolly is an ideal transport device mainly in an urban environment and is an excellent choice for students, workers, and enthusiasts alike. Its portability enables you to be flexible so you can use it instead of walking to a distant parking lot or to and from the nearest bus or train station.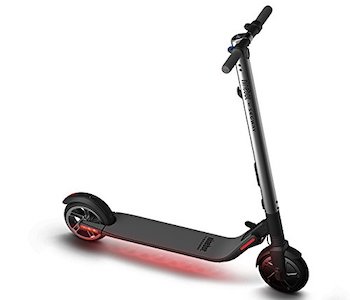 Retail Price: $569
The Segway Ninebot Kickscooter ES2 is a portable and foldable transporter that you can use to improve your daily commute to work or school. One of the notable features of this scooter is its one-touch folding system that makes this device convenient for everyday use.
The ES2 is more powerful compared to other scooters in this class as it comes with a 300W motor that allows it to get to a maximum speed of up to 15.5 miles per hour. It has a peak power output of 700W which is used to maintain pace when climbing on slopes up to 10 degrees. The scooter can travel up to 15.5 miles on a single charge depending on your riding style and overall terrain.
Rider comfort is the priority by the makers of the ES2, they achieve that using rear wheel shock absorbers. The electric scooter also comes with solid all-rubber tires that manage some of the bumps and considerably improves rideability. This also means that the e-scooter is virtually maintenance free because of the air-less tires it uses.
Safety is also pushed to the forefront with a mechanical and electrical anti-lock braking system that can stop you from just 13 feet. This system improves the responsiveness of the brakes minimizing accidents.
The ES2 is jam-packed with technology as it comes with an LED display that acts as your dashboard. You can also download the mobile app where you can connect via Bluetooth to enable additional features like cruise control and customizable light colors.
The Segway Ninebot Kickscooter ES2 allows you to ride faster and travel further, making it an attractive transporter for all of your commuting needs. Whether it's school or work, the ES2 is an electric scooter for adults that anyone can enjoy.
High Performance Electric Scooters for Adults
These scooters are some of the best in just about every category. They're packed with powerful motors, sometimes even two. Batteries have more capacity than usual, extending the range to insane numbers, with some going as high as 40 miles.
One of the significant downsides of most of these high-performance scooters is that they're not as portable as the ones in other categories. The bigger motors and batteries mean that some of these scooters can be large and heavy. Sometimes carrying them around might not be a great idea.
They still make excellent commuting scooters, and most of them can be folded similar to those in the commuter category. However, they can sometimes be difficult to carry with you. If you have a very long daily commute and are comfortable with lugging the extra weight, then a high-performance electric scooter is for you.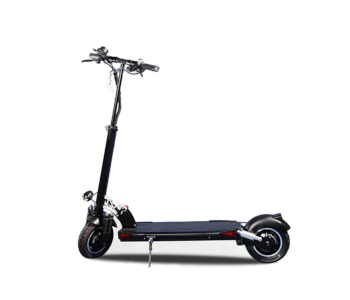 Retail Price: $1,549
The Nanrobot D5+ electric scooter is a premium high-performance vehicle that is designed for speed. A significant difference between this scooter and other budget or commuter types is that the D5+ comes with two independent 1000W motors, one for each tire. This means that this scooter is capable of accelerating up to 40 miles per hour.
The D5+ has all-wheel drive capabilities with a total power of 2000W, providing it with good speed every time. The rider can engage one or both motors at the same time. This gives you a choice between battery life and overall performance.
This power means that this electric scooter is fitted with a high capacity lithium battery pack that renders an astounding range of up to 50 miles on a single charge. This can be extended further or when you want to push the performance, getting less. Factors like rider weight, terrain, weather, and riding style can affect battery life.
A high-speed scooter like the D5+ requires an efficient braking system to ensure safe riding at any speed. This electric scooter is equipped with front and rear brakes which are controlled by levers on the handlebars much like that of a motorcycle.
Scooter rides are known for how bumpy they are, and that is true for most budget and mid-range options. The D5+ is equipped with a high-quality suspension system with independent shock absorbers on the front and rear wheels. The front has four springs since this is where most of the bumps can be felt. It does not entirely eliminate the bumpiness, but it does improve your overall ride experience.
The Nanrobot D5+ is a fast electric scooter with excellent range. It is one of the fastest in the market, and you can see and feel the quality that the manufacturers have put in to make it a premium product.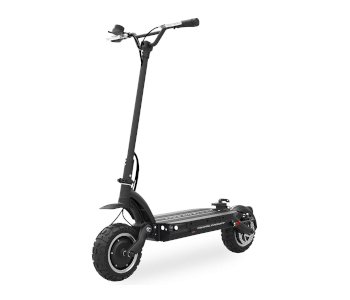 Retail Price: $2,999
The Dualtron Ultra is a high-performance electric scooter that is built with off-road capabilities in mind. It is powered by two 5400W motors that give it a maximum speed of up to 40+ miles per hour. Enough to propel it through city streets or off-road dirt tracks. The scooter comes with 11-inch off-road tires that's 3.5 inches wide to provide a better grip on dirt, sand, grass, or other surfaces.
As an off-roader, it needs a high-quality suspension system to keep the rider stable and comfortable throughout the trip. The Dualtron Ultra comes with a rear and front suspension that provides excellent shock absorption on any surface, giving you a much more comfortable ride each and every time.
Two insane electric motors need somewhere to get their power from, and the Dualtron Ultra comes with a 60V LG battery that provides it the juice it needs to travel up to 80 miles on a single charge. That's nearly two hours of ride time at decent cruising speeds. The scooter is installed with dual disk brakes that help you to stop quickly and safely.
Monitoring your scooter's performance at high speeds can be difficult. The Dualtron Ultra comes with an LCD instrument display that shows real-time stats like speed, battery levels, and current travel time. The panel also provides you a way to change the scooter's ride settings to help you select the best one for your trip.
The Dualtron Ultra is an electric scooter for adults that comes with loads of performance. From high speed to a large battery capacity that will enable you to ride for hours at a time. This is a scooter to get if you're an enthusiast and want to explore the outdoors as much as possible.
The Best Electric Scooter for You
Choosing the best one for you can be difficult. There are a lot of scooters from different categories to choose from. It all boils down to your transport needs.
If you're somewhat new to commuting using a personal transport device, then the budget scooters are for you. However, if you have the experience with other modes and want to change it up, then an e-scooter from the commuter category might be an excellent fit for you. If you're an enthusiast and want to explore your city and beyond, then a high-performance scooter is your best bet.
Electric scooters can drastically change the way you look at commuting. It will never be the same again. Whatever it is that you need, there is definitely an electric scooter that you can enjoy.