5 Best Electric Scooters for Adults in 2020
3D Insider is ad supported and earns money from clicks, commissions from sales, and other ways.
Some people may think that electric scooters are a fad that has come and gone, but 2020 is proving to be a year that makes this trend ripe for resurgence. Aside from its usual appeal as an eco-friendlier alternative to commuting, electric scooters may just be the thing that people need to get around in the pandemic-stricken absence of normal public transportation.
Of course, not all electric scooters are made for the demands of day-to-day commuting. This is a list we have prepared of some of the best electric scooters available in 2020 for adults who need it for personal transportation.
What to look for in an electric scooter in 2020
The landscape of electrical scooters has changed quite significantly in recent years. Not only are there more companies and brands involved in the market, but products now tend to be more practical, adult-sized, and more geared towards use for regular commuting. Since we're restricting this list to adult-sized scooters, all the scooters we have considered have passenger capacities that are made for adults – at least 220 lbs.
To help you sort through the mess, here are the other crucial factors you should consider:
Weight and portability
Rarely can an electric scooter carry you all the way from the doorstep of your home to your office or school. You'll probably have to jump into a bus or train along the way or at least, climb a flight of stairs or catch a lift. This means that you need to have an electric scooter that folds up to a compact easy-to-carry bundle and is also light enough for you to carry.
One thing to remember is that the weight of an electric scooter is often directly proportional to the size of its battery. A lighter scooter probably won't be able to travel as far on a single battery cycle as a heavier alternative. It's a balance between the two, and how you strike that balance is a question of your specific needs.
Other than that, you will almost certainly want to go with an electric scooter made of lightweight but strong materials like carbon fiber or aluminum. If you intend to use your electric scooter for day-to-day commuting, then steer clear of scooters with mostly plastic parts.
Battery life
The bulk of the weight of an electric scooter is from its battery. This means that a bigger battery will almost certainly weigh you down should you need to carry your scooter inside a train or up the stairs. It may be necessary in some cases, though.
To keep things simple, the battery capacity of an electric scooter is often expressed as the range it can travel in a single battery cycle. Smaller batteries tend to keep this range at around 12 miles, while bigger and heavier scooters can go up to 18 miles or more. Again, this is a category which only you and your specific needs can decide on.
Tire quality
When you're using an electric scooter for commuting, the last thing you need is your tires breaking down in the middle of the trip. While most electric scooters have 8-inch tubeless tires because they are cheaper, we suggest spending a bit more for scooters with pneumatic tires with at least 10 inches diameter. These are a bit more heavy-duty and will be more comfortable take you through less than perfectly smooth paths.
Safety features
Just like a bike, a scooter has to come with the usual features to keep you safe while riding at night. At a minimum, this should include both front and rear lights and a host of reflectorized surfaces to enhance visibility. Just as important is the practice of wearing safety gear such as a high-vis vest and a helmet.
You never know when you might get caught in a downpour while riding on your scooter, so make sure to get an electric scooter with enough moisture and dust protection. A quick look at the scooter's IP rating should give you this information. A second digit rating of at least 5 should be enough to keep the scooter safe to ride under light rain.
App compatibility and features
Many potential buyers consider app-based features as just bonuses for an electric scooter, but why forego modern trappings such as GPS-based tracking and the ability to lock or unlock a scooter using your phone? We may even file these features under safety, as you can use them to prevent theft of your scooter and to let other people know exactly where you're riding. As long as they don't compromise on other elements of the experience, we like to have as many of these app-based features as possible.
Top 5 best electric scooters for adults
1. TOP PICK: GOTRAX GXL V2 Commuting Electric Scooter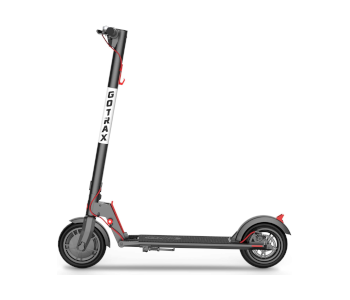 View on Amazon
The top pick of this list goes to the GOTRAX GXL V2 for hitting the perfect balance between price and specs. It's not the most sophisticated scooter on this list, and neither is it the cheapest. It just manages to hit that sweet spot which makes it affordable but not underwhelming.
Made of an aluminum alloy, the body of the GXL V2 is a little lighter than many other electric scooters. Some assembly is needed when you receive it, but that will be good practice for folding this scooter down should you need to hop from it to a bus. Despite being lightweight, the construction of the GXL V2 does not feel flimsy or cheap.
The dual braking system of the GXL V2 with anti-lock brakes is undoubtedly one of its standout features. Along with an ultra-bright LED headlight and reflective stickers on the rear fender, the advanced brake system makes the GXL V2 feel like a pretty safe ride in any circumstance. Problematic terrain can be negotiated with minimal bumps by the pneumatic tires, although it would be nice if they were a little larger.
There are two glaring drawbacks of the GXL V2 – an underwhelming 12-mile range and the lack of any mobile app support. To be fair, 12 miles is probably longer than most people travel on a single one-way commute. You can also extend this range if you and your stuff weigh less than the 220-lb capacity.
The GXL V2 has no provision for pairing with a mobile app, so there are no advanced digital features on this one. Instead, it has a simple digital display between the handlebars for quick viewing of your current speed and remaining battery life.
Tech Specs
Weight: 26.4 lbs.
Capacity: 220 lbs.
Range: 12 miles
Tires: 8.5-inch pneumatic
Safety features: Headlight and ABS
App features: None
PROS
Made of lightweight aluminum alloy
Has anti-lock braking
Comes with pneumatic tires
CONS
Moderately expensive
Limited range
Small tire diameter
No taillight
No companion app
2. GOTRAX XR Elite Electric Scooter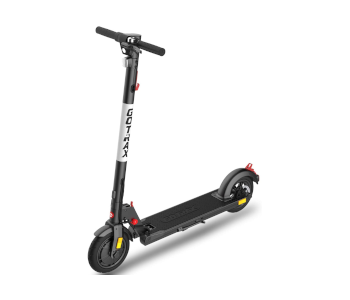 View on Amazon
The advantage of going with a brand like GOTRAX is the fact that they have manufactured so many electric scooters through the years that each generation probably brings with it unique upgrades. The XR Elite is one of their newer models, which explains why it's not as popular as their older scooters. However, it's arguably one of the best of their current offerings.
As with other GOTRAX scooters, the XR Elite features a nice anti-lock braking system with both mechanical and electrical components. It also comes with both headlight and taillight, as well as various reflective pieces along the scooter's body. This makes VR Elite one of the safest scooters GOTRAX has developed to date.
The folding system of the XR Elite is as intuitive as ever and can be engaged with just one step. This is excellent for commuting, although the added weight of all these features makes it a little more unwieldy.
Being a newer model, the XR Elite is significantly more expensive than their older scooters – notably, our top pick, the GOTRAX GXL V2. This does not come as a surprise, but the price difference may be significant enough for those who are shopping on a budget.
Tech Specs
Weight: 31 lbs.
Capacity: 220 lbs.
Range: 18.6 miles
Tires: 8.5-inch pneumatic
Safety features: Headlight, taillight, reflectors, dual braking system
App features: None
PROS
Excellent braking system
More safety features
Comes with pneumatic tires
CONS
Moderately expensive
Heavy
3. Glion Dolly Foldable Adult Electric Scooter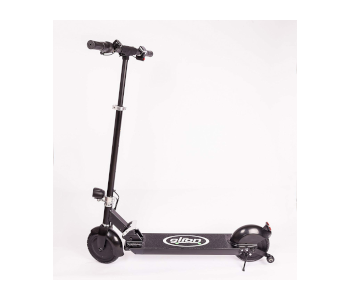 View on Amazon
Glion makes a big deal out of saying that the Dolly Electric Scooter is "no toy." Given a price tag of more than $400, we certainly hope that's the case. For the most part, the Dolly Electric Scooter.
The namesake of this electric scooter comes from its innovative design – when it folds up, it transforms into a wheeled dolly that you can simply pull behind you. This helps offset the 28-lb. total weight of this scooter on account of its powerful motor. The Glion Dolly can carry an impressive 280-lb. capacity over a total range of 15 miles.
An area in which the Glion Dolly truly excels is in its braking system. Not only does it have anti-lock brakes that pull you to a smooth stop, but these brakes can be engaged either by hand controls or a rear fender lever. An adjustable handlebar makes the Glion Dolly more flexible for different passenger heights.
The lack of pneumatic tires hurts the value of the Glion Dolly, opting instead for a pair of 8-inch solid rubber tires. While these are also good because they never go flat and don't require maintenance, the lack of suspension can make riding over rough terrain an unpleasant experience.
Tech Specs
Weight: 28 lbs.
Capacity: 280 lbs.
Range: 15 miles
Tires: 8-inch solid rubber
Safety features: Headlight, anti-lock brakes, foot-activated brake
App features: Speed and distance monitoring
PROS
Innovative dolly design
Excellent braking system
Adjustable handlebar height
CONS
Moderately expensive
Solid rubber tires
4. Hover -1 Journey Electric Folding Scooter
View on Amazon
It can be tough looking for a good electric scooter if you're on a budget. After all, most low-cost scooters have just enough power to support the weight of children or teens. The Hover-1 Journey bucks this trend as a relatively inexpensive electric scooter for adults, although it's far from the quality of higher-end options.
The Hover-1 may seem unassuming from the outside, but it houses a powerful 300 W motor that can accommodate passengers up to 264 lbs. It also has an impressive range of 16 miles on a single battery cycle. The drawback is that the Hover-1 is a little heavier than usual, although it's not as hard to carry around when folded.
For safety, the Hover-1 comes with a bright LED headlight and a reflector stripe on the rear fender. In the middle of the handlebars is a small digital display for viewing the scooter's cruising speed and its remaining battery level.
Although the Hover-1 seems like it ticks all the necessary checkboxes to be a good electric scooter, it somewhat lacks in the area of durability and longevity. The pneumatic tires may help with ride stability, but so many users have reported the tires wearing out far more easily than expected. The brakes also engage too suddenly and lack the smoothness of more sophisticated scooters.
Tech Specs
Weight: 27 lbs.
Capacity: 264 lbs.
Range: 16 miles
Tires: 8.5-inch pneumatic
Safety features: Headlight
App features: None
PROS
Inexpensive
High passenger weight capacity
Long battery range
CONS
Poor braking performance
No app compatibility
Tires can get worn down easily
5. Razor EcoSmart Metro Electric Scooter
View on Amazon
The Razor EcoSmart Metro is for those who don't fancy doing their regular commute while standing up. Unlike all other scooters in this list, the EcoSmart Metro comes with a cushioned seat, an extra-wide bamboo deck, and a detachable cargo basket. It's the ultimate in comfort for personal transportation devices.
Comfort also likely played a huge role in designing the EcoSmart Metro with extra-large 16-inch pneumatic tires. These are great for unpredictable terrain and are reasonably well-built to require minimal maintenance. The scooter features a rear-wheel-drive system for added stability.
The EcoSmart Metro requires minimal assembly upon arrival. The all-metal frame comes almost fully assembled. You have the option of removing the cushioned seat if you prefer to ride the scooter standing up, although we cannot imagine a lot of people doing that.
The biggest drawback of the EcoSmart Metro is the fact that all these extra hardware weighs it down by a lot. At a total weight of 67 lbs and no provision for folding, the EcoSmart Metro simply was not designed to be carried around. This is great if you have a space to park the scooter. Otherwise, we don't imagine how practical it would be to bring this inside a bus or up the stairs.
The lack of lights is also a glaring oversight in this scooter's design. Although you can certainly attach custom headlight or taillights to its handlebars and frame, we would have preferred that these came with the scooter by default.
Tech Specs
Weight: 67 lbs.
Capacity: 220 lbs.
Range: 12 miles
Tires: 16-inch pneumatic
Safety features: Hand-operated brakes
App features: None
PROS
Comes with a seat and wide deck
Very comfortable
Durable metal frame
CONS
Very heavy
Comes with no headlight
Final thoughts
Electric scooters are seeing a minor resurgence in 2020, especially since public transportation has been thrown into turmoil by a global pandemic. Aside from the convenience of having your own personal ride that you can just carry, riding an electric scooter is also an eco-friendlier means of getting around.
The electric scooters we have featured here are a bit on the high end of the price spectrum. This is quite unavoidable if you're looking for a scooter designed for the weight of an average adult and can withstand the rigors of daily commutes. These electric scooters are made to be safe, durable, and comfortable for long trips.