Air Fryer Black Friday 2019 Deals
3D Insider is ad supported and earns money from clicks, commissions from sales, and other ways.
Eating deep-fried food can have a disastrous effect on your health. Cholesterol build-up and heart problems have close linkages to eating fried foods. Air fryers use circulating hot air to cook foods that would otherwise be submerged in oil. The food cooked in air fryers is a lot less greasy than traditional fried delicacies.
Air fryers can cook a wide variety of your favorite foods such as french fries, fried chicken, donuts, fish fillets, chicken wings, turkey breasts, churros, pork chops, and more. They come in a range of sizes and have different functionalities like pre-set functions, types of cooking surfaces, and touch screen controls.
Air fryers tend to cost well above $100. This Black Friday, you can get some popular air fryer models at less than half the original price. Not only can you start getting in shape by eating healthy, but you can also save a lot of money in the process. Below are some of the best Black Friday deals that we found on air fryers.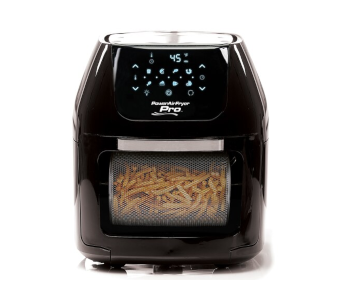 Power XL Air Fryer 6-qt
Original Price: $179
Black Friday Price: $76
The Power XL Air Fryer is an all-in-one air fryer with 7 cooking modes. You can go into a professional rotisserie mode or select the dehydrator mode. You can cook french fries or rotisserie chicken. All the settings can be selected using a digital touchscreen.
This air fryer has a drip tray which will collect all the extra fat and make your food as healthy as possible. Less fat means fewer calories in your body. You can even use this 6-quart air fryer to dehydrate fruits and vegetables. No need to add unnecessary sugar while dehydrating them.
There are 3 airflow racks for easy air circulation. Plus, you get 3 levels of cooking surfaces so that you can cook large quantities for foods at the same time. Feeding a family is no problem with the Power XL Air Fryer. This appliance comes with a 60-day warranty.
Kohls is offering a Black Friday special on this air fryer. You can pick it up for less than half price.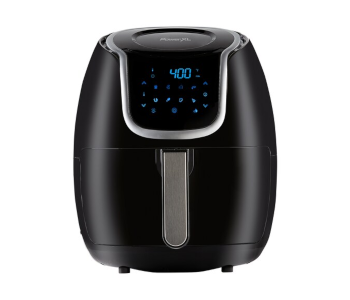 Power XL Vortex Air Fryer 7-qt
Original Price: $149
Black Friday Price: $59
Power XL Vortex is an alternative option to the Power XL 6-qt air fryer. The Vortex air fryer has a 6-in-1 design that allows you to cook pizza, bake your favorite desserts, dehydrate fruits and veggies, roast chicken or veggies, reheat food, and air fry your favorite finger foods.
A sleek touch screen allows you to perform all the controls on this air fryer. This air fryer can heat up to 400 degrees Fahrenheit. You can also use one of the 10 pre-set functions for one-touch functionality.
Kohls is offering the 7-qt version of the Power XL Vortex air fryer for a discounted price of $59. The original price is $149, so you get a significant discount with this Black Friday special.
Buy the Power XL Vortex and consume 70% fewer calories compared to regular deep-fried foods. This deal will help you become healthy and get in shape.
Instant Vortex Air Fryer 6-qt
Original Price: $99
Black Friday Price: $49
Walmart is offering the Instant Vortex air fryer for $49, a 50% discount on the original price of $99. This air fryer is a 4-in-1 model that can fry, roast, bake, and reheat. The 6-qt fryer is large enough to cook a 2-pound bag of fries or a 4-pound chicken.
There are a total of 8 buttons on the touch screen which allow you to set up and control the air fryer. You can set the timer, temperature, or simply select a preset mode for cooking. Consuming less oil is definitely great for your health and saving money by getting a 50% discount is great for your wallet.
Grab this deal before it is too late!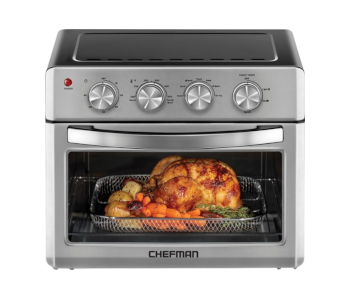 CHEFMAN 25-L Air Fryer
Original Price: $199
Black Friday Price: $99
Last but not least, Best Buy is offering a 50% discount on CHEFMAN air fryer. This fryer has a massive capacity of 25 liters. The design is like a conventional oven with plenty of space to cook a variety of foods. An open design also makes it easy to clean this air fryer after you are done with the cooking.
You can set the timer and cook your food to perfection. This air fryer packs in 1500 watts of power. You will get a 1-year manufacturer's warranty as well with the CHEFMAN air fryer. The price for this fryer is $99, which is half the amount of the original $199 price.
Some other deals worth checking out: