8 Best Air Remotes for TVs
3D Insider is ad supported and earns money from clicks, commissions from sales, and other ways.
You could go with the little clicker that comes with your new Android TV Box, you really could. But, why would you when there are significantly better options available?
Traditional remotes, even smart TV remotes, aren't designed for the kind of functions an Android TV box gives you. Browsing the web, playing games, and even navigating the main Android menu is easier if you have a remote designed to work with those functions.
An Air Mouse remote allows you to navigate menus and apps with a point and gesture, much like using a Wii Remote. Many include a miniature QWERTY keyboard for typing and internet searches. Or, you could go with a slightly different design, and get a keyboard with a touchpad instead of a point function.
While these remotes are still relatively new there are still plenty of options available. While some remotes are high-quality convenient solutions, others are hardly better than the remotes provided when you first purchase an Android TV box.
In this article, we'll discuss some of the best air remotes. We'll cover the pros, cons, and details of each one. Bu the end, you'll have a better sense of what makes a good air remote, as well as a shortlist of the very best devices.
Let's get started!
Budget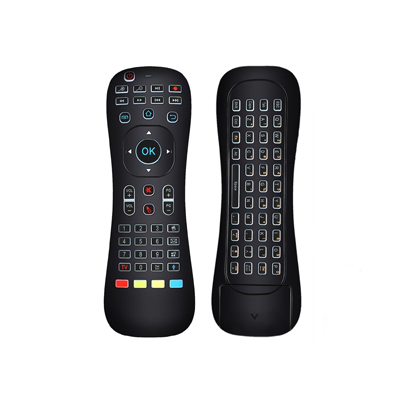 Linkstyle Updated Air Mouse
4.4/5.0
Style: Multifunction TV Remote
Standout Feature: Curvier Ergonomic Design
Widely compatible, includes a microphone for voice control.
Check Amazon
Best Value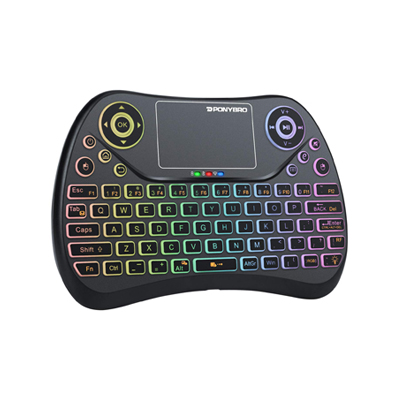 PonyBro Mini Wireless Keyboard /Touchpad
4.7/5.0
Style: TV Remote, Keyboard, Controller all-in-1
Standout Feature: Choice of 7 backlighting colors
Widely compatible, many different control styles and options.
Check Amazon
Top Pick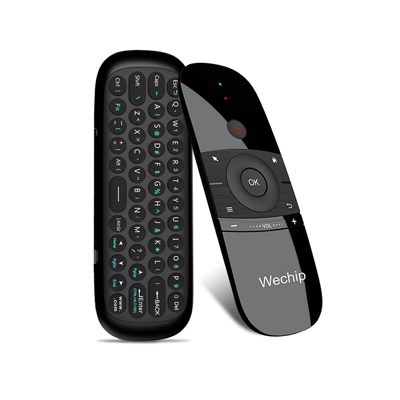 WeChip Fly Mouse W1
4.8/5.0
Style: Multifunction TV Remote
Standout Feature: Battery Saving Auto-sleep
Every remote in this model comes from the same factory – consistent results.
Check Amazon
Range
Range is an important consideration, but more isn't always better. Think about the size of the main room you want to use the air mouse in. As long as the range is sufficient for that room, you have plenty.
The reason loner range isn't always better is that your devices can compete and interfere with one another. A long-range means more interference though more of your home.
Battery
Rechargeable batteries are great. In air mice, they are the norm. But a good rechargeable battery should last you days and weeks, not hours.
Unfortunately, since battery testing happens in more controlled environments than your home, the manufacturer advertised battery life isn't always accurate. Instead of relying on the remote specs alone, seek out user reviews. A remote that eats through battery will have reviews talking about it, trust us.
Additional Features
Many air mice come with a host of additional features like wireless and Bluetooth, voice control microphones, and game controller functionality. While QWERTY keyboards are almost common enough to be considered a design feature of air remotes, they aren't universal.
These features don't necessarily make or break it, except when they are. Think about what you need and how you want to use your smart TV, Android TV box, or HTPC. If you already have a voice remote, a microphone is likely more important to you than others.
Or, many you need a larger keyboard, and forgoing the traditional remote design for a more complete keyboard makes more sense.
Whatever your particular requirements are, take the time to make sure they are in line with how you want to use your devices and your current remote and TV habits.
Hopefully, you have a better sense of the best TV remotes on the market, in addition to which features are most important to you. We're confident in each of the remotes on this list, but the right device is a combination of quality construction and meeting your particular needs as a consumer.
No one remote is right for everyone, but these are some of the best.
8 Best Air Remotes Comparison Table
8 Most Convenient Air Remotes: Detailed Review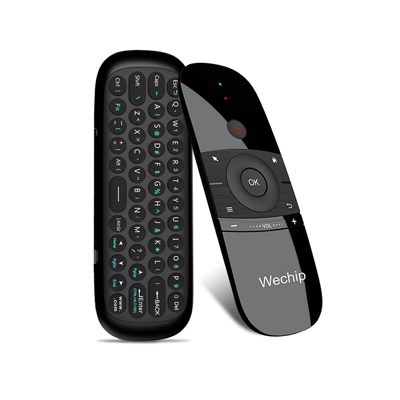 View on Amazon
Editors Rating: 4.8/5
The WeChip combines a minimalist remote with a full QWERTY keyboard. It's also one of the more accurate air mice you can get, with minimal mouse drift on the screen.
The keyboard rests on the back of the remote. The whole thing is 6 inches by 2 inches, big enough that most people should be able to thumb-type comfortably. If you had a phone with a full keyboard, back in the days before true smartphones, this keyboard is similar. Even a little larger.
Using a USB chip makes setting up the remote simple. No more codes or complicated IR connections. That said, it doesn't have quite the versatility of a WiFi or Bluetooth connection. And, requiring a USB connector does mean losing a USB connection to the remote, limiting the other devices you can connect.
However, there are few things as satisfying as opening a box, installing remotes, and immediately being able to use your new remote.
The batteries are included, and rechargeable. It's a fairly long-lasting charge, fortunately. Most people can get about a week of use out of a single charge. Other rechargeable models may only last a day or two, making this version more impressive.
We recommend trying to make charging the battery part of your weekly routine, plugging it in before going to bed on Friday for instance, so you aren't caught without a remote in the middle of a movie.
You'll want to purchase a separate controller if you want to take advantage of apps, games, or console emulators. The minimalist design on the front of the remote is perfect for streaming and running most media, but won't serve as a game controller.
Tech Specs
Dimensions: 6" x 2"
Connectivity: USB connection
Keyboard: QWERTY keyboard
Weight: 3 Oz
Compatibility: Compatible with most computer, phone, and TV operating systems
The Pros
Keyboard on the back
Can use IR learning to map and take over the function of other remotes
Rechargeable battery
Easy setup
Auto-sleeps after 15 seconds without use
Every remote in this model comes from the same factory – consistent results
The Cons
USB connection eats a USB port on your TV, HTPC, or TV box
Not an effective design for a controller
No WiFi or Bluetooth compatibility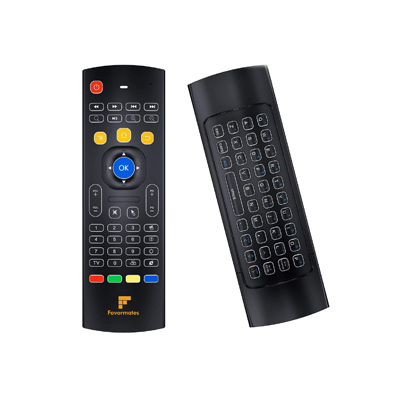 View on Amazon
Editors Rating: 4.6/5
Favormates' MX3 goes the other direction from the WeChip remote. Instead of a minimalist design, the top of this remote looks like a traditional remote more than a Smart TV remote.
Like the WeChip, it has a full QWERTY keyboard on the back. Almost 7 inches long, you've got a little more typing space as well. That's an important bonus if you have larger hands since you'll have fewer typos and hand cramps.
The remote is also able to learn up to 5 IR functions from your other remotes. Use it to turn on several devices together, or to completely replace your Blue-Ray/DVD remote. There aren't any limitations on what kind of IR function it can learn. Set it up with whichever home theater devices make the most sense.
It's also a highly accurate mouse. While there is a little drift on occasion, it's still very reliable. It's also accurate enough to use for point and click games and apps. If you have an Android TV box or are running a Home Theater PC (HTPC), you'll be able to interact with a wide variety of entertainment.
It does require a USB connection to interact with your TV box or HTPC, but they also provide number codes to help you pair the main remote to your TV.
The brightly colored white and primary color buttons are easy to see in any reasonable level of light. It also features adjustable brightness LED backlighting. Both the remote side and the QWERTY keyboard are lit.
The MX3 also gives you wireless connectivity. The wireless provides up to 10 meters of effective remote range.
It's also a rechargeable remote, but it doesn't seem quite as long-lasting as the WeChip. You'll get a few days consistent use, but many users are better served charging the remote overnight.
Tech Specs
Dimensions: 6.8" x 2.1"
Connectivity: USB connection and remote pairing codes
Battery: Rechargeable Lithium battery
Compatibility: 5 IR compatible buttons
The Pros
Adjustable LED backlighting on both sides of the remote
Wireless connection for added range
Also uses USB chip for easy setup
Up to 5 IR learning connections
Works with Windows, HTCP, Android, and several other OS
Gyro Sensors provide more accurate read of the remote's location
LED lighting on both sides
The Cons
Doesn't work well with Roku and other streaming devices
Battery life is relatively short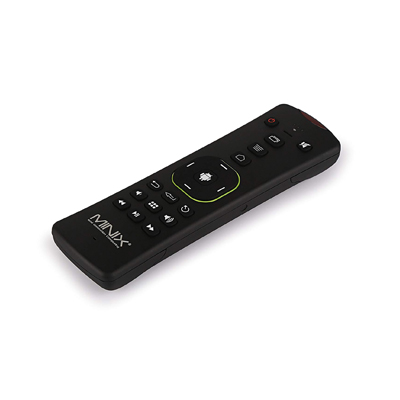 View on Amazon
Editors Rating: 4.1/5
The NEO A2 is designed specifically for the Android system and works especially well with Android TV boxes. However, since both Amazon Fire and NVIDIA Shield work with the Android system, it's compatible with a range of TV smart boxes.
Like many of the other remotes on our list, this one has a keyboard on the back of the remote. But, it's a slimmer design than most. We'd recommend this as a good remote option if you have smaller hands, or don't mind typing on a cramped thumb keyboard.
Just under 5 inches long, it's not too short, which would make it easier to lose. But it's not too large to be comfortable.
It uses gyros to provide ease of use in its air mouse function. It gets a very accurate read of its location and position, which transmits to the receiving device.
However, its playback controls are only compatible with a limited number of devices, so this remote is less universal than most. It's perfect if you have a compatible system, but may be frustratingly limited if you do not. Be sure to check its compatibility with the made, and the model, of your system before you purchase.
Tech Specs
Dimensions: 4.7" x 2"
Connectivity: IR Power button
Keyboard: Full QWERTY Keyboard on the back
The Pros
One of the more accurate air mouse remotes
No need for hard surfaces
Minimalist style doesn't overly clutter the front
Smaller but still functional QWERTY keyboard
Good remote for smaller hands
Designed to work with Minix boxes
The Cons
Limited compatibility
Tends to run through batteries quickly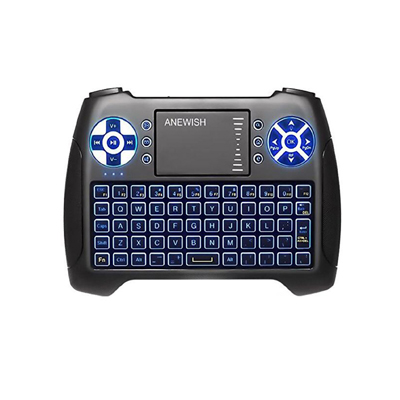 View on Amazon
Editors Rating: 4.5/5
Going ina slightly different direction, this keyboard is a combination between a game controller, a keyboard, and a remote. It's not shaped like a traditional remote. It adds significantly more functionality to your system.
The Anewish board is a good choice if you're running an Android Box or an HTPC with a few more functions than your typical smart TV or streaming device. While you can use the Anewish for android streaming devices like Amazon Fire, it's design is a little clunky for a standard Smart TV UI.
However, if you're looking for something that lets you use your TV more like a computer, this style of air remote may be a good choice.
The Anewish uses a combination of a touchpad, a keyboard, a directional pad, along with standard media controls to provide both TV and computer functions. Instead of looking like a more advanced remote, it's more like a tablet combined with a gaming controller.
It's also widely compatible. You can use it with your Smart TV, your PC, Xbox, and several other devices and operating systems.
Like most of the remotes we've discussed so far, it uses a USB chip to work with your chosen device. Since there isn't any complicated setup, it's simple to switch out what you're working with.
Close to 5 inches square, it's neither too small nor too large to sit on a table and be functional in your hands. The blue backlight is eye-friendly. Although, we do want to note that blue lights have been linked to insomnia in some studies, so it may not be a great remote if you already have trouble falling asleep.
Tech Specs
Dimensions: 5.8" x 4.2"
Weight: 5.11 Oz
Includes: Includes QWERTY keyboard, touchpad, directional controls, and media playback controls
The Pros
Incredibly versatile design
One of the best options for HTPCs and Android systems
Good choice for gaming apps and emulators
Easy to type and use search functions
Playback controls are easy to see
Fully backlit
Rechargeable lithium-ion battery
Fully backlit
The Cons
Backlighting is in blue, and not adjustable
Touchpad less intuitive that gesture control
Not compatible with non-Android/Windows streaming systems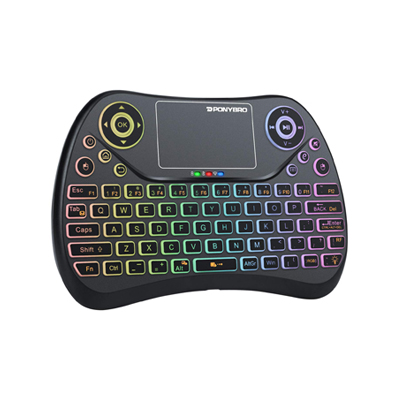 View on Amazon
Editors Rating: 4.7/5
Another keyboard pad remote, the PonyBro mini wireless is a more advanced alternative. If you're looking for a keyboard that will interface well with your HTPC, Android, and other smart devices with only a USB plugin, this may well be a good choice.
Its rainbow backlighting isn't as harsh as either white or blue backlight. But, if you don't like the rainbow coloration, you cal also switch between each of 7 color settings or turn the backlight off entirely.
It's got a rechargeable lithium-ion battery that lasts for many hours of use. And, in addition to the USB connection, it also works through 2.4 GHz wireless connection.
The addition of the wireless connection means you have an extended range. Up to 10 meters, or roughly 33 ft, of operational space, means you can use this keyboard in even the largest home theaters.
Full compatibility with Windows, Mac, Android, and Linux means that you'll be able to connect your PonyBro keyboard control to most TV boxes, HTPC systems, and other media devices.
Tech Specs
Dimensions: 6.3" x 4.3"
Connectivity: USB and 2.4 GHz wireless connectivity
Battery: Rechargeable lithium-ion battery
Weight: 4.5 Oz
Warranty: 12-month warranty
The Pros
Widely compatible
Offers some customization settings
Long-lasting battery
Many different control styles and options
USB easy setup
Wireless connectivity for added range
Multiple backlight colors for eye comfort
60-day satisfaction guarantee
The Cons
Button mapping not ideal for Samsung devices
Difficult to adjust button sensitivity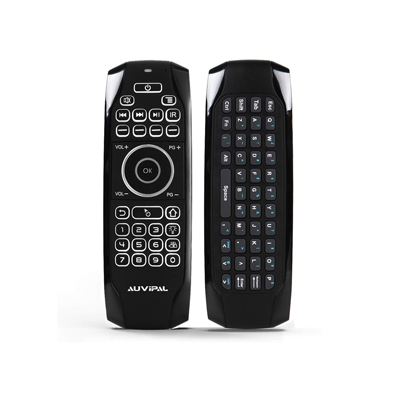 View on Amazon
Editors Rating: 4.3/5
Returning to a more traditional look remote, the G9 is another take on a traditional TV remote with a keyboard and air mouse features.
The front of the remote looks mostly like you what you would expect from a TV remote, except that the channel buttons have been replaced by page up and down. Otherwise, media playback controls, the directional pad, volume control, and number pad are all the same.
On the back, there is a small QWERTY keyboard. It's just under 7 inches tall but slightly narrower than other alternatives.
The AuviPal also features 5 IR programmable buttons. Like some of the other remotes on our list, that's enough IR functionality to partially take over the role of another remote.
Ultimately, while this is a solid new remote, it's features and functionality are similar to several other remotes on our list. It's one of the newest offerings, which may mean more ongoing support and durability. But, at the end of the day, the biggest distinguishing features on this remote are it's slightly longer profile and different aesthetic choices.
Tech Specs
Dimensions: 6.7" x 2.2"
Connectivity: No Wireless or Bluetooth
Includes: User's Manual included
Compatibility: Compatible with Android, Mac, & Windows
The Pros
Rechargeable Lithium Polymer battery
USB connectivity
5 programmable IR keys
Works with NVIDIA Shield
The Cons
No wireless or Bluetooth connectivity
Not a serious con, but there aren't any standout features in this air mouse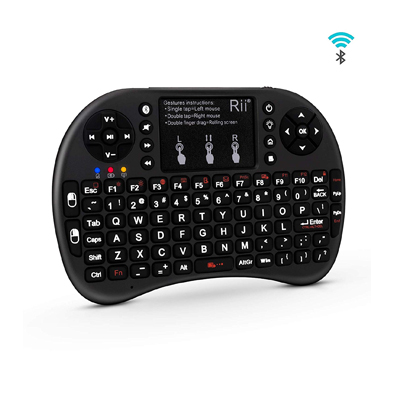 View on Amazon
Editors Rating: 4.6/5
Another keyboard and touchpad option, the Rii line seems to inspire a lot of brand loyalty in users. While roughly comparable with the other keyboard and touchpad combinations on our list, users who dislike the other options are often pleased with the Upgraded i8+. The converse is also true, users who don't like Rii seem to prefer the Anewish line.
That said, this keyboard comes in several bright colors. While normally we wouldn't consider aesthetics a major factor one way or another, in this case, it's a useful feature.
If you're prone to losing your remotes and gaming controllers, buying a bright color will make it easier to find this keyboard.
It also has a slightly different layout, putting the home and other functional buttons to the left of the directional pad. This placement makes a little more sense if you want to primarily operate the keyboard with your thumbs since it's well within thumb reach
It's also one of the more widely compatible options. This keyboard will work in with most gaming consoles, computer systems, as well as Android and IPTV.
Bonus: : it's Bluetooth enabled!
Tech Specs
Dimensions: 7" x 4"
Connectivity: Bluetooth compatible
Transmission rate: 1 Mbps
The Pros
Widely Compatible
Slightly different keyboard design is easier to use
Comes in several brighter colors, hard to lose
Rechargeable lithium batteries
Has Bluetooth functionality
45-day customer guarantee, 12-month warranty
More expensive than similar models
3 minutes idle before auto-sleep mode
The Cons
Can be tricky to set up
Range is more limited than other models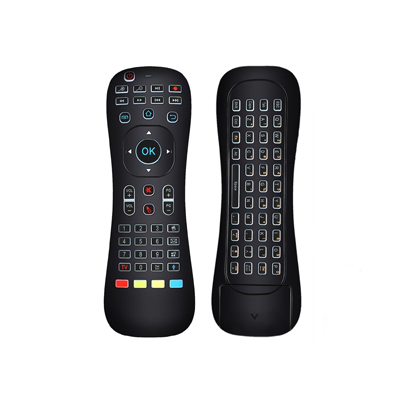 View on Amazon
Editors Rating: 4.4/5
For our final remote on this list, the Linkstyle is a more ergonomic option that still provides the quality performance you need a good air remote.
The curved sides on this remote make it easier to hold in your hand. We were a little concerned, the first time we looked at this remote, that the curvy design would get in the way of typing with the keyboard on the back. Fortunately, the design doesn't seem to get in the way.
It is a slightly narrower keyboard than many. But, to compensate, Linkstyle has spaced the keys out a little more, making typing a breeze.
Many of the buttons on this remote have just a touch of color. Combined with the backlight on the remote, it's easy to use, day or night.
Using both wireless connectivity and a USB port, it's compatible with a wide range of devices. In addition to the standard computer OS and Android connectivity, you can use this remote with your iPad, Xbox, and PlayStation.
It also features a microphone. If your system is voice control enabled, you'll be able to use those features with this remote.
Tech Specs
Dimensions: 8" x 2"
Connectivity: Wireless and USB connection
Keyboard: Up to 5 keys can learn IR functions
Battery: Requires 2 AAA batteries (not included)
Compatibility: Voice Input Microphone
The Pros
Widely compatible
Includes a microphone for voice control
Accurate Air Mouse
Both wireless and USB connectivity
Ergonomic design
The Cons
Setup takes longer than most air mouse remotes
Drains batteries quickly
Conclusion
We wanted to take a moment, as we wrap up, to cover some of the most important features you should consider for your new air mouse.