Airobotics Making Completely Autonomous Drones A Reality
3D Insider is ad supported and earns money from clicks, commissions from sales, and other ways.
Airobotics has produced a fully automated, industrial grade, on demand, and multipurpose flying drone. Company co-founder, Ran Krauss, first started out making flying tools for photographers but was unable to make much profit because the price of drones was decreasing every day. In 2014 he decided to make drones for industrial uses.
One of the first implementations of Airobotics drones came in December of 2014 when there was an oil leak at the Evrona oil field in Israel. Airobotics provided an eagle's eye view of the situation but Krauss realized that manual piloting was time consuming and expensive. It was then that it occurred to him that automatic drones would be more beneficial.
Self-Flying Drones Take to the Skies
The Airobotics Optimus is an autonomous drone and it gained approval in March 2017 from the Civil Aviation Authority of Israel. Ran Krauss has described this event as making history and a next generation milestone.
Airobotics' fully automated drone uses a UAV system to function without manual operators. The drone can take off, fly for 30 minutes, and then land all without any human guidance. Usually the toughest part of the operation is landing so Airobotics has worked hard to make sure the landings are smooth and safe.
Revolutionary Features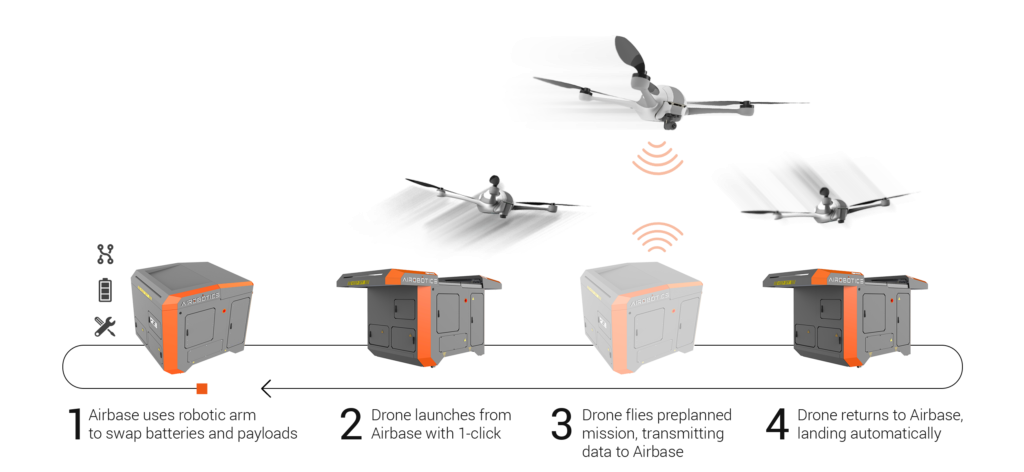 The self flying drone is completely autonomous and comes equipped with multiple tools. For starters the drone can carry up to 1 kg of extra weight at 36 kilometers per hour for 30 minutes. It also has a robotic arm to swap its own batteries eliminating the need to recharge it.
Notably the drone is equipped with a camera that can live stream events. This opens the door for so many uses. It can be used in businesses such as agriculture and mining for a live monitoring of the operation. It's especially useful in emergencies such as the oil leak mentioned above and perhaps during a gas leak. These are situations where human reporting would put employees in danger.
The system which performs the entire operation consists of the drone, a cloud based software, and a docking situation. Optimus also contains a parachute in case anything goes wrong.
The Future of Airobotics
The company is currently expanding. It has opened in office in Perth, Australia. Optimus is surely just the beginning for Airobotics. There are no limits to using an autonomous drone and the additions that can be made to it are countless. Surely its use in businesses for an aerial view is just a fraction of its full potential. Optimus can definitely be customized according to certain needs and may revolutionize industries.
Krauss has stated that they plan to roll out Optimus to a number of facilities in the United States, Singapore, and Japan. One day we'll see future versions of Optimus all over the world.