Airpods Pro and Airpods 2 vs Beats Pro
3D Insider is ad supported and earns money from clicks, commissions from sales, and other ways.
The release of the Airpods Pro has shaken up Apple's catalog of audio devices, with the new product blurring the lines between the more casual Airpods 2, and the premium PowerBeats Pro. This, of course, raises a number of questions for consumers, as it has become increasingly difficult to see which model truly reigns supreme.
Should you upgrade to the Pro model from the standard Airpods? And, are the PowerBeats Pro still king when it comes to Apple's earphone lineup? Let's find out.
Design
| Model | Ear Tips | Body | Ear Hook |
| --- | --- | --- | --- |
| Airpods 2 | Plastic | Plastic | None |
| Airpods Pro | Silicone | Plastic | None |
| PowerBeats Pro | Silicone | Plastic | Silicone |
The Airpods 2 and Airpods Pro both feature a minimalistic design that offers very little in the way of gimmicks. The PowerBeats Pro, on the other hand, have a more conventional sporty design, highlighting their target market.
The standard Airpods are equipped with plastic ear tips, making them easy to insert into your ears, as they require little to no adjustment. The downside to this design, however, is that the Airpods end up dangling in your ears rather than sitting securely, which can leave them prone to falling out, especially during exercise.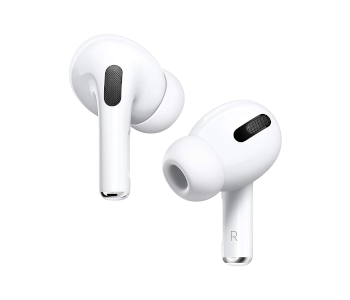 The Airpods Pro and PowerBeats Pro both use silicone ear tips instead, which allows them to achieve a snug fit inside your ears, reducing the likelihood of them coming loose. Silicone ear tips are also generally preferred from an audio quality perspective, as their positioning inside the ear allows for a better listening experience, compared to plastic alternatives.
Using the right size silicone ear tips can also provide you with a basic level of passive noise cancellation, as an air-tight fit can block out some of the sounds from your surroundings. The issue with these tips, however, is that they can be uncomfortable at times, especially if the tips are too big for your ear canals.
Each of the earphones features a plastic casing, which should provide enough durability, as long as you don't accidentally step on them. The PowerBeats Pro also comes with a silicone ear hook, making them the most secure option out of the three and, therefore, the best choice if you plan to use your earphones while exercising.
The PowerBeats Pro also feature a number of physical buttons, something that both models of the Airpods lack. Whether you prefer physical buttons or the Airpods touch controls is a matter of personal preference. However, it's nice to see that Beats choosing to stick with tried and tested methods of interaction, at least for now.
Airpods Pro: +1
PowerBeats Pro: +1
Audio Technology
Model
Chip
Drivers
Noise Cancellation
Airpods 2
H1 Headphone Chip
N/A
None
Airpods Pro
H1-based System
Custom High-
excursion Apple
Driver
Active noise
canceling
PowerBeats Pro
H1 Headphone Chip
Custom Linear Piston
Driver
None
All of the earphones feature Apple's new H1 headphone chip, which has been designed to replace the previous generation of Airpods W1 processor. The H1 chip brings with it a number of incremental improvements, but the most noticeable include 30% lower latency compared to the previous chip, and the inclusion of Bluetooth 5.0. The H1 chip is also responsible for the super-fast connection times being boasted by the Airpods, meaning the PowerBeats Pro also benefit from this feature.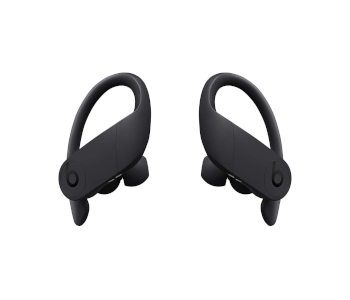 One the Airpods Pro, the H1 chip is also responsible for dealing with its active noise cancellation feature, something that the other two earphones in this guide are lacking. Active noise cancellation works by picking up ambient noise from your surroundings and then producing a wave that is 180 degrees out of phase with that noise in order to cancel it out.
Up until now, this feature has been a rare commodity among truly wireless earbuds. But, hopefully, now that Apple has included it on the Airpods Pro, we will begin to see it emerge on other products.
The Airpods Pro also feature an adaptive equalizer, which it uses to optimize sound. It's a nice touch, especially if you listen to a variety of different music from different sources. However, we recommend avoiding equalizers if possible, as they can sometimes lower the quality of sound depending on how they manipulate it.
When it comes to overall sound quality, both the Airpods Pro and the PowerBeats Pro outperform the Airpods 2. However, due to the inclusion of active noise cancellation, the winner in this category is the Airpods Pro. Being able to block ambient noise allows the Airpods Pro to create a slightly richer listening experience compared to PowerBeats Pro, although you are unlikely to be disappointed by either product.
Airpods Pro: +1
PowerBeats Pro: +1
Battery Life
| Model | Listening Time | Talk Time |
| --- | --- | --- |
| Airpods 2 | 5 hours per charge | 3 hours per charge |
| Airpods Pro | 4.5 hours per charge | 3.5 hours per charge |
| PowerBeats Pro | 9 hours per charge | N/A |
When it comes to battery life, it is clear to see that the PowerBeats Pro have a significant advantage over both models of the Airpods. On a single charge, the PowerBeats Pro can last up to nine hours, which is double the four and a half hours being sported by the Airpods Pro. The Airpods 2 doesn't fare much better than this, boasting a maximum battery life of five hours between charges.
PowerBeats Pro: +1
Case
| Model | Number Of Charges | Wireless Charging | Ports |
| --- | --- | --- | --- |
| Airpods 2 | 4 | Yes/No | 1 x Lightning Port |
| Airpods Pro | 4 | Yes | 1 x Lightning Port |
| PowerBeats Pro | 2 | No | 1 x Lightning Port |
The Airpods 2 and Airpods Pro both feature a glossy white case complete with an LED indicator and a Lightning Port. both cases are easily portable and should fit into most if not all pockets. However, the Pro case is slightly larger, due to the increased size of the Pro buds compared to the standard Airpods.
The PowerBeats Pro case is significantly larger than the other two cases. This makes it less pocketable than the other two cases, but in general, its size shouldn't affect portability too much. The PowerBeats Pro case also features a Lightning Port, rather than a USB-C port, which is a clear indication that the product is primarily for iPhone users.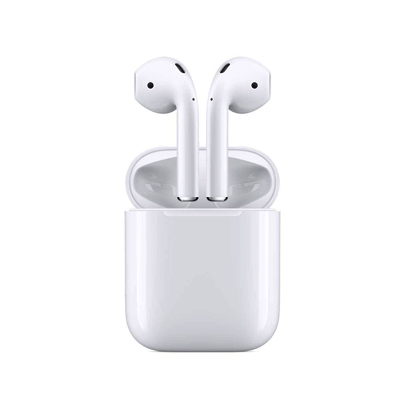 On the surface, it may seem like the PowerBeats Pro case underperforms compared to the other two cases, as it can only provide two charges at a time, compared to the Airpods four. While this is the case, it is important to remember that the Powerbeats Pro buds last twice as long as Airpods, meaning that in the end, each case is able to provide a similar level of performance.
The Airpods 2 can be purchased with either the standard charging case or the newer wireless option. This is a nice touch, especially if you are working with a tighter budget. However, considering the Airpods 2 only offers minor upgrades compared to its predecessor, we can't help but feel as though the wireless charging case should come as standard.
The Airpods Pro case also features wireless charging. However, this feature is missing from the PowerBeats Pro. This is pretty disappointing considering the device's price point, but it is something that will likely be addressed in the following model.
Airpods 2: +1
Airpods Pro: +1
Price
Model
Approximate Price
Current Price
Airpods 2
$160 (with standard charging case)
$200 (with wireless charging case)
Check Price
Airpods Pro
$250
Check Price
PowerBeats Pro
$200
Check Price
The Airpods 2 vary in price depending on whether you opt for the standard case or the wireless option. Unless you already own a Qi charger or plan on getting one, there really isn't any need to spend the extra on the wireless charger. However, you may feel inclined to do so from a future-proofing perspective.
The Airpods Pro retail for around $250, which isn't cheap, but at the same time, it is somewhat reasonable considering the extra features they offer compared to the standard Airpods. The PowerBeats Pro comes in at a more reasonable $200. Although, as mentioned, the product lacks wireless charging as well as active noise cancellation.
Airpods 2: +1
Total Score
Now that we've compared the main aspects of each product, let's tally up the final scores.
| Model | Score |
| --- | --- |
| Airpods 2 | 2 |
| Airpods Pro | 3 |
| PowerBeats Pro | 3 |
Winner: Airpods Pro
Runner Up: PowerBeats Pro
Verdict
If you are looking to get the best package possible, the Airpods Pro are the way to go. They offer a number of advanced features not found on the other two devices, and their compact design makes them an excellent addition on your travels.
If you plan on doing a lot of exercise with your earbuds, we recommend opting for the PowerBeats Pro. These earbuds might not feature active noise cancellation. However, their design allows them to stay securely fastened to your ears while still packing enough quality in the sound department for an adequate listening performance.