Airpods Pro vs Airpods 2 vs Airpods 1
3D Insider is ad supported and earns money from clicks, commissions from sales, and other ways.
Apple Airpods have become something of a phenomenon in recent years. After enduring a fairly critical inception phase, these earphones have quickly become something of an icon in modern culture, amassing an almost cult-like following in the process.
Aside from the internet hype and countless memes, however, Airpods are actually a pretty decent product. And now that Apple has released multiple models of the gadget, its time to pit them against each other to see which model reigns supreme.
Design
Model
Eartips
Arms
Microphone
Airpods
Plastic
Plastic
Located at the bottom
of the arms
Airpods 2
Plastic
Plastic
Located at the bottom
of the arms
Airpods Pro
Silicone
Plastic
Located at the bottom
of the arms
All models of the Airpods adhere to the iconic styling principles we have come to expect from Apple products. They're simple-looking, minimalistic, and easy to use and understand. There are no gimmicks involved, and everything about them feels refined and well thought out.
Both the original Airpods and the Airpods 2 feature a design almost identical to Apple's wired earphones, the Earpods. This makes sense, given the success of the Earpods. However, many have mocked and criticized this design choice, comparing the Airpods to the likes of a toothbrush head, and other similarly shaped objects.
The Airpods Pro have also encountered some criticism for their appearance. However, thanks to the product's inclusion of silicone ear tips, it has managed to dodge certain comparisons thanks to its more conventional aesthetic.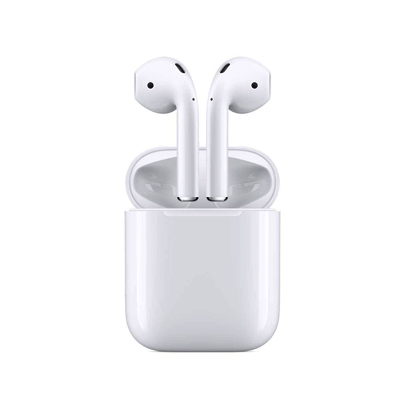 Another common criticism of the Airpods is the fact that they look like a regular pair of earphones with the cables cut off. This may be true, but the design choice is actually a very functional one, as it has allowed Apple to place the microphones at the bottom of the earbuds and closer to your mouth. This makes voice calls a lot clearer for the person on the other end of the line, giving the Airpods the edge over the likes of the Samsung Galaxy Buds and many other wireless earbuds in this department.
All models of the Airpods should fit comfortably in your ears. However, it will mainly come down to personal preference as to whether you prefer the silicone ear tips or the loose-fitting plastic ones.
If you intend to do a lot of sport or fitness-related activities with your Airpods, the Pro model will be the better option to go for. This is because the silicone ear tips provide a snug fit compared to their plastic counterparts, which should prevent them from falling out of your ears during most forms of exercise. The Airpods Pro are also water-resistant, whereas the regular Airpods are not.
Alternatively, if you prefer your earphones to rest in your ears with a more casual fit, the standard models will be a better option for you. Their plastic earbuds aren't going to provide the same reliability in terms of sticking to your ears, but you will at least be able to avoid the pressurized feeling people often complain about with silicone ear tips.
Airpods Pro: +1
Audio Technology
Model
Chip
Drivers
Amplifier
Noise
Cancellation
Airpods
W1 Headphone
Chip
N/A
N/A
None
Airpods 2
W1 Headphone
Chip
N/A
N/A
None
Airpods Pro
H1-based
System
Custom High-
excursion Apple
Driver
Custom High
Dynamic Range
Amplifier
Active noise
canceling
One of the most important aspects of the Airpods to compare is the technology inside of each device. Unfortunately, in typical Apple fashion, the company has failed to disclose a lot of the audio specifications in the standard Airpods, but we have at least been given plenty of information about the Airpods Pro.
One of the main differences between the Airpods and the Airpods 2 is that the latter uses the new H1 chip, rather than the older W1 chip. The main benefit of this chip is that it provides 30% lower latency compared to the previous chip. However, the H1 chip also comes with Bluetooth 5.0, which offers significantly improved wireless range, and double the speed of its predecessor.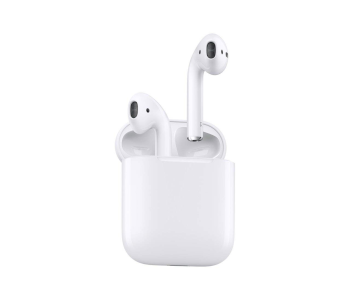 The Airpods Pro also makes use of the H1 chip. However, on the Pro model, things are a little more complicated, as the chip is responsible for dealing with noise cancellation and equalization, features that the standard Airpods models lack.
The noise cancellation technology used on the Airpods Pro is called active noise cancellation. This technology works by first using a microphone to pick up ambient noise in your vicinity. It then creates a wave that is 180 degrees out of phase with the ambient noise in order to create a cancellation effect.
This feature makes the Airpods Pro a far more advanced product than either of the standard Airpods models, hence the 'Pro' moniker. The inclusion of an adaptive equalizer is also a nice touch for the Airpods Pro. However, we recommend trying to use this feature as little as possible, as it can reduce the quality of sound in some cases, especially if certain frequencies get turned up rather than down.
In terms of the overall sound, the Airpods Pro is the clear winner here. It offers far more in the way of tuning, and its extra features make it a more advanced product for those who care about audio quality. The standard Airpods don't sound bad, but compared to the Pro version, they simply can't compete.
Airpods Pro: +1
Battery Life
| Model | Listening Time | Talk Time |
| --- | --- | --- |
| Airpods | 5 hours per charge | 3 hours per charge |
| Airpods 2 | 5 hours per charge | 3 hours per charge |
| Airpods Pro | 4.5 hours per charge | 3.5 hours per charge |
The battery life of each model of the Airpods is pretty much the same. Although, the Airpods Pro are likely to run out of juice a little sooner if you are using the noise cancellation feature. In terms of talk time, all models should be able to last at least three hours, with the Pro model giving you closer to three and a half hours in most cases.
Airpods: +1
Airpods 2: +1
Airpods Pro: +1
Case
| Model | Number Of Charges | Wireless Charging | Ports |
| --- | --- | --- | --- |
| Airpods | 4 | No | 1 x Lightning Port |
| Airpods 2 | 4 | Yes/No | 1 x Lightning Port |
| Airpods Pro | 4 | Yes | 1 x Lightning Port |
There are currently three different Airpods cases, including the standard first-generation case, a newer wireless option, and a redesigned Pro version. Each of these cases comes with a single Lightning port for charging. However, both the Wireless version and Pro version can also be charged wirelessly with any compatible Qi charger.
At full power, each case will charge your Airpods around four times before running out. This is great to see, as it means you don't need to invest in the Pro model, just to get better performance from its case.
The Pro case is slightly larger than the standard case, which hinders its portability somewhat. However, both versions are easily pocketable, so it shouldn't cause too much of an issue.
One thing worth noting is that you can buy the Airpods 2 with either the standard case or the wireless case. The latter will, of course, cost slightly more, but it adds an extra layer of convenience to the product, provided you already own a wireless charger.
Airpods: +1
Airpods 2: +1
Airpods Pro: +1
Price
Model
Approximate Price
Current Price
Airpods
$160
Check Price
Airpods 2
$160 (with standard charging
case)
$200 (with wireless charging
case)
Check Price
Airpods Pro
$250
Check Price
Airpods have never been viewed as a cheap product, with many arguing that they don't offer much in the way of value for money. This may be true when you compare them to their competition, but for the most part, the pricing isn't too obscene.
The original Airpods cost around $160, which isn't too bad, but considering the newer version can be bought for the same price, you might as well opt for them instead. If you would prefer to buy the Airpods 2 with the wireless charging case, you will most likely need to invest around $200 if buying brand new, unless you can find a good deal. This isn't a massive increase in price, but it can be argued that the wireless case should come as standard to show the Airpods 2 are a significant upgrade from the original.
The Airpods Pro are, of course, the most expensive option out of the three, retailing for around $250 in most places. This makes them rather pricey for a pair of truly wireless earphones, but when you compare the Pro model to the originals, it is clear to see why this is the case.
Airpods 2: +1
Total Score
Now that we compared each version of the Airpods and assessed their pros and cons let's take a look at the final scores.
| Model | Score |
| --- | --- |
| Airpods | 2 |
| Airpods 2 | 3 |
| Airpods Pro | 4 |
Winner: Airpods Pro
Runner up: Airpods 2
Our Verdict
If you are a casual music listener, or you predominantly listen to podcasts and radio shows, there isn't any need to invest in the Pro model, unless you need the silicone ear tips. The standard Airpods offer more than enough audio quality for casual use, and their simplistic features make them a perfect companion to use on commutes and other short journeys.
On the other hand, if you consider yourself to be somewhat of an audiophile, the standard Airpods just aren't going to cut it. Their lack of noise cancellation will likely be a big miss for you, and their plastic ear tips aren't able to provide a rich listening experience. For these reasons, we highly recommend going for the Airpods Pro if you are looking for a complete package.