7 Best Alarm Clocks for 2020 – Smart and Programmable
3D Insider is ad supported and earns money from clicks and other ways.
Bringing a smartphone into the bedroom before hitting the hay is risky business.
The only thing we're supposed to do with it at that moment is set the alarm. Unfortunately, that turns into a binge of tech news, celebrity gossip, or social media posts more often than we'd care to admit. The solution is simpler than you might think – it's time to ditch the phone and return to the good old alarm clock!
Old is just a figure of speech here since modern alarm clocks have far more to offer than your granddad's buzzer. Some of them take current sleep findings into account and wake you up with a gentle sunrise simulation. Others let you listen to music and automate your home without having to glance at a screen. Most will even recharge that phone, so it's ready for tomorrow.
Here are the seven best alarm clock models you can get. While they vary in style and sophistication, all of our thoroughly reviewed clocks help you start the day refreshed and ready for any challenge. Check out their specs, read the reviews, and finally get a good night's rest.
Budget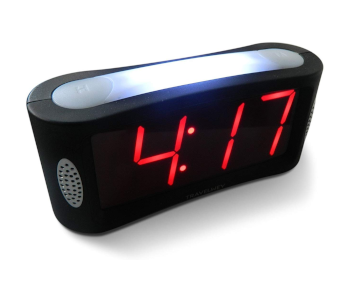 Travelwey Home LED Digital Alarm Clock
4.3/5.0
Weight: 1.1 lbs.
Built-in AI assistant: No
Has a night light and adjustable clock brightness.
Check Amazon
Best Value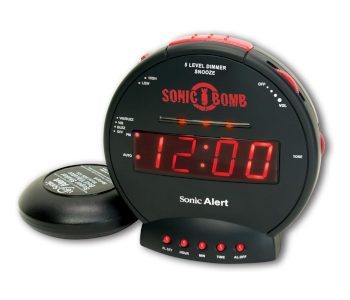 Sonic Bomb Dual Extra Loud Alarm Clock
4.6/5.0
Weight: 2.5 lbs.
Built-in AI assistant: No
This can wake up the heaviest sleepers in multiple ways.
Check Amazon
Top Pick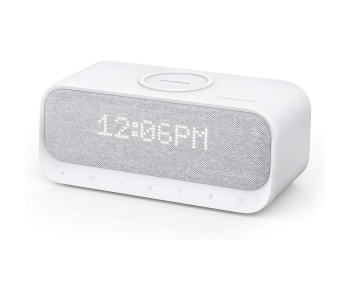 Anker Soundcore Wakey
4.7/5.0
Weight: 1.2 lbs.
Built-in AI assistant: No
High-quality speakers let you kick the day off with a bang.
Check Amazon
Alarm Clocks Comparison Table
1. Best Overall – Anker Soundcore Wakey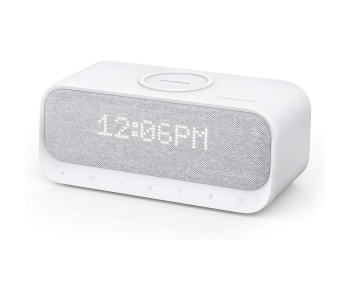 View on Amazon
Editor's Rating: 4.7/5
Do you like to start your mornings off by filling the room with rich, energizing music? In that case, Anker's Soundcore Wakey is the ultimate alarm clock. It comes with the company's trademark bass-heavy speakers but also has many more convenient features, including multiple chargers, an FM radio, and a noise machine. There's no better option if you feel that having an AI assistant in your alarm clock is overkill but want it to do much more than wake you up.
Overview of Features
We love the Wakey's minimalistic and unassuming design. It's a white box with rounded corners that has a fabric mesh in front where the large, bright display sits. Underneath are touch-operated buttons for setting the alarm or adjusting the volume along with one for Bluetooth.
Turning the Wakey around reveals two jacks and two USB ports. You can use the ports to charge two phones or tablets simultaneously. One of the jacks is meant for the FM antenna while the other connects devices like Hi-Fi stereos. On top of the Wakey is a circle that acts as a 10-watt wireless charger. Placing a smartphone in its center initiates charging, as indicated by a blue LED on the display.
You can set all of the clock's parameters either by using the touch controls or, more conveniently, through the Soundcore app. It's a visually appealing tool that lets you intuitively set alarm times, change the tune, or adjust the display brightness. There's also a sound machine setting that combines multiple noises like nature sounds or howling wind into soothing noise that will help you sleep better.
The Wakey has two 5-volt drivers that deliver excellent sound quality. It excels at delivering bass-heavy tracks and filling the entire room with sound. The mids and highs aren't as accented, but they sound clean and pleasant.
What We Didn't Like
The clock display is far too bright, even on the dimmest setting. Luckily, Anker issued a firmware update that lets you turn the screen off at night. It will only come on once you touch the clock. Even though you're getting a lot, close to $90 is much to ask for an alarm clock.
Tech Specs
Dimensions: 7.9 x 3.6 x 3.2 in.
Weight: 1.2 lbs.
Can charge other devices: Yes, 3
Built-in AI assistant: No
The Pros
High-quality speakers let you kick the day off with a bang
Can charge three devices at once, one of them wirelessly
Excellent companion app
Has a sound machine function
The Cons
Expensive
Display needs to be turned off at night because of brightness
2. Best Value – Sonic Bomb Dual Extra Loud Alarm Clock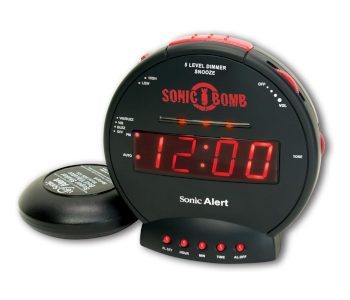 View on Amazon
Editor's Rating: 4.6/5
Heavy sleepers require drastic solutions to rouse out of bed, and the Sonic Bomb is as drastic as alarm clocks come. It relies on a multi-sensory approach and succeeds where smartphones and lesser clocks fail. It also comes with a 12-volt bed shaker that makes the clock a fantastic choice for people who are deaf or hard of hearing.
Overview of Features
True to its name, the Sonic Bomb looks like a timer for the explosive device in a 90s action movie. It is round and has a huge display. Three lights glow a bright orange-red along with a slew of buttons, toggles, and dials. The base model is colored in a contrasting mix of black and red, but there are other options, including camo or pink.
Multiple wake up options are the best thing about the Sonic Bomb. You can set up two alarms and arm either or both via a toggle. Each alarm can be set to wake you up either by flashing the lights, beeping, engaging the bed shaker, or through any combination of the three. The siren's maximum loudness is a deafening 113dB. You can control the pitch and loudness via two dials and come up with an annoying combination for quicker rousing.
The bed shaker is something you rarely see as part of an alarm clock. It's a puck-shaped device you tuck under a pillow or mattress depending on how much of a jolt you need. It vibrates fiercely and can wake the heaviest sleepers. Some people will even find this method more pleasant than loud beeping. Better yet, you may set the bed shaker as the only alarm and get up without waking your spouse or roommates.
Setting the alarm up is intuitive, thanks to a row of buttons. The process is quick since there's a fast setting for getting to the general time and a slow one for precise hour and minute selection. Hitting the snooze button will activate e the alarm again in nine minutes by default, but you can set it to anything from one to thirty minutes.
What's Bad About It?
The bed shaker doesn't have batteries and needs to be plugged into the Sonic Bomb instead. It does have a 6-foot cable, but a wireless option would have been better. The clock is made from cheap plastic and will likely stop working if mistreated.
Tech Specs
Dimensions: 7 x 7 x 6 in.
Weight: 2.5 lbs.
Can charge other devices: No
Built-in AI assistant: No
The Pros
Excellent value for the money
Can wake up the heaviest sleepers in multiple ways
In-depth alarm customization
A fantastic choice for deaf people
The Cons
Bed shaker is powered by cable
Flimsy build
3. Lenovo Smart Clock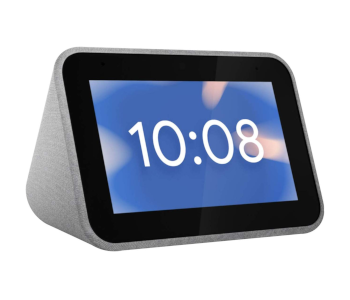 View on Amazon
Editor's Rating: 4.4/5
Lenovo's aim with the Smart Clock was to make a device that brings smart home control into the bedroom while remaining an unobtrusive alarm clock at its heart. The experiment was a resounding success as the Smart Clock packs just enough features to greatly improve your morning routine without pushing intrusive cameras into your bedroom. It's small, simple to use, and opens up a whole world of opportunities as a way to start your day.
Overview of Features
The Lenovo Smart Clock is a device that looks like a mini version of a computer monitor from 20 years ago. Its tapering frame is covered in gray cloth and features a single USB port in the back along with a button that toggles the microphone function. The screen in front has a resolution of 480×800, is bright, and responds well to input. It's small enough for the modest resolution to keep things sharp.
You can operate the Smart Clock in two ways. The limited, more hands-on approach is to use the screen. It greets you with a "good morning" dashboard containing a calendar, alarm settings, a weather forecast, and other pertinent info you'd want to take in once awake. Speaking to the Google Assistant is a more intuitive way of control, however.
The Assistant is an AI that controls all of the Smart Clock's aspects through voice commands. Moreover, it is the center of your smart home. It unifies all of your lights, alarms, smart thermostats, etc., into a harmonious and automated system activated through routines. Saying something like "OK Google, good night" can turn off all the lights, engage security cameras, and lock the front door without you having to leave the bedroom.
How much you want to interact with the assistant is entirely up to you. The Smart Clock has no camera, so privacy isn't an issue. The microphone can be disabled, too, leaving you with the clock's basic functions.
We also like how the Smart Clock adapts its display to the surroundings. It has a light sensor that competently adjusts the screen brightness based on ambient light. Unlike the Wakey, it is dim enough to glance at during the night comfortably. You can combine alarms with sunrise mode too. Doing so makes the screen brighter as the wake-up time approaches, easing you into wakefulness.
Are There Drawbacks?
The Smart Clock's display has a lot of unrealized potential. It is good enough to display apps like YouTube or Google Maps but lacks these features. There's no backup battery power, so the alarm won't sound if there's a power outage.
Tech Specs
Dimensions: 7.4 x 4.5 x 3.6 in.
Weight: 1.5 lbs.
Can charge other devices: Yes, 1
Built-in AI assistant: Yes, the Google Assistant
The Pros
Sharp display with varying clock styles and useful applets
Acts as the hub of a Google-powered smart home
Has light sensor and sunrise alarms
No camera and the microphone can be disabled
The Cons
No backup power
Screen's capabilities are limited
4. Philips HF3505 Wake-Up Light Alarm Clock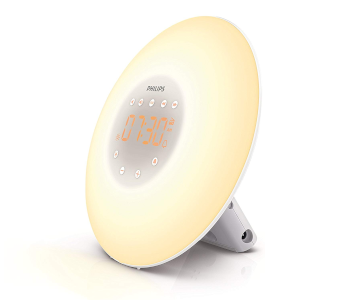 View on Amazon
Editor's Rating: 4.4/5
Getting forcefully woken up by a blaring alarm isn't exactly a fun way to start the day. Sunrise simulation is a smoother and, at least for some people, more effective approach. Phillips has a line of alarm clocks that combine with a soothing light for a pleasant end to your slumber, and the HF3505 is the model that combines feature richness with an acceptable price.
Overview of Features
The HF3505 is among the best-looking and most unusual alarm clocks on review. It's shaped like a plate and propped up by a slim stand. There's a clock display in the middle circled by an array of touch buttons with alarm, time, sound, and brightness settings. The light emits a pleasant yellow glow with ten levels of illumination. It doubles as a nightlight when dim but is also bright enough to be used as an elegant reading lamp.
Setting an alarm time and brightness level engages the sunrise simulation effect. It kicks in half an hour before the actual wake-up time, increasing in light intensity until it reaches the preset limit. Once it's time to wake up, you are greeted by either an FM radio station or one of two sounds that get louder as time passes. You may choose between chirping birds and the sounds of a forest. Both are loud but not jarring and serve more to set the right mood for an energized day than to force you to wake up.
The HF3505 costs close to $80, a bit much even for such a versatile light. Phillips also sells a cheaper version, the HF3500, for considerably less. The cheaper light shares most features with the HF3505; a single alarm sound and a lack of FM radio are the only significant differences.
Are There Drawbacks?
You can't set the brightness and its sunrise simulation cap separately. The HF3505 will only be as bright in the morning as the last setting you've used. The clock has a snooze button with a fixed 9-minute timer. Pressing it requires you to tap the HF3505's top, which might cause you to knock it down if you're groggy.
Tech Specs
Dimensions: 5.1 x 7.9 x 7.9 in.
Weight: 7.2 oz.
Can charge other devices: No
Built-in AI assistant: No
The Pros
Simulates sunrise for a healthier wake-up process
Intuitive touch controls
Dimmable clock display
Can be used as nightlight and reading lamp
The Cons
Hitting the snooze button might accidentally knock it over
Brightness is same for regular use and the max sunrise value
5. Echo Dot with Clock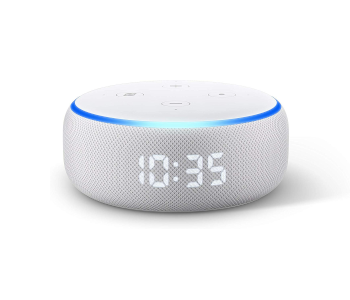 View on Amazon
Editor's Rating: 4.3/5
"Alexa, what's the time?" was the most frequently-asked question users posed to Amazon's line of ubiquitous Echo speakers. The Echo Dot with Clock is here to shake things up and adds a much-requested timepiece to the bestselling smart speaker version. It's no revolutionary upgrade as the clock is the only major addition. Still, the newest Dot brings Alexa into the bedroom in a natural way and is a fine alarm clock to boot.
Overview of Features
You'll instantly recognize the chatty puck if you've ever seen an Echo Dot before. The clock version looks almost identical to the 3rd-gen Dot with its slightly bulging curved surface and trademark blue light. The back houses a power cable and a 3.5mm audio-in jack. You'll find volume, microphone, Alexa activation, and alarm snooze buttons on top.
The clock is a small yet welcome addition that makes the Dot worthy of your bedside table. It is a simple white LED display with bright, clear numbers and several small indicators that show the operating mode. Adjustments to the clock boil down to setting the time and alarms or activating a timer. Doing so will change the display into a countdown timer, while inquiring about the temperature will display it either in Celsius or Fahrenheit.
The Echo Dot with Clock does everything other Alexa speakers d. That includes controlling your smart home, listening to news or traffic reports, managing a calendar, or even placing calls. You perform all these actions with your voice. Issuing commands is intuitive, as is the initial setup since all you need to do is download the Alexa app and pair the Dot with the Wi-Fi.
The Dot is a speaker first and foremost, which is reflected in the quality of its 6-watt drivers. The sound quality is substantially better than the previous generation's, but it isn't on the Wakey's level. Still, the sound is strong and vibrant enough to faithfully carry your favorite morning tune or a news report as you're getting ready.
What We Didn't Like
Ordinary 3rd-gen dots come in a wide variety of finishes. The clock version is currently limited to a light-gray fabric. The microphone array has trouble picking your voice up while the Dot is playing music. You'll have to lower the volume to make yourself heard.
Tech Specs
Dimensions: 3.9 x 3.9 x 1.7 in.
Weight: 10.6 oz.
Can charge other devices: No
Built-in AI assistant: Yes, Amazon Alexa
The Pros
Display is bright and easy to read
Takes up little space yet delivers decent sound
Full-fledged Alexa speaker
Frequently goes on sale
The Cons
Available in only one finish
Unresponsive if you're playing music while issuing voice commands
6. Magnasonic Alarm Clock Radio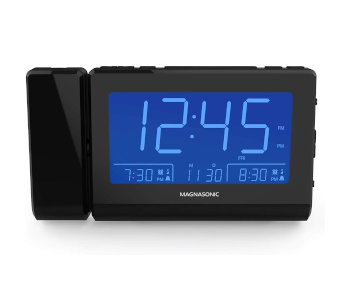 View on Amazon
Editor's Rating: 4.2/5
Checking the time in the middle of the night involves either reaching for your phone or turning towards a clock. What if you could just gaze at the ceiling or wall without having to move instead? That's the premise behind the projection feature of Magnasonic's Alarm Clock Radio. This clock features a huge display, can set itself, and wakes you or your partner with gradually louder music.
Overview of Features
The Magnasonic Alarm Clock radio is large yet light, dominated by its blue display. It's among the brightest clocks on review yet effectively handles optimum output due to a built-in light sensor. There's also a temperature sensor whose readings you can check on the screen. A USB port and an aux-in port for music streaming from your smartphone are in the back.
The projector is positioned off to the side. It has 180 degrees of motion and casts the current time onto far-away walls or the ceiling. Its red beam is bright enough for the time to be legible at a distance but dim enough not to disturb you while sleeping. There's an adjustment dial that moves a lens to make the projection sharper. You can turn it off altogether as well.
The clock supports two alarms, both of which are shown in the display's bottom corners. You may set the time yourself or enter the time zone to have the clock do it automatically by receiving the current time through radio waves. The clock supports 12 and 24-hour modes.
The alarm will wake you up either by beeping or tuning into a radio station. Both get progressively louder the longer you wait, giving you a good reason to get out of bed. There's also a snooze button with multiple timer presets. The radio covers standard AM and FM bands and can memorize ten channels for each.
What's Bad About It?
You must keep the radio on a station you want to wake up to because it can't change them automatically. Radio reception is also noticeably weaker when screen brightness is set to high. The non-radio alarm is quiet at first and needs to ramp up for a while until it reaches a suitable loudness.
Tech Specs
Dimensions: 2.9 x 7.5 x 4.1 in.
Weight: 1.1 lbs.
Can charge other devices: Yes, 1
Built-in AI assistant: No
The Pros
Projects time onto ceiling and windows
Sets itself automatically
Temperature and light sensors
Gradually louder radio alarm
The Cons
Screen brightness interferes with radio reception
Quiet alarm
7. Best Budget Option – Travelwey Home LED Digital Alarm Clock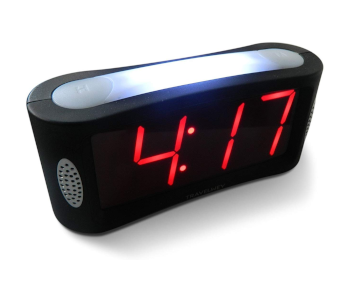 View on Amazon
Editor's Rating: 4.3/5
All the alarm clocks we've reviewed so far had impressive bells & whistles, but what if you just need one that does the job of waking you up well? Travelwey has the answer in form of the Home LED Digital Alarm Clock. It features a huge display with easily visible LED numbers, a loud alarm, and a night light. It's the perfect budget-friendly choice if you're looking for the basics or need a dependable alarm for a senior.
Overview of Features
Travelwey's clock is as simple as they come and has a modern, minimalistic design that speeds up operation. Your eye is immediately drawn to the clock face that occupies its entire front and glows red. The brightness can be fine-tuned with a slider in the back as opposed to limited presets you'd expect at this price. It goes from dim to very bright and can be turned off if you just need the alarm.
You set the time and alarm by pressing one of two buttons in the back and then doing the same with the hour and minute buttons located on the clock's top corners. Snoozing is supported, but the interval is fixed at nine minutes.
The alarm itself is a beeping noise you can toggle between normal and very loud. It's both annoying and fairly low-pitched so older family members should have no trouble hearing it. This is a clock for all ages as evidenced by a handy night light you can use to either comfort children or provide enough light to find your way around the room.
You have to plug the clock in but can rely on two AA batteries in case of an emergency. Switching from 9-volt batteries to AA was a smart decision by Travelwey as the latter are much easier to find if you're traveling and bring the clock along.
Are There Drawbacks?
The brightness slider is flimsy and will stop working properly if you apply pressure. It might end up not registering a shift until you've moved it more than halfway. We wish there were a quieter loudness setting since both are loud. That's fine for seniors and people living in houses, but apartment dwellers might get complaints from neighbors if they share thin walls.
Tech Specs
Dimensions: 2.9 x 7.5 x 4.1 in.
Weight: 1.1 lbs.
Can charge other devices: No
Built-in AI assistant: No
The Pros
A basic yet dependable alarm clock for an amazing price
Controls are easy to understand
Has a night light and adjustable clock brightness
Has AA battery backup
The Cons
Alarms might be too loud for apartment dwellers
Flimsy brightness slider