11 Best Amazon Echo Accessories
3D Insider is ad supported and earns money from clicks, commissions from sales, and other ways.
As Amazon's line of Echo smart speakers continues to break sales records, a whole new niche has sprung up around it. Both Amazon and a slew of 3rd party companies have realized that, while great, the Echo product family could become even better with the right accessories.
Would you like to cut the cord and take your Echo anywhere, boost its speaker capabilities, or just get it out of the way? By now there are accessories for various Echo models out there that let you do just that and more! We've picked out 11 clever, inexpensive ones for you to try, so check them out and start using your Echo device to the fullest.
1. Echo Connect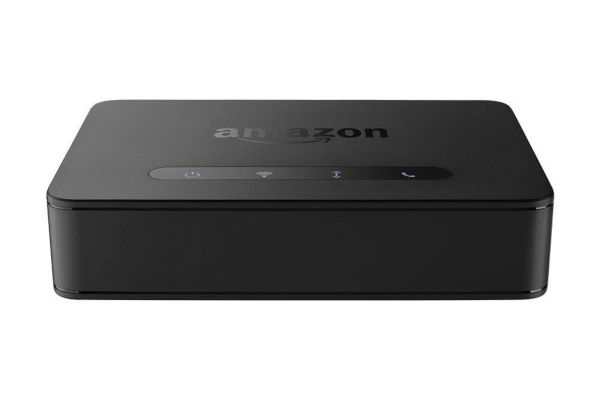 The Connect is one of the most useful and practical accessories for the Echo family. It connects directly to your landline and interfaces with Alexa to enable hands-free, voice activated phone communication. All it takes to get started is to set it up and sync it with your smartphone's contacts. It's perfect for elderly or disabled users, and anyone who doesn't want to get up from their chair each time the phone rings.
Once Alexa knows who to call, you can simply tell her to do so. The person on the receiving end will see your landline number and know who's calling right away. Alexa will announce incoming calls, and each Echo device in your home lights up and rings when someone calls so you can answer no matter where you are. Your various Echoes can act as speakerphones, or be set to "do not disturb" mode so that the call takes place only through one of them.


2. Peteast Echo Speaker Stand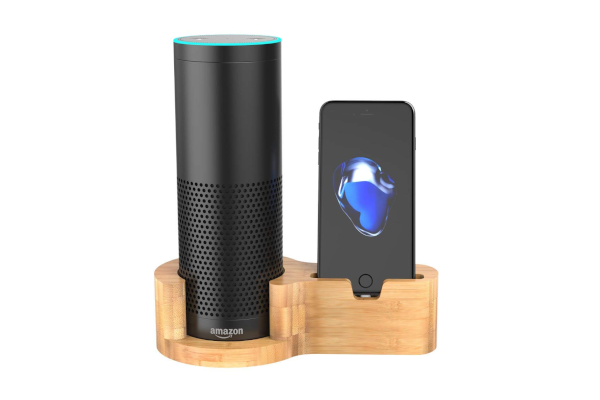 We still love our original Echo, but every time someone tips it over it makes us glad that Amazon has made the 2nd gen so thin. The good news is, there are loads of fine stands for it, with Peteast's being among the best-looking and most versatile of them all.
This beautiful Echo stand is made from real bamboo and you can tell that a lot of work has been put into the finish. It holds onto the Echo firmly, and the stand's large footprint is sure to help prevent accidents and careless handling. What makes this particular model stand out is the addition of an iPhone charging dock. After you've fiddled around with getting the charging cable to fit through the opening, you can juice up your phone in style.


3. Alexa Voice Remote for Amazon Echo and Echo Dot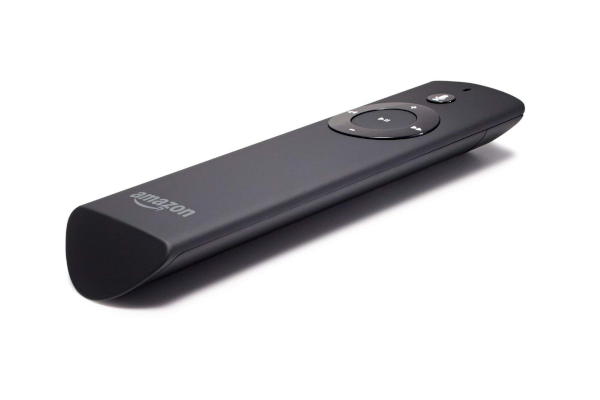 All Echo devices come with an impressive array of microphones, but even Alexa can have trouble hearing you if you're far away or your voice is drowned out by guests / the TV. Luckily, amazon sells a handy accessory for just such occasions – the Alexa voice remote.
It's a minimalistic device that looks like a stripped-down version of the remote you get with Amazon's Fire TV. You'll end up using the button with the little white microphone most since that activates voice command input. There's no lag between the remote and your Echo, and the microphone's quality is excellent.
If you don't want to bother with voice commands while listening to music, the rest of the remote's buttons let you play/pause, turn the volume up or down, and go to the next or previous track.
It's a shame Amazon doesn't ship the remote with the excellent magnetic bases anymore, but overall quality remains excellent nevertheless.


4. Echo Buttons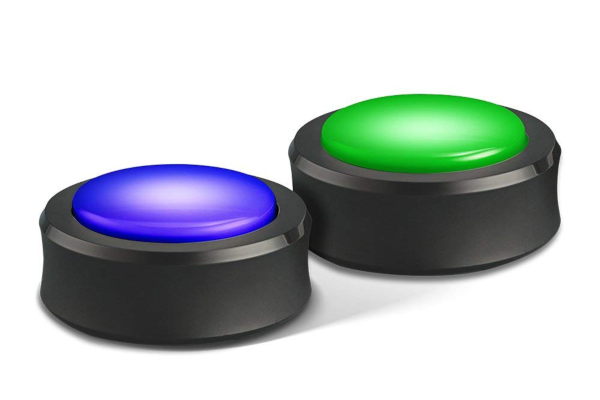 Turn Alexa from a helpful and knowledgeable assistant into a real gameshow host with the latest tactile treat from Amazon – Echo Buttons! The idea is simple – you get two buttons per pack, pair them with your Echo device, and start playing different games either against other people in the room, or Alexa herself.
The buttons are simple plastic gadgets with light-up tops that contain RGB LED-s and make a satisfying "click" each time you press them. Four can be paired to an Echo at once. As for the games, there's a growing selection of trivia quizzes where the buttons act as buzzers, Simon-like repetition games, and even a horse racing game where you need to press one as quick as you can to outrun other players.
Currently you can only use the buttons as a neat way of passing the time, but with the addition of new Skills they're sure to become even more useful in the future.


5. Amazon Echo Dot Case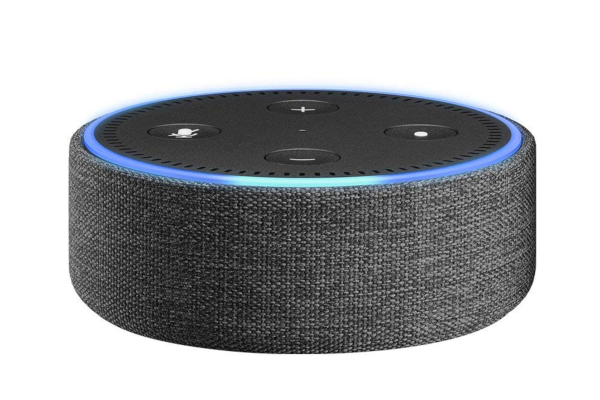 Do you love the way your 2nd gen Echo works, but aren't a fan of its glossy black/white aesthetic? Now you can spruce up your favorite little smart device with an entirely new "wardrobe"!
The Echo Dot Case is designed to fit the newest echo model, and comes in six pleasant shades ranging from black full-grain leather to pale sandstone fabric. Both materials are of a great quality and won't start to fade over time. Since the cases are custom-made, every access port and button is freely accessible, and the cases are just tall enough for the Dot's light ring to be visible.
If you like to move the Dot around a lot, the case might be a bit too loose and slide off of it during transport. Keeping it in one place puts an end to this minor inconvenience though. For less than $10 apiece and half as little on sale, these cases are one of the cheapest and most useful accessories you can buy to get rid of that plastic sheen, and bring the Dot in line with the rest of your home's décor.


6. Casecret Hedgehog Statue Guard Station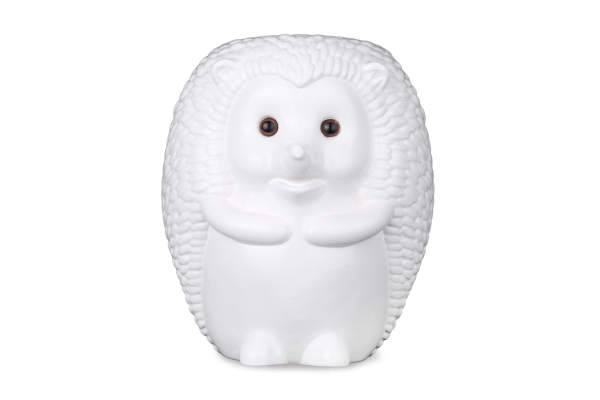 The Dot's small size makes it appealing, but it's also more likely to get knocked off the dresser by careless kids because of it. Protect your smart buddy and start saving money at the same time with this adorable hedgehog-shaped guard stand / piggy bank from Casecret!
The statue is made from polyresin and boasts intricate details on the hedgehog's face and back. It weighs around 1.5 pounds, giving your Dot some much needed heft. It has been molded so that the 2nd gen Dot fits perfectly inside without covering any of the buttons or the speaker.
The statue also doubles as a fun piggy bank! There's a 1.5-inch coin slot at its back you can feed spare change into, and a rubber stopper at the base. You'll find many Dot statue holders out there, but none are as practical, or as cute as this thrifty little hedgehog.


7. This Dottie Plug-in Mount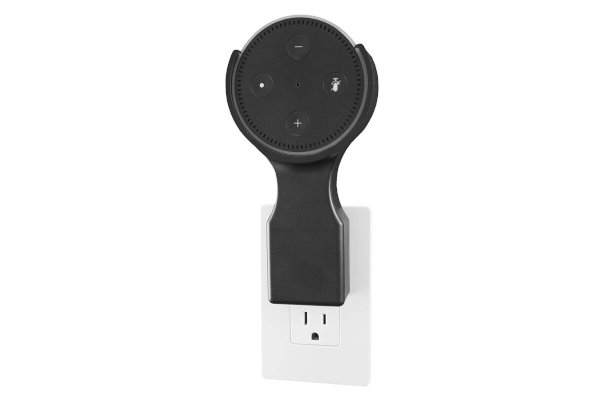 Don't have enough room on your tables & stands even for the petite 2nd gen Echo Dot? With This Dottie, you can mount the Dot above or below an outlet and speak to it with greater ease.
This innovative stand is made from a single piece of sturdy plastic that serves as a plug on one end and a gentle, non-invasive wall mount on the other. Its bottom half also has enough room to seamlessly hide the Echo's cable, so there's no mess or hanging wires to trip someone.
The ring the Dot nestles into has a snug fit, and because of its clever design this is one of the most low-profile Dot mounts available today. Best of all, if you plug it into a duplex outlet, the other one can still be used freely.


8. Znewtech Desk Clock for Echo Dot 2nd Generation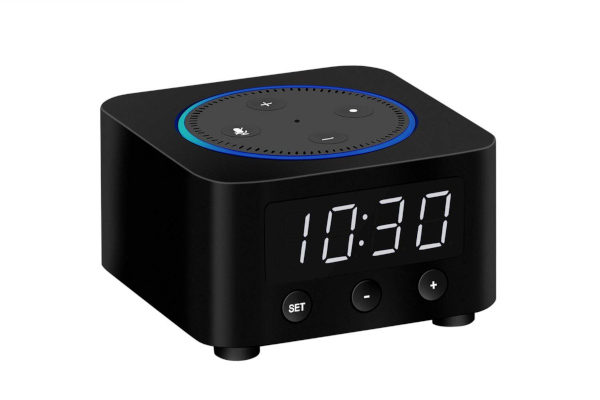 Even though Alexa can tell you the time if you just ask her nicely, there's still something to be said about the elegance and practicality of tasteful digital clocks. So why not combine the two? That was exactly what Znewtech has in mind with this desk clock mount for your 2nd gen Dot.
The clock looks like a minimalistic rounded cube with a prominent front LCD display and just enough room for a 2nd gen Echo to be inserted into it. The wider base and rectangular shape make the clock more stable, and its four small legs hold everything firmly in place.
A single cable powers the clock and the Echo Dot within, but you can also put some batteries into it in case of power outages. Even though the Dot looks like it is a part of the clock, its speaker and microphones still function normally. As for standard clock functions, you can adjust the numbers' brightness, toggle between AM/PM and 24-hour mode, and (de)activate automatic Daylight Savings Time adjustment.


9. Vaux Cordless Home speaker / Portable Battery
Although the Dot is a powerful home automation tool, it's qualities as a speaker aren't all that great. With Ninety7's Vaux you can not only massively upgrade its sound, but have access to all of Alexa's functions without being bound to an electrical outlet.
The Dot slides into Vaux's top and integrates seamlessly into it. Once you hook up the charging and audio cables to their respective jacks on the Dot and turn the Vaux on, you're good to go! The most startling difference it makes is in the sound quality. The Dot's former weak efforts to play your favorite tunes are now much richer in tone and base, and Alexa herself sounds better than ever. The front has another aux in port, so you can hook the Vaux up to your phone and use it as a great external speaker.
The Vaux also acts as a power bank both for the Dot and any device that can connect to it via micro-USB. When full, the Li-ion battery has enough juice to keep the Dot playing continuously for more than six hours. Say goodbye to stifling cords and tinny sound and make the Dot that much more fun to use.


10. YoFeW 360-degree Rotatable Stand for Echo Show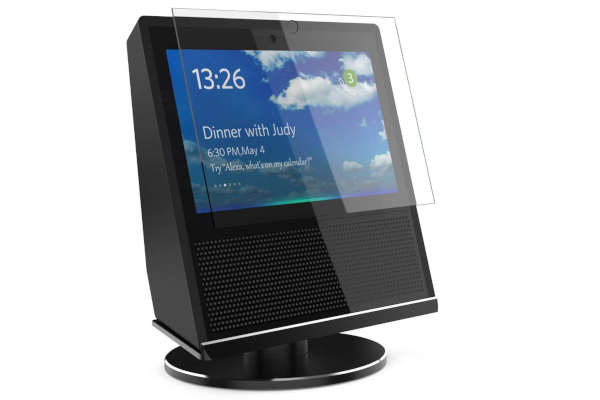 One of the Echo Show's few flaws is the hassle of moving it around once you've got it up and running. Even rotating it a bit to get a better view of someone you're having a video chat with can end up damaging the surface beneath it. YoFeW's rotatable stand gets rid of these concerns and provides your Echo Show with an even sturdier base.
Its circular bottom part has a much wider footprint than the Echo Show, and can't be toppled nearly as easily. More importantly, the cradle the Show is placed in can be rotated a full 360 degrees, making both subtle adjustments and bigger turns much easier and safer.
A scratch-resistant protector for the Show's touchscreen is also part of the package. It's got a hole for the camera, doesn't affect touch controls, and is completely transparent. At around $50 the stand isn't exactly cheap, but the peace of mind buying one will give you is more than worth the investment.


11. Echo Spot Adjustable Stand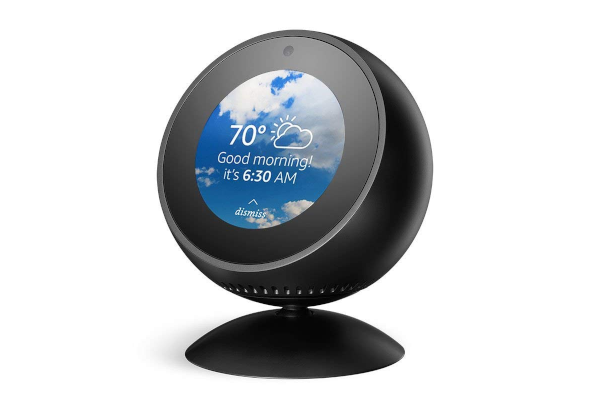 While the Spot is portable and powerful, much of its sound quality is lost due to the speakers being positioned so close to the ground. Since you've already paid upwards of $120 for the Spot, consider getting this well-made stand to make it even more versatile.
The stand attaches to your Spot via magnets, so the connection is secure while also being easy to break. It features the same non-stick material at its base as the Spot does, and allows you to tilt the Spot upwards for a better viewing angle.
The stand will raise the Spot by a little over an inch. Since the speakers won't be muffled anymore, you'll notice that the Spot's sound quality is considerably better! Whether the stand should cost as much as it does is certainly debatable, but the Spot definitely performs better when mounted on it.